Check out this map of the top 20 green chile cheeseburgers
When owner Patrick Mockler-Wood calls Pajarito Brewpub's Green Chile Pub Burger ($19) a "smash burger," it's not what you think. This is not a crispy-thin patty. It's a behemoth. A half pound of beef from Moriarty's Haynes Cattle Company gets stuffed—yes, stuffed—with Tucumcari Mountain Cheese Factory's green chile cheddar, topped with Young Guns' Hatch chile, and placed on a bed of house-made pickles and a butter bun. "You have to smash everything down just to fit your mouth around a bite," says Mockler-Wood. While the Los Alamos staple has had more than 20 versions since opening in November 2012, this green chile cheeseburger has become a top-selling fixture on a pub menu that includes smoked chicken wings, Chimayó red chile beef nachos, and a Sidewinder Reuben. "Even if you're full, you end up finishing the whole thing," he says. 
Try this: Upgrade to the truffle fries ($5), hand-cut daily and tossed with Parmesan cheese, parsley, and truffle oil. "People gobble them up," he says. Burger type: Bar/Grill; Cost: $$$. 614 Trinity Dr., Los Alamos; 505-662-8877 —Steve Gleydura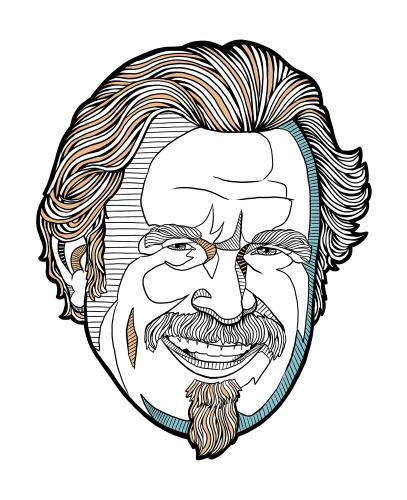 Artistic Touch
For 30 years, painter and sculptor Thom "Tex" Wheeler has been meeting his friends at Ricky's Restaurant Comidas Nuevo Mexicanas, in Taos, for the signature Halo Burger ($7.50). "It's big and meaty, like we like it," he says. "The juicy patty is bigger than the bun with plenty of green chiles. The fries are smothered in green chiles, too."—Chef Johnny Vee
With its jubilant jumble of kooky Americana—giant statues of Colonel Sanders, the A&W Burger Family, an alien robot—you can't miss Sparky's, in Hatch. Good thing, too. Burger buffs rank Sparky's World Famous ($13) among the state's best. "It's a simple burger," says co-owner Teako Nunn, of the seven-ounce patty seasoned with a secret family recipe. "That's why it's so good." 
Try this: a side of pinto beans ($2), soaked overnight, slow-cooked, then dressed with hot sauce and a house seasoning that includes chile and onions. "They're fabulous," Nunn says. Burger type: Roadside. Cost: $$. 115 Franklin St., Hatch; 575-267-4222 —Lynn Cline
It's the green chile cheeseburger ($7.25) of Sunday afternoon picnic tables crammed with 10 of your nearest and dearest. It's the one that emerges hot from a bag at the drive-in movie or gets devoured at the kitchen table at the end of a long workweek. At El Parasol's six locations in northern New Mexico—including the original roadside stand on Santa Cruz Road in Española—a quick stop pays off in ⅓ pound of beefy, fiery, melty dividends. The Atencio family's commitment to classic norteño fare extends to its quintessential green chile cheeseburger, simply listed as "hamburger" on the menu. Unhook the wrapper from its toothpick and dive into a hand-formed, glitteringly juicy patty with the works: always piquant diced green chile (sometimes with exciting flashes of red), gooey American cheese, shredded lettuce, tomato, onion, pickles, and a swath of sharp yellow mustard. 
Try this: Adding red chile cheese fries with ground beef and beans ($6.50) to your order makes it Christmas any time of year. Burger type: Roadside. Cost: $. Various locations. —Molly Boyle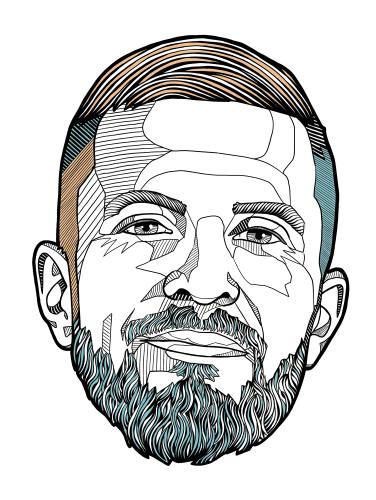 Fan Favorite
Las Cruces native and New Mexico United midfielder Josh Suggs scores one for the home team's World Famous ($13) at Sparky's Burgers, BBQ & Espresso, in Hatch. "If you want a great green chile cheeseburger, you should go to the source," he says. "Their cheeseburger is simple and is topped with green chile that is grown within a few miles of the restaurant." —Chef Johnny Vee
When owners Patrick and Kelly Torres developed the Turquoise Trail outpost's El Chivato burger ($10), they opted for a whole roasted Hatch green chile rather than diced. "We wanted it to look and feel a little different," says Patrick. That's the Black Bird's ambience in a piñon shell. The circa-1880s former mercantile, complete with a standing bar and a potbelly stove, blasts customers back to Cerrillos's boomtown heyday. But El Chivato is a thoroughly modern creation. "It's our science," says Torres. That means thick, grass-fed Angus beef, white American cheese, that entire chile, shredded lettuce, diced onions, and a proprietary mustard-and-mayo combo on a toasted bun from Albuquerque's Fano Bread Company. The burger's name comes from a nickname for Billy the Kid from the movie Young Guns, filmed in Cerrillos—not that you'll need a reminder of the Wild West when you eat it.
Try this: Crow's Nest shoestring fries ($3.50) are a melt-in-your-mouth accompaniment. Burger type: Bar/Grill. Cost: $$. 28 Main St., Cerrillos; 505-438-1821 —Molly Boyle
In 2011, Morgan Newsom wanted to create a dining experience that was hard to find in Gallup: fresh takes on American and New Mexican roadside classics. Served on a sturdy pretzel bun, the half-pound burgers nod to cities across the state. While traditionalists can opt for the Hatch Burger, the Gallup Burger ($11.75) remixes an old-school patty melt with green chile flair. "Patty melts were always delicious around Gallup," Newsom says. But it's the accompanying wet fries—hand-cut and topped with gravy—that make you feel small-town special. "It's a Gallup thing," he says.
Try this: fresh-brewed iced tea ($3). Burger type: Bar/grill. Cost: $$. 1981 NM 602, Gallup; 505-722-9311 —Karen Fischer
In 2006, a snack bar opened in a Laguna Pueblo grocery store. Using beef ground fresh in the meat department and handpicked chiles, the burgers gained favor with travelers near and far. "It became a destination," says Ryan Westerman, area manager for Laguna Burger, which now includes stand-alone outposts in Laguna, Río Puerco, and Albuquerque. The namesake Laguna Burger ($11) still gets its proprietary seasoning, special grind, and chopped red and green Hatch chile that results in deep earthiness and signature heat. "There's still that care," he says.
Try this: the Duke ($7.50), one of the Albuquerque location's signature adult milkshakes. "It's almost like a White Russian." Burger type: Café/Diner. Cost: $$. Various locations. —Karen Fischer
"If we had a state food, it would be the green chile cheeseburger," says Mike White, owner, executive chef, and creator of the High Point Grill's 2019 State Fair runner-up burger. "The care we put into each layer and each ingredient puts ours right at the top in the state. It's spicy, buttery, and smoky." The Albuquerque eatery's Southwest Burger ($17) has been a crowd-pleaser since the Cheers-like restaurant opened in 2015 with self-taught White at the helm. The burger begins with Akaushi beef, one of four Japanese breeds known as Wagyu. The thick-cut patty gets pressed with Chimayó red chile powder for a charred, smoky flavor. It's topped with extra-hot Hatch green chile, sharp cheddar cheese, and more Chimayó chile powder. When melted with the cheese, the chile looks like lava running onto the toasted brioche bun. "I just get in the kitchen and start playing," White says of his recipe. "I want to inspire others to play with food. It's a creative outlet for me."
Try this: For its "mountain of fries," High Point Grill hand-cuts potatoes ($5) every day and double-fries them to create a soft yet crunchy shoestring finish. Burger Type: Gourmet. Cost: $$$. 9780 Coors Blvd. NW, Ste. A, Albuquerque; 505-312-8519 —Ashley M. Biggers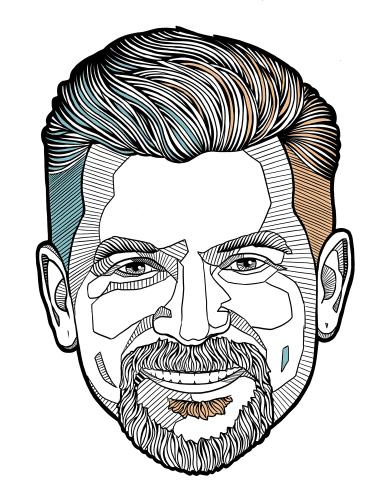 TV Winner 
As host of KRQE's New Mexico Living, Chad Brummett has interviewed bushels of chefs and tried 40 acres' worth of green chile cheeseburgers. But if forced to pick, his favorite is a classic Laguna Burger ($11). "I don't know what magic they work into their patty, but it has the best flavor," he says. "They're proof positive that you don't need to go over the top with gimmicks." —Chef Johnny Vee
Tortillas rule the menu at Santa Fe's Plaza Café Southside, where family recipes have been passed down through generations. From breakfast burritos to enchiladas, this New Mexican staple is as versatile as our green chile. It makes perfect sense to combine the tortilla and green chile with a burger, in a delicious riff on a classic. "Everybody loves tortillas," says General Manager Belinda Marshall, whose family has long owned the Plaza Café and Plaza Café Southside. "We slap a hamburger patty in there, add cheese and chile, and it's a tortilla burger ($16.50)." The patty, a proprietary blend of New Mexico grass-fed chuck and brisket, is folded into a tortilla and smothered with Hatch green chile. Diners say the combo is out of this world. "That's what I hear all the time," Marshall says.
Try this: the Cool & Hot Margarita ($12), made with house-infused jalapeño tequila and served over ice. "It is cool, until you drink it," Marshall says. Burger type: Café/Diner. Cost: $$$ 3466 Zafarano Dr., Santa Fe; 505-424-0755 —Lynn Cline
This vintage drive-in restaurant, known for its from-scratch creations, has been in owner Mika Myers's family since the 1970s. "It's like a mom-and-pop Sonic," Myers says of the Alamogordo joint, which opened in 1952. "We do everything from cutting our tomatoes to making our own taco shells." Burger patties are pressed fresh and use a recipe created by Myers's grandmother, Patricia Dulany. Try the signature, double-patty Tiger Burger ($12) with garlic-seasoned green chile. "It's big and mouthwatering, like something you'd make on your grill," she says.
Try this: a cherry limeade (large, $2.34) with house-made simple syrup and fresh-squeezed lime juice. Burger type: Roadside. Cost: $$. 414 S. White Sands Blvd., Alamogordo; 575-437-6400 —Ashley M. Biggers
A culinary school grad with a degree in automotive technology, Sebastian Esquivel opened his Clovis food truck in September with West Texas–style barbecue, burgers, and hot dogs. "It's the literal meaning of grilling and chilling," he says. Case in point: His Green Chile Katso Burger ($9)—a six-ounce smash-seared patty with pepper Jack, green chiles, and a smoked queso sauce.
Try this: Smokehouse Fried Mac and Cheese ($10), a blend of Gouda, pepper Jack, sharp cheddar, and green chiles that's smoked, breaded, and deep-fried. Burger type: Food truck. Cost: $.  2320 N. Main Street, Clovis; 575-404-9481 —Steve Gleydura
It's almost required that an American diner have a cheeseburger. In Las Cruces, there's an extra stipulation: It must include Hatch green chile. Jacob Harkness is well aware of this unwritten rule. After launching Jake's in the village of Doña Ana 15 years ago, Harkness relocated to Las Cruces in 2017. The café sports a 1950s vibe, with images of Marilyn Monroe and Elvis Presley on the walls and stained-glass lampshades over the tables. In developing his classic smash burger ($10.50), Harkness starts with diced Sandía chiles—hot, light on bitterness, and slightly sweet—from Hatch's Young Guns. A quarter pound of locally raised ground beef gets flattened, seasoned, grilled, flipped, seasoned again, and grilled on the other side. Initially, though, he had trouble finding the right bun. "You could have a good burger, put it on a bad bun and it makes a bad burger," he says. The one crafted in-house falls "between a brioche and a Hawaiian sweet roll." American cheese, lettuce, tomato, pickles, and diced onion tie it together. "I like to serve what I eat at home," he says.
Try this: the off-menu tater tots ($6.50) smothered in green chile and house-made cheese sauce. Burger type: Café/Diner. Cost: $$. 1340 E. Lohman Ave., Las Cruces; 575-523-5770 —Diana Alba Soular
Chef Joseph Wrede proves there's more to burgers than beef with his Santa Fe pub's extra-full-flavor NM Lamb Burger with Green Chile & Sheep Cheese ($18). "We're in lamb country in New Mexico," says Wrede, who uses it throughout his menu. "Lamb has such a long history here, as does green chile—it's the perfect pairing." Plus, using the milder sheep's cheese allows the chile to really stand out, creating one baa-d burger.
Try this: Add his duck fat potato chips to your order ($3) and finish with the decadent Butterscotch Pudding with Caramel Sauce ($10). Burger type: Gourmet. Cost: $$$. 428 Agua Fría St., Santa Fe; 505-982-1272 —Johnny Vee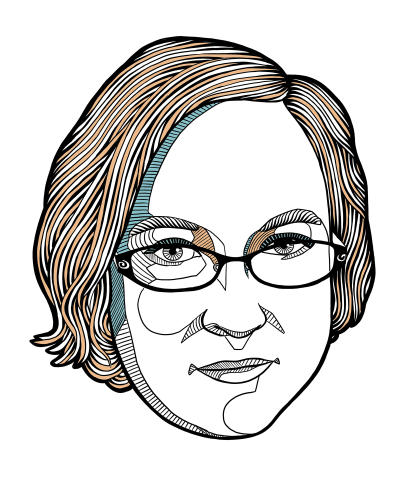 Brand Ambassador
After 13 years as the executive director of the Western Heritage Museum and Lea County Cowboy Hall of Fame, in Hobbs, Erin Anderson is still learning to love our state's favorite condiment. "I hate to admit that I haven't fully gotten into the spirit of the green chile yet," she says, deferring to museum curator Kim Claunch's favorite—a burger with green chile and jalapeño ($6.29) at Kendall's Kountry Meat Market, in Hobbs. "Their burgers are juicy, and they are true masters with the use of green chile." —Chef Johnny Vee
Technically, the Elk Wagyu Burger ($36) at De la Tierra Restaurant, in Taos, is a green chile cheeseburger. But it's not like any New Mexico cheeseburger you've ever had before. Seared, then topped with miso-glazed smoked pork belly and tempura Hatch chile, it is blanketed in an Irish white cheddar béchamel sauce and served on a brioche bun. "It's definitely more of a fork-and-knife burger," says Executive Chef Cristina Martinez. It's also the kind of elevated dish you'd expect from the acclaimed restaurant of El Monte Sagrado resort and spa. "The burger has that regional plus international influence, which I think people can identify with," she says.
Try this: truffle Parmesan fries (included). "That's an extra little indulgence," Martinez says, adding that a spicy prickly pear margarita ($13) will enhance the experience. Burger type: Gourmet. Cost: $$$. 317 Kit Carson Road, Taos; 575-758-3502  —Lynn Cline
If your idea of a perfect burger has the fillings falling out of the bun with each bite and a good amount of juice and fat running down your arm, make a mad dash to this food truck parked at Santa Fe Brewing Company's Brakeroom location. The basic Green Chile Burger ($15) is stellar. But why stop there when you can add Amish blue cheese, chipotle aioli, roasted five-chile blend, fried egg, ham, bacon, pulled pork, maple-bacon jam, or green chile barbecue sauce? "We only ever cook them to order," says owner Enrique Guerrero, "just the way you like it."
Try this: The Bang Fries (large, $15) are swimming in "Trailer-Made" gooey cheese, bacon, and New Mexico green chile. Burger type: Food Truck. Cost: $$. 510 Galisteo St., Santa Fe; 505-469-2345 —Johnny Vee
As soon as you step inside the Skillet, you know you're in for a wild ride. Housed in the historic Taichert Wool Warehouse, the fantastical Las Vegas, New Mexico, restaurant is the brick-and-mortar incarnation of Isaac and Shawna Sandoval's incredibly popular food truck. The crowds come for the couple's fun, colorful art that animates the interior as much as for the Number Two Combo ($12). "People tell us all the time that they'll travel here from all over the state because they've had our burger once and they can't stop thinking about it," says Shawna. The secret lies in the blend of old-fashioned ingredients. "We took inspiration from classic diner burgers, so we use thin beef patties and good old American cheese," she says. "Simple is better."
Try this: the Townie margarita ($10), with a triple squeeze of citrus juices, plus agave nectar, mint, and silver tequila. "It's just the refreshing thing to help wash down a nice, greasy burger," Shawna says. Burger type: Bar/Grill. Cost: $$. 619 12th St., Las Vegas; 505-563-0477 —Lynn Cline
Tucked away in Peñasco, on the High Road to Taos, Sugar Nymphs is a rustic food-lover's retreat. Housed in a whimsical building painted with colorful murals, the cozy restaurant offers a fantastic green chile cheeseburger, but even meat lovers rave about the Meatless Black Bean Burger ($13), topped with caramelized red onion, Hatch green chile, Tillamook sharp cheddar, ripe tomato, and mayo. Yet there's a secret about owner and chef Ki Holste's veggie patty: Despite attempts to craft her own, she prefers Morning-Star Farms' chipotle black bean burger. "I have people tell me every day that they buy the same product, and it doesn't taste like ours," she says. Holste's patty gets the star treatment, grilled on a small flattop that creates a super-crunchy crust, then served on house-made focaccia. "Even when it's not on the menu, in the evening and on Sundays, people still order it," she says.
Try this: the house-made gingerade ($3.50), a restorative blend of ginger simple syrup, fresh lemon juice, and sparkling water. "But you don't want to walk out of the door without trying some carrot cake," she says. Burger type: Café/Diner. Cost: $$.15046 NM 75, Peñasco; 575-587-0311 —Lynn Cline
Since opening in 1972, Benny's New Mexican Kitchen has bought its New Mexico–raised beef from family-owned Nelson's Meats, in Albuquerque. And the green chile? It's grown right down the road on farms in Socorro and Valencia counties. "It's the hottest chile that they have," says Benny Zamora Jr., who took over the Bosque Farms spot, with its walk-up window, from his father in 1994. "It's not unbearably hot," he says. "It blends in nicely." Maybe that's why the signature double-meat Benny Burger ($8.50), with green chile, cheese, and guacamole, bursts with homegrown flavor. "I want people to be able to taste and feel it," he says.
Try this: Even if you're not a vegetarian, the deep-fried bean burrito ($2.60) will have you coming back for more. Burger type: Roadside. Cost: $.1675 Bosque Farms Blvd., Bosque Farms; 505-869-2210 —Ungelbah Dávila-Shivers
The El Roi wants to Indigenize your green chile cheeseburger game. When owner Fabby Espitia-Archuleta opened the Albuquerque diner with her husband, Joshua Archuleta, in May 2021, they set out to help at-risk community members gain job skills. The result is a menu of traditional New Mexican and Native American comfort foods, including a frybread green chile cheeseburger ($13). "The frybread gives it so much more flavor," says Fabby, who emphasizes that a sopaipilla and frybread are not the same. "We do a traditional frybread from scratch," using a recipe from Joshua's family in Ohkay Owingeh Pueblo. "There's not enough Native restaurants," she says. "So that's something we are trying to grow."
Try this: Chef Joshua's Frybread ($6), a mini frybread covered in powdered sugar and topped with chocolate syrup. Burger type: Café/Diner Cost: $$. 616 Lomas Blvd. NW, Ste. A, Albuquerque; 505-401-9313 —Ungelbah Dávila-Shivers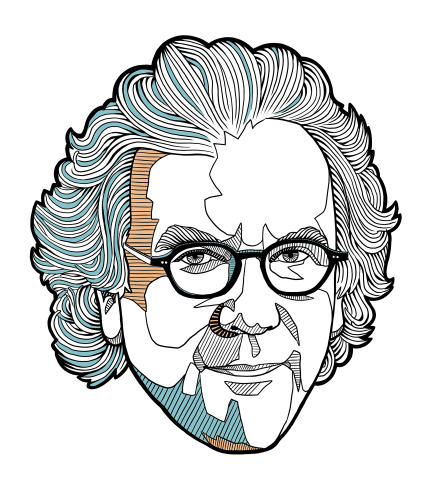 Rail Bonds
Host of the annual Fred Harvey Weekend in Santa Fe, author and Philadelphia resident Stephen Fried began visiting San Antonio in the 1990s for the green chile cheeseburger ($6.50) at the Owl Bar & Café, "just like the guys on the way to test the bomb," he says. "It was pretty great, but probably not the best thing to eat before the rest of our pilgrimage to Roswell." Now, he's a big fan of the Harvey Smashburger ($10) at Bar Castañeda, in Las Vegas's onetime Fred Harvey hotel. —Chef Johnny Vee
Decked out in vintage bar signs, car and cowboy memorabilia, and a windsurfing board that hangs from the ceiling, this Logan convenience store/gas station is one of the last places to get your fill of New Mexican chile before sliding into Texas. The signature single ($11) or double ($15) Annex Slide comes open-faced and smothered with green, red, or Christmas. "You can't go wrong with a burger," says Manager Megan Vigil, "and New Mexico chile sauce gives it a spin."
Try this: house-made fries smothered in Annex queso ($9). Burger type: Bar/Grill. Cost: $$. 101 US 54, Logan; 575-487-4745 —Ashley M. Biggers
Sixty-six miles northwest of Silver City, the Alma Store & Grill rewards you for exploring the Gila National Forest—or being savvy enough to pull off US 180 for a pit stop. After buying the café and store with her husband, oldest son, and daughter-in-law in 2005, Lori Faust hit a homey and hearty sweet spot of New Mexican breakfast and lunch favorites, sandwiches, and the top-selling green chile cheeseburger ($10.50). "I didn't want anything fancy like sticking cheese inside," she says. Instead, her hand-shaped five-ounce patties get grilled and then served on a toasted bun with American cheese and diced Hatch green chile. "It has that smoky, fresh, green taste."
Try this: a Coke in the classic glass bottle. "We serve them ice-cold." Burger type: Roadside. Cost: $$. 4592 US 180, Glenwood; 575-539-2640 —Diana Alba Soular