WILLARD "SPUD" JOHNSON WAS A SELF-EFFACING MAN who often spoke with profound silences, so it is understandable that much of what he did would go unnoticed for so long. It is a pity, nevertheless, for those who would gain from his experience. Although Spud is rarely considered today, he was an early editorial innovator, his Laughing Horse being a forerunner of future regional magazines and literary reviews.
In 1916, he enrolled at Colorado State Teachers College in Greeley, where he studied printing, book­binding, literature, and writing. He then went to the University of Colorado at Boulder and on to the University of California at Berkeley, where he worked between classes at the University Library and Bohemian Club Library in San Francisco. He returned to work briefly at the Greeley, Colorado, newspaper, the Denver Post and the Pueblo Chieftain. After this apprenticeship, he went back to Berkeley in 1921, auditing classes while working for the Richmond Independent.
The end of World War I in 1918 was followed by a period of bewilderment, by debate and offended spirit, animated by intense literary activity. In 1922, Laughing Horse roared in with the twenties. It was a small unbridled magazine with a smart style that was bred by three high-spirited classmates at the University of California, Berkeley. Roy Edwin Chanslor, James T. Van Rensselaer, Jr., and Willard "Spud" Johnson "suddenly found themselves reading in their textbook that the English newspaper evolved from modest, unpretentious broadsides and pamphlets," Spud wrote in the New Mexico Quarterly in 1951. They decided to print one of their own as an exasperated horse laugh at administrative policy and conventional campus publications. Spud was the only one who had a job, so it was his 50 bucks that got Laughing Horse No. 1 off and running. "It was a great success. Selling out our entire edition of five hundred at twenty-five cents each, I got my money back and we had ample capital for our second issue," he wrote.
The three horsemen remained anonymous until No. 4, in 1922. Spud stopped in Santa Fe, en route to school from his home in Colorado. He decided to stay and worked a short time for poet Witter "Hal" Bynner. It is here that the literary foal began to come of age. That summer, he met D.H. Lawrence and Frieda, who were on their way to Taos as guests of Mabel Dodge Luhan.
At 25 Spud was handsomely cut and amiably clever. However, what likely endeared him to Lawrence was his sage ability to withhold judgment when Lawrence spoke his mind—which was often. "Spud listened. He was an admirable companion. He did not talk back. He said nothing. Spud accepted Lawrence and Lawrence accepted Spud. They got along admirably," says Joseph Foster in D.H. Lawrence in Taos.
Spud asked Lawrence if he would write something for Laughing Horse, and the result was the outrageous letter to Spud, "Chére Jeunesse," October 12, 1922, printed in No. 4, December 1922. It was a ribald review of the lewd Ben Hecht book, Frantazius Malare. Alongside it appeared caustic excerpts from an Upton Sinclair book, The Goose-Step: A Study of American Education. With these pieces, the horse apples hit the fan. The University of California had enough of these polemic upstarts. Roy Chanslor, the only one still at Berkeley, was expelled, threatened, and charged with printing obscene matter. The issue achieved widespread notoriety, creating a cause célèbre.
Spud wrote: "It was a strange predicament and an embarrassing one for me. It was I who had been responsible for obtaining both of the objectionable contributions: and yet there I was, safely surrounded by snowdrifts, windswept deserts, icebound mountain chains and pagan savages in a world as far removed from civilized warfare as was possible; while the blood and freedom of my friend and colleague was being jeopardized as a result of my quite crazy and irresponsible New Mexico friends!"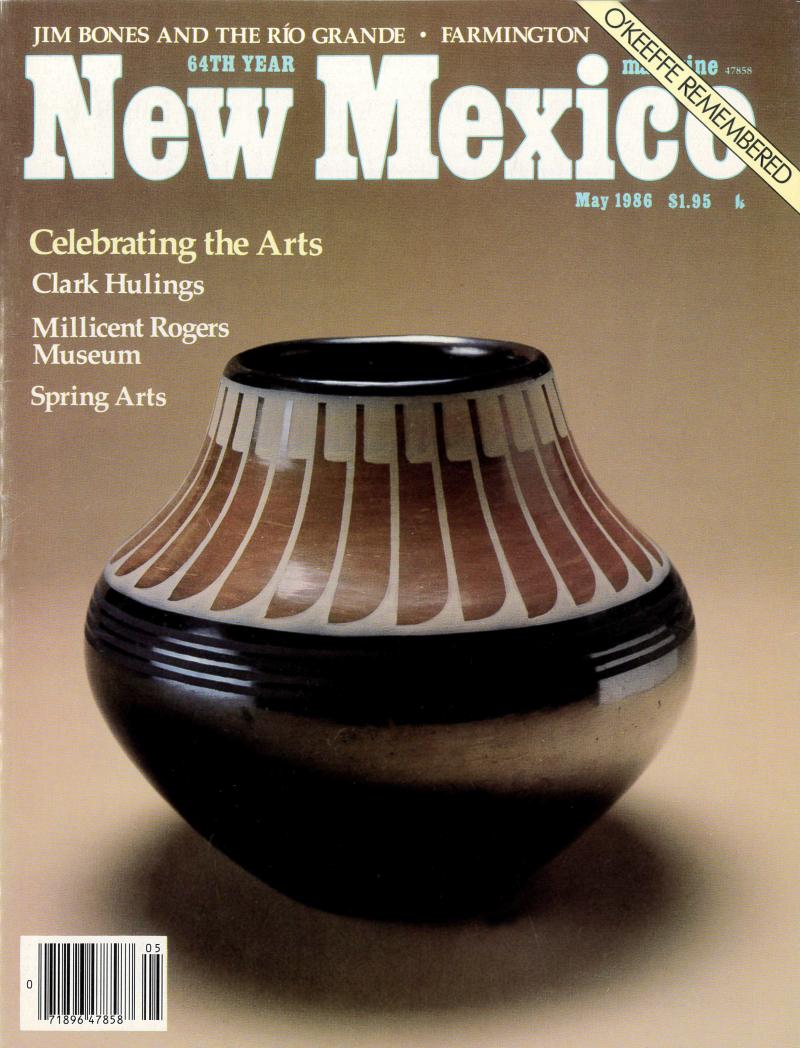 The May 1986 edition of New Mexico Magazine celebrated the arts in its 64th year. 
That winter, planning for a trip to Mexico took place at the Hawk Ranch near Taos. Lawrence, his wife, Frieda, Witter Bynner, and Spud consequently left in the spring of 1923 for a six-month visit to Mexico City, Guadalajara, and Lake Chapala. Here, according to Spud, he took rein of the piñata Horse having '"inherited' the magazine and converted it into a journal of, by and for New Mexicans. Unearthing a Navajo legend about the sungod riding a turquoise horse with a 'joyous neigh,' it seemed a natural transition to keep the title (which had proved wonderfully rememberable) but to change its nature to suit the new environment."
It should be noted that prior to 1923, only three popularly read New Mexican publications occasionally included regional literature of the area in their format: the Albuquerque Herald newspaper; El Palacio, a journal then devoted to archaeology and the arts; and Bronson Cutting's Santa Fe New Mexican. Social Regionalism, by way of "little" magazines, was just beginning to develop a stable point of view throughout the country. Recurring themes were rural, geographic, and objective, determined by the powerful realism of Nature. It was expressed either in pessimistic or optimistic terms depending on the feel for life one had for his or her territory. These earth-minded periodicals broke up the large American unit into smaller diversified parts, while providing an outlet for outland writers whose work was good but did not appeal to Eastern commercial editors.
Coinciding with Spud Johnson's Guadalajara Laughing Horse No. 8 was the first edition of New Mexico Highway Journal in July 1923. Merging with the Conservationist in 1931, it became New Mexico: The Sunshine State's Recreational and Highway Magazine, which is read today as New Mexico Magazine, The University of New Mexico Press followed in 1929, the New Mexico Historical Review in 1930, the New Mexico Quarterly in 1931, the Writers' Editions of Rydal Press in 1933, and the New Mexico Federal Writers' Project of 1935. All were contemporary with Spud's Laughing Horse that romped until 1939.
Continued contributions to Laughing Horse by D.H. Lawrence infused the publication with professional and artistic credibility. Spud's sophisticated Southwestern following eagerly awaited each freshly groomed appearance. The increasing fans of Laughing Horse expected the best. Spud's circumspect temperament went with him to his press when he was sure he had a folio of unique material that his readers needed to stay abreast of the literature and art scenes in and around the Southwest.
D.H. Lawrence's letters, poems, and prose were always welcomed. His acclaim enhanced the readers, not only because he chose to live with them for a time, but also because he continued to speak well of New Mexico after he left. New Mexican poets and writers were encouraged to submit material that complemented the work of the already established writers, while Spud added his own local color. The Horse was off and running. A number of scholars consider Spud's Laughing Horse to be a contribution to journalism and the academy.
It cannot be overlooked that although Lawrence's influence meant much to the survival and success of Laughing Horse, Spud and his Horse meant much to Lawrence as well. There are several letters to Spud, but none as enchanting as the famous "Dear Old Horse: A London Letter," written January 9, 1924, and printed in Laughing Horse No. 10. Read in its entirety, it reveals the strength Lawrence drew from his reliance upon the animal for use as an extended allusion and as a stronger archetype thereafter. From that letter: ". . . Horse-sense, Horse-laughter, Horse-passion, Horse-hoofs: ask the Indians if it is not so." Also: "Horse, Horse, be as hobby as you like, but let me get on your back and ride away again to New Mexico." Laughing Horse No. 13, April 1926, was devoted entirely to Lawrence. His spirit had risen with vitality in New Mexico, and he shared it with those who cared.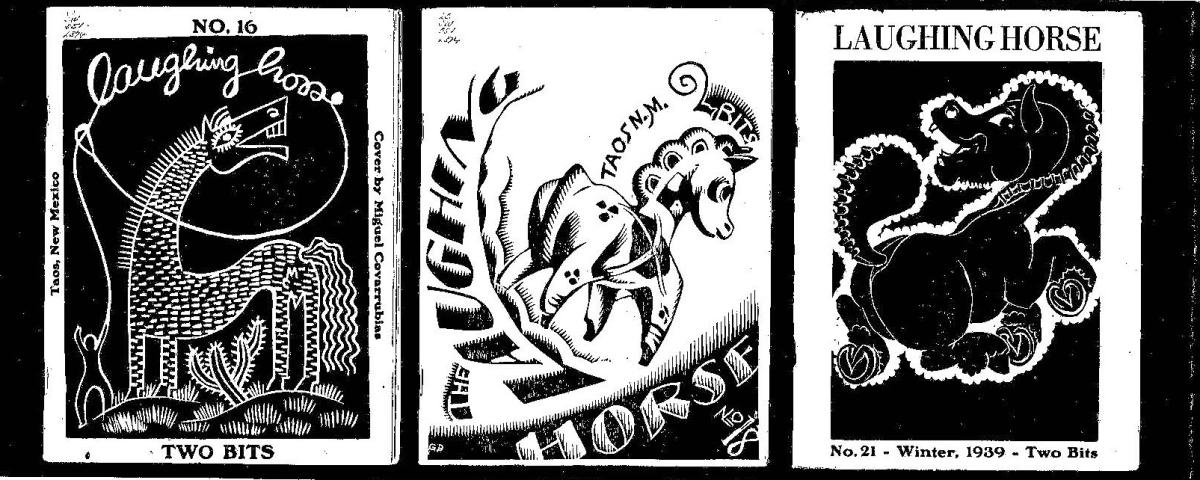 Names that later became famous are sprinkled through Laughing Horse, among them artists Miguel Covarrubias, Gene Kloss, Dorothy Brett, and Andrew Dasburg, and writers Upton Sinclair, Frank Waters, and Mabel Dodge,
who also wrote as Mabel Luhan. 
Spud Johnson went on printing Laughing Horse in Taos nine years beyond Lawrence's death in March 1930. A noteworthy issue during this period was No. 17, February 1930, "Symposium of Criticism, Comment and Opinion on the Subject of Censorship." It was presented to Senator Bronson Cutting, who was influenced to help alter the censorship clause in the current tariff bill. Cutting dedicated the issue of the Congressional Record that contained the tariff bill argument to the editor of Laughing Horse. D.H. Lawrence's Lady Chatterley's Lover was now free to enter the United States.
The Laughing Horse strode on with a variable gait and an understandable stalling along the way during the Depression. Spud wrote: "And there were countless mishaps when the editor later set up issues by hand, a page at a time, and printed them by foot power on his own minute press, first in a bedroom, then in a kitchen, finally in his own print shop with the roof always threatening to cave in."
What Spud considered to be the outstanding characteristic of his little magazine "was not so much the wide variety and fame of its contributors, nor in the importance of anything it ever printed, but in the bald fact of its persistence for so many years in spite of its sporadic appearance."
How and where did Laughing Horse go? Its hay day was during an era when many established and soon-to-be writers, poets, artists made a home for themselves in Taos and Santa Fe. The last Laughing Horse was No. 21 in 1939, marking the passing of Spud's mythical steed from the Sangre de Cristos, while World War II reared with apocalyptic furry.
Read more: The view from atop Capulin is breathtaking, a strik­ing composition of volcanic mountains dotted with Iava-capped hills and mesas.