THINK BEING THE OWNER of a hot springs resort in one of New Mexico's most laid-back towns is some kind of dream job? Jake Foerstner would heartily agree. Since 2006, he's been the proud proprietor of Riverbend Hot Springs, in Truth or Consequences. The constellation of 17 common and private pools, ranging from 95 to 108 degrees, perches above the Río Grande across from majestic Turtleback Mountain. The chill vibe surrounding the springs goes back hundreds of years, Foerstner says, dating to the ancient Mimbres and Apache people. In recent years, T or C has boosted its reputation as a hub for wellness, with massage therapists and yogis joining some of the 10 or so hot springs resorts in the town's historic bath district.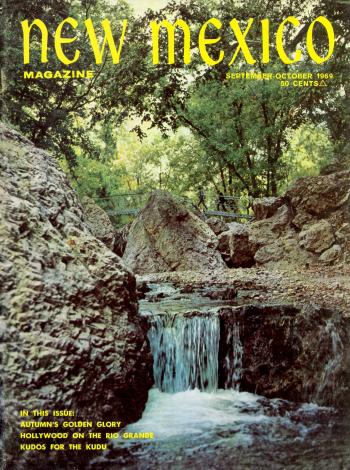 ON THE COVER
Sept./Oct. 1969
Keith Kofford photographed Whitewater Creek ("one of the prettiest areas for exploring") near Silver City.
WHAT'S SPECIAL ABOUT NEW MEXICO thermal springs is their history of being used traditionally by Native people. They were considered sacred, neutral areas. There was never a conflict between any tribes over them. Today people come here and interact peacefully. This is a stress-free zone.
Where we are, at the southern tip of the Rockies, there is so much geothermal activity, and you can enjoy it at a good mix of natural springs and resorts. At Riverbend, our waters have more than three dozen overall dissolved solids. We're the richest in the world.
I've been thrilled to witness our town's renaissance as a healing destination. There's a synergy that I feel building like no other that I've felt in the past 35 years.
To me, New Mexico has always felt like a bubble of creativity and weirdness floating in a sea of the ordinary. Riverbend's bohemian roots as a youth hostel, coupled with its idyllic location, give it that same laid-back escape feeling. Our guests have long called it a vacation from their vacation.
Read more: Wagon Mound Bean Day parade emcee Tom "Dabo" Herrera digs into the significance of our state's longest-running festival.  
SOAK IT IN
These hot springs do a mind and body good.
Ojo Spa Resorts. At Ojo Caliente Mineral Springs Resort and Spa, in Ojo Caliente, enjoy iron, arsenic, soda, and lithia waters in a rustic yet luxurious setting. At its sister spa, Ojo Santa Fe, get poolside food-and-drink service in an oasis of spring-fed pools. ojosparesorts.com
Spence Hot Spring. Near Jemez Springs, this natural hot spring is perched high on a mountainside, where geothermal water cascades from the source in a series of pools with views of the Santa Fe National Forest. nmmag.us/spencehotspring
Jemez Hot Springs. The former Giggling Hot Springs resort, near Jemez Springs, features four therapeutic mineral pools heated by water from beneath Valles Caldera National Preserve. jemezhotsprings.com