Above: "Liz Dancing" by Catherine Lucas, this year's Grand Prize Winner.
HOW DO YOU TELL THE STORY OF NEW MEXICO IN A PHOTO? Is it in a flurry of fabric whipped up in a folklórico dancer's skirt? Or in the thick adobe buttresses of an iconic church? How about in the shadows and contours of the white dunes of a desert landmark?
Maybe it's all of those things. And more.
This year, the esteemed judges of the 18th annual New Mexico Magazine Photography Contest had the arduous task of scouring through more than 2,200 images submitted by more than 370 photographers. Sunsets and stormy and starry skies were popular submissions, as were dramatic desert landscapes where Ship Rock, the Organ Mountains, and the Bisti/De-Na-Zin Wilderness filled the frame. Lonely highway signs and hot-air balloons and horses—the contest creates a collection of images that tell individual versions of life in New Mexico.
Ultimately, the judges had to pick their favorites from six categories, and this year we gathered at Sunrise Springs, near Santa Fe, to make the final selections in person. The judges' critiques and banter during the session reflected their skills at shooting, analyzing, and homing in on those intimate details that elevate a photo to "winner."
"This image says something about art in New Mexico," Santa Fe photographer and judge Gabriella Marks said of the image Paint Pigments, which won third place in the competition's new Mobile category.
"I love how those cranes look like piano keys in this one," Warren Malkerson, co-owner of the Tularosa Basin Gallery of Photography, in Carrizozo, said as the judges narrowed down a variety of Bosque del Apache images to just one.
The winning photos will again be exhibited at Malkerson's gallery starting January 26. The top vote getters will also be considered for inclusion in the 2020 New Mexico Magazine Enchanting New Mexico wall calendar (available this summer). Ultimately, the goal is to showcase the state through as many lenses as possible, a task that the contest's judges took seriously.
"Photography is my passion, and looking at images of our beautiful state is always a fun process," said Las Cruces photographer Wayne Suggs, a former Grand Prize winner turned judge. "Watching the cream of the crop rise to the top, showing off that beauty, is very rewarding." —Carolyn Graham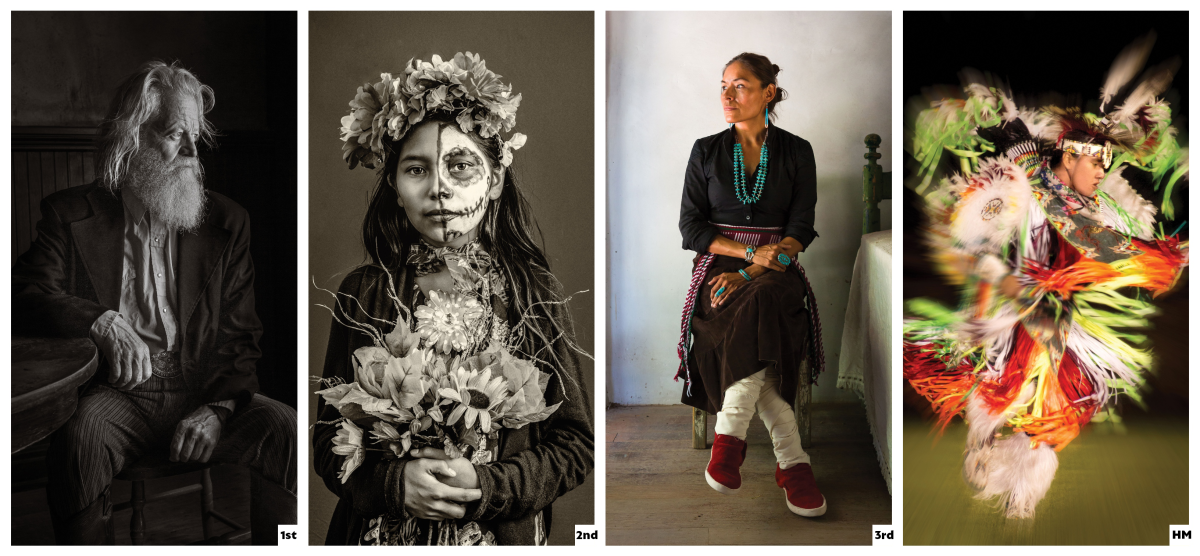 PEOPLE CATEGORY
1st Place: Thomas, Ron Cooper
"Thomas Wingate is the manager of Eaves Movie Ranch, near Santa Fe. I made this portrait of him in the Grand Hotel, one of the classic movie sets at Eaves. The ranch has been operating since 1962 and has been the location for dozens of film and television productions over the years." —Ron Cooper
​2nd Place: Dia de los Muertos Girl (Irene Avila), Bob MacDougall
​3rd Place: Carma, Ron Cooper
​Honorable Mention: Powwow Dance, Darin In-on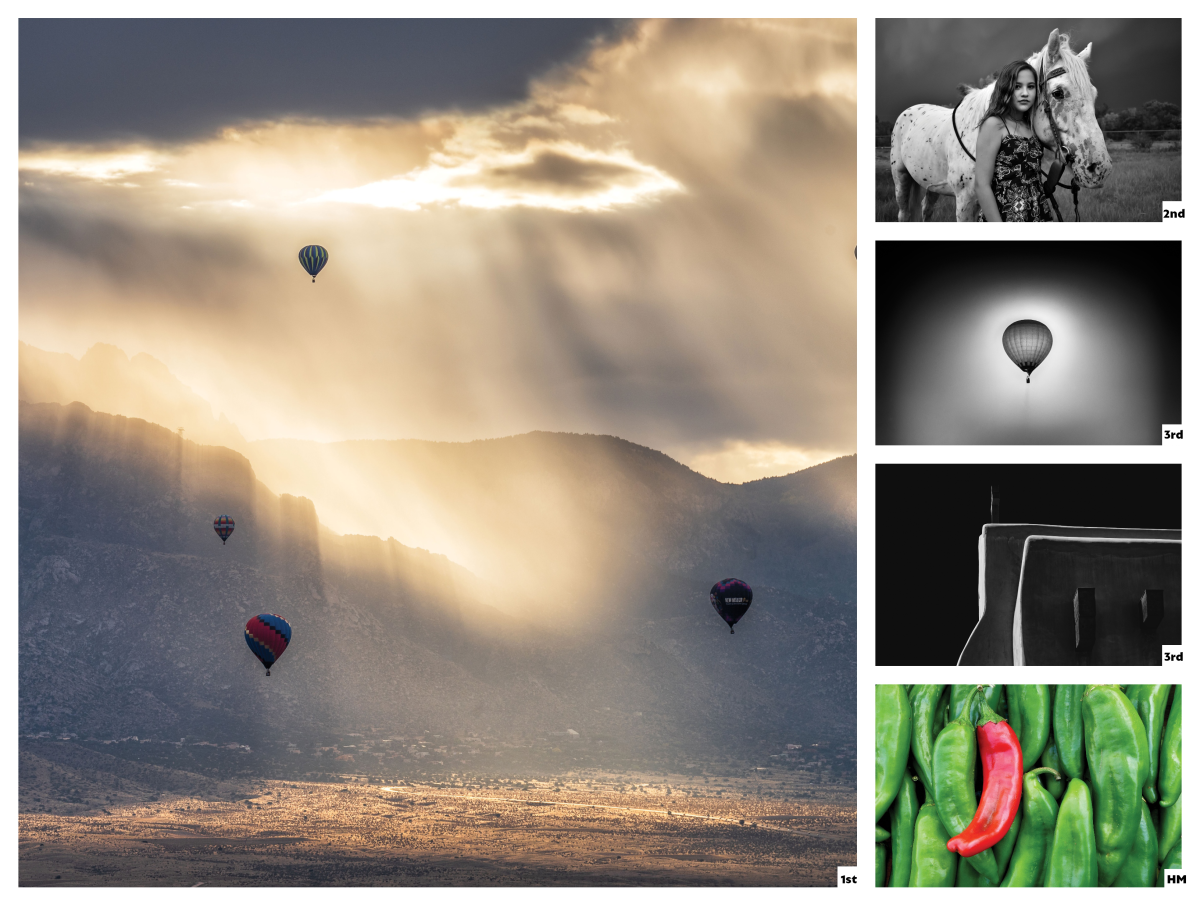 NEW MEXICO EXPERIENCE CATEGORY
1st Place: Balloon Fiesta Sunrise, Jake Werth
​2nd Place: Cassie's Storm, Kelcie Spurgin
​3rd Place TIE: Nightlines, Robert Vance and Eclipse, David Douglas
​Honorable Mention: NM Christmas, Lou Sisneros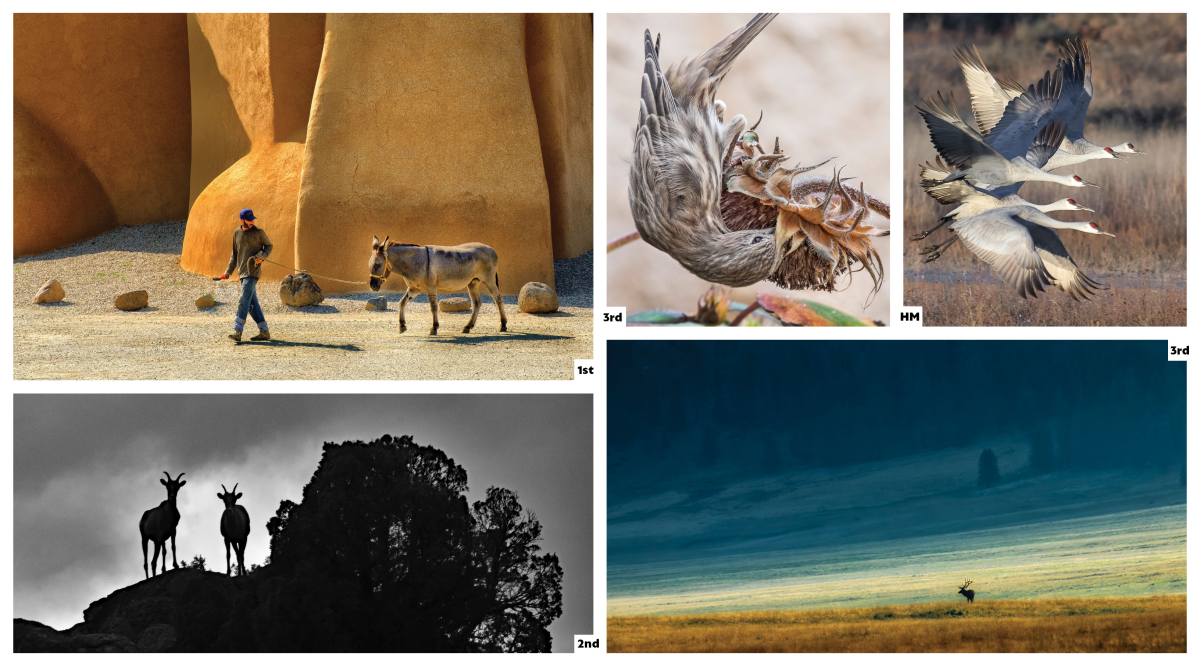 ANIMALS CATEGORY
1st Place: Andy the Burro and Matthew Walk to Church, Bob MacDougall
​2nd Place: Sentinels at Sundown, Phil Gruis
​3rd Place TIE: Elk at First Light, Ed MacKerrow and Seed Hunter, Dennis Dusenbery
​Honorable Mention: Little Do They Know Their Elegance and Grace, John Van't Land
---
SPECIAL CATEGORY: STATE PARKS/ENCHANTED ADVENTURES
Photographers don't always need a good excuse to explore our state's natural beauty, but they got one when New Mexico Magazine introduced the Enchanted Adventures category, sponsored by New Mexico State Parks. Now in its second year, the category spotlights photogenic lakes, hiking trails, rock formations, vistas, and other attractions in New Mexico's 34 state parks.
The parks sprawl across varied terrain, and their blooming cacti, critters, and night skies became strong contenders in this year's competition. In the end, the judges ultimately focused on those images that captured both the dramatic and playful sides of our state parks.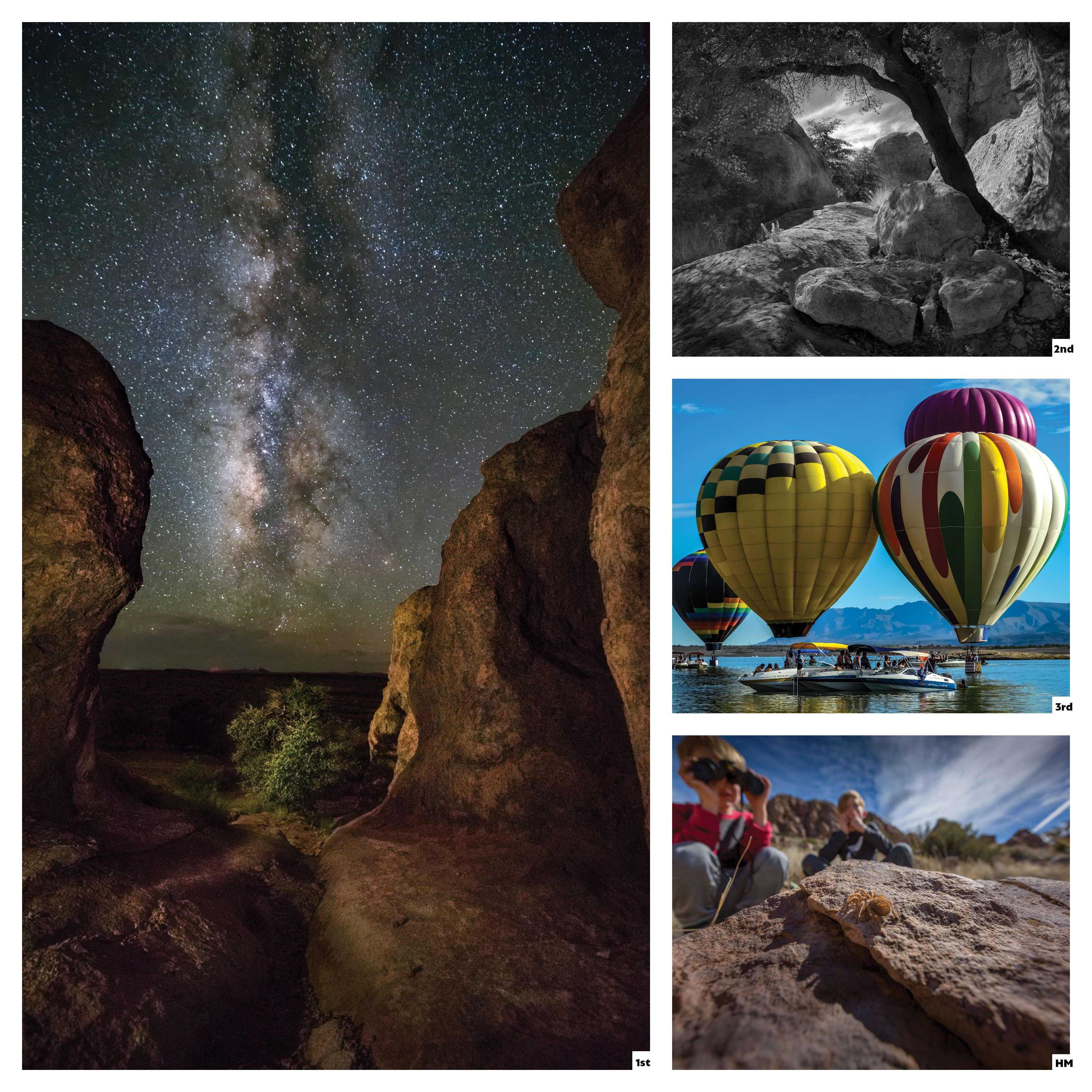 1st Place: Milky Way at City of Rocks, Jim Rodgers
​2nd Place: Spring Bloom, Harold L. Jones III
​3rd Place: Ballooning and Boating, Gerald Guss
​Honorable Mention: Beauty At Arm's Length, Christina Shelby
PRIZES
First Place: Ozark Trail Instant Cabin Tent with Integrated LED Light, an annual camping permit from New Mexico State Parks, and a one-year subscription to New Mexico Magazine.
Second Place: An annual camping permit from New Mexico State Parks and a one-year subscription to New Mexico Magazine.
Third Place: An annual day-use pass from New Mexico State Parks and a one-year subscription to New Mexico Magazine.
---
MOBILE CATEGORY
1st Place: Enter, Brooke Zwerner
​2nd Place: Enchanted Cabin View, Stu Ostro
​3rd Place: Natural Pigments, Irene Owsley
​Honorable Mention: Space, Lee Atwell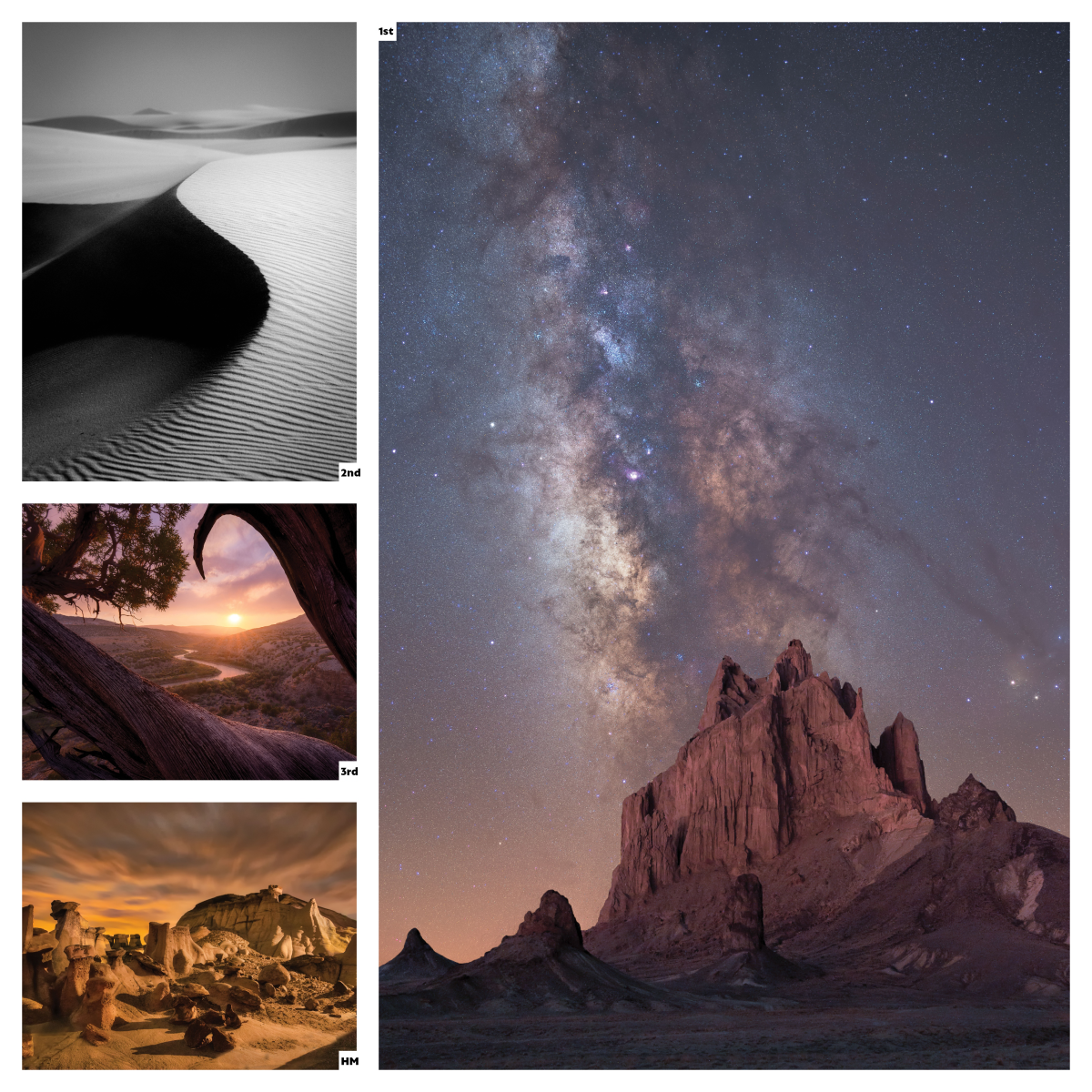 LANDSCAPE CATEGORY
1st Place: Land of Giants, Jake Werth
"One night, I went to Ship Rock hoping for clear skies, but was clouded out most of the night. I did, however, get a glimpse of how the Milky Way would be positioned over Ship Rock and knew I would have to return. About three days later, my scouting from the previous trip paid off and I knew exactly where I needed to be for this composition". —Jake Werth
​2nd Place: Dune Curves, Aaron Martinez
​3rd Place: Juniper Window, Aaron Martinez
"I was visiting family that lives in Medanales. My family has been there for over 100 years. I was almost an hour away shooting elsewhere when I saw some clouds to the west that looked promising. I drove as quickly as I could so that I could relocate my position and compose the shot. I had my tripod and camera upside down shooting through this juniper tree, and even though I was lying down on the ground, my camera was still a foot below me, so I had to rely on my screen to focus and compose the image." —Aaron Martinez
Honorable Mention: Beautiful Badlands, Pam Dorner

PRIZES
Grand Prize: A $1,000 gift certificate to the Santa Fe Photographic Workshops and a one-year subscription to New Mexico Magazine.
First, Second, and Third Place Winners: A one-year subscription to New Mexico Magazine and a 2019 New Mexico Magazine calendar (each category).
Honorable Mention: A one-year subscription to New Mexico Magazine.
THE EXHIBITION
The grand opening of the New Mexico Magazine Photo Contest Winners Show at the Tularosa Basin Gallery of Photography, in Carrizozo, will be the weekend of January 26–27 (401 12th St., 575-937-1489, photozozo.org). You can purchase the photos or request special sizes. The magazine does not participate in the sales or proceeds. The show will continue through the year.
THE JUDGES
Lauren Aguilar, art director, New Mexico State Parks
Reid Callanan, director, Santa Fe Photographic Workshops
Carolyn Graham, CEO, New Mexico Magazine
John McCauley, art and photography director, New Mexico Magazine
Inga Hendrickson, contributing New Mexico Magazine photographer
Gabriella Marks, president, American Society of Media Photographers, New Mexico
Warren Malkerson, co-owner, Tularosa Basin Gallery of Photography
Wayne Suggs, freelance photographer and former Grand Prize winner
---