Ceremonial masks and larger-than-life costumes delight visitors of all ages at the Museum of International Folk Art. Photography Courtesy Museum of International Folk Art.
BEST ANNUAL EVENTS
Nearly five decades after its humble start, the Albuquerque International Balloon Fiesta (October 7–15) has the power to wow. As in, triple-digit-votes wow. The overwhelming spectacle of more than 500 hot-air balloons launching in a mass ascension could be enough to score this win. But our readers report that they also love warming up with a breakfast burrito and spotting the animals, cartoon characters, and other familiar faces (Darth Vader, Smokey Bear, the Creamland Cow) that miraculously (and sometimes hilariously) transform into balloons at the Special Shapes Rodeo. Readers also adore the balloon glow and fireworks show on the last night of the fiesta. They awarded a close second to the Red Rock Balloon Rally, held every December in Gallup. As one reader put it: "No crowds, easy parking, the best scenery in the West, and fantastic balloons!"
Zozobra is the most famous, most photographed, and, for some, most emotionally fulfilling element of the third-place Fiesta de Santa Fe (September 1–10), an annual celebration of Spanish Colonial culture that dates to 1712. While the crowd chants "Burn him, burn him," Will Shuster's Old Man Gloom (aka the aforementioned Zozo) erupts into flames, kicking off Labor Day weekend with a symbolic and highly cathartic expulsion of gloom, grievances, afflictions, and general bad vibes. Stick around Fiesta for folkórico performances, the ever adorable Children's Pet Parade, and the antic  Historical/Hysterical Parade.
It seems like the whole world comes to Santa Fe every summer for the International Folk Art Market (July 14–16). More than 20,000 people trek to Museum Hill for a long weekend of world music, ethnic dances, and, most important, buying traditional craftwork and art from the global assortment of artists who made it. Take home some good karma: Those artists keep 90 percent of their earnings.
The Santa Fe Indian Market (August 19–20) is a reader favorite for obvious reasons: It's the biggest, best Native fine art show in the world. More than 900 artists from all over the continent offer traditional and contemporary pottery, jewelry, textiles, weavings, paintings, baskets, and more. It's a serious art show and it's also fun, with music on the Plaza, dance performances, fashion shows, and screenings of Native cinema. Bonus: fry bread.
Spanish Market makes the final cut, thanks in part to its three annual chances to immerse yourself in Spanish Colonial arts: on the Santa Fe Plaza (July 29–30), Albuquerque (November 24–25), and Las Cruces (February 18–19). 
BEST OUTDOOR EXPERIENCES
One amazing thing about New Mexico is how easy it is to dive into history, stare nature in the face, and burn calories all at the same time. Bandelier National Monument near Los Alamos draws over-the-top raves from readers who come again and again to study the ruins, imagine the park's 10,000 years of human history—and hike the rugged trails. For a full immersion, spend a few nights in the campground or pitch a tent in the backcountry.
Nearby in the Jémez Mountains, the second-favorite destination is Kasha-Katuwe Tent Rocks National Monument. Who doesn't love wandering among those sandstone-topped pinnacles called tent rocks, or hoodoos, while red-tailed hawks and the occasional golden eagle swoop past?
Trips to Chaco Culture National Historical Park similarly awe readers who marvel at meticulously constructed stone walls that mark the center of an ancient world. Hiking trails take you deeper into the past, and miles of bike-accessible trails lead to distant great houses most people never see. Plus, Chaco volunteers lead Evening Night Sky programs at sunset, April through October.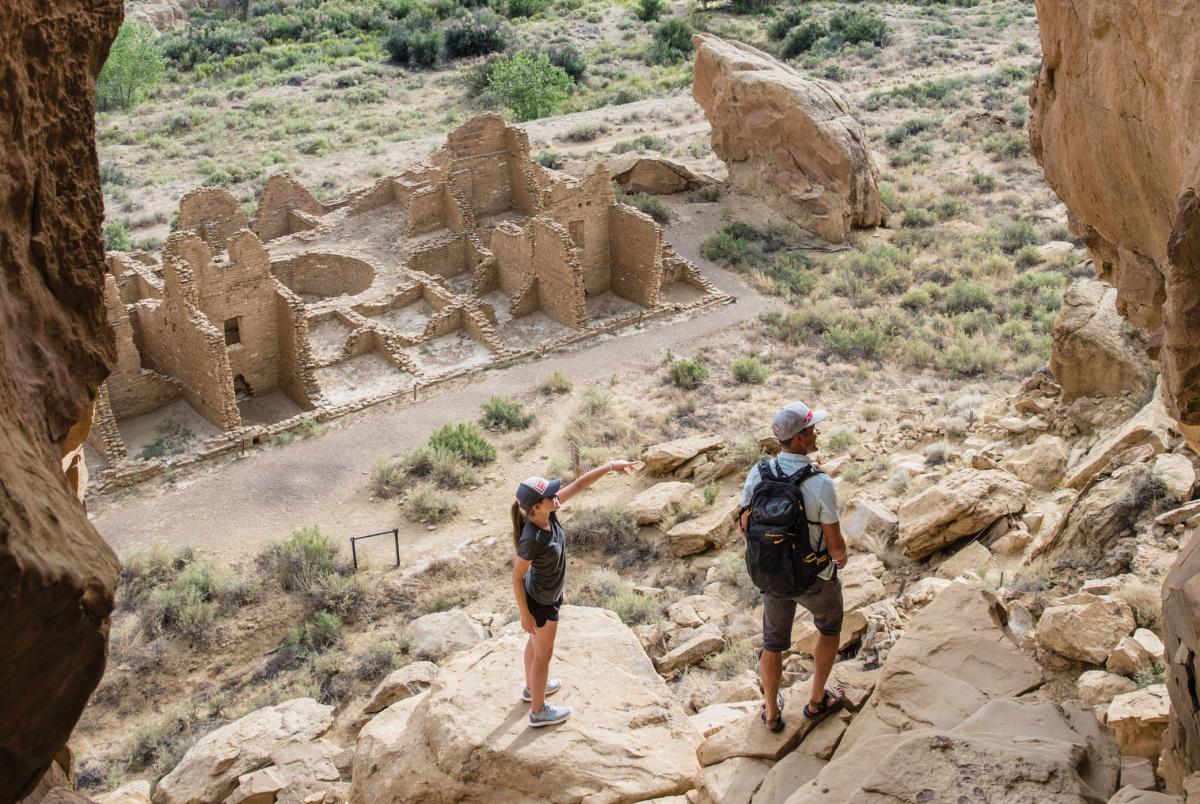 Chaco Canyon reveals Anasazi culture. Photography by Jen Judge.
Any time's a good time to visit White Sands National Monument, but one reader particularly recommends scampering over the rippled gypsum dunes at sunset. Nab a backcountry camping permit and you can stay until the stars come out and catch sunrise the next morning. On a full-moon night, it's supernatural.
Hiking in the Gila National Forest makes the list as an ultimate adventure among folks who really want to get away from it all. With more than 3.3 million acres of mountains and meadows, nearly a quarter of it designated as wilderness, it's hard to pick one favorite spot. But do plan a cruise through the Gila Cliff Dwellings, stacked-stone apartments tucked into the cliffs and mysteriously abandoned more than 700 years ago.
People flock to the Bosque del Apache National Wildlife Refuge for one main reason: birds. The refuge is centered on nearly 4,000 acres of wetlands and irrigated farmland that provide ideal forage for migrating birds like the majestic sandhill crane. The refuge also welcomes hikers, cyclists, hunters, and fishermen.
Carlsbad Caverns National Park collects almost as many votes as it has stalactites. Its massive system of chambers includes the Big Room, one of the largest caves in the world. July and August are prime months to watch 17 species of bats whoosh in and out of the cave at dawn and dusk. Been there, done that? Sign up for a ranger-guided tour, put on a helmet and kneepads, and crawl, climb, and squeeze your way through one of the park's other caves. 
BEST PLACES TO APPRECIATE CULTURE
New Mexico may be abundantly rich with locally produced art and artifacts, but our readers' favorite cultural stop is the Museum of International Folk Art, in Santa Fe. Packed with delightfully quirky traditional art, it represents more than 100 countries by way of 125,000 puppets, masks, sculptures, costumes, weavings, prints, and household goods. (While on Museum Hill, pop into the other three great museums and stroll around the Santa Fe Botanical Garden.)
Visits to Santa Fe must include a trip to the Georgia O'Keeffe Museum, say a large number of readers. Its permanent collection gives a thorough overview of this modern master's work, while changing installations delve into specific aspects and phases of her work and that of related artists. On view through September: a series of early watercolors O'Keeffe made while studying at the University of Virginia, documenting both her mastery of naturalism and her divergence from it.
History (with a little art) makes up choices three and four, with the Albuquerque Museum running neck and neck with the New Mexico History Museum/Palace of the Governors in Santa Fe. The Albuquerque museum's current exhibit about Zuni carvers compels a visit (see Stories in Stone), along with When Modern Was Contemporary, opening in September, with works by Alexander Calder, Jackson Pollock, Willem de Kooning, and other 20th-century masters. The thick adobe walls of the early-17th-century governors' palace drive home the fortlike qualities of the nation's oldest continually occupied public building. Inside, exhibits tell New Mexico's story from ancient peoples to the present, including the legacy of the Fred Harvey Company, which defined Southwestern cultural tourism for the masses.
While in Albuquerque, readers advise you not to miss the dinosaurs at the New Mexico Museum of Natural History and Science and the stories of Pueblo peoples at the Indian Pueblo Cultural Center.
What else do our culture vultures love? Charming, historic towns. Take your pick from among Madrid, where the Mine Shaft Tavern is still the best place to rest and refuel after a trip through the Old Coal Town Museum; Las Vegas, once the wildest of the Wild West towns; Old Mesilla, which makes you feel like a Butterfield stagecoach might come roaring through; and Lincoln, where Billy the Kid put an entire cow town on the map.
BEST PLACES TO SOAK UP RELAXATION
Is there a greater pleasure than slipping into a steaming tub at Ten Thousand Waves, above Santa Fe? A preponderance of our readers say no. Unless it's maybe better to have a deep stone massage and then slip into that tub. Or, no—what's even better is a massage, a private tub, then foie gras Wagyu burgers and sake at Izanami, then falling asleep by a fire in one of the Japanese-themed suites. That is the greatest pleasure.
No. 2 Ojo Caliente has undergone a lot of changes since the first bathhouse was built in 1868, and the upgrades to this natural hot-springs resort just keep coming. The iron pool, soda steam pool, and piping-hot arsenic pool are as relaxing as ever, while a new lithia pool captures the same water that used to spill from a pump in the courtyard. At night, the private outdoor pools, each with a kiva fireplace, give a stunning, up-lit view of a sandy cliff. In the morning, many readers recommend hiking up that mesa to visit the pottery-shard-littered ruins of an ancient pueblo—and then following an arroyo bed to the glittering maw of an old mica mine. By then, we say it's time for lunch in the Artesian Restaurant, followed by another soak, a massage, and a blue-corn-and-prickly-pear salt scrub.
Nestled in the leafy bosque of the Río Grande, about 30 minutes north of Albuquerque, the Hyatt Regency Tamaya Mist Spa is an easy enough escape to win the No. 3 spot. This is the kind of full-service resort where you can lie by the pool and sip a margarita, take a nap in your room with a view of the Sandías, have a red-chile-and-mud wrap treatment, then pop into the salon for a haircut, facial, and mani-pedi. Type-A visitors will feel very accomplished in the amount of relaxation they can achieve in one day.
For a quick soak, readers love taking a dip at Betty's Bath and Day Spa in Albuquerque, Float in Los Alamos, Riverbend Hot Springs in Truth or Consequences, and Faywood Hot Springs, outside Silver City. Another classic: "I love driving through the Jémez Mountains, detouring to Ponderosa Winery, soaking at Jemez Hot Springs (formerly Giggling Springs) and then stopping by the pueblo for fry bread and local honey," writes one refreshed and well-fed road tripper.
BEST LIVE MUSIC
AlFresco
Cool summer nights inspire readers to groove under the stars. The Santa Fe Bandstand's free concert series (July 5–August 25) wins readers' title as the hottest outdoor music spot of all. Latin, reggae, rock, jazz, and plenty of unexpected choices (Santa Fe Opera apprentices!) keep the Plaza humming.
Runner-up Sandia Resort and Casino Amphitheater seats 4,000 but can feel like an intimate club. Performances range from national touring acts like Alan Jackson, ZZ Top, Counting Crows, and Poison to local bands. Always epic: the views of the Sandía Mountains.
There is no opera experience quite like our readers' No. 3 favorite, the Santa Fe Opera, world-famous for premiering new works, reinventing the classics, and fostering young talent in a setting that includes Crayola sunsets and the occasionally well-timed lightning storm. Expectations are high for the international debut this July of The (R)evolution of Steve Jobs.
"In the summertime, everyone gathers for Friday night concerts on the stage at Ashley Pond Park—a perfect venue with a New Mexico sunset dipping low over the mountains of Los Alamos," according to one fan of this music series that takes advantage of a recently added pavilion.
Shimmy, Shimmy, Shake!
Taos Mesa Brewing books a steady roster of local and touring musicians, has two outdoor stages with outstanding sound quality, and features a dozen handcrafted beers on draft. In early June, music lovers can camp out—or stay in a vintage trailer—during the three-day Music on the Mesa Festival.
A renovation of  La Fonda's La Fiesta Lounge in Santa Fe didn't cause its passionate dancers to miss a beat. You can still boogie and sip margaritas every night of the week to live country, rock 'n' roll, and Latin music.
Up Canyon Road at El Farol, readers hope a scheduled July 1 reopening after a renovation brings back the beloved Saturday night flamenco performances, midweek blues jams, and singer-songwriter sets. Not to mention the tapas and sangria.
Little Toad Creek Brewery and Distillery in Silver City attracts an eclectic mix of country rock, funky R&B, jam bands, neo-soul jazz, and vagabond swing. Don't miss the spring Toadfest and fall "Oktoaderfest" (see Let's Put On a Show).
Out Late
By day, Meow Wolf in Santa Fe offers a mind-blowing interactive art/sci-fi haunted house experience. But at night it transforms into a club showcasing hip national acts like Devendra Banhart and DJ Kid Koala, local up-and-coming indie artists, and Santa Fe's wildest dance parties (see Neo Santa Fe).
Shows at Meow Wolf tend to start and end early, so Skylight serves as Santa Fe's late-night party hub, with three bars and dance floors, DJs, touring bands, local artists, comedians, flamenco performances—and pizza by the slice until the wee hours.
In Albuquerque, the Launchpad specializes in all forms of rock, with a killer sound system that makes this smallish club feel like an arena. This year brings Shonen Knife, Chicano Batman, Guitar Wolf, and the Melvins. Its sister club, Low Spirits, has a neighborhood-bar feel and mixes bluegrass, rockabilly, and folk into its standard rock lineup. Sister Bar is a Downtown hipster bar–restaurant–arcade with a wild blend of hard rock, punk, metal, hip-hop, electronica, and eighties dance parties.
---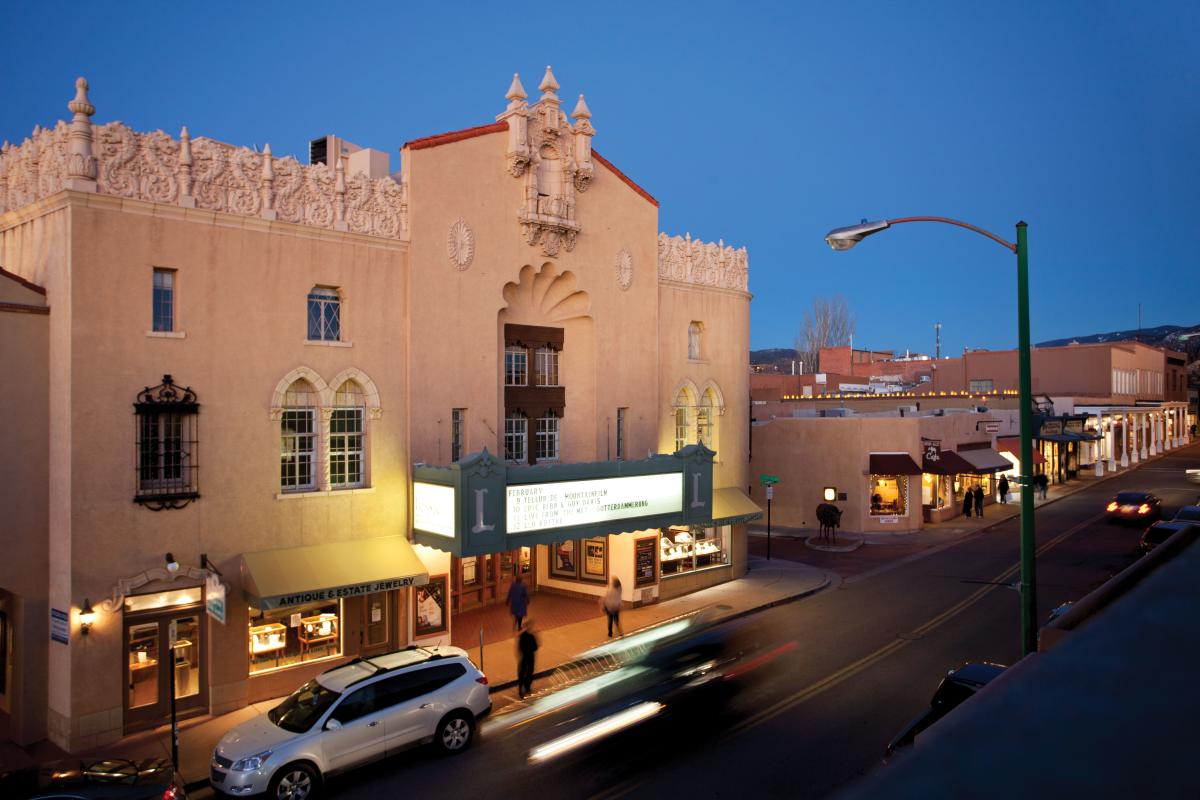 The Lensic in Santa Fe. Photography by Kate Russell.
HIGHLIGHT: LOVIN' THE LENSIC
Based on the number of votes it got, the Lensic Performing Arts Center in Santa Fe is the place readers look to for quality productions that include music by the Santa Fe Symphony, Joan Baez, the Mavericks, and performances by the Aspen Santa Fe Ballet and regional folkloric highlights. Compelling as the stage action might be, don't forget to look around. This glorious Moorish–Spanish–Art Deco masterpiece drips with architectural details.
The whole thing was the brainchild of Syrian immigrant Nathan Salmon, who made his fortune first as a cart peddler, then as a shop owner and real estate investor. The 1931 opening of his 800-seat movie palace (dubbed with the initials of his six grandchildren) brought cheap thrills to Santa Feans looking for an escape from the Great Depression and World War II. 
It thrived until the 1990s, when its use declined. By then, the building had deteriorated. With help from the National Trust for Historic Preservation, it was refurbished and reopened in 2001 with an expanded stage, high-tech lighting, and a new sound system. It still screens classic films, and regulars lap up its transmissions of "The Met: Live in HD." On June 10, you can catch Grammy-winning jazz singer Gregory Porter. lensic.org
---
BEST LODGING
Drenched in Santa Fe history, La Fonda on the Plaza earns our readers' loudest kudos for its prime location, charming décor, great New Mexican food, and, of course, dancing in La Fiesta Lounge. Vying for the next spot are the Inn of the Anasazi, with its exciting, ambitious cuisine, and Eldorado Hotel, where the rooftop pool seems to float over downtown. Travelers willing to forgo a downtown location in return for savings flock to El Rey Inn, a lovingly maintained Route 66 gem on Cerrillos Road.
In Albuquerque, readers' favorite places to stay are topped by the Hyatt Regency Tamaya on Santa Ana Pueblo, which boasts golf, tennis, horseback riding, and Native tales around a campfire. Nipping at the Tamaya's heels is Los Poblanos Historic Inn and Organic Farm in the city's pastoral North Valley, a peaceful, deluxe retreat from the buzz of the city. (An expansion there means more rooms and a bigger restaurant, starting this summer.) For heart-of-the-city lovers, Hotel Andaluz in downtown Albuquerque scored high. Conrad Hilton's 1939 Moroccan-Spanish-Territorial high-rise has been reincarnated as a luxury boutique hotel with a lobby that's a people-watching haven.
In Taos, readers rave for the cozily elegant El Monte Sagrado. Even its De la Tierra restaurant deserves high marks, thanks to an upgrade by chef Christina Martinez, who collaborated with super-chef Mark Miller on the new menu. The neon-era El Pueblo Lodge is a frequent destination for skiers who want to spend a quick weekend (and less money) in the town's historic center.
Big vote getters elsewhere: Silver City's Murray Hotel has a gorgeous Art Deco exterior, a remodeled, environmentally friendly interior, and affordable prices. The Plaza Hotel in Las Vegas gleams from more than $1 million in recent upgrades. Hotel Encanto in Las Cruces also got a facelift after it was designated as the official hotel of Spaceport America. With no rocket men taking off just yet, it's all yours.
BEST NATIVE AMERICAN EXPERIENCES
The best way to get involved in Native American culture is to jump in the car and go to a festival, feast day, or dance at one of New Mexico's pueblos or reservations. There is a fairly regular annual schedule of events (see newmexico.org), with at least a few  happening every month. For example, June brings the High Country Arts and Crafts Festival to Picuris Pueblo, while Ohkay Owingeh celebrates San Juan Feast Day with a corn dance and buffalo dance. The Gallup Inter-Tribal Indian Ceremonial takes over Red Rock State Park every August, and Taos Pueblo's Harvest Feast of San Geronimo lasts a whole weekend in late September. Don't miss the Crownpoint Navajo Rug Auction, which occurs monthly. Before you head out to any event, make a quick call to confirm the details and ensure visitors are welcome.
Some of our readers' best memories have included visits to Taos Pueblo. Pueblo college students lead 30-minute tours that are scheduled every day, year-round. Although guided tours are optional at Taos, visitors can access Acoma Pueblo only by signing up for one of the 1.5-hour walking tours offered every day March-October. As usual, call ahead to confirm that tours are available the day you want to visit.
If you can't make it to a Native community, plan to visit the Indian Pueblo Cultural Center in Albuquerque, where traditional dances are performed Saturday–Sunday throughout the year and Friday–Sunday from June to August. IPCC also has an incredible museum, a café serving traditional Native cuisine, and a retail shop with artwork certified to be authentic.
BEST SKIING: WINTER WONDERLAND AWAITS
With mountain biking, disc golf, and zip lines, the ski resorts offer plenty of action all summer. But during high season in winter, according to our voters, Ski Santa Fe is a crowd-pleaser of a mountain. The bulk of the slopes are intermediate, with enough expert and beginner terrain to keep everyone happy, and a high-quality ski school. The 12,075-foot summit means the runs catch lots of snow (snowmaking also covers half of the mountain's 1,725 vertical feet), and the season often lasts into April. Lift tickets are affordable, and Ski Santa Fe (with its sister mountain, Sandía Peak) is one of the few ski areas to allow the ambitious athlete to skin up the mountain and ski back down for free.
When you're looking for a real challenge, Taos Ski Valley will test your skills, with more than half of its 110 trails rated expert. Fifteen lifts serve runs that spread over nearly 1,300 acres and have a total vertical drop of 3,281 feet. Thrill-seekers for years hiked up to Kachina Peak to catch the freshest powder and the most elevated terrain, but in 2014 a new lift brought swift access to a whole new range of expert-only routes and chutes. Taos resisted snowboarding longer than nearly anywhere else, and the mountain retains a stronger affinity for skiers, although under new ownership it has done more to court boarders.
Pajarito Mountain, above Los Alamos, is a locals' favorite for its stunning views, abundance of blue runs, lack of crowds, and specials like $99 carload days and $39 local-appreciation Thursdays. Angel Fire has a tight-knit community of regulars and a thrilling terrain park, while Red River is known as a true ski town, with a mom-and-pop feel and an abundance of beginner and intermediate slopes.
Valles Caldera National Preserve is open to cross-country skiing and snowshoeing in the winter, with an easy, groomed five-mile History Grove Loop, but there are tougher, ungroomed trails to the peak of South Mountain, around Cerro Piñon, and around Coyote Call. Buy a $40 annual pass to the park or get a group together and split a $20-per-car entrance fee (good for seven days).
---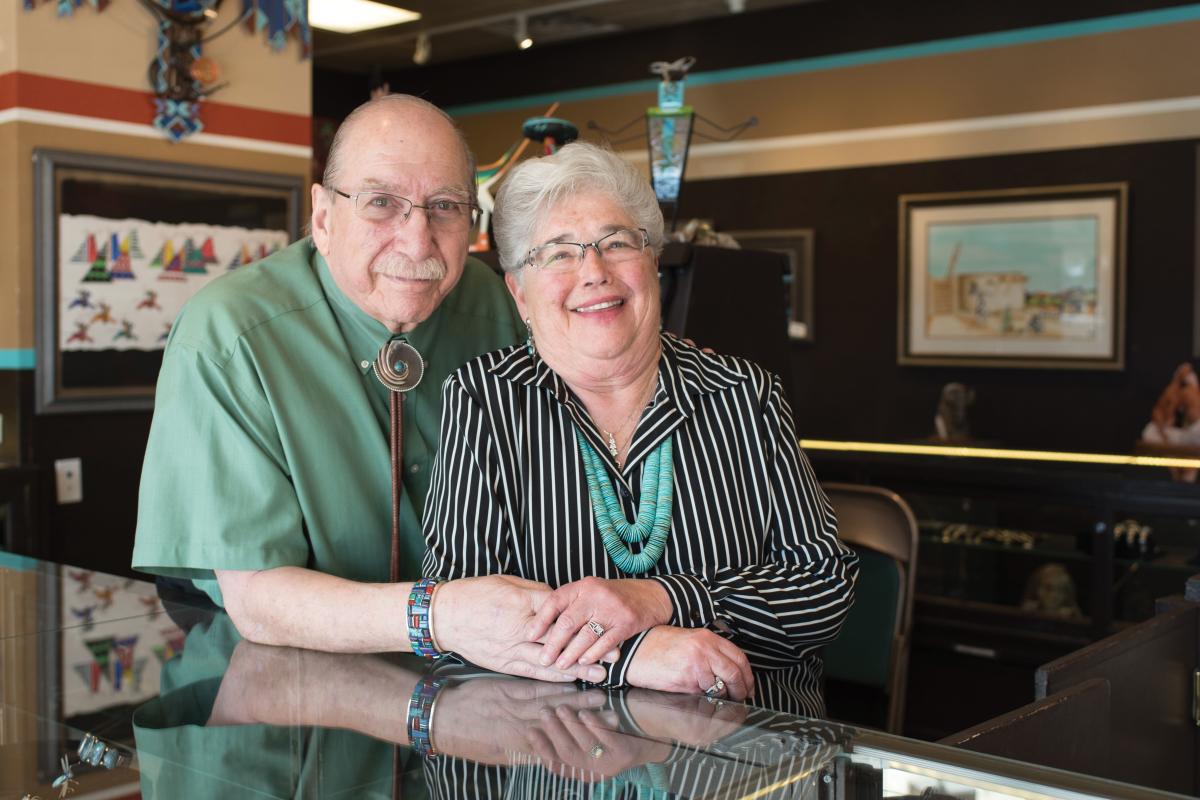 Wayne and Tania Bobrick at Wright's Indian Art. Photography by Sergio Salvador.
HIGHLIGHT: THE WRIGHT STUFF
When Wright's Indian Art moved into a brand-new home on Albuquerque's Louisiana and Menaul boulevards in 2013, a newcomer might have observed its colorful, modern design and thought it an upstart. But Wright's is actually the city's oldest Indian art gallery, celebrating its 110th birthday this year, its longevity underscored by a high favorability ranking in our poll.
Although it stocks a familiar list of Native items—baskets, rugs, jewelry, and pottery—the shop feels like a contemporary gallery. Director Dan Hyman and his wife, Lauren, focus on bringing in traditional and contemporary works from young Native artists. They're carrying on the tradition of the store's namesake, a young Kansan named Charles Wright, who established Indian art stores for the Fred Harvey Company at the Alvarado Hotel in Albuquerque and El Tovar at the Grand Canyon. In 1907, he opened Wright's Trading Post and Curios in the heart of Downtown.
As the city grew, so did Wright's, and the family developed relationships with the most talented, influential, and sought-after Native artists, including Maria Martinez and Pablita Velarde. In the 1950s, the last of the Wrights sold the business to Sam Chernoff, a Russian immigrant, and his wife, Marguerite, the daughter of French and Swiss diplomats posted to Mexico. They passed the business to their daughter and son-in-law, Tania and Wayne Bobrick. Last December, they passed it on to the Hymans—the Bobricks' granddaughter and her husband—the latest caretakers to guarantee the perfect gift for the right occasion. 
---
BEST LOCAL SHOPPING
CB Fox Department Store in Los Alamos proudly claims to be "Like no other!" and this cannot be disputed. A 23,000-square-foot, locally owned store that sells Smartwool sweaters, Keen hiking boots, Minecraft Lego kits, plus furniture, mattresses, and candy, seems like a holdover from another era. Housed in what once was a theater with upstairs offices for the Atomic Energy Commission, it drew enough loyalists' votes to win a high tally. Besides its flagship, the store boasts an off-site nursery and a web store where global shoppers can find "geek wear" like Robert Oppenheimer T-shirts.
It's hard to describe the stock at reader fave Doodlet's, but let's put it this way: If you had half an hour in Santa Fe to buy a housewarming gift for a co-worker, a birthday present for your mom, and something special for your dog sitter, you could accomplish it all here. Doodlet's specializes in cute, artsy, colorful, fun little treasures well within anyone's budget.
Everything is handmade and local at the Octopus and the Fox, a boutique in Albuquerque's Edo neighborhood, where you can snap up throw pillows screen-printed with irreverent sayings, crocheted dinosaurs and elephants, silver jewelry, snarky T-shirts, and mittens made from repurposed sweaters.