Above: Our picks for the outdoor enthusiast in you life. Photograph by Inga Hendrickson.
Antler whistle ($25). Chuck Sanders, Unicorn Gallery, Chama.


New Mexico Public Lands Recreation Guide (free). Public Lands Information Center, BLM New Mexico State Office, Santa Fe.


Wood panel hat in walnut ($48). Danny Hart Design, Santa Fe, dannyhartdesign.com.


Herbal bug repellent ($18). Farm Shop  at Los Poblanos Historic Inn and Organic Farm, Los Ranchos de Albuquerque, farmshop.lospoblanos.com.


Bee field bag in olive ($32, including shipping). Caustic Threads, Albuquerque, causticthreads.com.


Damascus pocketknife ($115). Santa Fe Stoneworks, Santa Fe, santafestoneworks.com.


Taos Bakes granola bars (box of 12, $26). Taos Bakes, Questa, taosbakes.com.


Winslow Bandanña ($28). Nicky Ovitt, Albuquerque, nickyovitt.com.


Floral dog collar ($15). Sandia Pet Products, Albuquerque, sandiapet.com.


Santa Fe tees ($28). Astral Weaves, Santa Fe, astralweaves.com.


Wood tag beanie in walnut ($38). Danny Hart Design, Albuquerque, dannyhartdesign.com.


Pink Zinc sun shield (1 oz., $22). Taos Bee, Taos, taosbee.com.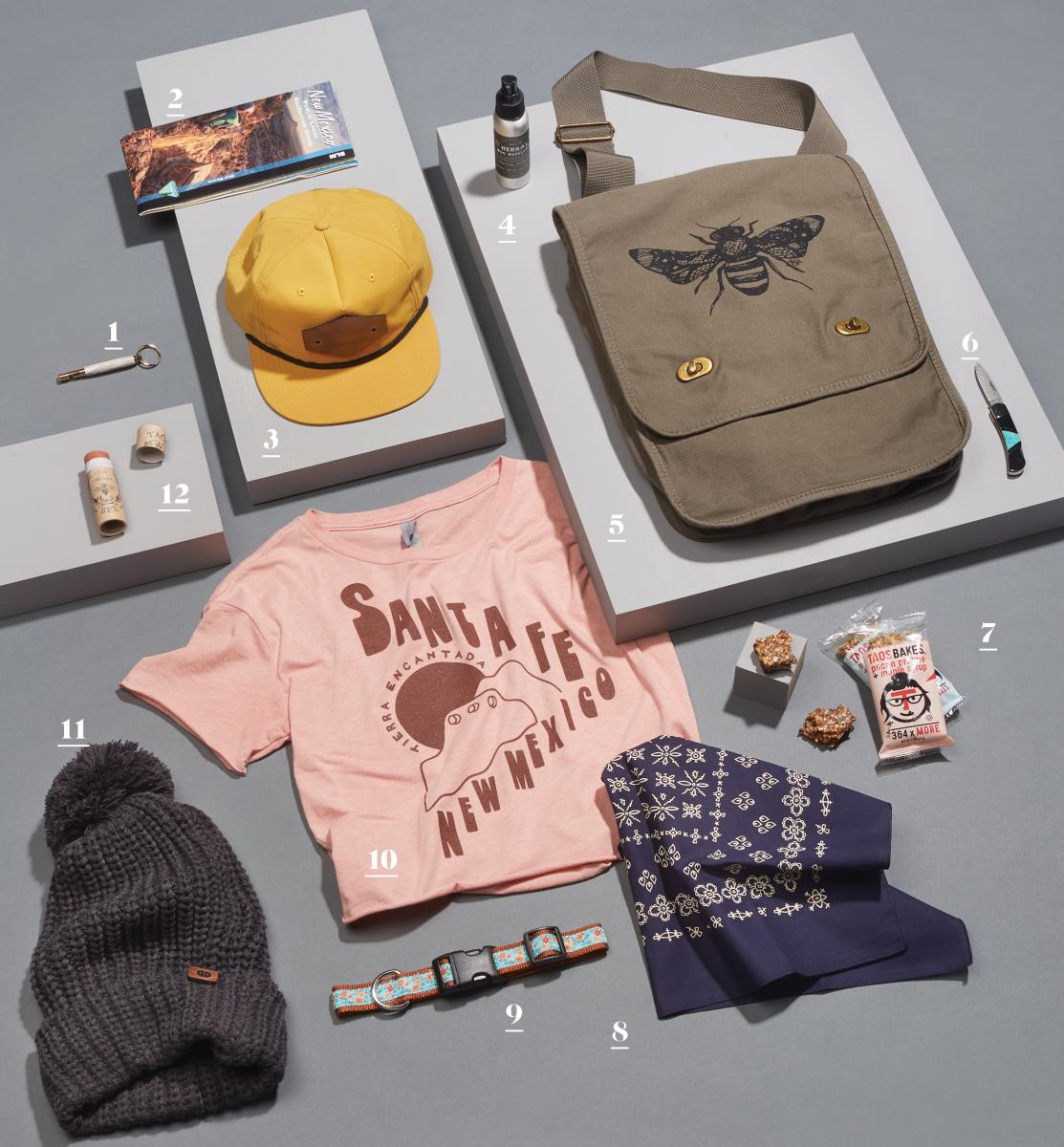 CHECK OUT MORE OF OUR 2019 GIFT GUIDE
[HOME]  [LIFESTYLE]  [JEWELRY]  [KIDS]  [DRINKS]  [SELF-CARE]  [KITCHEN/FOOD]  [BOOKS] 
---