Above: Las Vegas's Plaza remains a hub for locals and a must-see destination for tourists. Photograph courtesy of Visit Las Vegas.
EVEN BEFORE Las Vegas was established in 1835, its historic plaza was a vital trading post for travelers on the Santa Fe Trail. In 1846, near the beginning of the Mexican-American War, frontier officer Stephen Kearny stood atop a plaza building and declared New Mexico a U.S. territory. The town, and its center, grew rapidly in 1879 when the railroad arrived, bringing with it a wealth of Victorian architecture that still stands today.  
The Wild West has roots on the plaza, too. Doc Holliday established a bar nearby, and outlaw Billy the Kid was held in a jail behind today's Plaza Hotel. In 1882, that hotel, widely known as "The Belle of the Southwest," opened.The fanciest in the territory at the time, it still hosts guests (and a few ghosts). "There's something about Las Vegas that just pulls you in," says Kathy Hendrickson, owner of Southwest Detours, who cites the town's mixture of history, notoriety, and charm. "It's an intriguing and beautiful city." 
Today the Plaza remains a hub for locals and a must-see destination for tourists. Enjoy a latte at Olivia's Café, or look for treasures at Plaza Antiques and Frankie Ann Tiques. You just might mingle with movie crews or actors in costume. Longmire, a modern Western crime drama television series, filmed there, as did the Academy Award–winning movie No Country for Old Men, cult classic Red Dawn, and rebellious motorcycle blockbuster Easy Rider. Above all, admire the historic architecture. With nearly 1,000 buildings on the National Register of Historic Places, Las Vegas has more historic buildings per capita than anywhere else in the nation. 
The Plaza bursts with activities during Fiestas de Las Vegas, a July 4th homecoming and heritage celebration.
Just off the Plaza, work is being done by the Hermit's Peak Watershed Alliance and others to make the Gallinas River a natural centerpiece for people, plants, and wildlife. With improvements to the waterway and the addition of more than 120 willows and cottonwoods, the area provides a beautiful place for visitors to walk and exercise along the Riverwalk Trail.
Event Central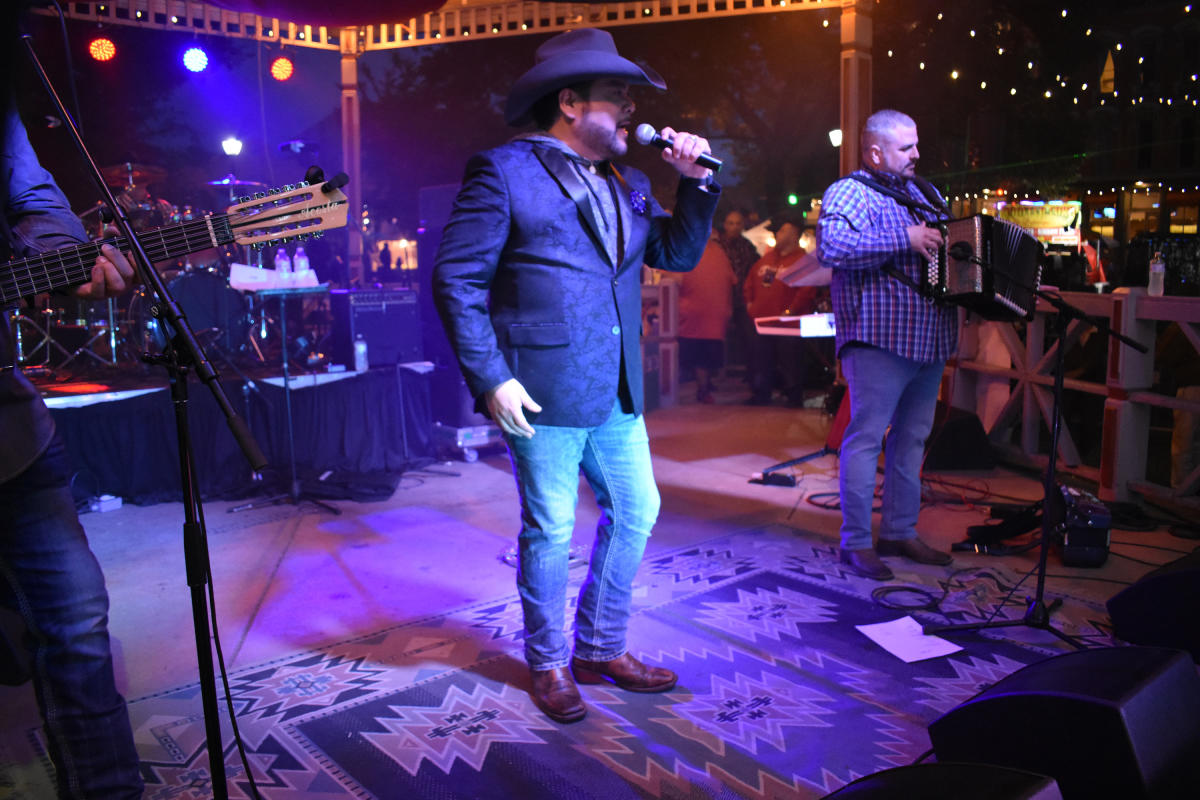 Head to the Plaza for these fun and festive gatherings. Photograph courtesy of Visit Las Vegas.
July 2022 
Three-day festival with live music, a parade, and fireworks 
September  2022 
Gathering of motorcyclists from across the country 
May-October 2022 
Free, family-friendly outdoor concerts 
October  2022 
BooFest
Trick-or-treating around the plaza