Above: The Organ Mountains-Desert Peaks National Monument at sunset. Photograph by Wayne Suggs.
We all have our go-tos—a restaurant, hike, gallery, margarita, or green chile recipe—that we return to, over and over again, because it's what we know. We are creatures of habit, prone to the familiar, suckers for nostalgia. My routine starts with a drive north on the High Road toward Taos, venturing upon one of its many trailheads, then indulging with a decadent meal  and wine at the Love Apple, in Taos. That's my dream day, even though I do a variation of it all the time.
Here lies the challenge, and the promise, of living in the fifth-largest—though sixth-least-populated—state: There's always more to explore. That's why the editors at New Mexico Magazine are committed to getting out of our comfort zones this year, and helping you do the same. We've come up with 52 essential New Mexican activities, one for every weekend of the year. They're scattered across the state and will take you from Farmington to Carlsbad and everywhere in between, and they range from a lowrider show to a dinosaur museum. But they have one thing in common: Each is distinctly New Mexican. Welcome to the Year of Magical Living. —JCD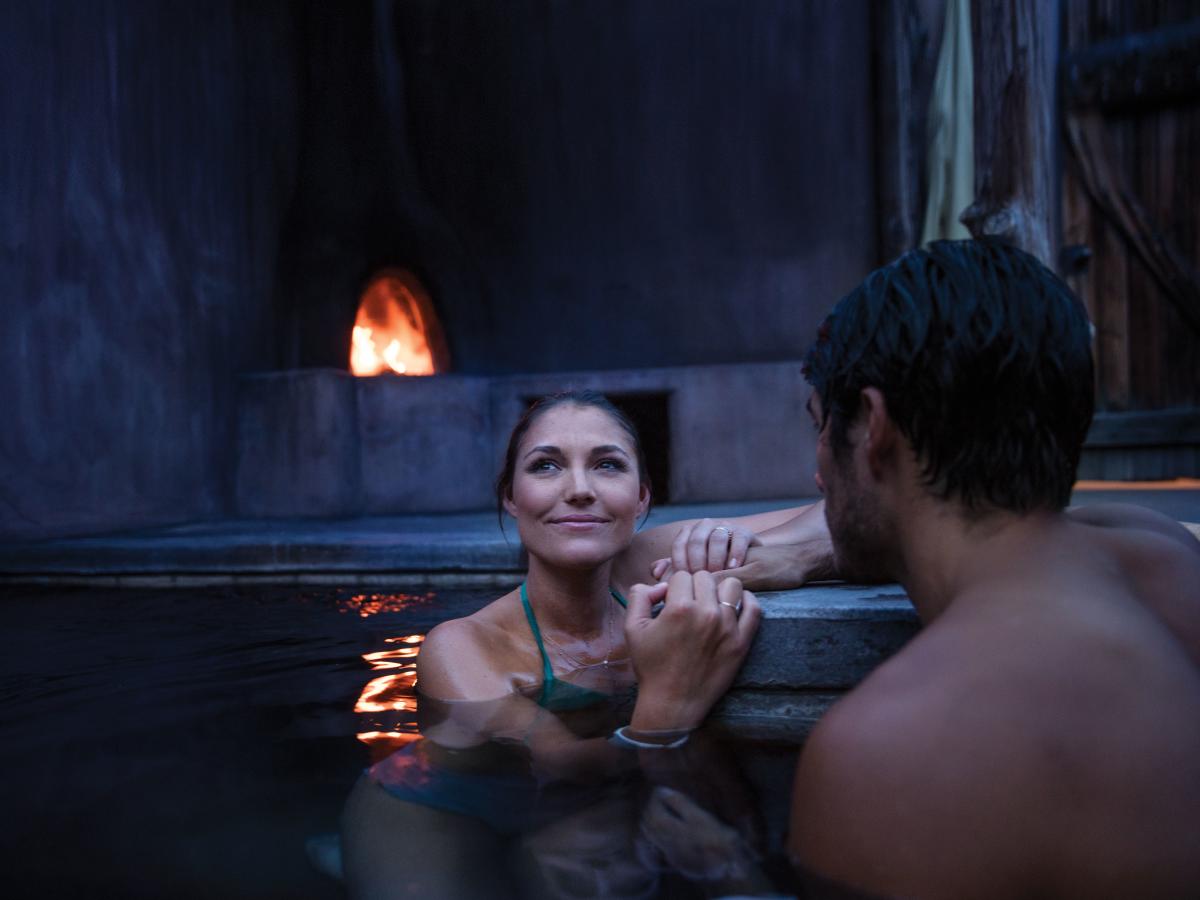 Above: Ojo Caliente. Photograph by NMTD.
JANUARY
January 5–6: Swoop Up (or Down) Albuquerque's Home Hill
For 53 years, people have clambered aboard the Sandia Peak Aerial Tramway. For some of us, it's a rite of New Mexico passage. Whenever I get a chance, I hike up La Luz Trail and sail back down the mountains on the tram.
Some first-timer tips:
Bundle up. Besides gliding past 2.7 miles of Cibola National Forest in 15 minutes, the ride ascends 4,000 feet, and the temp can drop by 30 degrees.
Grab a window near one of the east-facing corners for the best view of wildlife below.
Fear not the sway. Trust me: It won't break. That said, the queasy-hearted may prefer to hang out at Sandiago's Grill, at the bottom.
Pack your gear. From the 10,378-foot top, you can (weather permitting) go downhill or cross-country skiing, snowshoeing, hiking, or mountain biking.
Come back: A brand-new, built-from-the-ground-up restaurant will open on the peak this spring. —KN
January 12–13: Get Creative and Sign Up for an Art Class
Try the Taos Art School, the Española Fiber Arts Center, Silver City's A Space Studio, Santa Fe Clay, or, in Albuquerque, Coyote Clay & Color. 
January 19–20: Hike and Ski with the Full Moon
It was nearly dark as we wound our way up to the base of Ski Santa Fe. I was new to town and borrowing gear that only sort of worked and only sort of fit me, but we strapped on skis and skins and began the slow walk up the mountain. We were in good company. Every full moon, a crew of a few dozen skiers and snowboarders make their way to the Hiker's Hut, at 12,053 feet. Two-thirds of the way up the 1,600-foot climb, we stopped and marveled at the view. Some 6,000 feet below us, we could see the lights of Santa Fe, the desert floor, and a ribbon of bright orange fading across the horizon in the deep navy sky. When we finally made it to the top, I knew I was right where I was supposed to be. The hut was packed with folks staying warm around the woodstove. Someone played music. Outside, we ran into people we knew and met others we didn't. Someone passed us a beer. We shared some crackers and cheese, a splash of bourbon. Then we removed our skins, stepped into our bindings, and made our dark, blurry, rollicking way back down the mountain. —JCD
January 26–27: Soak at Ojo
New Mexico boasts a hit parade of hot springs and spas, but Ojo Caliente stands apart for its range of pools, including one full of mud for that extra exfoliation, as well as its restaurant and lodge.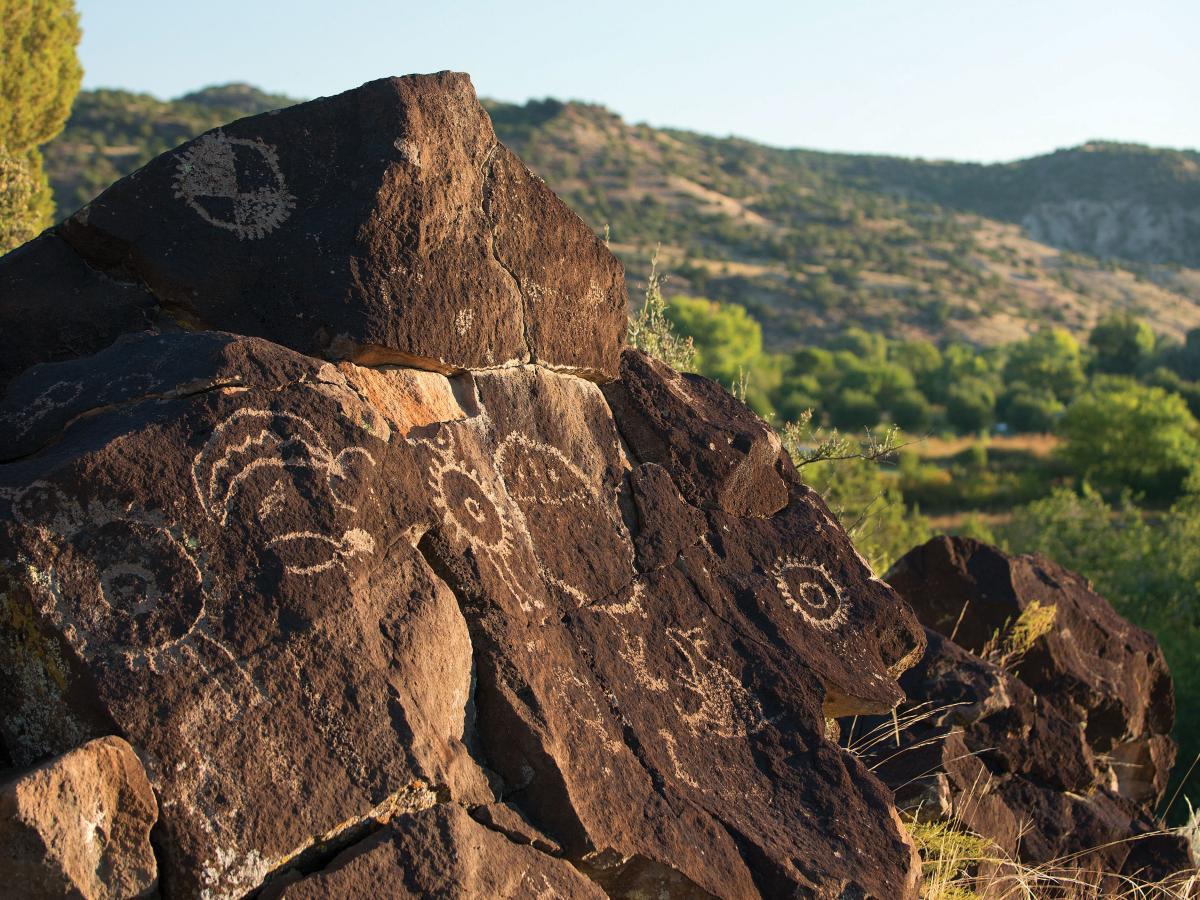 Above: Mesa Prieta Petroglyph Project. Photograph by Douglas Merriam.
FEBRUARY
February 2–3: Sample Some Wine
New Mexico is the oldest wine region in the country. But it's not just old; it's good, too. Try Gruet (Albuquerque) or Noisy Water (Ruidoso) or Sheehan (Albuquerque) or Vivác (Dixon).
February 9–10: Find Some Petroglyphs
If you didn't know any better, you might assume this area north of Española, near Velarde, was just another bucolic spot along the río. And it's not not that. But this is New Mexico, after all, where nearly every beautiful thing is followed by an incredibly old thing. And so, among the basalt lava rocks on an embankment of Mesa Prieta is one of the highest concentrations of ancient rock art in the country. Researchers with the Mesa Prieta Petroglyph Project have recorded more than 60,000 of them here and estimate there are some 40,000 more—many of which date back 7,000 years. With the snowcapped Sangre de Cristos hovering in the distance, it was all a little unfathomable. —JCD
February 16–17: Eat Fourth Meal at Albuquerque's Frontier
It's almost cliché to show up at the Frontier Restaurant at midnight. Whether you're a college kid in the dorms on an all-nighter or you randomly show up after a rager at Sunshine Theater, Frontier is the reliable place to satisfy that late-night craving with a giant, hot cinnamon roll. Seriously, they're legendary. —AIG
February 23–24: See Carlsbad Caverns in a Whole New Light
The Left-Hand Tunnel Tour takes 10 lucky visitors a day into an undeveloped cave—by candlelight.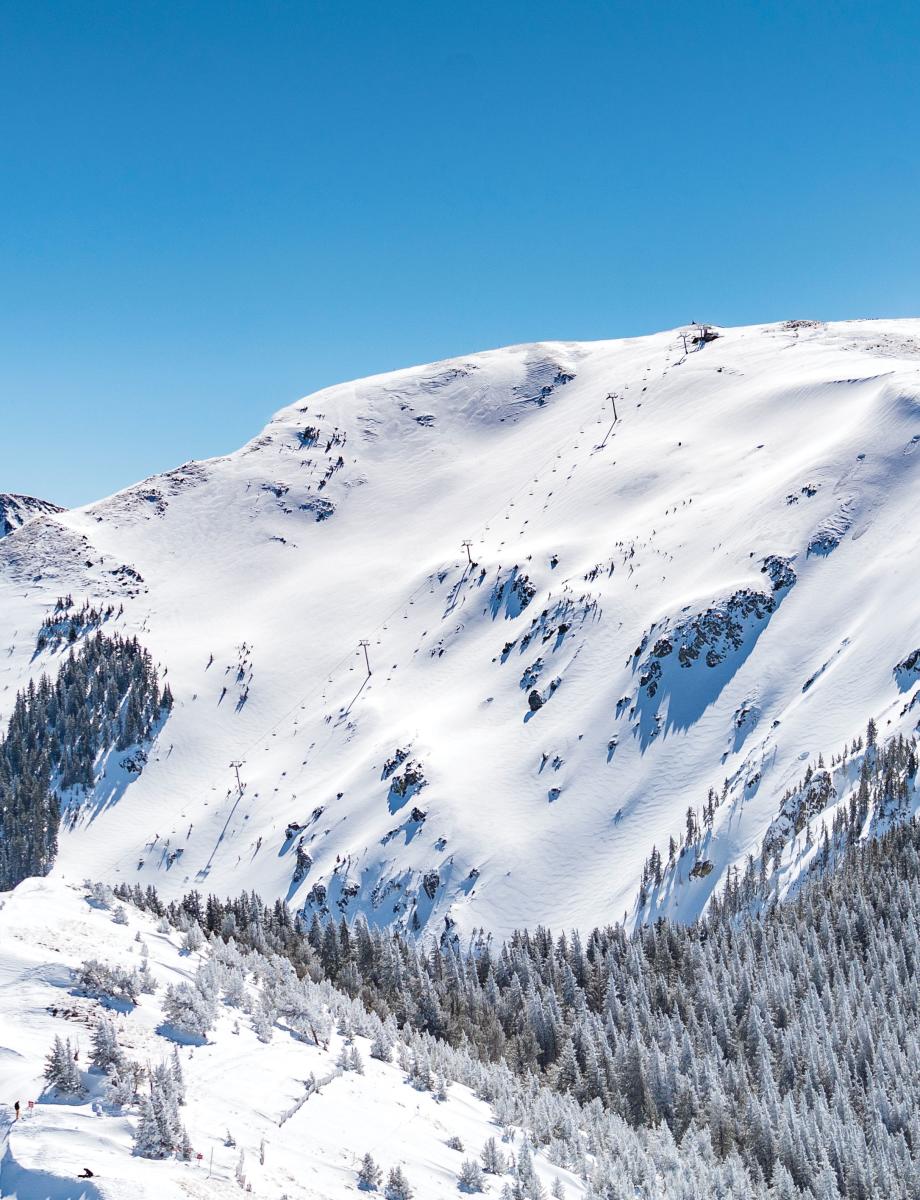 Above: Kachina Peak. Photograph courtesy of Taos Ski Valley.
MARCH
March 2–3: Experience Peak Taos Ski Valley
Ski off Kachina Peak after a snowstorm, then reward yourself with a massive stein of pilsner on the deck of the Bavarian. Bonus points for doing it all in a dirndl or lederhosen.
March 9–10: Get Loose at Meow Wolf
We showed up for the concert early. We walked into the refrigerator and clambered our way through the dryer, played the glow-in-the-dark dinosaur-rib-cage-bone drums, then found our place among a few hundred others in front of the main stage. It's an intimate space surrounded by a colorful village-style facade with a turret in the middle and a wrap-around balcony above. The folk band we saw lit it up, and they would have rocked anywhere, but in this eccentric, inimitable creative space, it seems like every performer and listener is just a little more inspired. —JCD
March 16–17: Camp at White Sands Under the (Almost) Full Moon
Be sure you go for a moonbeam hike while at this otherworldly national monument, too.
March 23–24: Ride a Horse in the Gila
This remote 558,000-acre swath was the country's first designated wilderness area. Try the incredible Little Bear Canyon/Middle Fork Trail and you'll pass by hot springs, wildlife, and looming rock walls. 
March 30–31: Fly Down Ski Apache
On skis or via the mile-and-a-half-long zipline.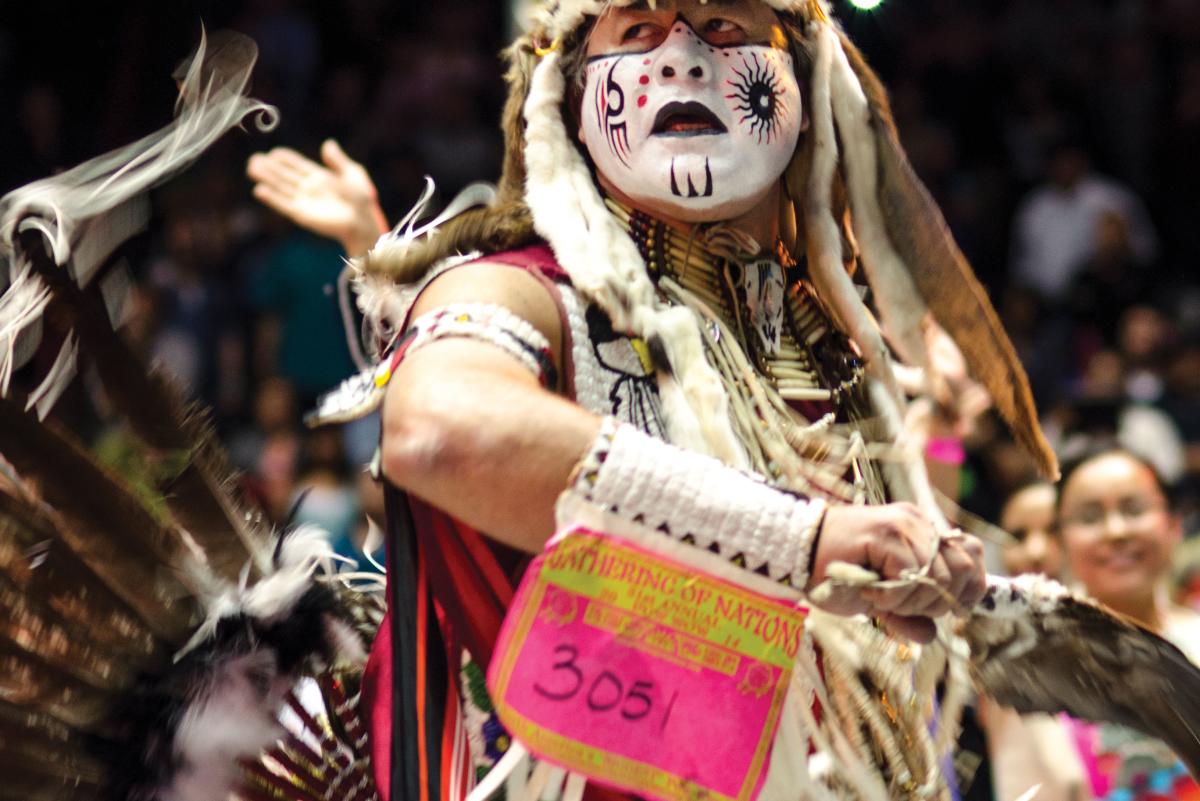 Above: Gathering of the Nations. Photograph by Jeremy Wade Shockley.
APRIL
April 6–7: Find the Unexpected in Roswell
Let's start with the obvious: If you're in Roswell, you get a glutton's pick of all the alien kitsch that has ever been produced. Alien-eye sunglasses, "illegal alien" T-shirts, glow-in-the-dark keychains, UFO models. Some 40,000 sci-fi nerds descend on the town during each July's UFO Festival. The thing is, though, that Roswell has a lot more going for it all year long. The Roswell Museum and Art Center started as a WPA art-training center where people like Peter Hurd earned enough money to stick with making art. In the decades since, it has grown to celebrate the entire southeast region's art and history, along with the work of local rocketeer Robert H. Goddard. Down the street, the Anderson Museum of Contemporary Art displays 51 years' worth of artist-in-residence works, including those of New Mexico standouts like Luis Jiménez, Edie Tsong, and Jerry West. You're going to need those huge alien eyes to take it all in. —KN
April 13–14: Admire Art in Santa Fe
Whether you collect or just admire, the City Different offers art for every taste. Focus on the Plaza area, Canyon Road, or the Railyard District. Ask lots of questions. Get inspired.
April 20–21: Ride Low and Slow on Good Friday
The paint jobs, rims, hydraulics, and a certain kind of OG attitude make cruising Española's Riverside Drive on Good Friday a tradition among the lowrider community, and it kicks off a more serious Easter weekend at the nearby Santuario de Chimayó. There's a palpable sense of pride among lowriders as they gather on the main drag in this norteño town. Whenever I'm on the sidelines watching, I can't help but daydream of rolling hard in my very own El Camino. One day … —AIG
April 27–28: Powwow
For more than three decades, the Gathering of Nations has turned Albuquerque into one of the world's largest powwow sites. Drawing singers, drummers, and dancers from more than 500 tribes, plus 800 Native artisans and traders, plus musical performers ranging from country to rap, plus traditional foods (and a few food trucks), the event at Expo New Mexico invites a full immersion into Native cultures. What you cannot miss: one of the grand entries on the Friday and Saturday of the April 25–27 celebration. Dancers sweep down the arena's stands to fill the entire floor with psychedelic swirls of headdresses, fringes, jinglers, and moccasins. —KN
MAY
May 4–5: Hike the Organs
Tackle the stunning 20-mile Sierra Vista Trail, amid the spires of the Organ Mountains–Desert Peaks National Monument. Afterwards, treat yourself to a commemorative T-shirt at Organ Mountain Outfitters, in downtown Las Cruces.
May 11–12: Buy a Navajo Rug
The legendary Crownpoint Rug Auctions generally happen the second Friday of each month. Spend the rest of the weekend looking for your heart's desire at Navajo trading posts. One of our favorites is the historic Toadlena Trading Post. 
May 18–19: Send It
Head to Angel Fire Resort's world-class downhill bike park for opening day. Hit a jump that scares you. Then hop in Eagle Nest Lake to cool off.
May 25–26: Keep an Acequia Flowing
Acequias, hand-carved ditches that go back to the colonial era, crisscross much of the state, siphoning water down mountains and into fields. For centuries, communities have spent entire weekends cleaning acequias, under the direction of a mayordomo (overseer). This entails redigging the earthen channels to help water pass more easily and pulling out reeds that have cropped up. Grab a pala (shovel) and find the local mayordomo to lend a hand. It's hard work, especially when the clay is dense, but it's essential in this region, where water is precious. Plus, it's a great way to get to know a community. —AIG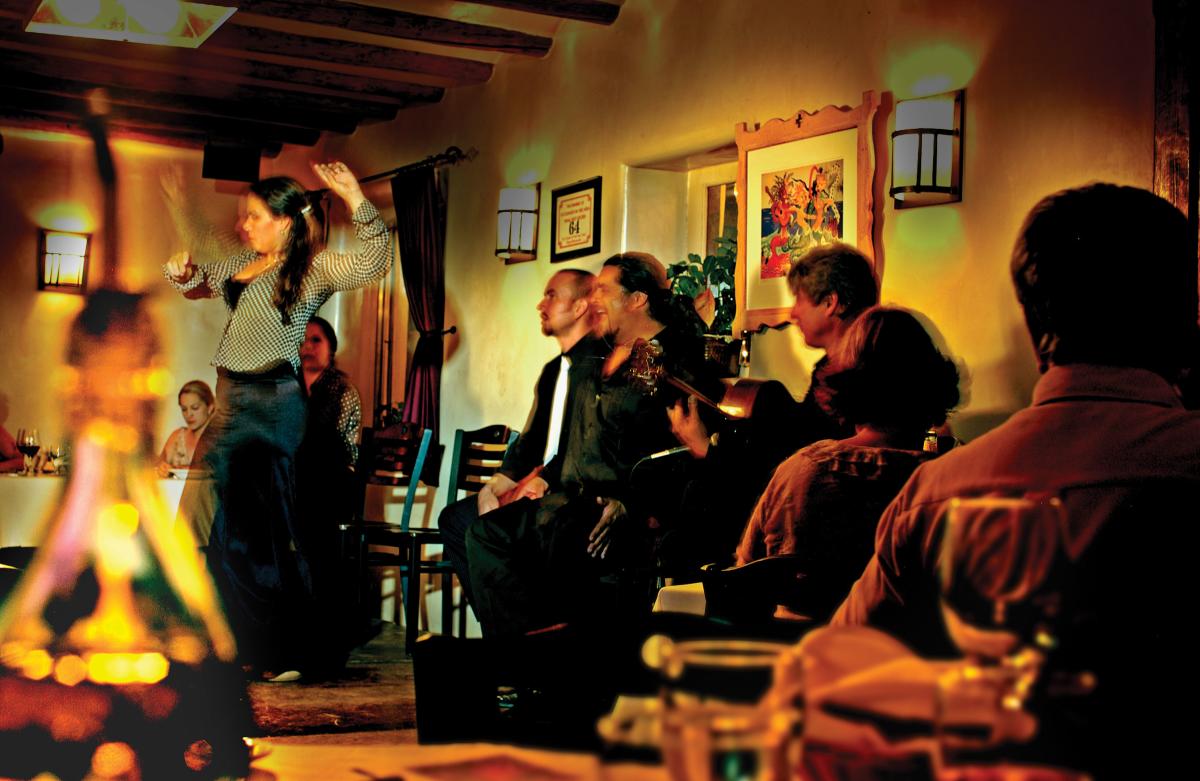 Above: Tableau Flamenco in Albuquerque. Photograph Free ABQ Images. 
 
JUNE
June 1–2: Behold Georgia O'Keeffe's Garden
She may be an icon of American art, but Georgia O'Keeffe was also a highly regarded cook who insisted on eating fresh vegetables and fruits every day. In fact, she chose her particular Abiquiú home because it had water rights from the acequia, which she could access weekly. As an ode to the modernist and her gardener, Estéban Suazo, the Georgia O'Keeffe Museum has revived the artist's garden in its original plot. Seeing it in the summertime (with a reservation) means glimpsing not only the places where she painted, but also those where she planted. —AIG
June 8–9: Sample suds in Albuquerque
For a brewery tour in the Duke City, here's a starter list: First Draft, Marble, Bosque, La Cumbre, Tractor, and Bow & Arrow.
June 15–16: Flamenco!
Albuquerque is the North American capital of flamenco dancing. Get tickets to the Festival Flamenco, June 14–22, for world-class performances. Then take a class with the National Institute of Flamenco. 
June 22–23: Float the Taos Box
Here's why, according to Cisco Guevara, founder of Los Rios River Runners and someone who has run the Río Grande more than 3,500 times:
"It's a classic whitewater run in a dramatic basalt canyon that the West is famous for."
"It's got big rapids that are challenging and fun."
"It needs a certain amount of water to make it navigable, and that doesn't happen every year, and if it does, it only happens for a short time, so it's a really limited, wild, special ride."
June 29–30: Get an Early Start on the New Río Grande Trail
Last year, New Mexico dedicated a new 60-mile chunk of the Río Grande Trail, at the Río Grande del Norte National Monument, 20 miles west of Taos, which supporters hope to one day connect into a 500-mile trail.

Above: Kid's Rodeo in Chama. Photograph by Minesh Bacrania.
JULY
July 6–7: Experience the Art of Lightning
It takes some planning and reservation making to get to The Lightning Field, on the western fringe of the state, a region that claims one of the highest sky-to-ground rates of lightning around. For this reason, New York artist Walter De Maria created a field of 400 15-foot-tall lightning rods just outside the town of Quemado. An old cowboy escorted our group to the site after telling us that photography was prohibited. Then the clouds rolled in as we walked amid the rods, and within minutes the rain came down and lightning cascaded across the horizon. My cabinmates were strangers from the East Coast, but we connected over the beans and enchiladas that were provided and the crazy thing we had just witnessed. The next morning, we awoke to cows plodding across the massive installation. It was a quirky art field trip unlike anything else I've experienced. —AIG
July 13–14: Feel Like a Martian
You don't have to leave our solar system to go otherworldly. The Bisti/De-Na-Zin Wilderness Area, near Farmington, teems with rock formations that are straight-up weird. 
July 20–21: Attend a Kids' Rodeo
Like the one in Chama.
July 27–28: Tailgate the Santa Fe Opera (even if you don't have tickets)
The opera's pre-show parking lot is a scene. It may be a little toned down compared with football's pre-gaming, but it's still packed with a community eating and drinking and ready to have their minds blown by a world-class performance.

AUGUST
August 3–4: Grab a Bleacher Seat
There's Major League Baseball, there's Triple-A (the division that the Albuquerque Isotopes represent), Double-A, and Single-A—together, the farm system of teams that feed into the big leagues. And then there's the Pecos League. "We've established an identity of baseball," says league commissioner Andrew Dunn. "It's known as the lowest level of pro baseball, and that's what it is." Of course, the actual game is hardly the point. It's about getting a hot dog, a beer, and a cheap bleacher seat and cheering on the home team, whether that's the Roswell Invaders, the White Sands Pupfish, or the Santa Fe Fuego. —JCD
August 10–11: Sing Backup on "That'll Be the Day"
If you know the above as the title of a Buddy Holly hit, then you can probably also sing the backup harmony—but have you ever done so with one of the original backup singers? Norman Petty was the Clovis sound wizard behind Holly's sound. Visit the intact studio in Clovis and, if you're lucky, original backup singer David Bingham will take you room by room and invite you to ooh-ah along with him. —KN
August 17–18: Be a Boss at SWAIA
I didn't buy a VIP ticket for the SWAIA Haute Couture fashion show ahead of time, which meant waiting in a line that wrapped around the Santa Fe Convention Center. Those who had the foresight to grab the coveted $25 pass for the Santa Fe Indian Market event walked in like bosses ahead of me. But once I was inside, it didn't matter that I was standing, because the DJ was spinning on the ones and twos as a hoop dancer took to the stage, hyping the crowd. Then the models began stepping onto the runways, hair styled, outfits catching glimmers from the dramatic lighting, each of them looking downright fierce. Do yourself a favor and feel the glamour. Make time to hit up the show, where Native designers bring their absolute A game and where onlookers of all stripes feel like VIPs. —AIG
August 24–25: Get High
Hike the state's highest point, 13,161-foot Wheeler Peak, and place a written memory of the journey in the running log on top.
August 31–September 1: Prove You Can Take It
Finish your chile. Every. Last. Bite. Horseman's Haven Café, in Santa Fe, serves up something hot.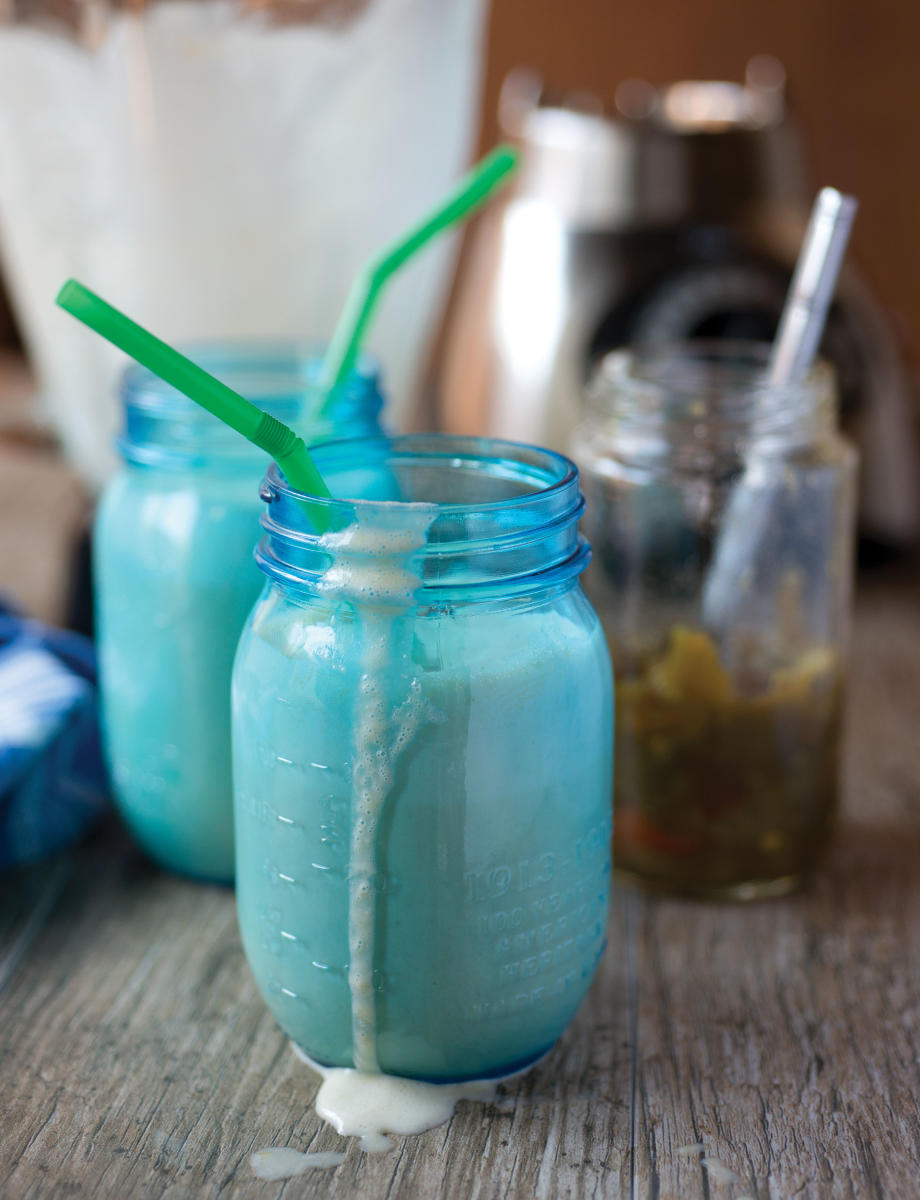 Above: Green Chile Milkshakes. Photograph by Douglas Merriam.
SEPTEMBER
September 7–8: Catch a Trout in the San Juan River
The waters of New Mexico have some of the finest fly-fishing in the West. Drop into Abe's, a 60-year-old anglers' haven near Navajo Lake State Park, in the northwestern corner of the state, and they'll steer ya in the right direction. 
September 14–15: Order Your Milkshake with Green
Sparky's, Hatch's famous diner, may be known for its green chile cheeseburger, but seriously, are you going to pass up an opportunity to put down a green chile milkshake?
September 28–29: All of the Golden Aspens
In the distance, a striking patchwork of orange and yellow starred in a sea of green. It was peak aspen season. Our lungs burned as we climbed above 10,000 feet on the singletrack South Boundary Trail, near Taos, wending through dense pine forests along the contours of the mountains. Then, finally down, and the sound of sizzling as our tires coasted over crisp leaves, and then pop!—the low evening sunlight beamed upon an aspen grove, illuminating a sea of white trunks and a canopy of stunning gold. It demanded a stop. A breath. An appreciation. And then, a strong pedal and a go-go-go, back to the pure focus of the epic trail—its own form of meditation. The earth came fast: a rock here, a root there, a squirrel, rumors of mountain lions, a quick maneuver, all in an instant, then smooth, wet dirt, going fast now … whew! They call the area Heaven on Earth. Sure enough. —JCD
September 29–30: Attend the Taos Pueblo Feast Day
San Geronimo is the patron saint of translators and of Taos Pueblo. The celebration of his feast day combines the legacy of Native dancing with the region's rooted history of Catholicism. The stunning gathering on the pueblo is open to the public, with a few notable stipulations: Photography and cell phones are both prohibited. —AIG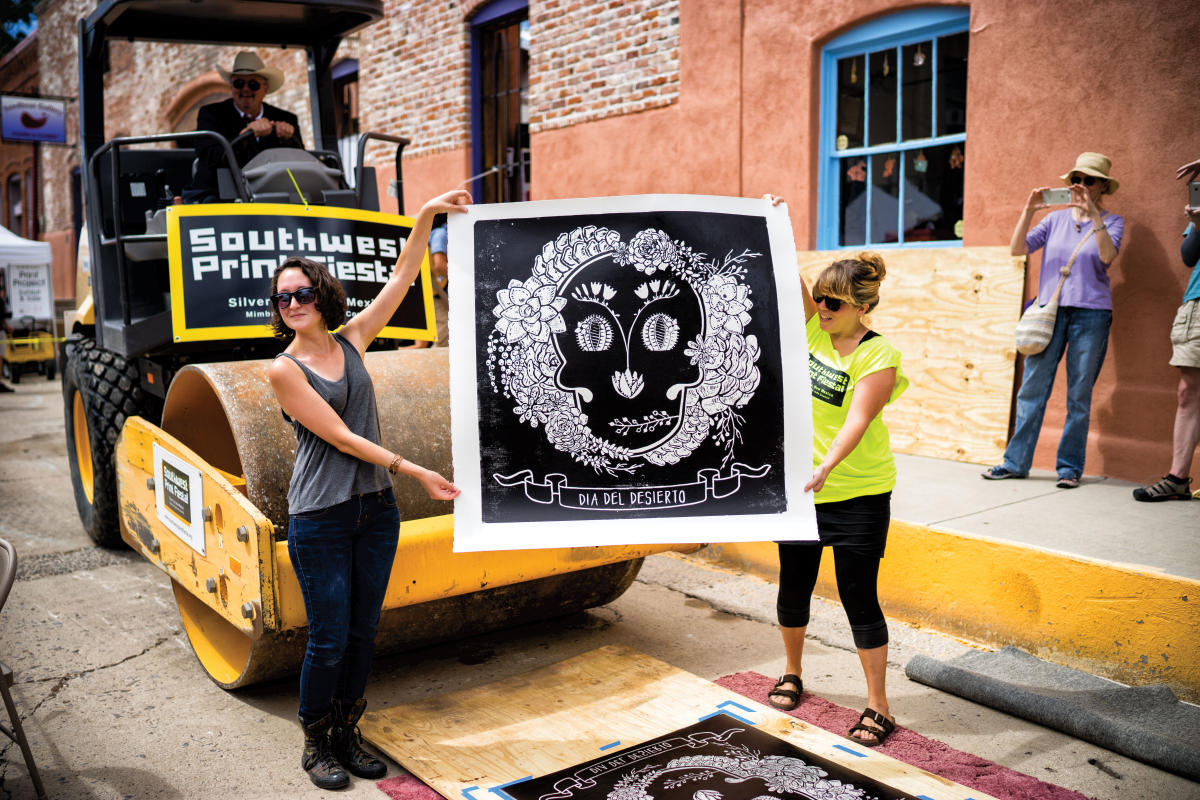 Above: Southwest Print Fiesta. Photograph by Jay Hemphill.
OCTOBER
October 5–6: Things I Didn't Expect At My First Balloon Fiesta, and Why It's Unlike Anything Else. Seriously.
It's possible that the Albuquerque International Balloon Fiesta is the only event in the world where the carnivalia begins before dawn (October 5–13 this year). The traffic backs up on I-25 by 5 a.m. Want a turkey leg or Frito pie at 6 a.m.? You might have to wait in line, but you can do that here. By 7, as the sun climbs over the Sandia Crest, Jesus, Humpty Dumpty, Yoda, Darth Vader, a giant boot, and a few hundred other balloons make the slow, poetic journey into the sky en masse. It's all a little surreal, especially since it peaks long before the workday even starts. —JCD
October 12–13: Go Analog
The Southwest Print Fiesta, in Silver City, celebrates the not-so-lost art of paper, ink, and letterpresses, October 11–13.
October 19–20: Make Apricot Jam
If the frost doesn't get to them early in the season, you can expect apricots to explode off of trees, begging to be gleaned. And we do. Making jam is an annual family tradition, one we credit to my abuela. In our household, we call it "Gram's Jam," the special tart variety she makes and stores in recycled glass Ball jars and has passed on to the rest of us. She taught us that the best apricot jam has another fruit (pineapple, mango, or peach) mixed in. We thank her with each bite. —AIG
October 26–27: Camp Moonless at Chaco Canyon
All of the stars, man.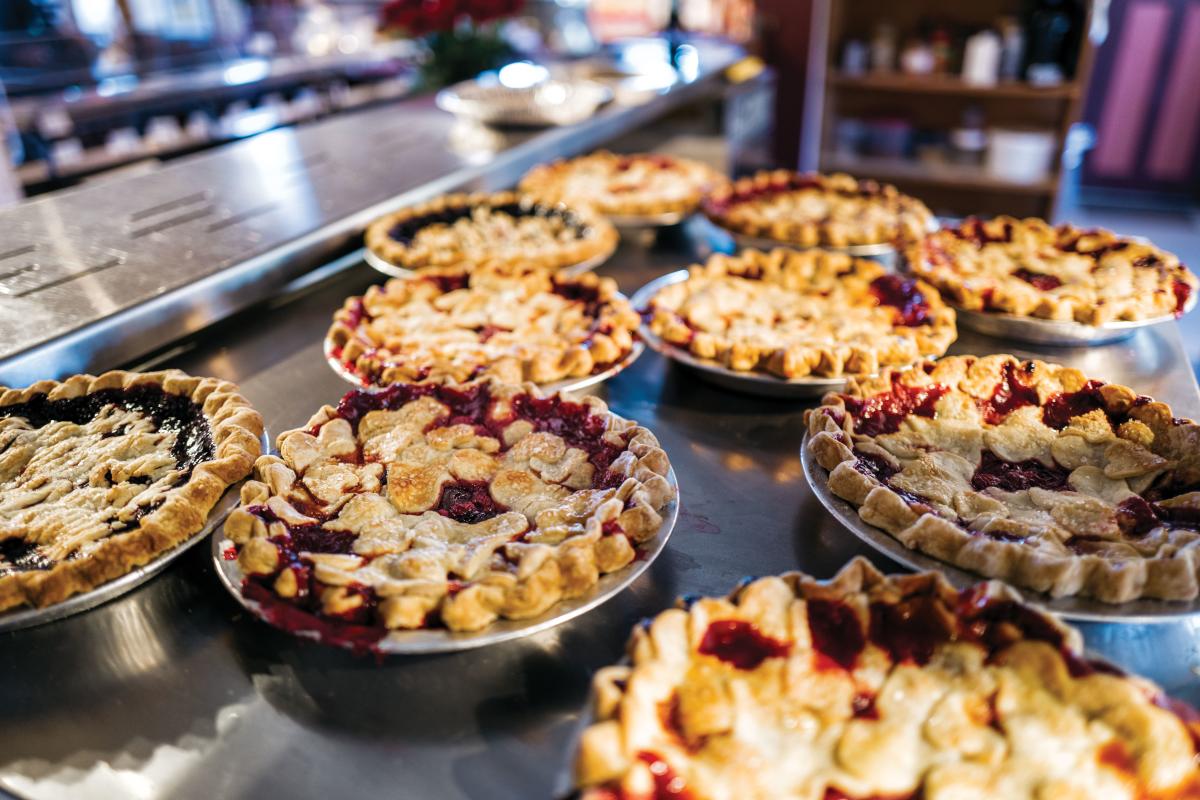 Above: Pies! Photograph by NMTD.
NOVEMBER
November 2–3: Glimpse Wheatpaste Murals from the Road
On US 550, between Zia Pueblo and Nageezi, appreciate the art of wheatpaste—giant photographic murals glued to surfaces of buildings. Some celebrate culture. Others are political. All look stunning.
November 9–10: Shop like a Gallup Pro
The Saturday morning Gallup Flea Market combines yard-sale finds with Navajo jewelry, mutton stew, and fry bread. Afterwards, wander the museum-caliber wares at Tanner's Indian Arts, in downtown Gallup.
November 16–17: Hit the Pit
It almost doesn't matter which basketball contest you see, though it's worth ponying up for good tickets to a UNM/NMSU grudge game. Regardless, the gym generates a heat you need to feel. 
November 23–24: Get Pie-Eyed
A pilgrimage to Pie Town, a blip in western New Mexico just off US 60 (aka "Pieway 60"), isn't short on pies or puns. Two spots attract pastry seekers: the Pie Town Cafe and Pie-O-Neer Pies. At the Pie Town Cafe, you'll find a "pie chart" of flavors and an atmosphere that is somewhat reminiscent of a favorite relative's house. The Pie-O-Neer has a similar vibe. I remember being surrounded by local art of all manner while I ate at a table filled with strangers. Pie Town is that kind of place, where wanderers from all corners—heading to the Gila Wilderness, hiking the Continental Divide Trail, or simply passing through—are united by a strange curiosity to try a slice of pie in a town named for it. —AIG
November 30–December 1: See and Taste History
Head to the historic Rio Grande Theatre, in downtown Las Cruces, for a live show or movie, and cap it with the state's best chiles rellenos and margaritas at La Posta, in Old Mesilla.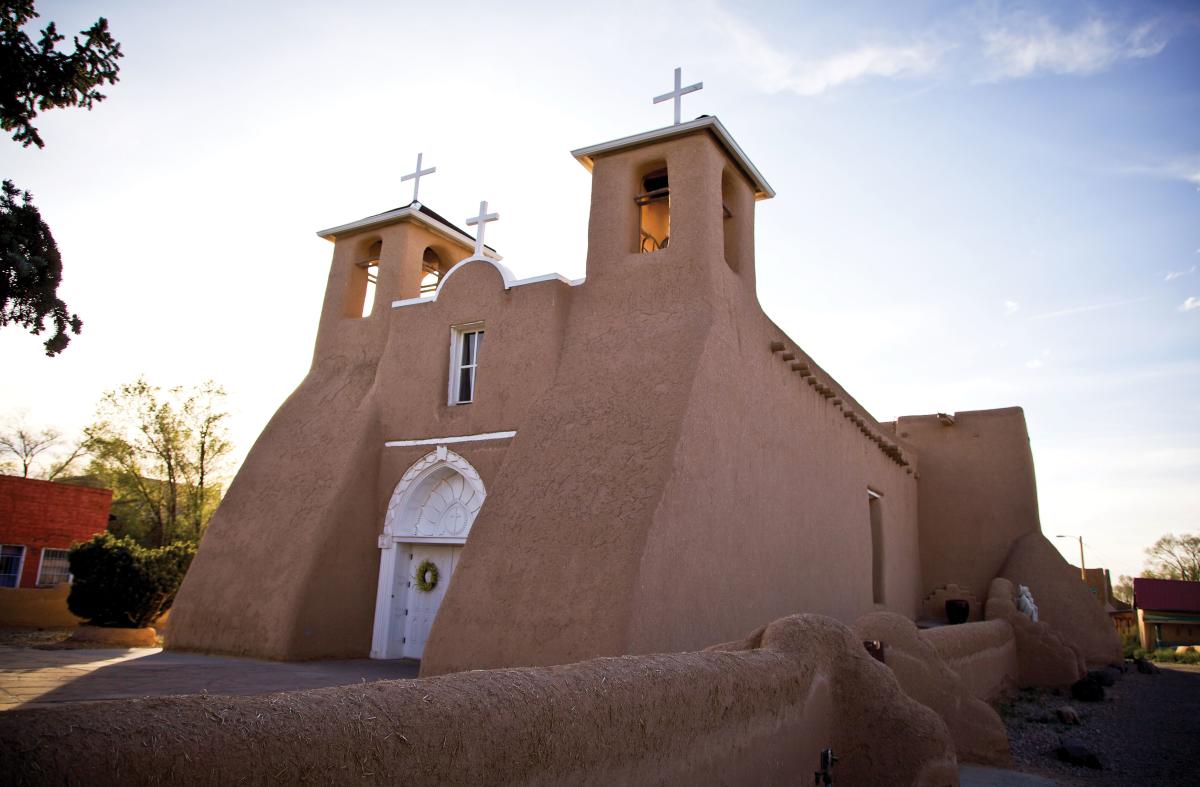 Above: San Francisco de Asis church in Ranchos de Taos. Photograph by Amiel Gervers.
DECEMBER
December 7–8: See the Lights on Ledoux
Tucked near the Taos plaza, Ledoux Street hangs on to its old Spanish charm with winding lanes lined by adobe houses and shops. The annual Lighting of Ledoux Street adds the subtle charm of hundreds of farolitos. Plan to stroll and admire, but do not call them luminarias until you're safely south of La Bajada Hill.
December 14–15: Go Fossil Hunting
Tucumcari wears 1950s charm all over its main street, but beyond its civilized confines, evidence of even older life slithers and roars. And I do mean older life. Quay County claims one of the world's greatest fossil beds, and bronze casts of bones unearthed there stand sentry at the Mesalands Dinosaur Museum. Students at the Mesalands Community College foundry poured each one of them. Children love to explore the critters that populate the exhibit space. Adults (namely, me) leave smudged nose prints on the glass that separates the exhibit from the paleontology lab. The college offers weeklong fossil-hunting field classes every summer, and you can watch or even take part in a daylong "big pour" at the foundry every March. —KN
December 21–22: Inhale
Wander the streets of Santa Fe during the holidays and you're sure to catch the aroma of piñon logs burning in countless kiva-style fireplaces. Man-made incense doesn't even come close.  
December 28–29: Go to Mass
Historic mission churches are essential to New Mexico's small communities. Made of adobe and sustained by faith, they invite visitors of all beliefs to appreciate the art, architecture, and moments of quiet grace.

OTHER GREAT THINGS YOU SHOULD DEFINITELY SO WHILE IN THIS STATE
Get a tequila shot at Saints & Sinners in Española
Cannonball into the Blue Hole
Plant squash
Buy a chicken from the Privett Hatchery in Portales
Read more Rudolfo Anaya
Play pool at Anodyne in Albuquerque
Folsom Man!
Buy jewelry at the Santo Domingo gas station
Hit a roadside fruit stand
Visit an artist in residence at IAIA or La Unión
Go to a paletería,
Bet on a horse at Albuquerque Downs
Stay in an earthship
Make noise at the Abiquiú amphitheater
Visit a ghost town
Discover a new favorite local artist
Watch a classic at The Guild cinema
Pick piñon
Go mushroom hunting
Catch a turtle race
Eat a Frito pie
Watch an MMA match
Get a tattoo in Tucumcari
Hike Tent Rocks
Check out the border art installation
Ride the Rail Runner
Hit karaoke at Tiny's in Santa Fe
Go to a junkyard
Visit the Chama River Monastery of Christ in the Desert
Re-mud a church
Get a selfie in front of that big pistachio
Eat lengua tacos
Zozobra
Volunteer at the Folk Art Market
Rent an airstream at Hotel Luna Mystica
Get a room at The Castaneda
Find your favorite art mural in Albuquerque
Make green chile sauce
Make red chile sauce
Observe elk in the Valles Caldera
Get chicken-fried steak in Lovington
Go to the Bradbury Science Museum in Los Alamos
Bowl in Pojoaque
Drive the High Road to Taos
Eat at Sugar's BBQ on the Low Road to Taos
Go to the International Pueblo Cultural Center
Go to the Puye or Gila Cliff Dwellings
Ski Pajarito
Take the Chama Train
Eat at Mad Jack's BBQ in Cloudcroft
Visit your State Parks
Ride a bike along the Paseo del Bosque Trail,
Hike to the río via Río Grande del Norte National Monument
Instagram Ship Rock
---