WHILE NOTHING LIFTS THE SPIRIT QUITE like the colorful balloon-filled skies of the Albuquerque International Balloon Fiesta's mass ascension, we're here for all of it: the balloon rodeos, dawn patrols, twilight glows, chainsaw carvers, concerts, and entertainers. And you can bet we'll be packing our camera gear—or at least our iPhones—looking to snag a few pics for Instagram or the fest's photo contest. We asked photographer Ian Beckley, who captured the above image in 2019 and a similar shot for our January/February 2021 cover, for a few pro tips before the event this October 2–10.
Beckley has been attending the Albuquerque International Balloon Fiesta since middle school. But the Air National Guard member had been pursuing photography for only about a year when he captured a colorful group of balloons set against an orange-and-pink sky stunningly reflected in a small pond in 2018. He'd been searching for a good composition in the early-morning hours when the sun popped from the clouds and lit up the sky. Beckley grabbed his widest lens, got low to the pond, and snapped the photo that earned him an honorable mention in our 2020 Photo Contest. The Albuquerque resident shares a few tips for budding photographers seeking a winning shot during the event October 2–10.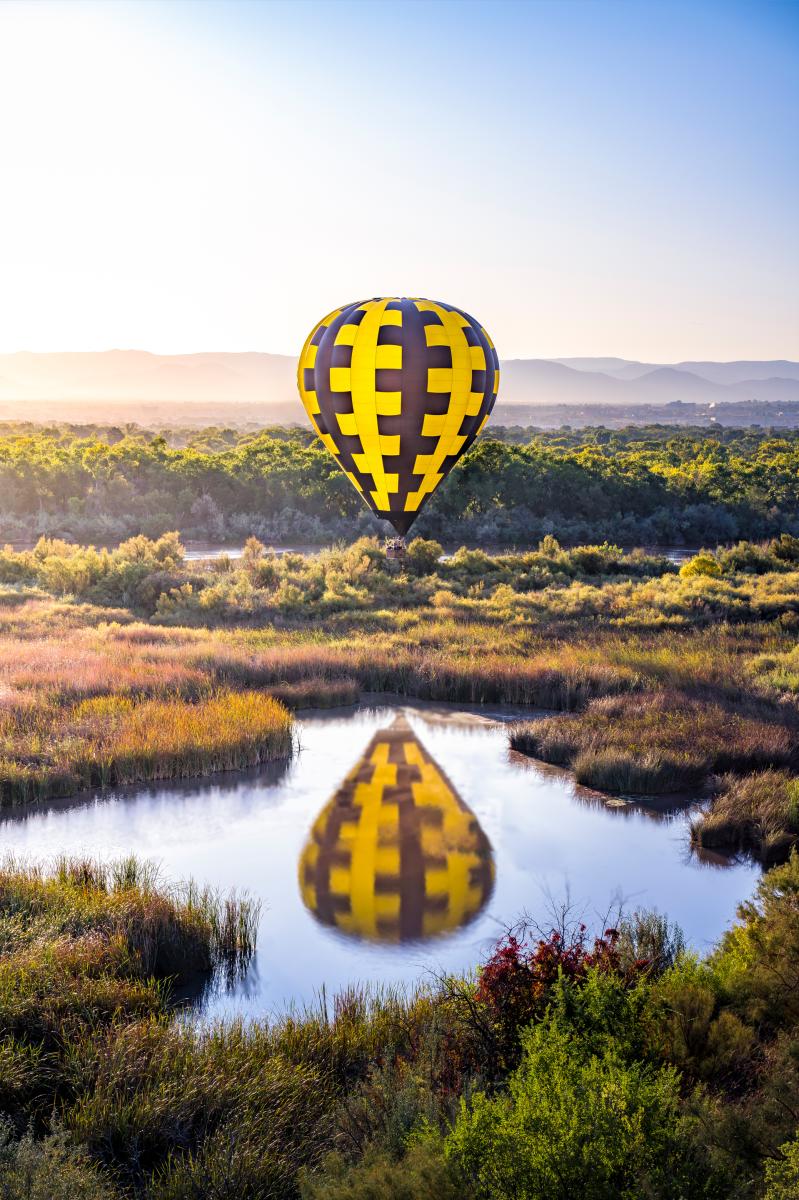 A colorful hot-air balloon touches down along the Río Grande, in Albuquerque.
Raise your sights
Beckley likes the perspective from the hill on the north end of the field. The added elevation helps him get to the balloon's "eye level," creating a more interesting composition. "You can see over the crowd and start to see the balloons as they're inflated."   
Light the way
The Dawn Patrol flights are a favorite for fans and photographers alike. But lighting can get tricky before sunrise, especially if you're using a cellphone camera. "Get as close to the basket as possible and let the flame light what you're seeing." 
Be your own pilot
"I love shooting inside balloons," he says. Get away from the crowds and ask the pilot if you can take a quick photo. Then offer to send the pilot pictures. "Most of them are pretty cool."