Roswell draws all kinds for its alien festivities. Photograph courtesy of the City of Roswell.
A MONSOON STORM RAGED THE NIGHT a flying object crashed near Roswell. Alien believers reference the July 1947 event, known as the Roswell Incident, as evidence that we are not alone in the universe.  
Fueled by that question, dreams of space travel, or a desire for a like-minded community, thousands land in Roswell each year during the annual UFO Festival. "People love mysteries, and the possibility of solving them," says Kathy Lay, former executive director of MainStreet Roswell.  
Celebrating its 25th year, the three-day binge of out-of-this-world parades, hikes, movies, and more is joined this year by the inaugural AlienFest, hosted by MainStreet Roswell, with family-friendly activities like a scavenger hunt and alien-themed selfie booths downtown.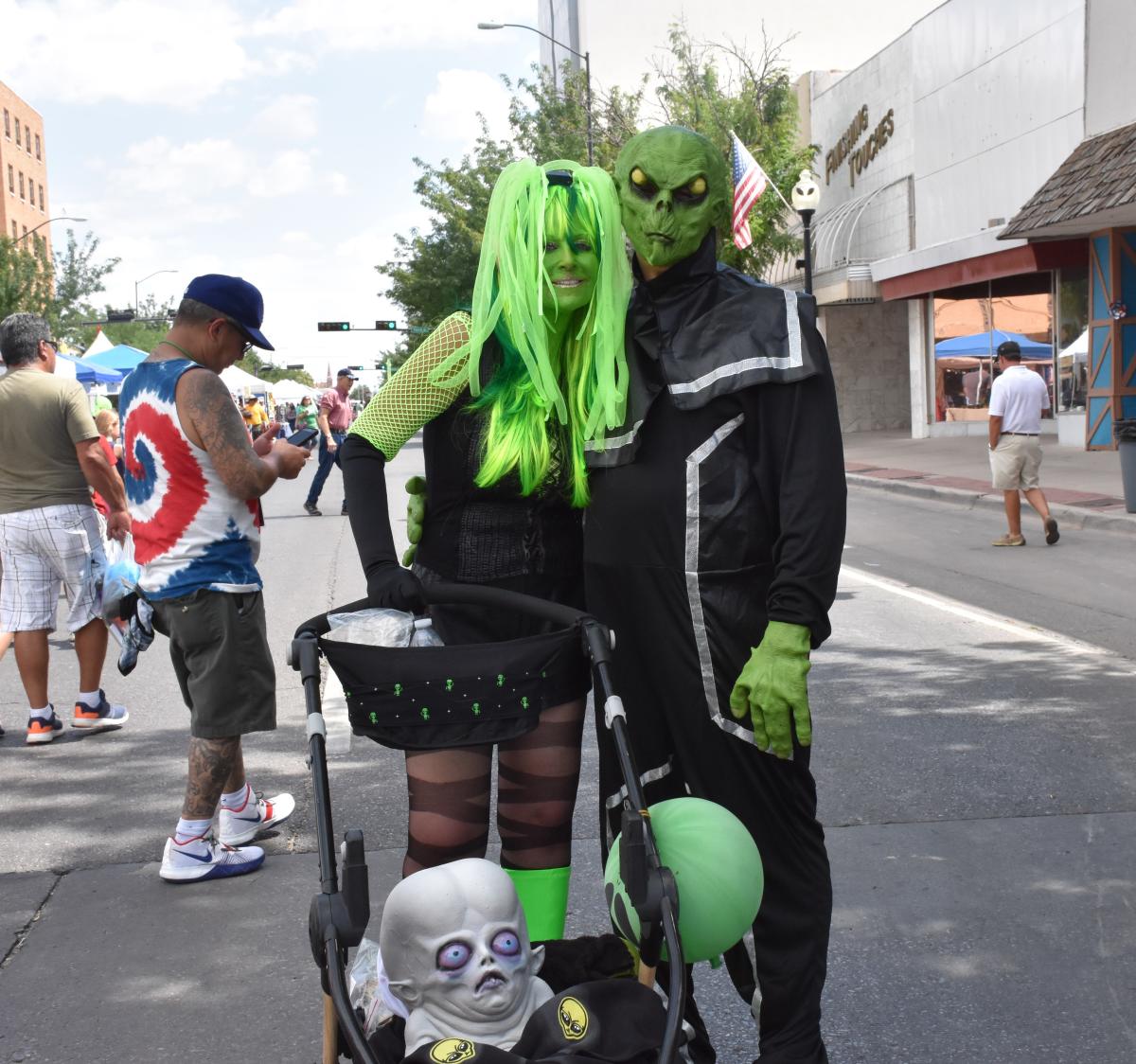 AlienFest hosts many family-friendly activities. Photograph courtesy of the City of Roswell.
GET OUT THERE
Spacey experiences come in many forms during Roswell's alien fests. Here are a few of our favorites rated on a "far out" scale. 
Scavenge alien territory. Grab a passport on the Chaves County Courthouse lawn and visit local businesses in search of alien-labeled items to get location stamps in your passport. "We want AlienFest to support local merchants," Lay says. Each correct find equals one entry in a raffle to win a $500 cash prize, alien swag, and more. Rated: Out 'n' About  
Encounter the big screen. The UFO Festival's new Intergalactic Cinema Experience beams up screenings of classic sci-fi movies, including Men in Black, at the Cielo Grande Recreation Area. Starting at 10 p.m., the films are accompanied by interactive elements, like water that hits you when alien goo spews onscreen. "You're going to be under the stars with this huge screen, fog machines, air effects, and hopefully have a really memorable time," says Juanita Jennings, public affairs director for the City of Roswell. Rated: Far Out  
Get abducted. Join the alien legion during the UFO Festival's Abduction Parade. The $50 ticket gets you a T-shirt and a chance to participate in the parade. Started in the nineties, when Roswell residents used hospital beds to play alien and abductee, the tradition lets you unleash your inner Wookiee. "People get so creative," Jennings says. "We've seen spacecrafts made from tinfoil, full operating lights, and our local roller derby made an alien creature from a Chinese dragon costume." Rated: Out of This World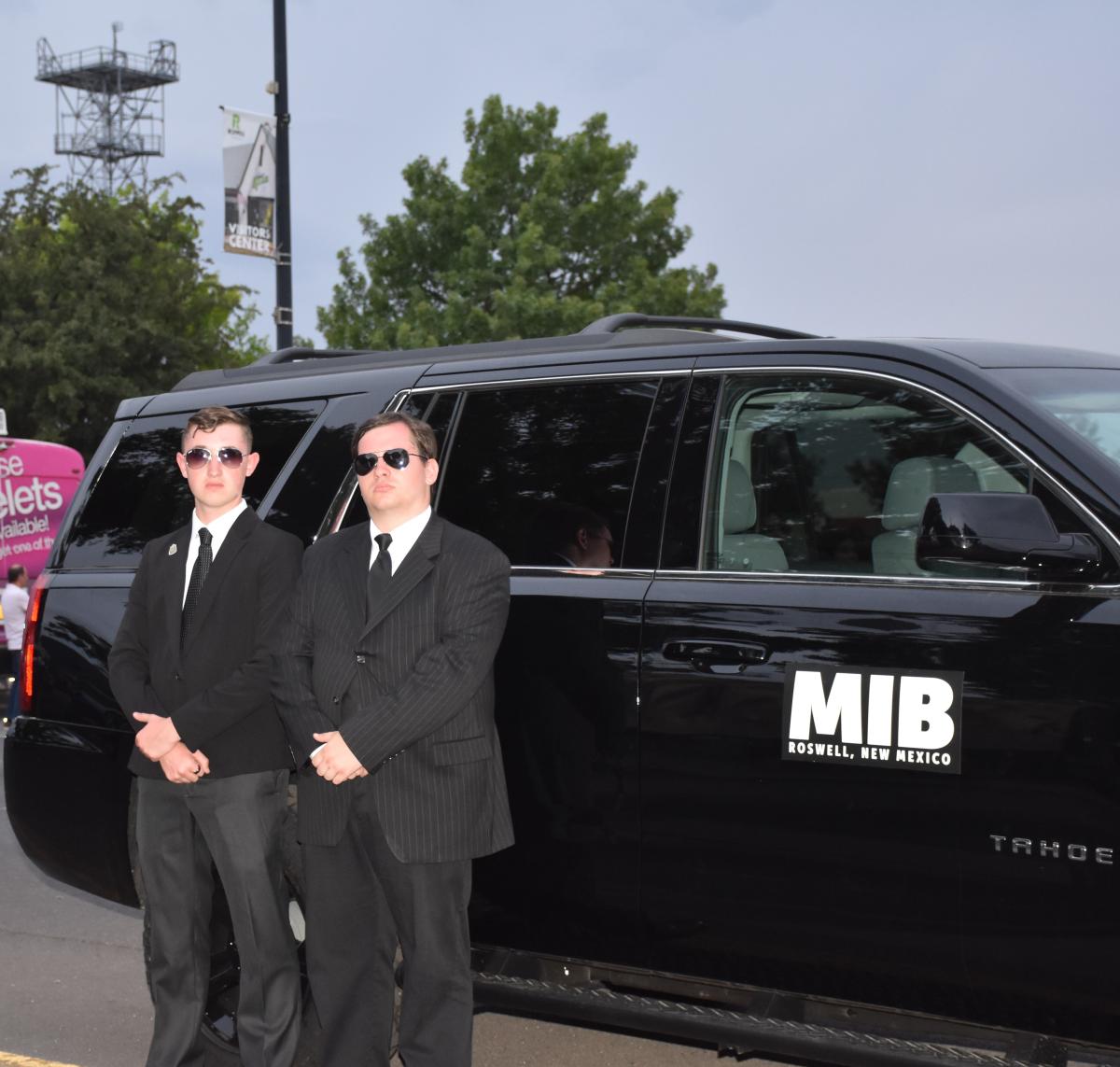 The UFO Festival features screenings of classic sci-fi movies, including Men in Black, at the Cielo Grande Recreation Area. Photograph courtesy of the City of Roswell.
File Under X 
A Roswell resident for 20 years, Erin Montgomery says she has had her fair share of alien experiences all around the state. "In 1994, while living in Las Cruces, I was standing outside of my apartment and saw one the size of a city block," says Montgomery, who suggests some reasons our state has an abundance of unexplained sightings. "It could be that because of the smaller population there is less light pollution, and that allows ships to be more visible in the sky. Do the Native American populations who live in harmony with the land and respect this planet bring about more contact from afar? Or is it the population of missiles and the large number of military bases that brings the attention of the ETs?"
Gray Matters
UFO Festival, July 2–4
AlienFest, July 1–3
---
Read More: On the 70th anniversary of what might have been the world's most famous interstellar crash, Roswell nurtures the mystery—with eyes wide open.
Read More: More than aliens, Roswell offers a can't-be-beat residency program for cutting-edge artists. A 50-year success story struts its global art cred.
Read More: For this former FBI agent and the current mayor of Roswell, it's all about progress for his way-out-there community.