Above: Gustavo Victor Goler.
GUSTAVO VICTOR GOLER
Rooted in the art, culture, history, and landscape of Taos, Gustavo Victor Goler was almost fated to become a premier santero. Surrounded by his family's art-conservation studios, he learned wood-carving skills and the intricately detailed iconography of Catholic saints from his boyhood forward. Since his first appearance at Traditional Spanish Market in 1988, he has brought home 24 awards, including a 2016 lifetime achievement honor. Perhaps more important, he shares his knowledge with up-and-coming artists, ensuring that the heritage he reveres continues.
His own conservation work led to preservation of the 259 santos and bultos in the Larry Frank Collection, now on long-term view at the Palace of the Governors in Santa Fe. Goler also helped restore the 18th-century altar screen in La Iglesia de Santa Cruz de la Cañada, near Española, and has created original pieces that are prized by museums and churches all around the world.
Thanks to his respect for the earliest santeros, he inspires those who will follow, says David Setford, executive director of the Spanish Colonial Arts Society. "He is such an outstanding role model for every person whose life he touches."
What's Next: "My biggest priority in my life is always my family, and my work comes second. Next year, my biggest focus is some important family celebrations. My oldest daughter will graduate from high school, my wife and I will celebrate our 25th anniversary, and there is an important birthday in the mix. Regarding my work, I am pushing in a more contemporary direction with my carvings that crosses over to a greater audience and helps create an interesting dialogue. People are always encouraging and asking me to write about my experiences. I have a fear of writing, but I always love a challenge, so I plan on spending some of the winter months of this year exploring that challenge. (Scary!)"
RUSSELL SANCHEZ
In an era when shortcuts to success have undermined the quality of some Native pottery, Russell Sanchez embraces San Ildefonso Pueblo basics, marrying the durability of the past with the designs of the future. Renowned Santa Clara Pueblo potter Nancy Youngblood nominated him for the award, in part because of his diligence in keeping the old customs vibrantly alive. "He has followed the traditional ways of gathering clay, processing it, and creating it through the coil method," she says. "He then sands the dried pots and uses a regional red clay he has processed for a slip to paint on the piece. The pot is then polished with a smooth stone for several hours. His strict dedication to the traditional ways is not only admirable but rare in this day and age, where many have lost touch with this sacred process."
Sanchez learned his craft from legendary potters like Rose Gonzales and Tony Da. At 14, he entered his first works at the Santa Fe Indian Market, and he has won awards at the event ever since. These days, he morphs familiar pottery shapes into elegant vessels decorated with turquoise and etchings so innovative that admirers consider him a modernist potter—with centuries-old know-how.
What's Next: "I'm doing more research on Pueblo pottery from pre-contact periods and helping to curate a show of pottery from the 1600s to the late 1800s. I'm also working on some major commissions for a couple of museums. I enjoy work. Even when I'm resting or taking a break, I'm always thinking about shapes, designs, and all that goes with it."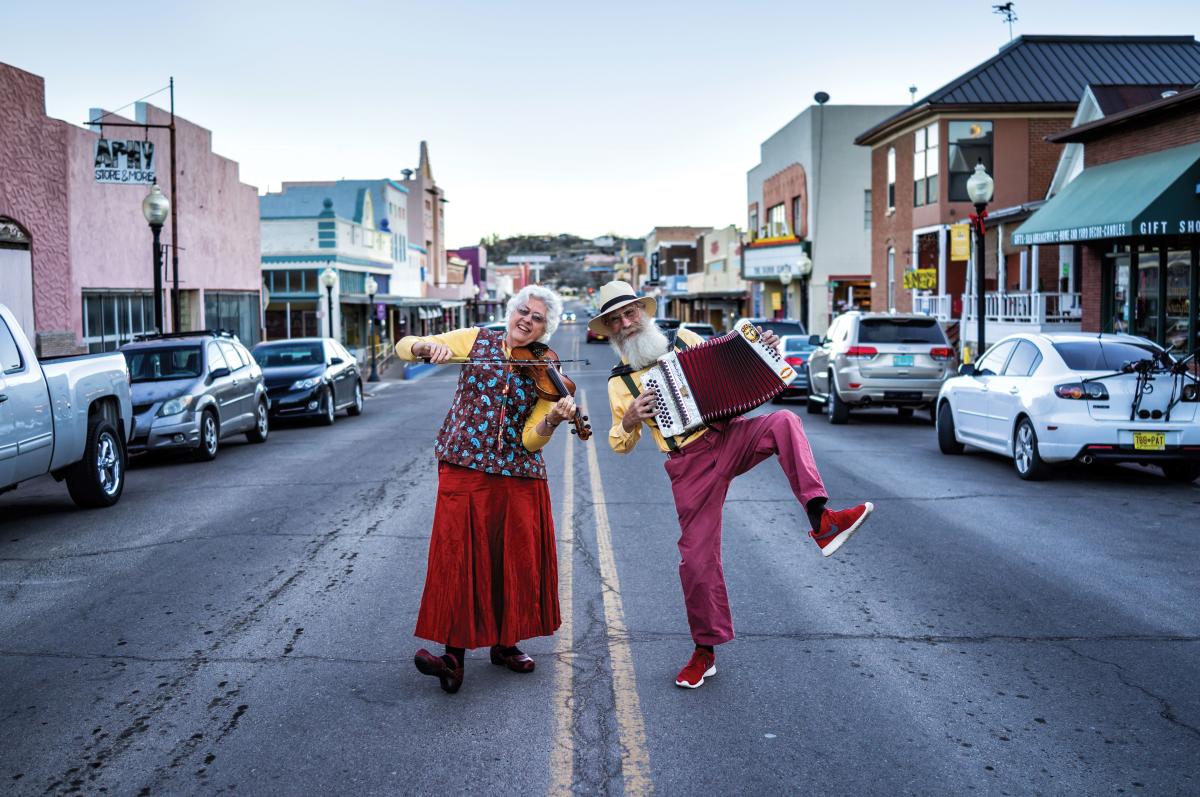 Above: Bayou Seco.
EN KIPPER AND JEANIE MCLERIE OF BAYOU SECO
How much music can a fiddle and an accordion produce? Plenty, if the players are Kenneth Keppeler and Jeanie McLerie, the beloved Silver City institution known as Bayou Seco. In the style of the wandering Lomax Brothers, they spent decades combing New Mexico for under-appreciated musicians, folk songs, and regional dances. They learned, they taught. They recorded, they performed. They engaged elementary school students and international audiences. They put their Appalachian and Cajun twists on Southwestern tunes to create a new genre they call Chile Gumbo and, in doing so, brought new admirers to collaborators like Cipriano Vigil and Antonia Apodaca. Since the 1980s, they've amassed a body of work that NMSU English professor and fiddler Rus Bradburd reckons would have died without them.
"In a world overrun with smartphones, iPads, iTunes, and technology gone wild," Bradburd says, "Keppeler and McLerie have pushed in the other direction. To them, the oldest magic is the best kind—the music that gets you dancing, the love of tradition, the respect for roots and older people." (See Chile Gumbo)
What's Next: "We're about to start working on a new CD. Last spring, we did radio shows, concerts, festivals, and library and house concerts in Chicago, Minnesota, Kansas, and Missouri. We spent the summer performing in France and England, including at the American Museum, near Bath. We continue making fine violins and teaching, and you can catch our Roots & Branches program on KURU 89.1 FM in Silver City every Saturday morning."
HELEN R. LUCERO
From an adobe house with no running water, in the northern New Mexico village of Vadito, Helen R. Lucero became the first person in her family to graduate from college. She didn't stop there, going on to earn a master's and a doctorate, as well as national fame as a curator, advocate, and educator. In recognizing her as a major contributor to the arts, the Governor's Award singled out her deep knowledge of Hispanic New Mexican arts and artists and her passion for sharing that wealth with others. Her curatorial work has graced the National Hispanic Cultural Center, the Smithsonian American Art Museum, and the Museum of International Folk Art. Throughout her career, she has championed Latina artists and employed a tough-love approach to help other curators divine the depths and nuances of Hispanic culture.
Her 1999 book Chimayó Weaving: The Transformation of a Tradition (UNM Press) helped secure the artistic cred of New Mexico's time-honored craft. And she did all this while painting her own pastel landscapes and beating back cancer four times over.
"Helen has opened so many doors, not just for herself, but for subsequent generations hoping to contribute something substantial to the world of ideas," says Albuquerque Museum curator Andrew Connors.
What's Next: "More of the same! Over the past few years, I have been busy organizing my work files on Hispanic arts and artists that are being archived at the Museum of International Folk Art. I have so far deposited about 15 boxes and will be donating over 1,000 slides and numerous audiotapes, books, pamphlets, etc. Many of these materials deal with Hispanic weaving. I agree with a friend who said, 'This will be your legacy.'"
WILL WILSON
Diné photographer Will Wilson minces no words. "I am impatient with the way that American culture remains enamored of one particular moment in a photographic exchange between Euro-American and aboriginal American societies: the decades from 1907 to 1930 when Edward S. Curtis produced his magisterial opus, The North American Indian. For many people even today, Native people remain frozen in time in Curtis photos." Wilson set out to update that point of view by reclaiming a Curtis-era medium. His collodion tintypes rely on aluminum plates, dangerous chemicals, and a 140-year-old lens. In front of that lens, he shapes his subjects to reveal not a romanticized past but fully owned representations of themselves.
He finds time to play, too, as with his Navajo-inspired, glass-beaded "rugs" embedded with QR codes, and the multimedia AIR (Auto Immune Response) project, which imagines how he, a Navajo man in a gas mask, would navigate the post-apocalyptic badlands. To ensure he'll have help in that hypothetical world, he leads the photography department at the Santa Fe Community College, thereby shaping the next generation of visual innovators. (See Will Wilson's Improved Self-Images)
What's Next: "I've been traveling—on the Navajo Nation, where I took photographs for new work, the Salton Sea and Joshua Tree National Park in California, and back through the Southwest on a dystopic tour of sites related to the extraction and refinement of uranium in and around Navajo lands. I also headed to Seattle on a research trip in anticipation of a 2018 show at the Seattle Art Museum. I'm in dialogue with Yale University's Beinecke Rare Book and Manuscript Library about archiving some of my photography there. And I'm always looking for new and exciting ways to inspire my students at the community college."
---
MEET THE WINNERS
A public ceremony for the Governor's Awards for Excellence in the Arts will be held September 15, at 5:15 p.m., at the New Mexico Museum of Art in Santa Fe. (505) 827-6490; nmarts.org
NEXT ISSUE
Read about two other recipients of the Governor's Award, author William deBuys and the Roswell Artist-in-Residence program.