Above: Lloyd Kiva New designed this Southwest-patterned ensemble; it dates to the early 1980s.
Photo by Kitty Leaken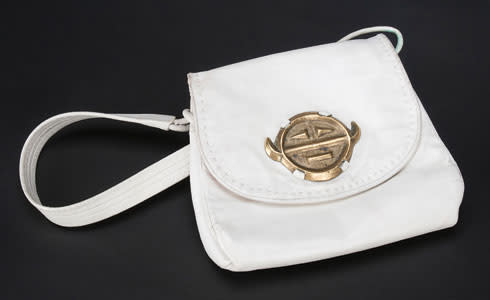 White leather Kiva bag with Charles Loloma detailing, from the 1950s.
Photo by Blair Clark.
"WHAT PERSON would abandon a multi-million-dollar fashion business—he was selling $500 handbags to Manhattan socialites—to open IAIA?" wonders Ryan Flahive, who co-curated one of three Lloyd Kiva New–inspired exhibits in Santa Fe this year to commemorate the artist's birth 100 years ago. "He could have been a Calvin Klein, but he gave that up and followed his dream to help Native American art students better know who they are and how to express themselves."
Born in Oklahoma to Cherokee and Scottish-Irish parents, New became the first Native American graduate of the vaunted Art Institute of Chicago. In the 1940s he helped turn Scottsdale, Arizona, into a major Southwest arts hub by opening a fashion boutique that celebrities and style makers flocked to in search of New's signature Native-print apparel and beaded leather handbags.
In the second act of his life, as IAIA's first art director and eventual school president, New helped transform the institution from a relatively modest arts-focused high school into the world's foremost center of contemporary Native American art studies, and a fully accredited four-year college of higher learning. Appropriately, the first of Santa Fe's three 2016 exhibits opened recently at IAIA's museum.
Lloyd Kiva New:
Art, Design, and Influence, Museum of Contemporary Native Art
According to Flahive, MOCNA's archivist, the impetus for the show began when he met New's widow, Aysen, a few years ago. He asked her if she had any items of Lloyd's left, as these items would be welcome additions to the museum's archives.
"I ended up cleaning out his office and garage and bringing back the largest historical collection—around 400 items— we've ever assembled," Flahive exults.
The exhibit is chiefly about New's artistic influence on IAIA. The show is set in three different galleries, each exploring a key element of New's impact on the school and contemporary Indian art more broadly. One gallery showcases his paintings and drawings, most of which have never been shown publicly. "It's a totally eclectic collection," says Flahive, "from landscapes to abstracts to very figurative depictions of the Maricopa people farming in Arizona."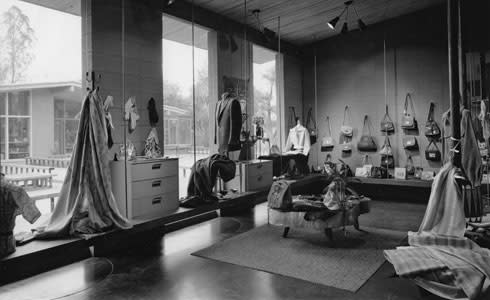 The fabric and leather-goods sales room at the artist's Kiva Craft Center, a fashion boutique in Scottsdale that carried work by other artist-designers, including Charles and Otellie Loloma (Hopi), c. 1955. Courtesy of the IAIA Museum of Contemporary Native Arts / Lloyd K. New Papers, IAIA ARC
The section dedicated to New's design genius features an "interpretive reproduction" of his Scottsdale studio and shop, complete with mannequins clad in his vibrantly colored dresses and shirts. The third gallery contains about 40 printed textiles created by IAIA alumni, demonstrating how his designs influenced the students. January 22 through July 31; (888) 922-4242; iaia.edu/museum
A New Century:
The Life and Legacy of Cherokee Artist and Educator Lloyd Kiva New, Museum of Indian Arts and Culture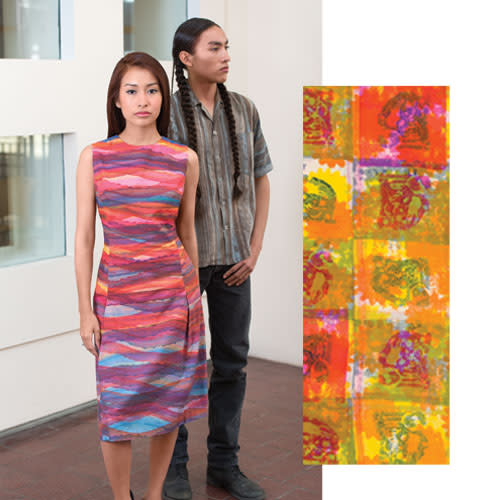 The Southwestern landscape is reflected in this 1950s hand-dyed wool-jersey sheath. This particular New-designed button-front shirt was worn by the artist while he painted.
Photo by Kitty Leakin.
Detail of fabric printed with glyph-inspired designs, c. 1960.
Courtesy of the IAIA Museum of Contemporary Native Arts.
Tony Chavarria, curator of ethnology, says, "The focus is squarely on the extensive and surprisingly varied scope of New's artwork. It showcases both his paintings—mostly works in gouache and watercolor, but some oils and pastels— and many of his legendary fashion pieces." Supplementing his artwork in this retrospective show are photos from throughout New's life, including images from his childhood and his years rising to prominence as a designer in Scottsdale.
Chavarria says that before putting together the MIAC exhibit, like so many of New's fans, he'd experienced him primarily through his fashion designs. "His war years were a revelation for me. Some of his most fascinating works are studies and sketches he created when he served in the Navy during World War II. While on the USS Sanborn, he sketched the landing at Iwo Jima—you can see Mount Suribachi, which was immortalized in the famous flag-raising photo, in one of the drawings."
"I was also surprised to learn that during his earliest years visiting Santa Fe, he taught at the Laboratory of Anthropology—right across the courtyard from the museum." Chavarria notes that New remained artistically active right up until the end of his life, capturing scenes around Santa Fe while out picnicking or taking leisurely strolls, and he continued to design clothing. "We're even showing some garments that he hadn't quite finished before his death in 2002." February 14 through December 31; (505) 476-1269; indianartsandculture.org 
Finding a Contemporary Voice:
The Legacy of Lloyd Kiva New and IAIA, New Mexico Museum of Art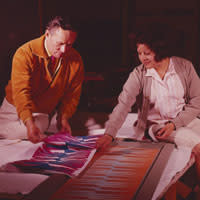 Lloyd Kiva New with a textile student
at the Institute of American Indian Arts.
Courtesy of the IAIA Museum of Contemporary Native Arts/ The Kay V. Wiest Negative Collection, IAIA Archive 
Recognizing that the museum's permanent collection contains a considerable trove of holdings by artists who either studied or taught at IAIA—including Fritz Scholder, Melanie Yazzie, and Neil Parsons—curator Carmen Vendelin developed an exhibit that aims to consider the increasingly avant-garde and self-deterministic approach to Native art espoused by New and the IAIA in the broader context of contemporary art. "The development of IAIA in the 1960s occurred exactly as we were moving from modernism to postmodernism," says Vendelin.
As artists began increasingly to weave personal and political beliefs about feminism, economic inequality, and human rights into their work, so too the creative forces at IAIA began to challenge the traditional definitions of Native American art and identity. A highlight of this exhibit is a group portrait of IAIA faculty by the iconoclastic Native American artist Fritz Scholder, a friend of New and teacher at the institute. "He and some of the others we've included in this exhibit were specifically critical of the way Native Americans had been depicted historically by non-Native artists," she says.


Details of New-inspired textiles from IAIA/MoCNA's Honors collection. Dyes on cotton; unknown artist, date.
Courtesy of the IAIA Museum of Contemporary Native Arts


Details of New-inspired textiles from IAIA/MoCNA's Honors collection. The medallion-patterned fabric was designed by Nathan Jackson (Tlingit), dyes on silk, c. 1963.
Courtesy of the IAIA Museum of Contemporary Native Arts.
Also featured prominently among the approximately 15 artists planned for the exhibit are works by one of IAIA's most celebrated students, T. C. Cannon, who went on to produce an extraordinarily provocative, politically pointed body of work during his short career—Cannon was killed in a 1978 car accident in Santa Fe at age 31. The show includes a number of larger-scale installations. "Some of them are figurative, some abstract expressionist," says Vendelin, "and some of the abstraction in these works comes from looking at traditional design motifs used in Navajo and other Native textiles." May 20 through October 9; (505) 476-5072; nmartmuseum.org
NMMA and MIAC are collaborating on an art publication about New, which is due out in May. The curators are also producing a gallery brochure featuring the exhibits at all three institutions, and will be presenting joint lectures, panel discussions, and fashion-related events. Additionally, Ryan Flahive—who relied heavily on New's papers to produce a 2012 history of IAIA, Celebrating Difference: Fifty Years of Contemporary Native Arts at IAIA—is publishing the artist's memoirs, titled The Sound of Drums, this month.
Were he alive today, what might Lloyd Kiva New make of all the attention he's currently receiving? "He would absolutely think we're giving him way too much credit," says Flahive. "In his own memoirs, he documented his life only up until 1962, stating that he didn't feel he was the right person to tell the story of IAIA. That's about as humble as you can get." His self-deprecation extended to his sense of himself as an artist. "Until we dug them out, his paintings had long been buried in a portfolio in his office."
As far as Flahive is concerned, however, New has unquestionably earned his due. "It blows me away how brilliant this man was," he says. "And it's important that people know who he is—not just because of his contributions to Indian art, but also because of his cognitive theories behind art education."
READ MORE about Lloyd Kiva New and the founding of IAIA in our 2012 feature "A Modern Revolution": mynm.us/lloydkivanew