Above: Matthew Thomas.
ON A WARM SEPTEMBER WEEKEND last year, the Taos Historic District was transformed from quaint to cool when an avant-garde carnival of arts lit up the streets. A giant sculpture of a tarantula stalked the roadside, while a huge mechanical bird flapped its metallic wings in Kit Carson Park. Abstract projections floated on the walls of historic churches, and spectators became participants by writing their own Love Letters to the World for artist Edie Tsong to broadcast through a bullhorn from atop a precariously high stepladder in the middle of the road.
These were just a few of the sights at the 2015 Taos Paseo, which was the second annual edition of an event that's the brainchild of artist and architect Matthew Thomas. For two days and nights (September 23–24 this year), the Paseo brings the heart of Taos alive with installations, performances, and what Thomas calls "art you can't hang on the wall."
It's certainly rare (and even feels slightly radical) to join crowds of people out on the streets of Taos after dark—a street party not just for culture vultures, but for curious families with kids.
"Longtime Taoseños come up and say, 'I've never seen my town like this,'" says Thomas.
He first conceived of the Paseo as a kind of outdoor art pathway to connect the various venues of the much-loved Taos Fall Arts Festival.
"Paseo literally transforms the streets of Taos with art," says Thomas. "There are no screens, no stages; everything interacts with the architecture. The town becomes the stage. The artist is there to talk to, it's 100 percent free, and you can be a part of it—you get to activate the piece."
For instance, the legs of the giant tarantula are animated by the human noises around it, and the big bird's wings flap when a passerby climbs inside and pedals the contraption like a bike.
"This art is supposed to wake us up," says Thomas. "A two-story spider in a parking lot? You'll stop, get out of the car, and maybe dance under the spider. To me it's about making memories. Later, you drive by and remember."
Although Thomas is clearly some sort of visionary, he's a modest one. We're sitting in his beautifully renovated home in a pastoral Taos valley, and every time I compliment his leadership of the Paseo, he shifts on his slightly squeaky banco and reminds me that the event is not all him. It's a collaboration that includes co-director Agnes Chavez, a jury of art experts from Berlin to San Francisco, and a band of 250 "amazing volunteers."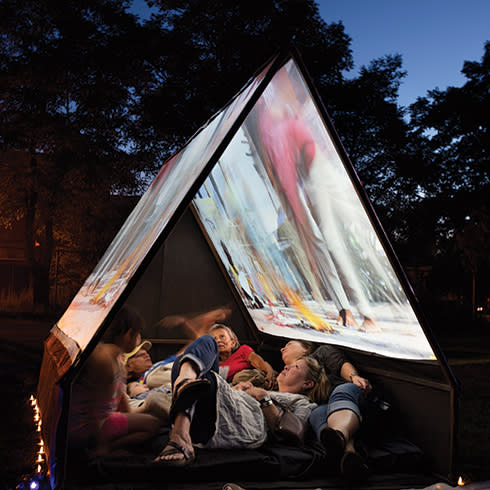 Above: Experiencing Marion Claire Wasserman's Dream Tent X2, at the Paseo.
True. But few people in Taos can motivate as many people as Thomas can. "Matt can bring people together," says Chavez. "He has these really strong collaborative communication and negotiation skills, and he's very good at unifying diverse sectors. He never focuses on the obstacles. Everything is possible!"
Thomas is not so much charismatic as he is just extremely likable and sincere, inspiring trust and making various people believe in the potential of his many ideas. His passion for bringing unexpected life to downtown combines his architecture and urban design training with his family history. His shoemaker great-grandfather emigrated from Lebanon through Ellis Island and opened a store in Jefferson City, Missouri. Thomas worked summers in the store for his dad. "I grew up downtown in our little Main Street America, as quaint as you can imagine, mom-and-pop shops and Fourth of July celebrations," recalls Thomas. "I grew up in that energy, knowing the importance of community, having a space for us to collect and be."
Thomas himself moved to Taos in 2003 to intern with a local architecture firm.
"I wanted to work with sustainability and green building, which at that time wasn't so prevalent. Taos drew me to adobe and straw bale and Earthships—it was an exciting place to pursue my career."
Feeling he ought to tap into what was happening in the bigger world, he left town several times. First he went to Columbia University for his master's in architecture and urban design. "At Columbia the conversation was about rainwater catchment and sustainability, and I thought, 'Oh my God, that's what I've just come from!' I was teaching them about it. Taos is incredibly progressive."
He later taught at Columbia, and at Parsons School of Design in New York, Chongqing University in China, and the American University of Beirut. Thomas says that living in Lebanon, the place of his ancestors, allowed him to "dive into who I was going to be as an architect, who I was going to be as a person. I truly found grounding in a place that's in such turmoil." He returned to Taos for the quality of life.
"I realized that to do something powerful, you have to be in one place long enough to make roots," he says. "I've become a small-town advocate. I really think amazing things can happen in small communities."
Thomas first revealed his knack for bringing Taos together when he launched PechaKucha Nights in 2010, with his now husband, Richard Spera, owner of Casa Gallina inn. PechaKucha is a highly structured and condensed presentation where community members from musicians to midwives show 20 slide images for exactly 20 seconds each and talk about whatever inspires them. The events are always sellouts with audiences of 300 people or more, and the 20th edition follows the September 2016 Paseo, featuring the Paseo artists. "I'm responsible for the structure," he says of the events, "then I let go of control. I have to let go, that's the chaos. It's the beauty of what happens organically. You create structure and then life happens."
Thomas also makes mixed-media art that's structurally complex, with paint and layers of discarded paper (maps, newspapers, old receipts, canceled checks) creating intricate geometric designs. And he's founded his own design-and-architecture practice, Studio Taos, as well as the Food and Shelter Lab—"a research project that explores our relationship between food and shelter"—and a gluten-free bakery. He renovated his own home and is currently working on a rustic art studio in the garden. He shows me his freshly planted raised vegetable beds as he walks me out to my car.
Which makes one wonder: How does he juggle everything?
"I'm a chop-chop person," he says, gesturing with a karate chop of his hand. "I structure my day. I have a low attention span; after a few hours I have to shift gear." He describes himself as an "introvert-extrovert. That's why I love Taos. I have to have downtime. Richard and I like to travel. Once a month we try to do a weekend in a beautiful place two or three hours away. Get away from devices, computers, the house—otherwise I start cleaning."
Head-turning spectacles at this month's Paseo, in collaboration with the Taos Fall Arts Festival, include Navajo artist Bert Benally working with Taos Pueblo students to riff on traditional Diné sand paintings using LED lights triggered by motion sensors as people walk by. Willi Dorner from Vienna will train the Taos Youth Ballet as performers in Bodies in Urban Spaces—temporary human sculptures incorporated into town architecture.
When I ask about the best part of the Paseo for him, Thomas' expression changes visibly. He's right back there. "The best part? Just when it all comes together. There's that moment a couple of hours in, everyone has their places. I get on my bike and ride around. At 7 or 8 o'clock it's pumping. That's the moment you know: We did it!"
—Tania Casselle wrote about furniture designer Emily Henry in the April issue. The Paseo (paseotaos.org), September 23–24, occurs in conjunction with the Taos Fall Arts Festival (taosfallarts.org).