Above: An all-ages show at the Center of Contemporary Arts.
PHOTOGRAPHY BY: COURTSEY CENTER OF CONTEMPORARY ARTS
ON A WEDNESDAY AFTERNOON this spring, months before opening night of the Santa Fe Independent Film Festival, a handful of staffers huddled around a bowl of pretzels in a conference room to talk about a new slate of outdoorsy short films.
"Wait, we're calling this Mountain Shorts?" Beth Calderello said, wincing. "Is there another name we could call it?" The group put their heads together. Maybe it'd be more interesting to narrow the program to a single activity, like skiing? "Why not snowshoeing?" someone joked. "Squirrel Suit Shorts!" another voice chimed in, referring to the borderline-suicidal sport of wingsuit flying. Calderello tried to steer the discussion back to brass tacks: "So if we do this shorts program, the goal is to bring in Outside—"
"And that mountain bike manufacturer," added a fellow board member. "Well, I don't think that's the goal," interjected Jacques Paisner. The rumpled 36-year-old executive director had been brooding at the head of the table. Branding and sponsors were part of putting together a festival, but what mattered, in the end, was the movies and the people who watch them. He looked pointedly around the table: "It's something the audience will respond to," he reminded them.
JACQUES PAISNER knows a thing or two about audiences. In the seven years since he started the festival with a few friends and a practically nonexistent budget, it's ballooned into one of the marquee events on the city's fall calendar. This month, more than 10,000 film fans are expected to pack Santa Fe theaters for five days of independent movies, appearances by filmmakers and actors, and nightly parties—marking the third straight year attendance has topped five figures.
"In 2009, we were just going to play a few movies at the coffee shop and Warehouse 21. And then all of a sudden it's a lot bigger," says Liesette Paisner, the festival director. A decade younger than her brother, she was a 19-year-old history major at UNM when she volunteered at the inaugural event. Lately, in her expanded role, she's helped bring art-house stars like John Waters and Lee Daniel, Richard Linklater's longtime cinematographer, to Santa Fe.
For both siblings, it's been gratifying to give something back to the city that fostered their love of film. "Our dad was a big fan of movies. I remember when the VCR came out, going to Video Library and Captain Video in Santa Fe," Jacques says. "Plus being a kid, skateboarding downtown, it would get really hot and we'd go see a movie at the Lensic. They'd usually let you in for free in those days."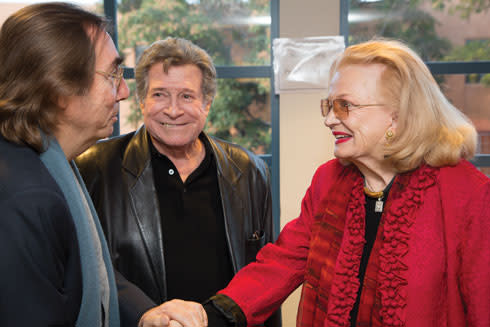 Above: Writer-producer-director Pen Desham interviewed Gena Rowlands, 2015 Lifetime Achievement Award winner.
PHOTOGRAPHY BY: COURTESY SFIFF/SAGE PAISNER
The Lensic and the Center for Contemporary Arts were among the first venues to see the potential of a young festival with an indie and international bent. In the past few years, Santa Fe's burgeoning cinema scene has kept pace with the event's rapidly growing crowds. "I think we started this out as a pretty good theater city with the CCA, the Lensic, the Screen," Jacques says, "and now, adding 11 screens with Violet Crown and one more with Jean Cocteau really made us better than most cities this size." He points out that regional powerhouse festivals Telluride and Sundance have to convert a high school gym and a skating rink into pop-up theaters.
George R. R. Martin's resurrection of the quirky Cocteau has been especially helpful. The festival's offices are above the theater, in a space that Martin decorated to his own movie-geek taste. Meetings are held among posters for Metropolis, A Clockwork Orange, and Django Unchained. A scruffy Jeff Bridges gazes down from a Big Lebowski poster in the style of Shepard Fairey's Obama "Hope" graphics—appropriate for a festival where the Dude's laid-back, casually anarchic spirit abides.
"I think in the early days of the fest, we ran it like it was an indie film project," Jacques says, remembering the grueling hours and definitely-not-union wages. "Would you say that we run it like a bigger film production now, like maybe a $10 million picture?" he asks Liesette. She laughs. "I think we'll always be an indie production," she says, "but maybe we'll be Crouching Tiger, Hidden Dragon or something like that."
IN THE PLANNING MEETING, conversation skipped freely across what Jacques has called the "three food groups of any festival": education, films, and parties. Calderello, a veteran of the American Film Institute's AFI fest, joked with Liesette about what kinds of events were most likely to draw particular directors they loved. Was one into bowling? "We'll just turn Meow Wolf back into a bowling alley," Calderello teased.
"It's a lot cooler now!" Liesette objected. Like that art collective's hit installation, the festival draws a more diverse crowd than Santa Fe is known for. It's been dubbed "a young Sundance" by IndieWire and one of MovieMaker magazine's "25 Coolest Film Festivals in the World." Keeping up that reputation requires staying on top of new and unknown movies from around the world, including dozens of homegrown productions from schools like Santa Fe University of Art and Design and the Institute of American Indian Arts. The result is "a localized event that's international," Liesette says. "It's inviting people from around the country and the world into a locals' version of Santa Fe."
The goal is to create "something that really changes the landscape of the town where we grew up," Jacques says. Each sibling has a favorite story about someone drawn to New Mexico by their movies, like the woman from the Ukraine who planned a six-day visit with her husband, and the attendees who moved down from Canada after falling in love with Santa Fe. "Or the guy who didn't go to his son's wedding so he could come to the film fest!" Jacques says. "That was the best." "I was like, 'Really?' He was like, 'I told them, if they wanted to see me around their wedding, they had to come here,'" Liesette says. "So yeah," she smiles, "people are really devoted to it."
SILVER SCREENS
The 2016 Santa Fe Independent Film Festival will be held October 19–23. Five-day passes are available for $300 via santafeindependentfilmfestival.com. Individual tickets to most screenings and events will be available through eventbrite.com. (505) 349-1414