Above, from left: San Ildefonso artists who worked on the pots include Evone Martinez, Johnny Cruz, Becky Martinez, N. Summer Martinez, Barbara Gonzales (seated), Cavan Gonzales, and Eva Moquino.
OLD-TIMERS HAVE TOLD STEVE FOLTYN that, way back when, you could barely set foot on certain trails in Los Alamos County's White Rock Canyon without seeing scatterings of pottery shards. Striped, singed, and painted, each fragment spoke to the story of ancient people and their handcrafted lives in and around today's Bandelier National Monument. The day Foltyn and I wander down the main trail, though, not a shard appears. Plucked and pilfered over the decades, they're lost to today's traveler.
The disappearing past and this high-tech community's tenuous links to it might have continued on that fading way had Foltyn and other community boosters not devised an art project that took three years to bear fruit. They did it with some large pots. Really large pots. Goliath-goes-Indigenous pots. For lack of anything else resembling an official name for this particular installation, we'll call it the Los Alamos Great Big Pottery Project.
IN 2013, Foltyn, a retired scientist for Los Alamos National Laboratory, belonged to the Art in Public Places Board. Members were tasked with figuring out how to spend the 1 percent of Los Alamos County's building budget that's reserved for art. At the time they had a hefty check, thanks to construction of a library and visitor center in White Rock, a suburb of Los Alamos. Then another member suggested they consider investing in the large Native-inspired pots like the ones that line the entrance road to the Albuquerque International Sunport. The idea was to set the pots along NM 4, leading to and away from the new visitor center. Foltyn hesitated.
"The visitor center is such a contemporary building," he said. "I wasn't convinced the pots were perfect for us."
Nonetheless, he promised to take the lead on seeing how to obtain and decorate them if other, more expedient installations could also be placed in the visitor center's yard. Okay, the board said. Several kinetic wind sculptures cropped up, along with delightful scrap-metal critters by Los Alamos artist Richard Swenson. Meanwhile, Foltyn tracked down Bennie Duran. The owner of Desert Blooms in Albuquerque had some years back accidentally created a large-pots sideline for himself when he slapped together a concrete-rebar-and-plaster pot big enough to hold a tree. It was supposed to be a one-off landscape project.
"I stood back and said, 'That looks like an Indian pot,'" Duran recalled, and he thereupon found a Native artist to paint it. "As soon as it had a rug design, black and white, a lady came into our plant garden, saw it, and offered to buy it. So I started making another one. As soon as we made the second one, someone wanted it. That's where the lightbulbs went on."
Today his pots—some as tall as 10 feet—bedeck the Sunport, along with outdoor sites in Gallup, Bloomfield, and Deming. Sure, he told Foltyn, he could supply six pots to White Rock, but what kind of shapes and sizes did he want? What kind of designs? Cochiti? Santa Clara? Jemez? Foltyn didn't have a clue, but he knew enough to ask Jason Lott, superintendent at Bandelier National Monument. (This is the point at which the careful reader will start taking note of how many hands are required to pull off a Great Big Pottery Project.)
"Knowing that White Rock and Los Alamos are in lands traditionally belonging to San Ildefonso as their Ancestral lands," Lott said, "I recommended that he work with them." Foltyn, uncertain whether San Ildefonso "would be offended or if they would embrace it," quietly contacted Brian Montoya, the pueblo's cultural resources adviser. Not only did Montoya approve of the project, he took it a step further: Why not ask the pueblo's artists to paint the pots so that they show a historical progression of pottery traditions, from Ancestral cooking pots to Maria Martinez's iconic black-on-black pottery to the polychromed and inscribed creations of today?
Montoya reached out to the pueblo's tourism manager, Denise Moquino (still keeping track?), who agreed to wrangle the artists. She ended up with 10: Johnny "J.C." Cruz, Karen Fred, Barbara Gonzales, Cavan Gonzales, Becky Martinez, Evone "Snowflake" Martinez, Frances Martinez, Marvin Martinez, N. Summer Martinez, and Eva Moquino.
Through blood or marriage, each of them traces a family lineage to San Ildefonso's most noted potters and artists, people like Tonita Roybal, Susana Aguilar, Ramona Gonzales, and, of course, Maria and Julian Martinez, their son Popovi Da, and their grandson Tony Da. The challenge of painting pots too wide to wrap your arms around and high enough to hide inside intrigued the artists. They also felt a collective call to connect their history to the contemporary lives of White Rock residents and Bandelier visitors.
"Where White Rock ends, San Ildefonso begins," Barbara Gonzales said. "We're just over the fence. We have scientists going by our reservation, but many times people say they never knew the pueblo existed. I want attention for the pueblo and the artists around here."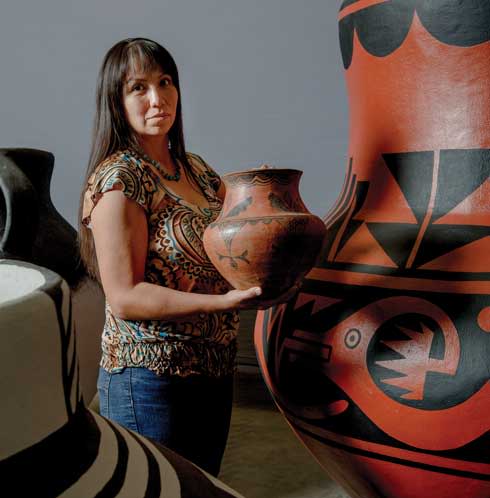 Above: Artist N. Summer Martinez holds her great-grandmother Tonita Roybal's pot next to its new incarnation.
LOTT PULLED PHOTOS OF ANCESTRAL POTS held by Bandelier and gave them to the artists for inspiration. John Hopkins, a retired scientist and avid pottery collector, provided images of ones he owned, including a significant black-on-red Tonita Roybal pot, circa 1910. Working with the Art in Public Places Board, the artists chose five pots of varying shapes, plus one plate. They mapped out designs that stretched from a circa 1200–1500 cooking pot so utilitarian it bore no decoration at all to a 1960s-era black-tan-sienna pot based on one of Popovi Da's creations, with a ring of three-foot-high stylized feathers around the top. Devising collaborative workdays required streams of text messages, occasional pizzas, one loud radio, pails of high-quality latex paint, and a bounty of brushes. But not those traditional yucca-quill brushes. They needed sturdy brushes. House-painting brushes.
"With these pots," Cruz said, "you have to go big." The artists injected their own interpretations of the historical versions onto the new pots. "For the most part, it was freehand," Cavan Gonzales said. "We'd do a lot of eyeballing and recorrecting and recorrecting, straightening the lines." They devised dots, flowers, birds, and Avanyu water spirits tagged to the eras when new design elements appeared. "All of us took on all the pots, helping each other. It was pretty cool."
For the Tonita Roybal–style jar, the artists divided the top into quarters and applied designs emblematic of their family origins. N. Summer Martinez added an abstract spider based on a plate by Roybal, her great-grandmother. "That one's my favorite," she said of the pot. "We all jumped around. We all tried to have a piece of design on each one."
By April, the artists had finished their work and passed the pots back to the art board to get them installed, a process that took until early August and brought more than one happy surprise, courtesy of yet more helping hands. Arrayed along a half-mile stretch of NM 4 in the heart of White Rock's business center, the pots benefited from a county decision to provide stone slabs as bases, giving them a handsome and previously unplanned elevation. The Roybal pot, though, was slated for a landing pad that leaned toward the weedy-trashy side of things. Action in another arena came to the rescue. The 2011 Las Conchas Fire had forced Bandelier to limit the number of people driving into the monument during high season (mid-May to mid-October), so park officials had begun running buses from the visitor center. Just in time for the pot, the National Park Service built a rest stop in classically rustic "parkitecture" style. That inspired Los Alamos County to trade the weeds for a xeriscape that now surrounds the pot—"another happy ending," Foltyn said.
One aim of everyone involved is that, besides waiting for the next shuttle, Bandelier visitors will walk the pots' route, read the plaques describing the history, and deepen their understanding of what they're about to experience—and of where that earlier community's trails lead today. "This is a continuation of who we are as families and artisans of the pueblo," Cavan Gonzales said. "We're keeping our traditional way of life and showing the perseverance of our way of life."
AFTER ALL THAT WORK, Foltyn stands in admiration of the many hands that carried the Great Big Pottery Project to completion, and that's a fitting metaphor for pottery in general. A holy grail for pot collectors is to spy the fingerprint of a creator somewhere in the finished surface. These days, archaeologists use forensic techniques to study fingerprints found in ancient clay. There's even a Journal of Ancient Fingerprints, and scholarly articles on what such fingerprints might reveal.
On a sunny morning, as we wander among the pots, Foltyn and I share a hope that visitors will imagine the many prints left on them—and it's then that we remember one more. Months earlier, before the pots were installed, we met eight of the artists for a photo shoot. John Hopkins, the collector, came that day, and he brought the actual Roybal pot. Someone pointed him toward Roybal's great-granddaughter. He placed the pot in Summer Martinez's hands. She fell silent. When she blinked, tears fell.
Everybody in the room noticed, but nobody noticed. Instead, they granted her space for this deeply personal moment. It lingered. And lingered. The photo shoot continued. Still Martinez cradled the pot, eventually feeling its weight wearing down her arms. "I didn't realize it was so big," she said later. "I'd seen it in pictures all my life, but I didn't know the size." The Great Big Pottery Project had found an unexpected fingerprint, one that knit the past to the present, tactilely, artist's hand on artist's hand. "I texted it to my mother," Martinez said, "and she said, 'Summer, don't cry.' I wrote back, 'Too late, too late.'"
—Kate Nelson is New Mexico Magazine's managing editor.