Photo by JAY HEMPHILL
    SILVER CITY    
Towers of Wow
Self-described outlaw artist Jean-Robert P. Beffort is the front man of Silver City's community art garage, A Space, where he reuses and recycles doll parts, Legos, and magazine cutouts to create utterly original assemblage pieces. Visitors are welcome to do the same at his Art-on-a-Stick events. Using found and sometimes broken objects (Scrabble tiles, an old clock, a toy car, more toy parts), participants create three-dimensional towers and sculptures. Beffort provides creative guidance and technical support by drilling, sawing, and ensuring the creations are structurally sound. "It's like creating your own secret inner totem, your subconscious made real from everyday objects, some used and discarded or forgotten, that exist invisibly in our environment," he says. Classes are offered during gallery hours. 110 W. Seventh St., Silver City;
(575) 538-3333; aspacestudioartgallery.com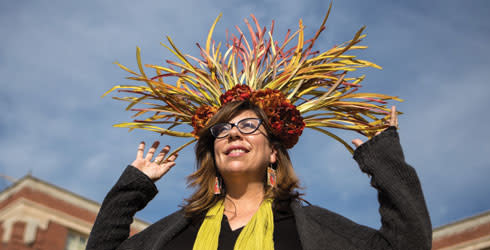 Photo by STEVEN ST. JOHN
    ALBUQUERQUE    
Baubling On
Lita Sandoval makes jewelry out of silver, beadwork, and even splashy Mexican lotería imagery and sells her work in an online Etsy shop and at P.S. Global Style, in Albuquerque. She instructs her students in the same techniques when leading art classes at Harwood Art Center (where she is special projects manager) and the National Hispanic Cultural Center's Happy Arté Hour, held the first Thursday of every month. "I love providing beautiful, sumptuous paper and found objects, then letting them explore from there," she says. Find her work at etsy.com/shop/adelitaartworks. Harwood Art Center, 1114 Seventh St. NW, Albuquerque; (505) 242-6367; harwoodartcenter.org
Wax Poetic
Fine artist and teacher Diane Aldrich Kleiss channels her students' encaustic efforts in one-on-one and small-group sessions. Dating to the ancient Greeks, who used pigmented wax to decorate their warships, encaustic art consists of layers of melted wax and resin on panels. Some finished works exude ethereal, muted beauty, others pop with abstract color or figurative depictions. Her own luminous works hang in her studio, aka the Cliffs, in Silver City, where classes are held. One-day workshops by appointment (dianealdrichkleiss.com). Santa Fe's Encaustic Art Institute offers workshops for beginners (ages 10 and up) on alternate Saturdays, from 1 to 4 p.m. Classes fill up; register by calling the institute. (505) 989-3283
Tabletop This!
The traditional art of glassblowing gets a breath of fresh air at Taos Institute for Glass Arts, a nonprofit education center five artists founded after purchasing equipment that famed artist Dale Chihuly brought to Taos Pueblo. The institute provides experiences in plate making—including options for a free-flowing design perfect for tapas, and "Pastries on Glass," tasty breakfast on an art-glass plate followed by students making a dish of their own. 1021 Salazar Rd., Ste. 8, Taos; (575) 613-6484; tiganm.org
Hike, Point, Shoot
Bree Lamb, an adjunct professor at Doña Ana Community College, leads photography hikes in the Organ Mountains–Desert Peaks National Monument, near Las Cruces. Students take photos at different times of day and then examine their work in studio viewing sessions. Various Las Cruces locations; check website for dates.
(575) 639-0934; artworksnewmexico.org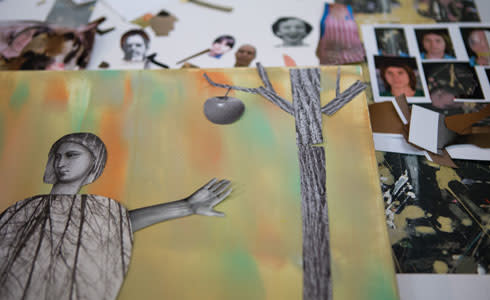 Photo by STEVEN ST. JOHN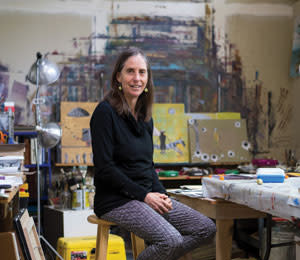 Photo by STEVEN ST. JOHN
    SANTA FE + ABQ    
Mixed Blessings
Two-time National Endownment for the Arts grant–winner Holly Roberts teaches four to six art workshops across the country each year. Her wry, humorous work falls on the more minimalist side of collage. The Corrales resident is homeward bound in 2016, with workshops scheduled in her native Santa Fe and Albuquerque. Even beginners can join her multi-day workshops (May 30–June 3), which are planned for summer at Making Art Safely and 516 Arts. Using water-based paint and two-dimensional materials such as dictionary pages, patterns, drawings, and photos, participants create wall hangings to take home. hollyrobertsstudio.com; makingartsafely.com; 516arts.org
Stitch and Sip
In 2013, Deborah Grossman opened her long-daydreamed-of yarn café, both a shop and a crafter-community destination. "Knit a Hat" is the most popular of Yarn & Coffee's handful of classes, with beginners signing up for two sessions that guide them through the process. The cozy store offers occasional special-topic workshops—as it has done annually each summer for one devoted to natural dyeing with plants. Yarn & Coffee also hosts social knitting and crocheting. Grossman offers private lessons to help knitters fine-tune or modify a pattern. "Knit a Hat" is offered three times per winter. Check website for dates. 1836 Cerrillos Rd., Santa Fe; (505) 780-5030; yarnandcoffee.com
Go to the Source
Along with Maria Martinez of San Ildefonso Pueblo, Lucy Lewis of Acoma Pueblo is regarded as one of the most famous and skilled Southwest potters. Today, her granddaughter Claudia Lewis Mitchell is the standard-bearer of the family's traditions—not only in craftsmanship, but also in teaching. Lucy taught workshops at Taos Art School, then passed the mantle to her daughter, and now to Claudia, who leads attendees through steps her family has followed for generations.
The workshop begins in Taos, when each participant is given a small share of clay Claudia has dug out of the earth. The next few days, they learn to form, burnish and slip, and paint their pottery with a brush chewed from the rib of a yucca plant. The final evening of the workshop, the group journeys southwest to Acoma Pueblo, standing in the spot where Lucy once sat to form her pots, and feasting with the Lewis family in their traditional home on the mesa top. The last morning of the class, the pots are fired in shallow pits at Acoma. "It's a truly authentic experience of not only the way they make pots, but why they do," says Taos Art School director Ursula Beck. August 4–10, 2016, Taos Art School, Taos; (575) 758-0350; taosartschool.org
Adventures of Tin
Sharon Candelario quit her job as a social worker nearly 15 years ago to delve into the traditional—and not so traditional—art of tinsmithing. From family members she learned techniques used in northern New Mexico for generations, but has also given the Spanish Colonial craft a twist. Sharon blackens the tin and etches designs rather than using the customary stamping technique. She shows her crosses, frames, and scenes at Santa Fe's Contemporary Hispanic Market. In her basic two-hour workshops, however, she teaches the traditional Río Arriba style native to Chimayó. The workshop location sets the scene: Her Medina Gallery is in the placita of El Santuario de Chimayó, across the street from Santo Niño Chapel. In warmer months, students work on the patio, punching, stamping, and cutting metal in the shadow of the iconic mission.
Candelario, who doubles as a yoga instructor, guides students through breathing techniques during class, inviting them to be mindful while creating heart-shaped ornaments. By appointment. santafecreativetourism.org; blacketchedtin.com
Instafamous
David Hoptman, an instructor at Santa Fe University of Art and Design, teaches private and small-group sessions in "phonography"—using strong composition plus apps and lenses to create photos that will make your Instagram followers swoon. Two workshops per month, private sessions by appointment. davidhoptman.com
A Personal Brand
At the Rail Yards Market in Albuquerque, 111 Media Collective is a reliable presence. The pop-up lab's screen-printed T-shirts, emblazoned with Zias and new mexico amor messages, sell briskly. In the collective's classes, you can come up with your own designs before screen-printing them on T-shirts. 111 Fourth St. NW; (505) 336-1110; 111mediacollective.com
Self Portraiture
Painting sessions with portrait artist Robbi Firestone are way more than canvas-deep. Her goal is to "inspire women to unleash their freedom through creativity" in her light-filled adobe filled with fascinating art and objets. Firestone leads the group in a meditation, then guides students through creating their own versions of one of the 40 paintings in her teaching repertoire. As they paint, she asks them to think beyond the studio—if they judge themselves harshly, she asks them why; if there's something they fear—a color or a scribble—she encourages them to push beyond that fear. Painting, she says, helps people realize what needs to shift and teaches them to make that change—if only, at first, in the supportive environment Firestone creates. Schedule available online; call to ensure that you book a time when Firestone is teaching. Santa Fe Art Classes, 621 Santa Fe Trail, Santa Fe; (575) 404-1801; santafeartclasses.com
Photo by STEVEN ST. JOHN
    ALBUQUERQUE    
Layers Upon Layers
In the past year, Santa Fe-born collage artist Valerie Roybal has participated in six group shows, received a Pollock-Krasner Foundation Artist Grant, and been a guest artist at Albuquerque's world-class Tamarind Institute. In addition to showing at Central Features gallery, in Albuquerque, she sells her dreamy, botanically inspired collage prints and assemblage sculptures on Etsy (etsy.com/shop/mydarlingdinosaur). She also finds time to lead occasional workshops in Albuquerque—the next of which will focus on book art. Geared toward the naturalist, the class will guide participants through creating small books that can be used as garden journals or natural-history sketchbooks. Register for the February 11–12 workshop at oasisnet.org
MAKE A PLAN
 Consult these outfits for art workshops and  excursions.
ARTWORKS NEW MEXICO
Professional instruction in a variety of media in the Las Cruces area. (575) 639-0934; artworksnewmexico.org
ENCAUSTIC ART INSTITUTE
Encaustic workshops for all levels, in Santa Fe. (505) 989-3283; eainm.com
ESPAÑOLA VALLEY FIBER ARTS CENTER
Six-week classes in a variety of fiber arts, including a walk-in weaving program. (505) 747-3577; evfac.org
HARWOOD ART CENTER
Art studios, gallery, and classes. Albuquerque. (505) 242-6367; harwoodartcenter.org
GHOST RANCH EDUCATION & RETREAT CENTER
Photography, painting, jewelry making, textile arts, and other sessions in a multi-day retreat format in Abiquiú. (505) 685-1000; ghostranch.org
SANTA FE CLAY
Workshops in ceramics basics and special topics, such as figurative sculpture and micaceous pots. (505) 984-1122; santafeclay.com
SANTA FE CREATIVE TOURISM
Online directory of workshops in Santa Fe and the surrounding area. santafecreativetourism.org
SANTA FE PHOTOGRAPHIC WORKSHOPS
Traditional film, digital photograph, and digital imaging workshops by professional instructors. (505) 983-1400; santafeworkshops.com
TAOS CLAY STUDIO
Run by an artist collective, this El Prado studio also offers classes, workshops, and residency opportunities, many with a focus on glazing and firing. (307) 272-8388; taosclay.com