EXHIBITIONS
Through June 30, On the Map: Unfolding Albuquerque Art & Design takes visitors on a citywide art tour. See the full schedule at ABQonthemap.com. Highlights include:

The University of New Mexico Art Museum pays homage to the granddaddy of Albuquerque modern art in Pure Feeling: Raymond Jonson in Albuquerque, 1934–1978 (February 6–May 9). Cofounder of the Transcendental Painting Group and a teacher at UNM, Jonson trained leagues of students to channel Wassily Kandinsky when painting the Southwest.

Sumner & Dene Gallery (517 Central Ave. NW) offers a 35th Anniversary Showcase through February 28, highlighting the business's artists, furniture makers, and jewelers. In June, the gallery's Garden Show features two- and three-dimensional works with a garden theme, including pieces by Angus Macpherson, Frank McCulloch, Dan Garrett, Bill Tondreau, and Reg Loving.

The Harwood Art Center (1114 7th St. NW) presents Recycled Heart, February 6–26, with original works by the artists at ArtStreet, a program that Albuquerque Health Care for the Homeless created to give artists both homeless and housed a space to explore their experiences together. The Tamarind Institute, a major lithography center across the street from UNM at 2500 Central Ave. SE, shows its playful side in Foodie: On Eats, Eating and Eateries in Albuquerque, March 6–April 17, with prints by nearly a dozen artists.

Central Features, a new gallery at 109 5th St. SW, offers Visible Sound, April 25–May 30, exploring the ways sound is visually and physically recorded. Take part in artist-led "soundwalks" through Albuquerque. An acclaimed abstract painter and computer drawer, Frederick Hammersley, lived and worked in Albuquerque until his 2009 death. Tour his home and studio at 608 Carlisle Blvd. SE at 11 a.m. and 2 p.m. on April 23.
FOR SOME QUALITY culture-vulturing, park along Albuquerque's legendary main artery, Central Avenue, near Fifth Street, and start walking. Within a half-block radius, you'll bump into 516 Arts, an experimental gallery/museum; the Richard Levy Gallery, a 23-year-old exemplar of international art; and the Sumner & Dene Gallery's two floors of fine arts and affordable crafts. Expand your range just a tad and you'll hit the newish Central Features gallery, combining art and activism, and the well-established Downtown Contemporary Gallery, run by a board of working artists. Then take in a performance at the KiMo Theatre, Tricklock Performance Lab, Cell Theatre, or the Box Performance Space, and you'll realize that this is one of the hippest places in the state to check out contemporary art.
"The urban environment is really conducive to contemporary and cutting-edge art," says Suzanne Sbarge, founder and director of 516 Arts. "There's energy-building and synergy among the entities."
Over the past two decades, as downtown revitalization efforts improved the area's parking and walkability, large spaces in grand old buildings remained more affordable than in other parts of the city. The galleries share a collegial spirit and are showing it off during a citywide arts collaboration, On the Map: Unfolding Albuquerque Art + Design. Through June, galleries in downtown and beyond strut their stuff in a robust series of exhibits, events, and pop-up installations. Anchored by the Albuquerque Museum of Art and History's sweeping exhibit, Visualizing Albuquerque: Art of Central New Mexico, the program makes it easy to design a gallery-hopping adventure featuring some of the best artists, architects, and designers working in Albuquerque today.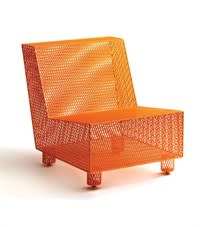 Form meets function in Damian Velasquez's stainless-steel Chair No. 35, at 516 Arts. (COURTESY 516 ARTS)
516 ARTS: ABQ DESIGN NOW
Founded in 2006, 516 Arts traces its DNA to the early 1990s, when a series of new art initiatives started taking place at that address—516 Central Avenue SW. Throughout the ups and downs of downtown regeneration, it has continuously stretched a shoestring budget to create challenging exhibits and community collaborations, including the mind-blowing electronic art of ISEA 2012's Machine Wilderness. Combining art, science, and technology in installations that included robotic birds in trees and sculptures that responded to visitors' movements, the citywide effort drew artists from 16 nations and visitors from 37.
For its On the Map exhibit, 516 focuses on emerging designers and architects. Katya Crawford, who teaches landscape architecture at the University of New Mexico, worked with co-curators Viviette Hunt, Kristen Shaw, and Mira Woodson to imbue a hint of mystery in From the Ground Up: Design Here + Now (through April 11). In one room, white foam-core boxes dangle, cloudlike, from the ceiling. Visitors can hold each one, aim it at a light, and peer through a hole to see an architectural or landscape image printed inside.
"It's like a secret," Crawford says. "It tells its own story as you look into each one."
Other portions of the exhibit include a cascading installation of functional objects, Amanda Robinson's graffiti dresses, and Eiman Rezai's kinetic jewelry. Upstairs, three-dimensional abstract maps set on pedestals impart a sense of interior cartographies—the ways that individuals map their own lives separate from street grids and state lines. Step into the second-floor shop to purchase the works of Albuquerque designers, including jewelry, lamps, tote bags, and clocks.
"It will be richly inspirational," Crawford says of the exhibit. "It's such a diverse body of work."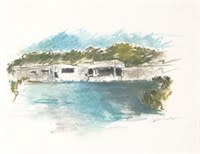 Antoine Predock's Early Study for the Río Grande Nature Center, Albuquerque, at Richard Levy Gallery. (COURTESY RICHARD LEVY GALLERY)
RICHARD LEVY GALLERY: PREDOCK DECONSTRUCTED
What do San Diego's Petco Park, the Tacoma Art Museum, and the Rio Grande Nature Center have in common? The desert-dwelling, motorcycle-mad architect Antoine Predock. His appealing use of layered geometric surfaces grounded in the elements of rocks, weather, and local culture grow from an equally layered process. In Antoine Predock: Strata, through March 13 at the Richard Levy Gallery (514 Central Avenue SW), gallery director Viviette Hunt prowls through that process, which starts with what may well be the original "vision board."
"He starts with a collage of ideas, impressions, images that culturally relate for that project," she says. The exhibit includes the 153" x 143" study for the Tacoma Museum. A mishmash of ripped-from-magazine photos and headlines, plus personal reflections, the collages help Predock's team consider how the built environment connects with its physical and emotional surroundings.
He moves on to drawings more interpretive than blueprint. Elegantly simple lines bridge the imagined and the soon to be real. Clay models follow, many created in his studio, north of Central on 12th Street NW.
From his 1970s design of the La Luz housing development on the Río Grande's western bank to his most recent project, the Canadian Museum for Human Rights in Winnipeg, Manitoba, Predock has captivated an international audience. He has satellite offices in Beijing, Taipei, and Los Angeles but still considers New Mexico home. "I don't think of New Mexico as a region," he says on his website. "I think of it as a force that has entered my system. ... Here, one is aimed toward the sky and at the same time remains rooted in the earth with a geological and cultural past."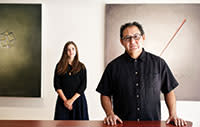 Artist Laila Cola Weeks and Augustine Romero, curator of The Bomb, at South Broadway Cultural Center. (SERGIO SALVADOR)
SOUTH BROADWAY CULTURAL CENTER: BOMBS AWAY
Just south of Albuquerque's downtown core, the South Broadway Cultural Center (1025 Broadway Boulevard SE) demonstrates the growing reach of the city's contemporary art scene. Rotating exhibits present an instant invitation to every visitor. Set in the spacious entrance of the building, the gallery offers two long walls and a central sculpture area, where curator Augustine Romero spotlights emerging artists from Albuquerque and beyond. Over the past 10 years, he's featured several up-and-comers who earned enough raves to earn encore showings in his On the Map exhibit.
Participants in The Bomb (through February 28) include Santiago Perez, whose surrealistic paintings combine cowboys, mythical beasts, and Southwestern landscapes. Matt Cohen cuts his photograph of a Mexican pyramid into small squares, then rearranges them to create an alternate landscape. Sylvia Ortiz Domney combines classical and folk art sensibilities in vibrantly graphic paintings.
"I'm using the word 'bomb' because of its duality," Romero says. "A lot of the artists who ended up here after World War II came to UNM on the GI Bill or because of the military-industrial complex built around the atomic bomb. But there's also 'Let's go bomb the train' in the sense of graffiti artists. And in a younger generation, it means something completely different: 'It's the bomb'—it's good."
As he puzzled over which artists might fit into the 3,000-square-foot space, Romero placed a small Dan Fuller sculpture on his desk. Five-and-dime plastic firemen were clustered on top of a can, all of it encased in seemingly random paint. "I often joke around that you can tell where artists shop by the kind of art they make," Romero said. "What's going to be a little different about our show is there are a lot of hybrids of that pigment-on-canvas standard. We'll have oil on canvas, but also a lot of things that break from the traditional boundaries of what we think about art."
Kate Nelson is the author of Helen Hardin: A Straight Line Curved.