(above) A student piece from a CLAY festival workshop taught by Diego Valles and Carla Martinez, a ceramist couple from Mata Ortiz, Mexico.
NEED TO KNOW
Silver City's CLAY festival runs July 27 through August 2, 2015. Visit clayfestival.com or call the Silver City Arts and Cultural District (575-538-5560) for more information.
On July 30, famed Santa Clara sculptor Roxanne Swentzell will give a talk at Clay in the Garden, CLAY's opening gala (a fundraiser for the festival), at Seedboat Gallery & Performance Space. Event begins at 6 p.m.; tickets are $35 (214 W. Yankie St.; 575-534-1136; seedboatgallery.com). Swentzell will also be present July 31 at Common Ground Gallery for the unveiling of her own CLAY show. 6–8 p.m. 102 W. Kelly St.; (575) 534-2087
THE SOUL OF NEW MEXICO is caked on my boots and bicycle tires. It's the grit beneath my nails and the tiles in my kitchen. It's what makes my windswept yard impervious to nourishment from watering cans or rainfall. Anyone who knows this state understands something of this substance—clay—a cook's delight, the bane of gardeners, and a telltale for archaeologists.
Clay touches all of us in one form or other, with a history of use that reaches back to the simple pots of ancient civilizations. Especially here in New Mexico, where it's all around us—an elemental part of our landscape—clay is in everything from our homes' building blocks (adobe, rammed earth, Saltillo-type floor tiles, decorative wall and counter tiles) to the cookware, dishes, and serving utensils we use every day. But it's also the medium of choice for countless New Mexico artists, whether they're working with it to extend the age-old pottery traditions from their Pueblos' heritage or coaxing it into cutting-edge creations.
Pueblo potters always excavated their clay locally, using other natural elements to temper and decorate it; artists from such areas continue to procure their material the same way. Jody Naranjo, an award-winning member of an illustrious family of Santa Clara potters that includes celebrated artist Roxanne Swentzell, has been digging up her own clay since she was a teenager. Many of today's most accomplished potters come from elite groups of innovative and world-famous forebears that include, for instance, San Ildefonso's Maria Martinez, revered for her sophisticated black-on-black wares, and Acoma's Maria Z. Chino, known for her fine-line, black-on-white pottery. These artists experimented with the physical properties of the clay particular to their area, refining known techniques to best bring out the material's natural beauty.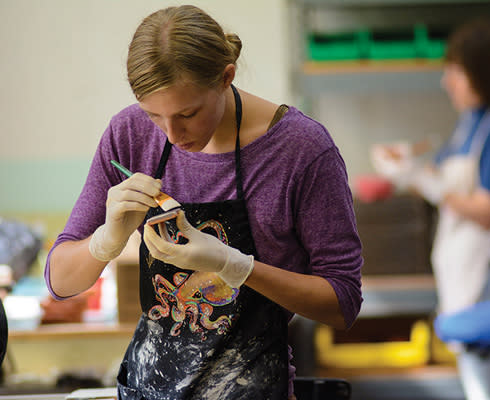 Jessica Fitzgerald paints a small piece at Syzygy tile factory.
"Dirt is just such a basic," says Lee Gruber, the founder of CLAY, a festival that's been taking place in the heart of Silver City every summer since 2012, when she started it; this year's dates are July 27–August 2. Gruber and her husband, David del Junco, own Syzygy, a tile factory, also in Silver City. "New Mexico is really linked to clay," Gruber says, calling it "a great metaphor." CLAY's festivities include workshops, lectures, exhibits, youth activities, and yoga sessions, and are held during daytime and evening hours, with some extra events on offer during the week that precedes the festival. Except for the workshops, everything can be enjoyed free of charge.
In past years, the juried exhibit has attracted artists from all across the United States, from Mexico, and from as far away as South Korea. Gruber estimates that a thousand people attended the festival in 2012, with that number probably doubling in 2013 and 2014. Little by little, she says, this small town is gaining a name outside of New Mexico as an arts destination, with CLAY doing its part.
Even with its modest population (about 10,000), Silver City is home to dozens of galleries, cafés, and exhibit halls, along with a bustling restaurant scene. It's one of nine arts and cultural districts officially recognized by New Mexico in a program the state launched in 2008 to promote economic development through the arts in regions rich in cultural history. Gruber says she decided to establish CLAY as the signature event associated with the Silver City arts district. "It just made sense," she explains.
SILVER CITY IS LOCATED about 45 miles south of Gila Cliff Dwellings National Monument, where visitors can see what remains of the cave villages left by the Mogollon peoples who inhabited parts of New Mexico, Arizona, and Mexico from about AD 200 to sometime in the 15th century. The women of the Mimbres culture (a branch of the Mogollon) made finely painted wares—usually bearing elegantly stylized animal designs—that are now highly valued museum pieces. The Classic Mimbres−era artifacts were so admired that the Super Chief train of the Atchison, Topeka and Santa Fe Railway served food to passengers on the Mimbreño dishes that Syracuse China produced for them between 1936 and 1970, as designed by noted Harvey House architect Mary Colter. "They left behind a record of gorgeous pottery," Gruber says.
When early traders from Mexico first brought pottery to this region, the Mogollon peoples were living in the ground, in pit houses they dug a few feet below the earth's surface. They lived in clay, and they used that material to make their own pottery, which has made it possible for archaeologists to identify the Mogollon occupation as a distinct civilization. Mogollon ceramic wares are categorized by the colors—browns, reds, whites—that resulted from the area's iron-rich volcanic soil. "Clay is a sensory organ of the earth, with the power to record history," says Sara Lee D'Alessandro, a sculptor based in Cuba, NM, who created Moiety, a monumental clay piece on display at the visitor center during last year's CLAY festival. (Many of her works are normally on view at outdoor drive-by sites around Cuba.)
Today, Silver City is steeped in both old and new versions of the Mimbres aesthetic. The original, ancient examples are housed in the Western New Mexico University Museum's extensive permanent collection of prehistoric Mimbres pottery and other artifacts (it's the largest and most comprehensive in the world). The modern interpretations of Mimbres designs (dubbed Neo-Mimbreño) are showcased in many of the town's contemporary galleries. Silver City has 27 such venues, along with another 23 artist studios that are open to the public by appointment.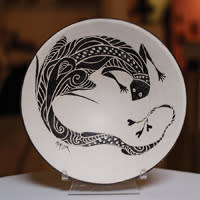 A Neo-Mimbreño bowl by artist Beth Menczer, on display at Seedboat Gallery.
Many of CLAY's lectures take place at Seedboat Gallery & Performance Space, which represents a range of regional jewelers, painters, and sculptors. CLAY always spotlights a group of local galleries—all of them offering works for sale by that year's festival ceramists. During its five-day span, CLAY also hosts its own market, where a number of featured artists make and sell their own pieces, some of them created right on the spot. This year, Gruber says, she's proud to include Roxanne Swentzell in the festival. The artist, who has work on permanent display at the Smithsonian's National Museum of the American Indian, will be at the unveiling of her own CLAY show at Common Ground Gallery and will speak at CLAY's opening gala at Seedboat, titling her talk "A Question of Balance"—a reference to one of her sculptural pieces. "She's very involved in permaculture and the respectful use of land. She's a real activist," Gruber says, adding that she also sees the sculptor as a vital link to northern New Mexico.
"THE MOST IMPORTANT PART of our brushes is the human hair," Diego Valles tells a small crowd that has gathered around to watch as he demonstrates how he makes a paintbrush from a strand of hair and a stick resembling a pencil. Along with his wife, Carla Martinez, Valles is leading a CLAY workshop about modern Mata Ortiz pottery, prized for its exquisitely painted details that are made using delicate strokes from fine brushes. "Two hairs," Martinez adds.
To create her own brush, she takes a ballpoint pen and attaches two hairs to its tip before dipping it into a capful of brick-red clay paint, which she calls a slip. With unbroken concentration, she carefully layers a pattern onto a pot. I tell her that I think she must be incredibly patient. She turns and nods. Then she returns to her work. Martinez specializes in painting very small figurines—tiny orb and teardrop shapes that fit in the palm of your hand. Her intricate brushstrokes seem impossibly precise.
The couple comes from the small Mexican village, less than a hundred miles south of the U.S. border, that gives this pottery style its name. Mata Ortiz, which has about 500 potters among its population of approximately 1,200, is known the world over for the innovative depictions of pre-Columbian motifs produced there. "Everybody where we live makes this type of pottery," Valles tells me. "I basically taught myself, but I learned basic steps when I was a kid, from neighbors."
Valles and Martinez are teaching their Mata Ortiz workshop just outside Syzygy's doors. Inside, showroom manager Patrick Hoskins is leading a factory tour. Bins upon bins of tiles come in a spectrum of delicious-sounding colors (Salmon, Sage, Mustard, Cool Mint, Nutmeg, Cranberry, Thyme) or otherwise intriguing shades (Lipstick, Oxblood, Fern, Pansy). Equally variable are the shapes and sizes of the tiles, which come in a wide range of geometric and curved forms. Syzygy even makes tiny tile cubes, each the size of a pinkie fingernail—"the smallest hand-cut tile being made in North America," Hoskins says. The cutters make 72 of them at a time; it takes 900 of them to fill out a square foot. Hoskins shows the tour group a sample montage—which looks like it came off a psychedelic cobblestone street—explaining that he sells these tiles locally for around $350 a square foot. He shows me a hand-laid mosaic, which contains 18 multisized, multicolored pieces per square foot. The company makes a tile for all tastes and needs, producing everything from small kitchen and bathroom border tiles with intricately carved designs to elegantly rounded cornices and moldings. Want a tile toothbrush holder? An Our Lady of Guadalupe to bless your house? Monkeys, roosters, seashells, pineapples, cowboy boots: They're all depicted on handcrafted tile at Syzygy.
Back outside, Valles is building a traditional wood-fired kiln in Syzygy's parking lot. First he burns a galvanized bucket to remove its layer of zinc. (Once that's gone, he says, the bucket can be used indefinitely.) Valles removes the bucket from the fire, places several small bricks that together stand about a foot above a bed of ash, bangs on the bucket's bottom with a claw hammer to make little slits, and then puts it back right-side up. One by one, the workshop participants transport their vessels from an electric kiln inside the factory out to Valles and his bucket kiln. Valles packs the fire with cow dung he brought from his home in Mexico. "I have a storage-roomful," he says. The best fuel, he explains, is "grass-fed, very hard cow dung. Wood disintegrates; cow dung stays together."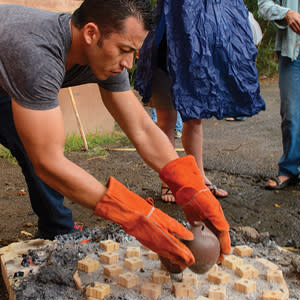 Diego Valles removes his students' ceramics from a wood-fired kiln he made out of a steel bucket.
Half an hour later, it's time to remove the fruits of today's workshop from Valles' kiln. Suddenly, a gust of wind ripples the trees and a downpour strikes. Unperturbed, Valles lifts the bucket. His students come to him with umbrellas and blankets, ready to claim their pottery. Only one piece has broken. But the group devises a fix: Turn those shards into jewelry! After the participants have gone, Valles shows me his festival exhibition winner, Pieces of Me, a soft-tan vase whose surreal design seems as if it could have come to him in a fever dream. Smooth swirls and curves are broken up by precisely rendered grids and lines of slate gray and deep brownish red that together create a nearly imperceptible checkerboard pattern. When he starts work on a piece, he tells me, "I have an idea, like a general idea, but then it always changes." As for any thoughts about a legacy, "I hope to transmit beauty, that's all," he explains.
BEST IN SHOW: WESTERN NEW MEXICO UNIVERSITY MUSEUM'S MIMBRES COLLECTION IS BEYOND COMPARE
The CLAY festival isn't the only show in town: The Western New Mexico University Museum, acknowledged worldwide for its exemplary collection of prehistoric Mimbres artifacts, including pottery, provides good reason to visit Silver City any time of the year.
The thousand-year-old culture is known today for its distinctive painted pottery, usually depicting animal motifs and rendered with fine craftsmanship. "I think the fascination is what they were able to do with the little they had to work with," Phillip Cave, assistant director and curator of education and history, says of the intricate patterns and shapes in Mimbres pieces. "They did it all by hand. There's also a mathematics to some of the geometric shapes, they're so perfectly done."
And there are more head-scratchers. The Mimbres people painted some species of saltwater fish that have been traced to the Gulf of California region, far from where these industrious people made their home in the Gila Wilderness (for information about visiting Gila Cliff Dwellings National Monument, go to nps.gov/gicl/index.htm). "We just don't know how they knew how to paint those fish so exactly," Cave says. "That's one of the mysteries involving the Mimbres people."
The museum also offers extensive exhibits showcasing Pueblo artifacts, Native American basketry and blankets, the history of regional mining, and contemporary works that reflect the area's deep roots in art. But the Mimbres collection continues to be the biggest draw. "Really, it's the prehistoric cultures that people come to check out," Cave says. (575) 538-6386;wnmumuseum.org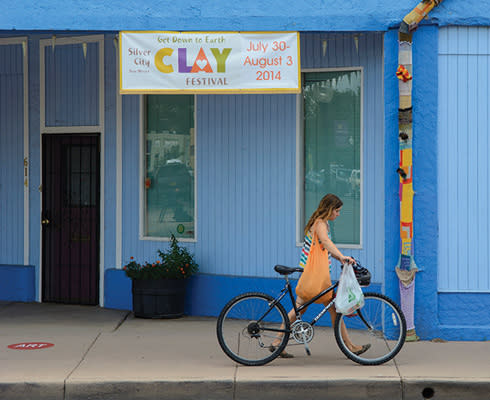 DIG IN! CLAY 2015's SCHEDULE OF WORKSHOPS
Every year, the CLAY festival offers workshops covering a wide range of interests and skill levels. Here's this summer's lineup of opportunities to learn pottery-making techniques as well as the history of the art form.
What Rendering the Beauty of Clay Vessels in Paint
Who Turid Pedersen
How Pedersen, a Silver City transplant from Norway, specializes in painting still lifes of ancient clay artifacts from the Mimbres environment around her. Students will paint three-dimensional objects in space, with a setup of Native American artifacts for reference. Skill level: intermediate.
Why "Her paintings are just absolutely beautiful," says festival founder Lee Gruber, adding that the workshop "really steps outside of the box for CLAY." The class is intended to enhance painting skills, with an emphasis on developing a sense of perspective.
When & Where July 27–30 at the Volunteer Center of Grant County, 501 E. 13th St.; (575) 388-2988; tvcgrantcounty.org; $135
What Salt Glazing & Befriending Asymmetry
Who Jack Troy
How Troy, a Pennsylvania-based potter, writer, and retired college professor, has taught more than 230 workshops. Students will use the salt-glaze firing technique on porcelain or stoneware pieces they've already created. Intermediate and advanced, with basic wheel skills.
Why Troy is a "leader of the pack" in the ceramics world, says Gruber. Troy's work has taken him to 13 countries and has been shown in exhibits and collections at the Smithsonian. He has written several books on ceramic arts.
When & Where July 27–31 at the Francis McCray Gallery of Contemporary Art, Western New Mexico University, 1000 W. College Ave.; (575) 538-6517; mynm.us/francismccray; $255
What Creating Content: Ceramic Surface & Form
Who Marko Fields
How A ceramist and resident artist at Concordia University in St. Paul, Fields specializes in surface decorations, using his illustration background to make ceramic art that's both narrative and iconographic. Students will create their own plaster press mold and learn carving, incising, sgraffito, and inlay techniques to create a finished work. Tools are provided; all levels of experience are accommodated.
Why Fields gave a talk and demonstrated techniques at CLAY 2014. "We were so impressed with his work," Gruber says.
When & Where July 28–30 at Syzygy Tile Factory & Studio, 106 N. Bullard St.; (575) 388-5472; syzygytile.com; $185
What Replicating Prehistoric Salado Pottery
Who Andy Ward (workshop) and Eric Blinman (lecture)
How Tucson-based potter Ward is teaming up with Blinman, director of the New Mexico Office of Archaeological Studies, to offer a comprehensive and hands-on experience with Salado pottery. The style dates to a Pueblo culture that spanned from 1275 to 1450 in parts of what are now New Mexico and Arizona. Students will use authentic tools to recreate these types of wares by way of outdoor mesquite-wood firing. Beginner.
Why Because this year's festival offers a workshop pairing a potter's expertise with that of a scholar in archaeology and anthropology, students can make replicas and learn the associated history from Blinman—who, he says, "has been studying ancient pottery forever."
When & Where July 28–29, lecture July 30, firing July 31, at A Space Studio/Art/Gallery, 110 W. 7th St.; (575) 538-3333; aspacestudioartgallery.com; $185