In July 1951, the Archbishop of Santa Fe walked among a large gathering of artists on the city's historic Plaza, blessing them and their artworks with holy water procured from what was then known as St. Francis Cathedral.
The occasion was the inaugural Spanish Market, the oldest (and today the largest) annual juried exhibit and sale of devotional art in the U.S.—an event so tied to religious celebration and family tradition that it would have seemed unusual not to see a holy blessing. Created by the Spanish Colonial Arts Society, an organization founded in 1929 to promote and preserve the traditions of Spanish Colonial arts and crafts, Spanish Market has since blossomed, and now includes an annual winter show and sale. What began in 1989 with just a handful of artists in Santa Fe is now a Winter Spanish Market that includes nearly 100 artists, many of them regular participants in the summer event. And this year, the market is heading south, to Albuquerque, to expand the reach of the Spanish Colonial Arts Society and to attract a larger, more diverse clientele to this one-of-a-kind art show and holiday-shopping experience.
Derived from Iberian customs transplanted to the New World in the last decade of the 15th century, Spanish Colonial art in the U.S. combines new and original artistic traditions, each with its own specific language and decorative guidelines. In addition to the high-quality New Mexican artisanship required to participate, Catholic imagery is the thread that ties these artistic practices together, and what makes the market so suitable for Christmas shopping. However, not all items at the market are devotional pieces—there are artworks and functional pieces to satisfy every lifestyle and budget. Winter Spanish Market artists, many of whom fetch top dollar for prize-winning pieces, work in 19 different categories, from copper prints and retablos (devotional paintings on wood) to weavings and straw appliqué.
"It's a wonderful, family-friendly event that suits casual buyers of things like holiday ornaments and other small, handmade, holiday-themed gifts, as well as serious collectors," says Museum of Spanish Colonial Art marketing director Maggie Magalnick. "There is also a youth-artists' market." This year, Winter Spanish Market takes place at Hotel Albuquerque, in Albuquerque's Old Town district, within walking distance of the Albuquerque Museum of Art and History, the New Mexico Museum of Natural History and Science, and historic Route 66.
"Albuquerque has many fantastic, well-established cultural institutions and arts and crafts shows," Magalnick says, "but this will really be the first world-class juried art show and sale of its kind there. It's mutually beneficial for us and the city." The Society brought the Winter Market to Albuquerque mainly to broaden the pool of people who appreciate these art forms, which nearly fell into obscurity in the American Southwest at the beginning of the 20th century. This art tradition is unique to the region, and it's become very much a family affair, passed down from masters to new generations, often through a guild system.
Grace Servas, a longtime Society volunteer and wife of Society board member Frank Servas, says that Winter Spanish Market gives travelers and locals a chance to buy, directly from the artist, a piece of affordable, New Mexico–made artwork steeped in tradition. "Unlike the summer market," she explains, "there is more time to talk to the artists in the winter. They're not running around so much, and the atmosphere is more congenial and relaxed than at summer market."
Servas says that most artists sell their larger pieces at the summer event, and craft smaller, less-expensive pieces for winter market. "You'll find a lot of carved-wood, straw appliqué, and tinwork ornaments and holiday decorations," she says, and many are priced between $25 and $80. Smaller retablos, bultos, and jewelry pieces between $40 and $100 also make a great showing, as do functional tinwork items such as framed mirrors and decorative tissue boxes. Form meets function in larger (and thus more expensive) hand-carved furniture pieces such as benches and shelves, which make great showpieces and display rests for smaller works.
Artists young and old participate at Winter Market, and each finds a way to his or her chosen craft through family influence, mentorship, or both. Straw-appliqué artist Della Vigil, retablo and santo maker Nicolás Otero, and furniture maker Randy Trujillo exemplify the high level of craftsmanship that artists must demonstrate in order to be included.
All in La Familia
A summer and winter Spanish Market participant since 2008, Santa Fe–based straw appliqué artist Della Vigil is a descendant (on her mother's side) of Santuario de Chimayó altar-screen artist José Rafael Aragón.
"Also, my great-great-grandmother and her sisters were weavers," says Vigil, "and they were known for their Río Grande Valleros blanket designs. I use some of that patterning in my straw work." Vigil also serves as co-chair of the market's artist-liaison committee, which oversees the authenticity of work submitted to Spanish Markets.
"Straw appliqué here goes back to the late 1700s or early 1800s," Vigil says, "and many believe the practice was used to mimic the work seen on Spanish crosses." Spanish-colonial artists had no access to bulk precious metals, and straw became an inexpensive replacement for gold.
"I like to demonstrate the art form at my booth during the market," says Vigil, whose smaller Winter Market works, such as ornaments, crosses, and Río Grande weaving designs, will range in price from $25 to $400, with most pieces priced under $100. "Besides learning a little bit about straw appliqué's history and significance, people can get a sense of the amount of work that goes into making a piece. It helps justify the price."
An Early Start
Artist Nicolás Otero, 32, can say without batting an eye that he has participated in Spanish Market for half his life. His journey as an artist began in 1997, when master santera (a carver of devotional wooden sculptures) Rhonda Crespin mentored him during his high school years.
Otero, who will sell his smaller retablos for $50 to $250, admitted to not knowing much about his Hispanic heritage before immersing himself in retablo making, and said that monetary motivation kept him in the studio early on. Proceeds from selling his work and prize money from juried shows (he won First Place, Large Retablos, and First Place, Small Retablos at this year's summer Spanish Market) put him through college. But the more he creates, and the more of his heritage he absorbs, the better he understands the gifts given him as a younger artist.
His curiosity and talent have opened many doors for him, such as the opportunity to illustrate How Hollyhocks Came to New Mexico, a 2012 children's book written by Rudolfo Anaya (Bless Me, Ultima) and translated by Nasario García. Today Otero mentors others, teaching them about the iconography and methodology of his work— and how to blend and bind their own pigments, shape and gesso their own wooden panels, and varnish the finished pieces.
Otero's work can be found in the permanent collections of the Museum of Spanish Colonial Art, the Albuquerque Museum of Art and History, the White House Archive Collections, and other cultural institutions throughout the U.S.
Like Father, Like Sons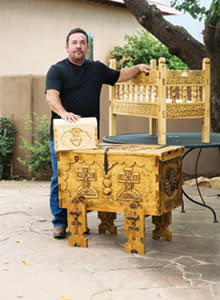 Furniture maker Randy Trujillo, 50, first entered Spanish Market in 2010. "Making Spanish Colonial furniture by hand is how I feed my soul," Trujillo says. "When I first learned I had gotten into Spanish Market, I actually cried."
Trujillo sticks to traditional techniques in his southside Santa Fe studio when creating work for both Spanish Markets, winter and summer. His blanket boxes, shelves, benches, lanterns, washstands, chairs, tables, and cribs are made from hand-planed and -waxed pine with hand-carved mortise-and-tenon joints—and absolutely no lacquer. "That would be sacrilege in my book," he says. Trujillo plans to sell crosses ($100), shelves ($200), and collection boxes ($250), as well as larger items such as blanket boxes ($3,800).
Trujillo's sons, furniture maker Manuel (22) and woodcarver Andrew (21), will be joining their father at their own booths during Winter Spanish Market in Albuquerque. "They learned a lot from me just by observing," Trujillo says, "and now people are just blown away by their work. I think it's a critical time right now to keep these traditions alive, for family, and for my heritage. That's the biggest takeaway from Spanish Market for me: the sense of connection to my roots, both family and artistic."
NEED TO KNOW
The 25th annual Winter Spanish Market will be held 2–9 p.m. Friday, November 29, and 9 a.m.–5 p.m. Saturday, November 30, at Hotel Albuquerque (800 Río Grande Blvd NW; 505- 843-6300; hotelabq.com). Tickets at the door $6 per person, $10 per couple, 12 and younger free. Parking is free, food and beverages will be available for purchase, and special room packages at the hotel will include admission to the market. (505) 982-2226; spanishcolonialblog.org