Meandering Santa Fe's gallery-lined Canyon Road is a vibrant experience, regardless of the season. But during the month of December and the Christmas holiday, this storied art lane ramps up its visual splendor: brick-red ristras glimmer with fairy lights; shop windows brim with holiday delights; festive garlands dress gallery windows and doorways. For many Santa Feans and visitors, the Farolito Walk on Christmas Eve is a beloved tradition—and the standout December experience. But given the number of enticing exhibits scheduled throughout the month, Canyon Road is like an Advent calendar packed with delights for every day of the month. Don't leave any presents unopened.
Present, Lost and Regained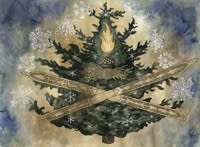 The Tree from Andrew Beckham's Lost Christmas Gift show.
Chiaroscuro Contemporary Art, a spacious, light-filled gallery, will present a special exhibition, Andrew Beckham—The Lost Christmas Gift: Images & Artifacts, November 23–December 29. This critically acclaimed photographer and printmaker recently released an eponymous book, which takes as its premise that an aged son receives from his mapmaker father a handmade book—lost in the mail for 70 years.
When gallery director John Addison heard about the book, he decided to showcase Beckhams's remarkable project in the form of an exhibition. It contains maps, drawings, watercolors, and photographs, all handcrafted by Beckham. The exhibition includes three triptychs of the original manuscript, six mixed-media works, and other related objects. "This is a rare and wonderful opportunity to view and purchase original artwork from a book that surely will become a Christmas classic," says Addison. Opening reception: November 24, 5–7 p.m. 702 1/2 Canyon Road. (505) 992-0711; chiaroscurosantafe.com
Winter Envisioned
Kevin Box's large White Bison sculpture stands outside the Selby Fleetwood Gallery, a visual hint of what's inside this charming space. From December 14 to January 7, you'll be delighted by Winter Gathering, an exhibit of gallery and guest artists who were asked to celebrate the beauty and solitude of winter. There will be 20 artists in all, including Box, who creates large and small origami-like metal sculptures. Christina Chalmers fashions two- and three-dimensional collaged paintings and sculptures using found objects, vintage materials, metal, and beeswax. And GiGi Mills, who works with portraiture and interiors, will present smaller mixed-media paintings on book board or paper. "This will be an exceptionally exciting show because the parameters are left open to each artist," notes Selby Fleetwood.
Top off the experience by visiting their lovely sculpture garden out back. Opening reception: December 21, 5–7 p.m. 600 Canyon Road. (505) 992-8877; selbyfleetwoodgallery.com
Toying with Dolls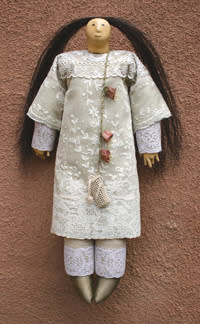 Charla Khanna, Small Key II, Jane Sauer Gallery
Christmas and dolls go hand in hand, but the ones that will appear in Jane Sauer Gallery's Plainsong exhibit (November 24–December 14) are extraordinary, one-of-a-kind art dolls created by Taos artist Charla Khanna. This annual event is a draw for collectors who delight in Khanna's intricately worked figures. Lavish silk fabrics are stitched, beaded, and adorned with amulets and personal treasures; each tells a silent story and draws the viewer in with its elaborate design and texture. The show will present 12 of Khanna's dolls, including several embellished with beautiful vintage lace. "The whole reason for my making a doll is to see what it's going to be," says Khanna. "I don't keep my work. It's the process that interests me." Opening reception: November 26, 2–5 p.m. Informal artist discussion at 3 p.m. 652 Canyon Road. (505) 995-8513; jsauergallery.com
A Small Gift of Art
Sister galleries Giacobbe-Fritz Fine Art and GF Contemporary will copresent their annual Small Works Holiday Show December 14–31. All of the galleries' artists were invited to participate. The only restriction was size: submitted work had to measure 16 by 20 inches.
"We are expecting 10 artists to each pre-sent four works that will hang in our main gallery room, a lovely intimate setting," said GF gallery director Sabine Hirsch. Nigel Conway and Pascal are two of the participating artists, each with a very distinctive style. Conway is famous for his abstract figurative paintings with large, captivating eyes, and Pascal is a painter and wood sculptor who will present smaller versions of his contemporary wall or 3-D standing sculptures. 702 & 707 Canyon Road. Giacobbe-Fritz Fine Art: (505) 986-1156; giacobbefritz.com. GF Contemporary: (505) 820-1888; gfcontemporary.com
A Contemporary Trio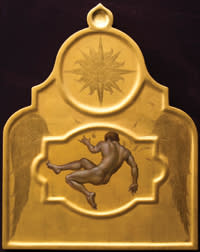 Michael Bergt, Icarus II (egg tempura with gold leaf, 18X14, Nüart Gallery
Huge glass windows on the front of Nüart Gallery bring the inside out—and there's always something to catch your eye. From December 21–30 Nüart's holiday show, Figuration, features three of its contemporary artists: Michael Bergt, John Tarahteeff, and Alberto Gálvez. Bergt plies panels with egg tempera, creating beautifully rendered figures, and focuses on pattern and decoration.
Tarahteeff's paintings create a dreamlike drama, playing with stark lighting and shifts of scale. His voluptuous female subjects reference the styles of Old Masters. And Gálvez, a contemporary Spanish painter, who has been inspired by imagery found in classic history painting, renders figures and objects with luminosity and simplicity. Opening reception: December 21, 5–7 p.m. 670 Canyon Road. (505) 988-3888; nuartgallery.com
And Don't Miss...
Medicine Man Gallery
If your passion is authentic American Indian art—Navajo rugs, Pueblo pottery, and old-pawn jewelry—this gallery is the perfect destination. From December 13 to January 3, catch their show Navajo Saddle Blankets, c. 1800–1940. 602 Canyon Road, #A. (505) 820-7451; medicinemangallery.com
GVG Contemporary
Owners Ernst and Blair Vaughn-Groler will host their solo second annual New Paintings show December 21–January 15. The gallery also represents four other artists and contemporary jewelry designers working in sterling silver and nontraditional materials. 202 Canyon Road. (505) 982-1494; gvgcontemporary.com
The William and Joseph Gallery
Marci Erspamer's New Works will be featured here throughout the month of December. Erspamer works in acrylic, painting bold, abstract landscapes and still lifes. Look in on their diminutive sculpture garden. 727 Canyon Road. (505) 982-9404; williamandjosephgallery.com
Mark Navarro Gallery
is a treasure trove of vintage Mexican silver jewelry and Spanish Colonial art. The silver milagros, crowns, and crosses are awe-inspiring. Casa Navarro, a boutique within the gallery, showcases contemporary vintage furnishings and decorative objects. 520 Canyon Road. (505) 986-8191; marcnavarrogallery.com
Zaplin Lampert Gallery
This beautiful, classic Santa Fe space has the quintessential collection of early prints and paintings by the Taos Society of Artists and the Santa Fe Art Colony. 651 Canyon Road. (505) 982-6100; zaplinlampert.com