Above: Cutouts of Harvey Girls and railroad life decorate a fence outside the Harvey House Museum. Photographs by Ungelbah Dávila Shivers.
MANY ROUTES LEAD TO BELÉN. Three interstate exits off I-25, two state highways, the BNSF Railway, and the Rail Runner will all get you there. When time allows, the road I like best meanders through a fertile farmland of berries, wine grapes, bees, alfalfa, and the many critters therein, from shaggy cows and Oreo-colored potbellied pigs to a few elusive zonkeys (zebra-donkey crosses).
You can catch NM 47 at the Isleta Pueblo exit or follow Broadway Boulevard from Albuquerque through the South Valley, past generations-old adobe houses and cottonwood groves that line the río abajo bosque like a coven of queens. It takes you through small villages nestled so closely together that you can't tell when you've left one and entered another. From my home in Bosque Farms, I pass the historic Tomé Land Grant, its iconic hill coming into view as soon as I take a left at the Los Lunas Y. In a few short weeks, that hill will be an ant pile of Easter pilgrims making their annual walk to the three crosses that stand upon its zenith. In the summer months, this road turns golden with cottonwood leaves and thousands of tiny yellow moths that feast on and flourish in the fields.
Read more: Friends and family in the Río Abajo turn a harvest tradition into an epic annual event. It's matanza time!
As my stepdaughters and I toodle down the road, discussing hypnotism and other wonders of young minds, the appearance of the Whitfield Wildlife Conservation Area alerts us to our arrival in Belén. We turn west onto NM 309, crossing first the Río Grande and then the BNSF train tracks, down into the Hub City, as it was nicknamed long ago. Today, some 100 freight trains pass through the Belén railyard every day. As we wander through neighborhoods, noting the types of houses, cars, pets, and political signs, we start to feel the heartbeat of the community. This is a place rooted in pride and faith (its name, pronounced "Beh-lenn," is Spanish for Bethlehem), and throbbing beneath its surface is a budding but tangible art renaissance.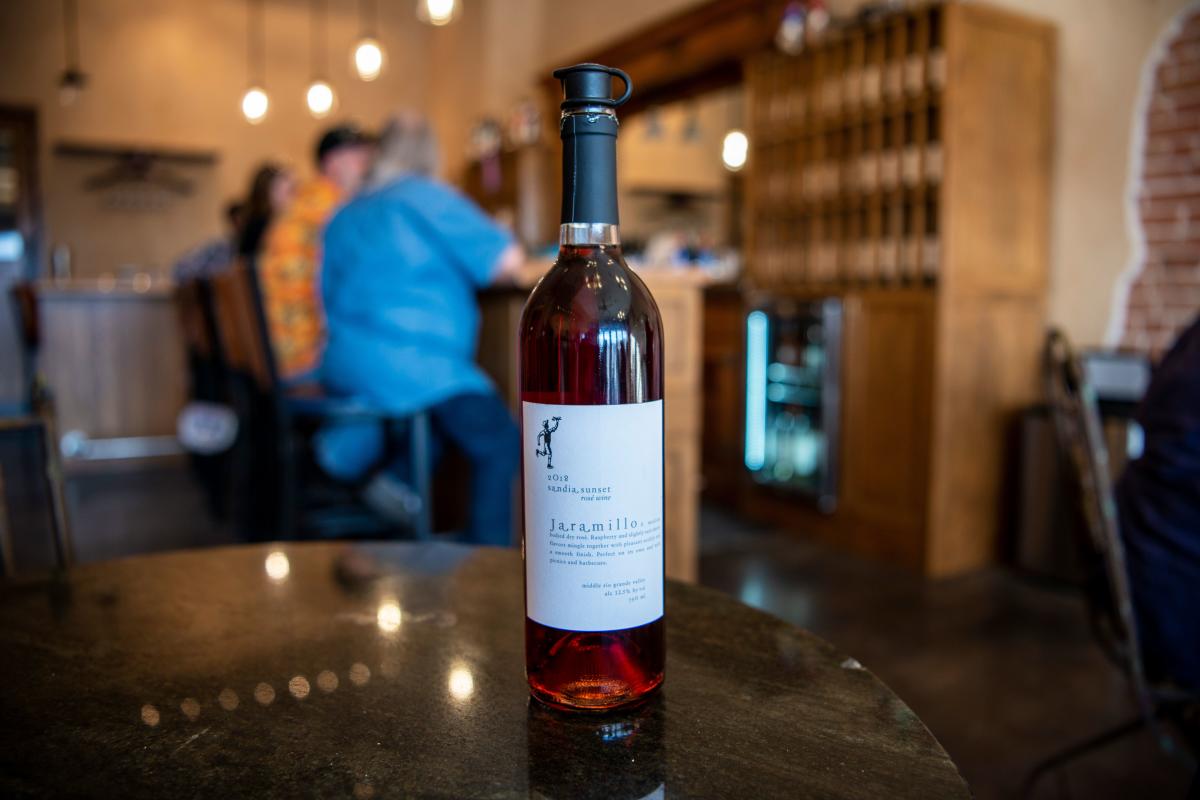 Above: A bottle from Jaramillo Vineyards.
Even with so many ways to arrive, Belén doesn't shout that it's here. An old agrarian community founded by Spanish and Genízaro colonists that has weathered tough economics since the decline of passenger trains, Belén is seeing a quiet revival. Our slow entrance seems fitting, a pace that sets the tone for our day. We're first drawn to the block between Becker Street and Dalies Avenue, dubbed the heart of Belén, where we wander among galleries, a bookstore, a wine-tasting room, a restaurant famous for its award-winning red chile, and finally the majestic Harvey House Museum.
Harvey Houses were the 19th-century brainchild of British immigrant Fred Harvey, who envisioned luxury lodging for people traveling by railway. The locations were staffed by the Harvey Girls, who left their families, suitcases in hand, to be trained in hospitality and start new lives out west. The Belén Harvey House Museum, built in 1901, is a rare historical gem. (Few other Harvey hotels or eating houses survived the wrecking ball.) Free to visit Wednesday through Sunday, the museum grants visitors a glimpse into this fascinating moment in transcontinental travel and women's history.
"Jobs were very limited for women other than being a mother, wife, teacher, or librarian," says Museum Coordinator Frances Zeller. "Working at the Harvey House was an opportunity for women to have freedom, adventure, and to make their own money. They never thought of themselves as revolutionaries, though. They were just making do."
The interior of the house is mostly wood. Here I see the past ingrained into the floorboards and carved into nooks and crannies—glimpses of the golden age of travel in a post–Industrial Revolution world. For the first time, tourism to the West was possible, and the middle class could explore it alongside socialites and cowboys.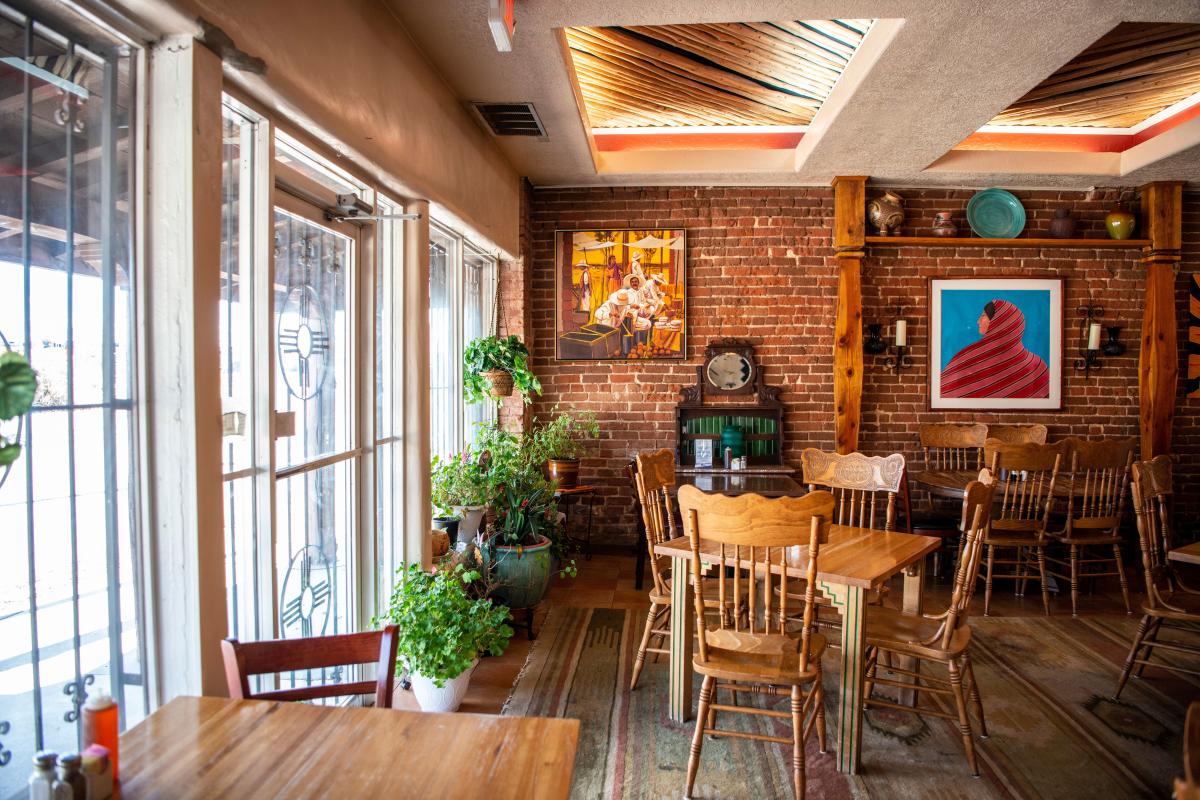 Above: Cozy dining at Pete's Cafe.
We work up an appetite reliving the past and walk across the street to lunch at Pete's Cafe, established in 1949 by Pete and Eligia Torres on First Street and considered by some to serve the best chiles rellenos in Valencia County. "The menu is all my grandma's own recipes. Red chile was her specialty," says Manager Marie Torres. "She took a lot of pride in watching people eat her food. And she decorated the whole place herself."
After dabbing up every drop of red chile with our sopaipillas, we wander down Becker to another emblem of women's history: the Through the Flower Art Space, an educational nonprofit designed to celebrate the decades-long work of internationally famed artist Judy Chicago and her husband, photographer Donald Woodman, who live nearby in the renovated Belén Hotel, which became a historic landmark in 1980. The art space opened last summer, with Chicago, a feminist maverick, setting off colored smoke bombs at a block party.
Read more: From top of Wheeler Peak to eerie wonders of the Bisti, here's your latest bucket list.
"It's important for young women to know about this space, because the exhibits are extremely empowering and have an extraordinary message, especially for girls, that they can be and do whatever they aspire to," says Director Lena Malcom. The space houses changing art exhibits, as well as a women's studies video and book library, resource center, and gift shop.
"You're the first generation of women that aren't going to be treated badly," a visitor tells my sidekicks, ages 9 and 11, as they take in various pieces from Chicago's Resolutions: A Stitch in Time project. The series of works combine painting and needlework to reinterpret traditional proverbs. Malcom snaps a picture of the girls next to a statue with the words FIND IT IN YOUR HEART spiraling up in different languages. "Judy will be so thrilled to know you girls came in," she says.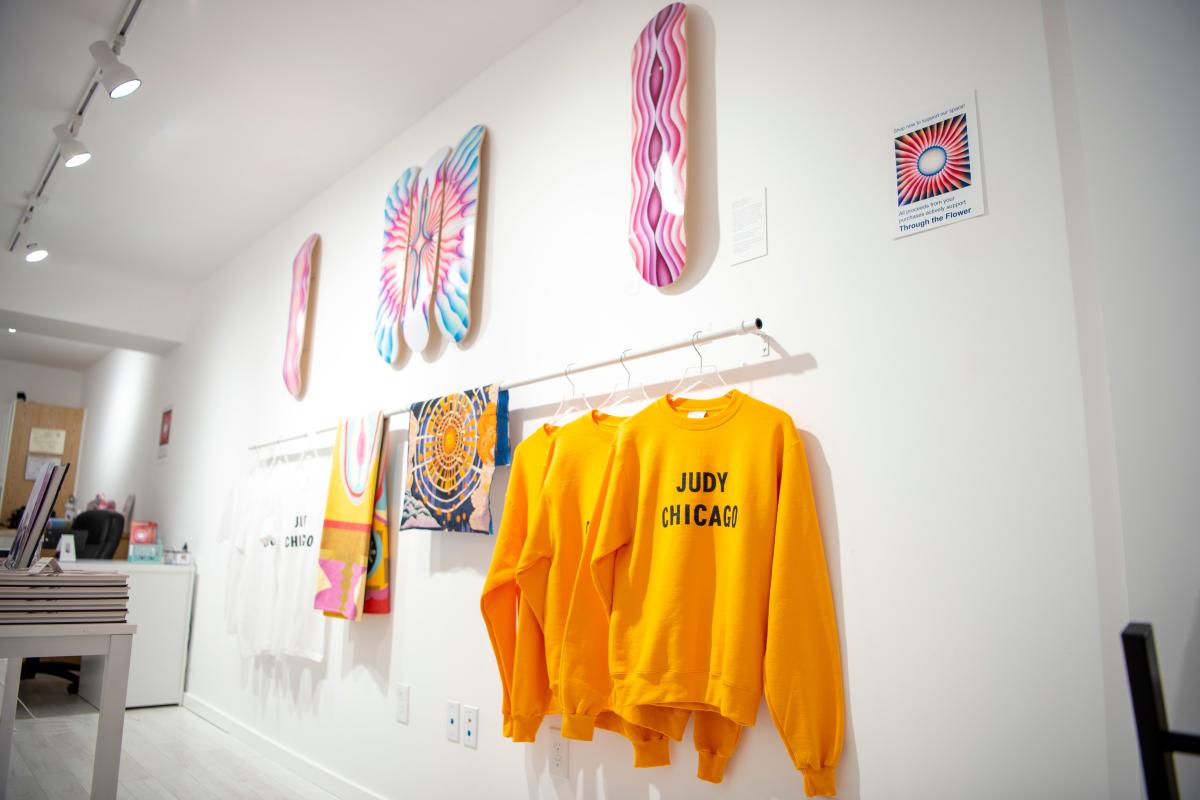 Above: Through the Flower's gift shop.
Across the street, a stately brick building with large, sunny windows is home to the new Jaramillo Vineyards Tasting Room, where visitors can sample a variety of locally produced wines, ranging from a white tempranillo to a desert rosé. The Río Grande Valley is an ideal environment for growing grapes and at one time was a major exporter of wines. In the past decade, the area has seen a renewed passion for this liquid art form and has produced a handful of award-winning wines. The girls wait for me at a table as I wander around and chat with the locals, including Mayor Jerah Cordova and his wife, Megan, who are taking in the warm Saturday afternoon.
From fine wine to fine art, a subtle bohemian spirit has taken root in town. Between the efforts of local entrepreneurs, the work of the Belén MainStreet Partnership, and the support of an ambitious young mayor, the vision of transforming downtown into a walkable, artsy neighborhood is coming to fruition.
Read more: Steeped in a complicated history, Taos still welcomes the wild, along with great food, local spirits, and classic art.
"Our art is very much the story of who we are, each one of us, uniquely," says Cordova, who took office in 2014. "We know where we came from, where we're going, and how we feel along the way." As a photographer, he finds a personal tie in that. "I'm excited, because for the past few months I've been working with local photographers to open the GRID Gallery, Belén's first photo gallery, where we can tell these stories through our images."
Creativity is not new to the area. The Belén Art League gallery and gift shop has been around since the 1950s. Members show and sell their work in the five-room building at 509 Becker Street, where, Manager Kelly Cross says, "we just want artists to be artists." He also handles the business side as owner of Studio 508, across the street, a new space for artists and writers to share their work. "It doesn't matter what skill level you are; there are no expectations. If it's art to you, it's art to us." In the summer, the space offers art classes for youths, as Cross tells my stepdaughter, whose artistic skills are beginning to blossom. She and her sister wander from room to room, admiring the large variety of work, creating mental wish lists, and whispering reverently, as if they are in church.
Just a few steps away is the Bugg Lights Museum, an installation of 300,000 lights and more than 100 Christmas trees, which Norman and Joyce Bugg donated to the city after having it up at their Albuquerque home for over 40 years. "We think of it as the Belén Meow Wolf," Cross says.
Above: A Harvey House Museum exhibit.
Next door hangs a blue neon sign advertising Books on Becker. The girls and I consider it our civic duty to visit and support local bookstores, especially ones with fabulous retro signs. Inside, we are greeted by a group of women who volunteer in this seven-room treasure of used books, most priced at $1 or less and donated by the Belén Public Library and local readers. The primary mission of the bookstore is to promote literacy, and children can choose two free books every visit. The store also offers four $1,000 scholarships to local students each spring, the fund for which is all made "a dollar or a quarter at a time," says volunteer Merita Wilson.
I teeter to the checkout, my arms stacked high with books aimed at children, young adults, art lovers, and photographers. "You look like a crazy person," my stepdaughter says, giggling as she counts out $4 in piggy-bank nickels and dimes. "Let's take the scenic way home," I say. "I'll show you that hill you saw in Donald Woodman's photo, and the church in the painting you liked. And if we're lucky, maybe we'll see those zonkeys."
---