BY MAY, THE LOWLAND DESERTS in the south go quiet with the oncoming heat, but the cooler high deserts in the north, as well as mountains across the state, start to pick up the bloom with unique and beautiful flowers that signal the abundance of summer to come. 
La Vista Verde Trail, Carson  
This high-desert, open-sky trail leads to stunning views and possible bighorn sheep encounters on the southern edge of the Río Grande Gorge. Among the fragrant big sagebrush, find red foothills paintbrush, western wallflowers, penstemons, and evening primroses. This trail also has several varieties of flowering cacti. Call the Río Grande del Norte National Monument for a schedule of ranger-led spring wildflower hikes. Distance: 2.5 miles out and back Difficulty: Easy Best time: Late April–June  
Santa Rosa Lake Shoreline Trail, Santa Rosa
The splendor of New Mexico's wildflower-filled shortgrass prairie is on full display along this route in the spring. Take in the refreshing offshore breeze as you skirt the banks of Santa Rosa Lake. Among the grasses, James's penstemons mix with white blackfoot daisies, yellow and orange Great Plains zinnias, stemmed four-nerve daisies, bright pink trailing windmills, and much more, for a floral bouquet you won't find elsewhere in the state. Another highlight is the impressively large prickly pear cactus—some of the tallest I've seen—that explode with blossoms in late May and June. Distance: 3-mile lollipop Difficulty: Easy Best time: April–May, September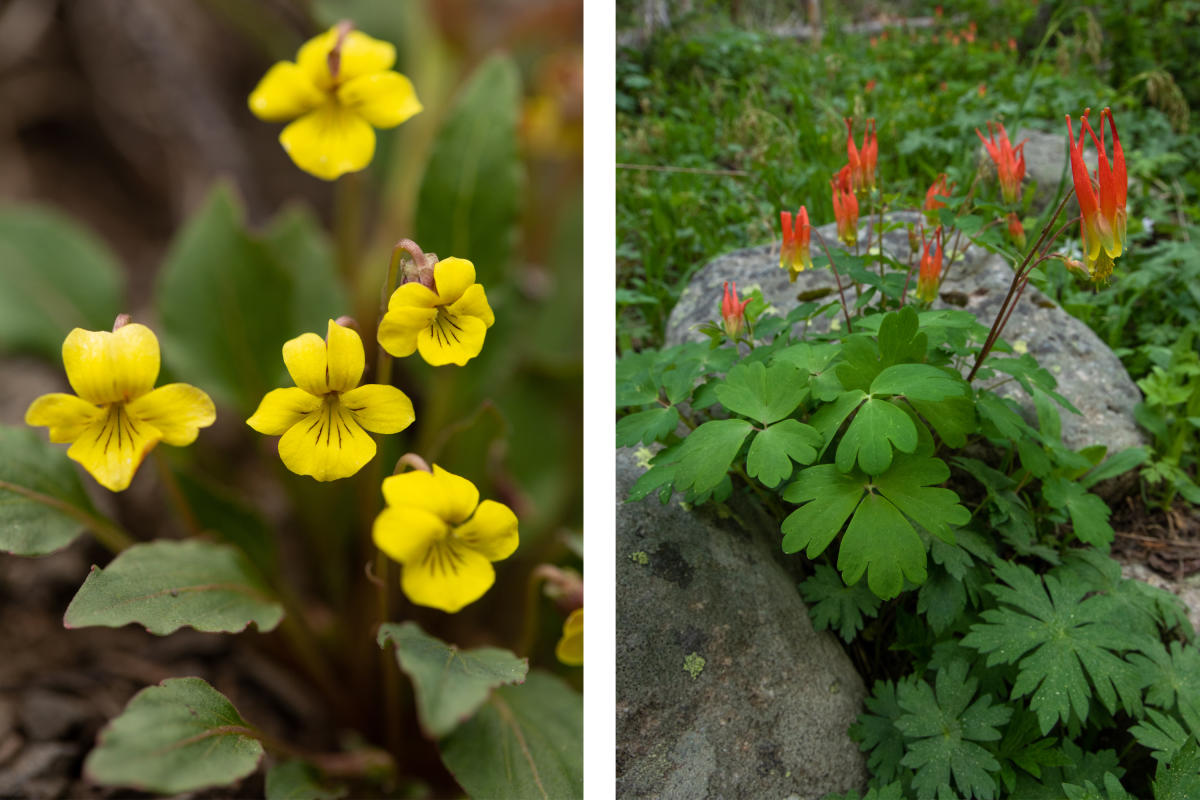 The colorful Nuttall's violet (left) and Western columbine (right) begin popping up in May and June. 
Agua Sarca Trail, Tres Ritos
This uphill trek, likely named for the many freshwater springs and the creek that accompany your hike, pays off with a large open meadow filled with summer wildflowers and a view of Jicarita Peak. The subtly colored but impressive monument plant dots the first meadow. Candle anemone hides under forest cover. This trail also specializes in violets: clusters of Canadian white violets, pockets of western dog violets, and, toward the end of the trail, yellow Nuttall's violets, which are uncommon in the state. Like museum dioramas, small moss-covered caves in the limestone outcroppings showcase pussytoes, wild candytuft, and more violets. Distance: 8.4 miles out and back Difficulty: Moderate Best time: June–September  
Lookout Mountain to Scenic Trail, Ruidoso  
Cut off from other mountain ranges by surrounding desert, this trail leads to a "sky island" harboring 13 endemic wildflower species. Several can be seen along this trail. Ride Ski Apache's gondola to the top to make this an easy downhill hike. Around Lookout Mountain, the only treeless alpine tundra in southern New Mexico, explore dwarf alpine wildflowers like the Rusby's primrose, mountain death camas, and Whipple's penstemon. Also keep your eye out for the rare Peñasco least chipmunk, thought to live only on Lookout Mountain. Take the Crest Trail to the Scenic Trail, where you'll pass endemics such as Sacramento Mountain Indian paintbrush, Sierra Blanca lupine, and White Mountain alumroot. Be sure to pause on the Crest Trail for views of the sprawling black lava and white sands in the Tularosa Basin. The edge where the black and white nearly come together has been used as a landmark by space travelers. Distance: 3.9 miles one way Difficulty: Easy Best time: June–September 
Hamilton Mesa, Tererro  
The high country of the Pecos Wilderness features a mixed conifer forest of spruce and fir, groves of aspen, and tallgrass meadows with some of the best displays of early-season wildflowers, like Rocky Mountain iris and golden pea. The classic purple-and-yellow combination of flowers serves to attract pollinators that benefit all the blossoms. Nature knows her color wheel (she invented it). With views of the Sangre de Cristo peaks from the top of the mesa, you'll really get a sense of being in the Rockies. Distance: 12.2 miles out and back Difficulty: Moderate Best time: June–October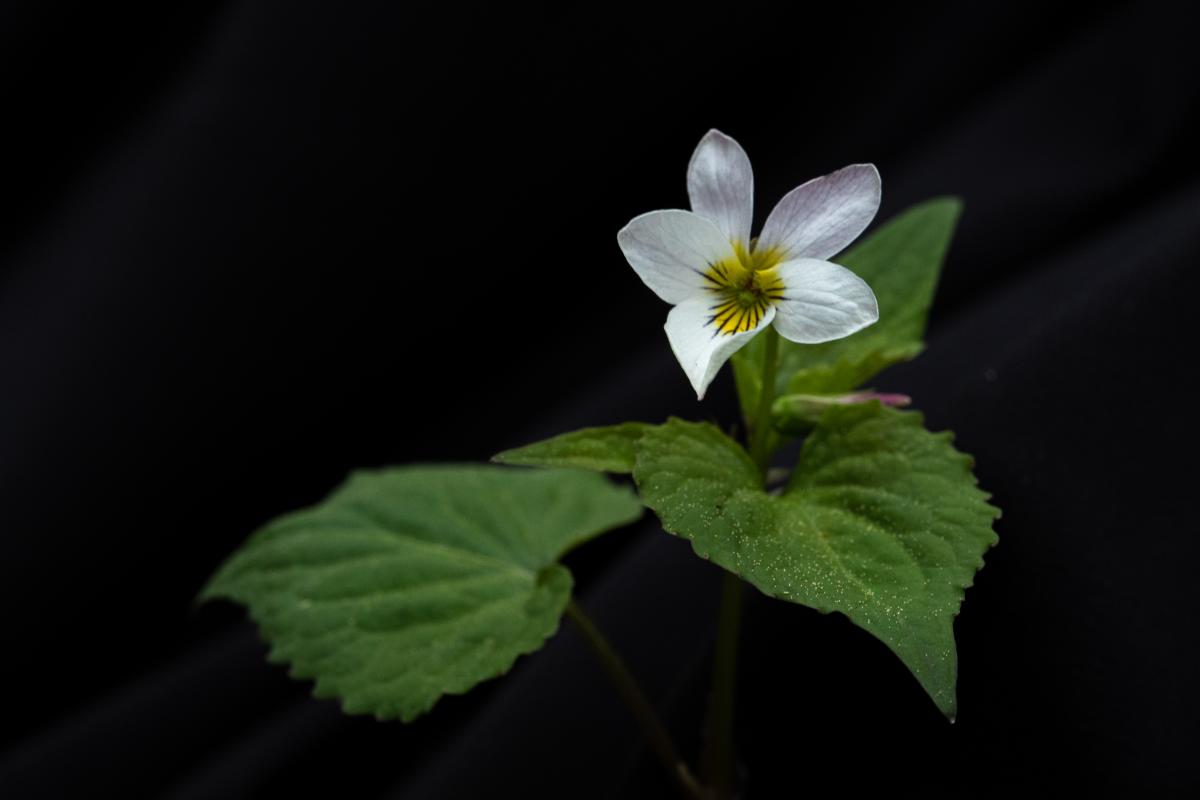 From May to July, Canadian white violet attracts the ultraviolet-sensing eyes of bees. 
Stem Research​
Get beyond the pretty petals and learn more about these wildflowers. 
Candle anemone. Ants help spread their seeds by carrying them to their nest, eating the outer coating, and discarding them, ready for germination. Bloom time: May–July 
Canadian white violet. To the ultraviolet-sensing eyes of a bee, the colorful veins at the center look like neon landing strips that make the small flowers stand out in the forest. Bloom time: May–July, again in late summer 
Rocky Mountain iris. Wild iris loves to bloom in spring in moist meadows, but you will also find it in dry meadows in June, if they were wet in April and early May from snowmelt. Bloom time: May–June, later at higher elevations  
Golden pea. Usually occurring in patches, these spread by way of underground roots and grow quickly after snowmelt, adding waves of color to forests in spring. Bloom time: May–June  
Monument plant. Known by many names (deer's ears, elkweed), this plant can live up to 80 years and likely flowers only once in its lifetime. The stems reach up to eight feet and are studded with dozens of green to white blossoms ornately decorated with purple spots, yellow anthers, and geometric flower parts. Bloom time: May–September 
Western columbine. These bright red flowers bloom just as hummingbirds are returning from their winter sojourn, providing them with their first feast. The hummingbirds are thought to be the only pollinator that can easily reach the nectar in the long spurs and spread the pollen. Bloom time: May–July