Above: La Ventana Arch in the El Malpais National Conservation Area, near Grants. Photograph by Efraín Padró /Alamy Stock Photo.
New Mexico has 39 national wilderness areas. From desert hoodoos to alpine forests, these wild spaces are as diverse as the state itself. Here are four ways to get started amid the state's nearly 1.9 million acres of wilderness.
BEST WILDERNESS DAY HIKE
Cebolla Wilderness, Narrows Rim Trail
El Malpais National Monument, near Grants, is known for its volcanic terrain. What many people don't know is that flanking the national monument to the east is nearly 62,000 acres of wilderness, the El Malpais National Conservation Area. The easily accessed Narrows Rim Trail gives visitors an easy and scenic introduction to the Cebolla Wilderness Area, which features prehistoric archaeological sites, petroglyphs, and historic homesteads. The trail ends with a cliff overlooking La Ventana Arch.
BUCKET LIST WILDERNESS EXPERIENCE
Sandia Mountain Wilderness, La Luz Trail
During this strenuous hike, you'll ascend 3,328 feet over eight miles of trail, including one monstrous boulder field. In turn, you'll be rewarded with magnificent vistas of Albuquerque, which sprawls to the west. The best view awaits when you reach the Sandia Peak Tramway at 10,378 feet. The country's longest aerial tram will carry you back down the mountain through deep canyons, with a bird's-eye view of forested and rocky terrain.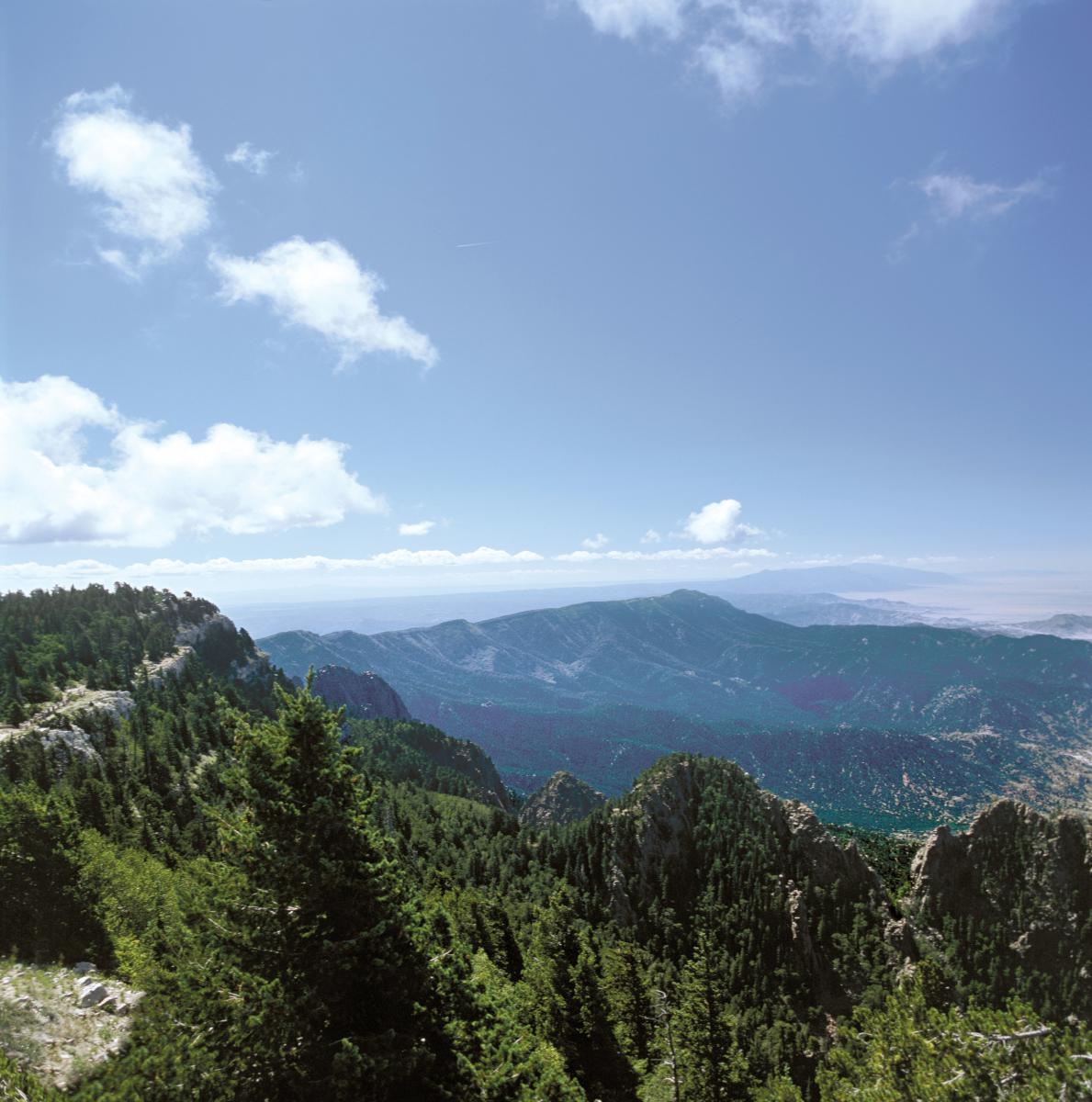 Above: Sandia Peak Photograph by Free ABQ Images.
BEST WILDERNESS FOR DOGS
White Mountain Wilderness, Three Rivers Trail
It's hard to escape the New Mexico sun, and no one appreciates a shady trail with running water more than your dog. That's exactly what you'll get in the White Mountain Wilderness, part of the Lincoln National Forest, near Ruidoso. A hike up the Three Rivers Trail (about 12 miles round-trip) provides dozens of streams and waterfalls, and nearly the entire hike benefits from the dense forest's shade. If you're a mushroom enthusiast, keep your eyes peeled—the woods are dotted by these fleshy spore-bearers. But don't let Fido chomp on them—many species can be toxic to dogs.
Read more: Want to plan the most epic hike trip of the summer? Check out the Guadalupe Ridge Trail.
MOST UNDERRATED WILDERNESS
Latir Peak Wilderness
Despite its accessibility and breathtaking views, this is one of the least used wilderness areas in the state. The Latir Peak Wilderness, near Taos, boasts gorgeous terrain that includes waterfalls, streams, subalpine lakes, and incredible panoramic views. Start at Cabresto Lake and take the Lake Fork Trail to Heart Lake, which sits at 11,520 feet. From there, continue on to scale the 12,708-foot Latir Peak and explore gorgeous alpine mesas. Pack your camera for this hike—expect magnificent 360-degree views and wildlife encounters. 
Love New Mexico? So do we. Subscribe today for just $3 an issue and we'll deliver our award-winning monthly magazine right to your door.
---