Los Conejos, Albuquerque
This agave bar represents breadth and variety, with more than 70 varieties of mezcal on its menu. "We want our drinks to show that agave spirits are more than just shots, margaritas, and tequila," says Giovanni Martinez, spirits director at Los Conejos and Copper Lounge, its next-door neighbor. "They are complex, unique, and ever-evolving—just like Mexico." Martinez suggests starting with Los Conejos Tommy's Margarita ($12) featuring Blanco tequila, fresh lime, and agave syrup. "It's crisp, bright, and well-balanced." Pink booths, colorful walls, and neon signs make this bar a cute place to sip a cocktail. 1504 Central Ave., Albuquerque; 505-242-7490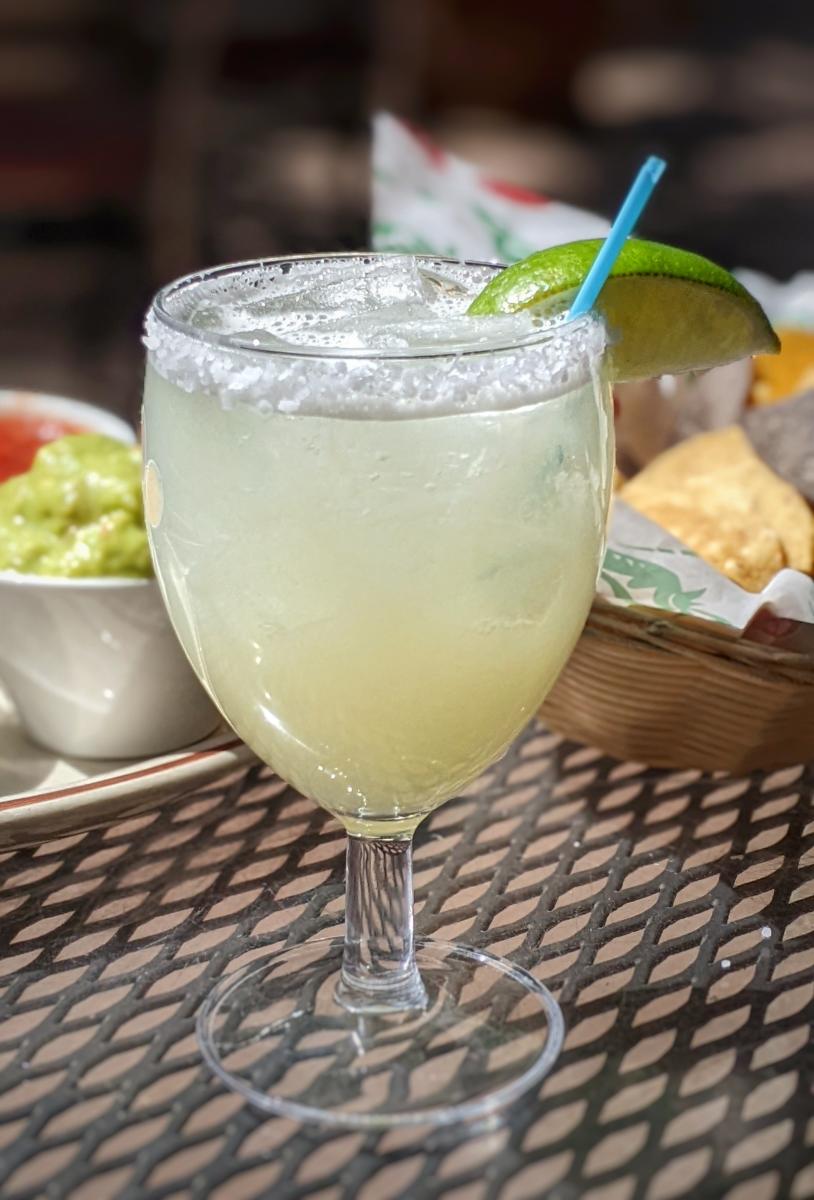 La Choza's 1579 margarita is a favorite of locals and visitors alike. Photograph courtesy of La Choza Restaurant.
La Choza, Santa Fe
There must be magic in the shakers at La Choza Restaurant, because the margaritas are truly special. Come 5 p.m. (actually, they start lining up early), locals and visitors alike rush to the New Mexican eatery for a happy hour beverage. "We are truly passionate about our margaritas here and we aren't afraid to show it," says Galen Panosh, former bartender and current project manager at La Choza. "Every one of our handpicked mezcals and tequilas are 100 percent agave." Fresh lime juice makes these mar gs refreshing and tart. Plus, there are tons of variations. Panosh recommends first-timers try the 1579 ($12.75), made with ArteNOM Selección de 1579 Blanco tequila and Cointreau. "This margarita sets the bar high," he says. "That's where we like it." 905 Alarid St., Santa Fe; 505-982-0909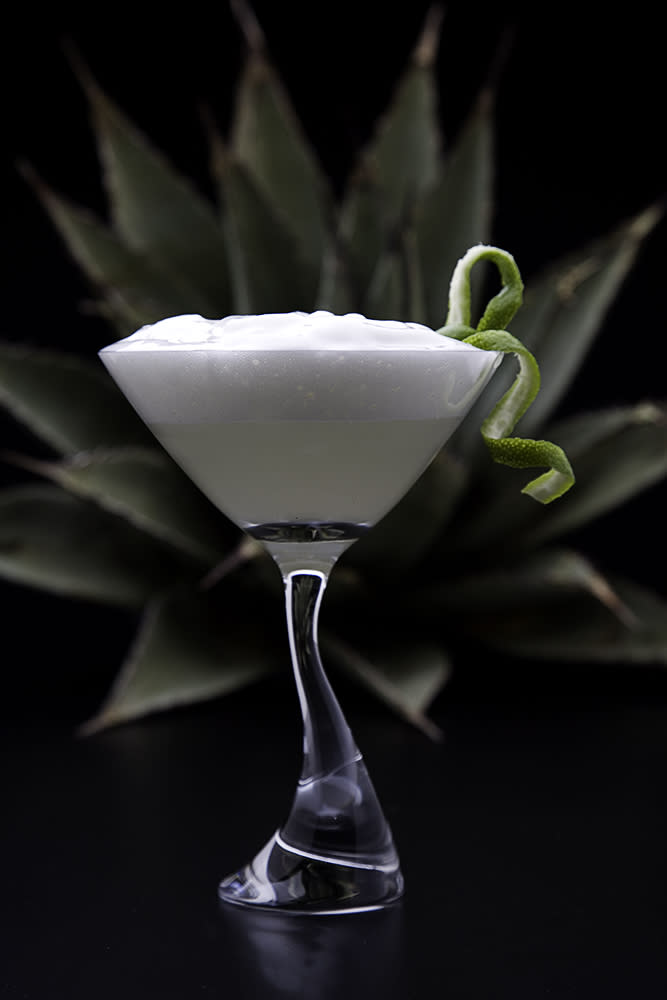 Coyote Cafe's elegant Salty Señora gets a salty lime foam rather than a dusted rim. Photograph courtesy of Coyote Cafe.
Coyote Cafe & Cantina, Santa Fe  
Created by owner Quinn Stephenson, the Salty Señorita ($14) at Coyote Cafe & Cantina is an innovative version of the classic. Rather than a salted rim, it is topped with a salty lime foam and served "up" (sans ice). "Guests come back time and again specifically for the Salty Señorita," says Lysa J. Schutz, sales and marketing manager at Coyote Cafe. "The trick is layering it with the salted lime foam. You drink through it to get to the tequila and orange liqueur underneath." 132 Water St., Santa Fe; 505-983-1615 
Campo at Los Poblanos, Los Ranchos de Albuquerque
Los Poblanos is one of the most romantic places in the state. Surrounded by lavender fields that bloom with an intoxicating scent and sunflowers that reach into the blue skies, the hacienda built by renowned architect John Gaw Meem in 1932 is a stunning escape. Campo, the restaurant at Los Poblanos, lives up to its wonderful environs and serves equally tantalizing margaritas. Made with Tepozán Blanco tequila, orange liqueur, lavender simple syrup, lime, and lemon, the Campo Margarita ($15) captures the spirit of the lavender farm in a boozy sip. Want to heat things up? Dylan Storment, director of wine and spirits at Campo, recommends the Spicy Margarita ($14). "We rim our Spicy Margaritas with our own blend of chile salt to really push it over the top." 4803 Rio Grande Blvd. NW, Los Ranchos de Albuquerque; 505-344-9297
Imperial Bar at the Double Eagle, Las Cruces
Las Cruces locals say this is the place for a margarita. The vintage bar, reminiscent of a decadent prohibition-era speakeasy, features a 30-foot hand-carved oak bar top, French Baccarat crystal chandeliers, and a Louis XV-style mirror carved with a floral design. The margarita recipe at the Imperial Bar has been served for over 30 years. "We use 100 percent blue agave tequilas," says Win Ritter, beverage manager at the Double Eagle. "I like to float liqueur or mezcal on top for a unique mouthwatering margarita experience." Try the Award Winner ($10), which has won the Margarita Shake Off competition in El Paso, Texas, three years running. 2355 Calle de Guadalupe, Mesilla; 575-523-6700
Bar Castañeda, Las Vegas
Inside the historic Hotel Castañeda, in Las Vegas, Bar Castañeda is a happy hour hot spot. The vintage wooden bar top complements the simplicity of the signature Tommy's Margarita ($13), made with just three ingredients: tequila, fresh lime juice, and agave syrup. "This margarita was created by Julio Bermejo in the early '90s at Tommy's Mexican Restaurant, a San Francisco favorite dating back to 1965," says Samuel Coca, general manager at Bar Castañeda. "It's easily our most popular cocktail. On any given evening, we go through two to three liters of tequila." Note: At present, Bar Castañeda is striving to feed firefighters and people displaced from their homes by forest fires. Save this intel for a later happy hour and consider supporting the bar's GoFundMe or sign up for a volunteer shift. 524 Railroad Ave., Las Vegas; 505-434-1005