HERE'S THE BEST WAY to get a quick read on any neighborhood: visit its coffee shop. For caffeine heads who get depresso without it, coffee is almost always our first stop, one we make so often that we can telepathically communicate our orders to the baristas. We may even know the dogs waiting outside.
Coffee shops have always been spaces where communities gather, where ideas and progressive movements breed. People have business meetings and first dates at coffee shops, and strong opinions about the best brew. The ideal bean is grown at the perfect altitude and in premium soil by farmers who care about the quality of their product and earn a living wage. That last part is important. The direct trade coffee movement supports  paying  fair wages to farmers, which specialty coffee shops support.
We found some of the state's best specialty coffee shops, with their hearts in their communities. Beyond serving lattes, cortados, drips, and pour-overs, these spots often host pop-ups, art shows, special dinners, and live music events. Come get a jolt.
SKY COFFEE
Santa Fe
@skycoffeeco; Multi-roaster, 2–4 employees
Todd Spitzer and Bill Banowsky opened the cozy and bright Sky Coffee in the Santa Fe Railyard in 2017. The shop's welcoming vibe comes from its baristas, says Spitzer. "My favorite thing is to create a community, create a space that makes it easy for community to have these conversations. What I love about the staff here, they foster that themselves. I mean, they're badass baristas, but they're also just awesome humans."
Spitzer helped pioneer the direct-trade coffee movement by opening Remedy Coffee, in Oakland, California, before moving to Santa Fe. "Direct trade is when you find a farmer or farm you want to work with. You're choosing them because there's a specific quality. It could be because it's grown at a certain altitude or in specific soil. As with wine, it all affects the flavor," Spitzer says. "There are farmers who are specifically trying to grow amazing coffee. We pay a premium for it. One half is social justice and the other half is 'I want a quality experience with my coffee.'"
Sky Coffee uses Ruby Coffee, roasted in Nelsonville, Wisconsin, and Máquina Coffee, from Pennsylvania. "They're my friends," Spitzer says. "I know them, I know their families, and I know their kids. I want to support them as people, but also their product is amazing.
ICONIK COFFEE ROASTERS
Santa Fe
@iconikcoffeeroasters; Direct-trade coffee roaster, 30 employees
If you visit any of Iconik's locations, you can sample coffee this roaster creates from beans that grow on a farm near Lake Atitlán, in Guatemala, owned and worked by fourth-generation coffee farmer named Giorgio. Managing Owner Sean Ham knows him and his family personally. Iconik's mission as a direct-trade outfit is to know exactly where its beans are coming from. "We aim to have as close a relationship as possible with the people who are producing our coffees," says Miller. "Our goal as a roaster is to try to move toward as many of those coffees as we can, where we've been to the farm and we know the farmer."
Iconik has grown into three locations in Santa Fe since opening in December 2012. Its original spot, off Lena Street, is where the roasting happens, and it's known for fun evening events and art shows. The second location is inside Collected Works Bookstore. The newer Guadalupe Street address is in a beautiful Spanish adobe with 20-foot ceilings and a dreamy patio space.
"Coffee and community do really go together," Miller says. "Before I ever got into coffee, I was one of those people who just hung out in coffee shops, reading and writing and doing work. There's this phenomenon about being alone but together with other people."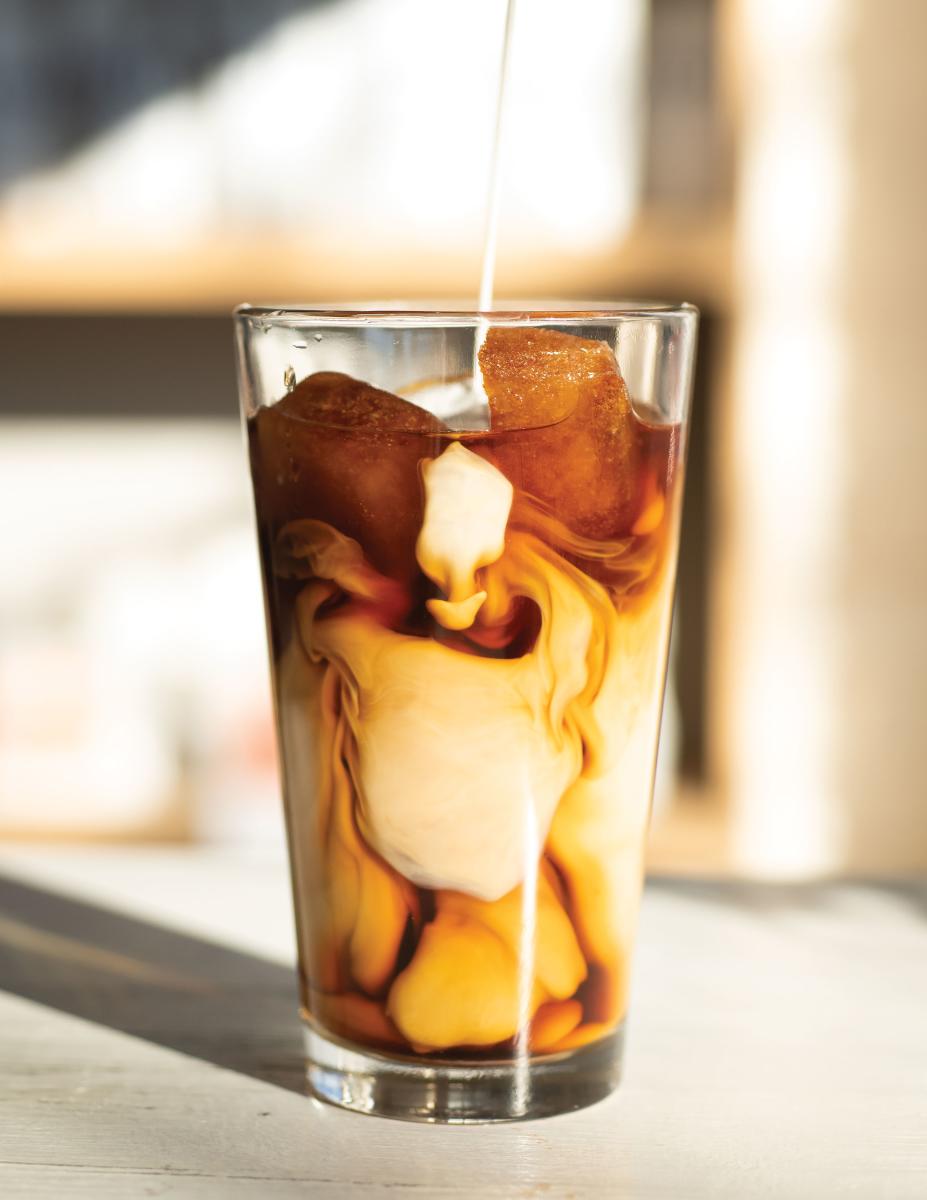 Zendo Coffee in Albuquerque. 
ZENDO COFFEE
Albuquerque
@zendo413 and @zendocoffee; Multi-roaster, 15 employees
"There's this whole group of people who, before Zendo was around, didn't know each other, and now they're all friends and colleagues and everyone supports one another," says owner Pilar Westell. "That's the dream for Zendo. We all want that—everybody needs to feel a part of something."
The industrial space at the original downtown Albuquerque location has a long bar and plenty of seating for spending a long afternoon working or basking in the sun on the big back patio. The newer Zendo location is part of the revamped El Vado Motel, and its clean white adobe with dark blue accents complements the shop's minimalist style.
Zendo works with Albuquerque-based Odacrem Coffee Roasters to create house roasts and features a monthly guest roast, along with seasonal specials like salted caramel lattes and lemon-ginger cider. It offers golden milk, matcha, teas, juices, and chai that's made in-house, from scratch.
You'll find a different local artist gracing the walls each month, along with lively openings.
COFFEE APOTHECARY
Taos
@thecoffeeapothecarytaos; Specialty coffee roaster, 5 employees
On a trip to Taos with my fiancé last summer, we heard about Coffee Apothecary from nearly every person in town. The cute 20-something gal at breakfast. The tattoo artist who worked on my man. An older fellow bar patron. Everyone said this was the spot. The airy space on the main drag is co-owned by Lydia McHaley and her partner, Pablo Flores, who opened shop in 2016. "Coffee is the most attainable thing that people can enjoy," McHaley says. "It was really important to us to create a safe, bright space that anyone can feel comfortable in."
Flores' mother, Johanna Martin, bakes all the pastries, Flores heads the roasting program, and McHaley has a hand in all of it. They buy their product from Genuine Origin (a company that sources from sustainable farms around the world) but have dreams of functioning as a farm-to-cup shop that works directly with growers.
From day one, Coffee Apothecary has donated all of its grounds to an Arroyo Hondo farmer who uses them to transform his arid land into rich soil. The couple wants to implement a research program to help other coffee shops connect with farmers in their communities.  
---