THE RV LIFE IS BOOMING. At Aloha RV, in Albuquerque, owner Peter Larson estimates the dealership's sales were up about 20 percent in 2020. "Thirty percent of those sales are new RVers," he says. Whether you're a newbie or a full-timer, these New Mexico RV parks offer so much more than a hookup. 
---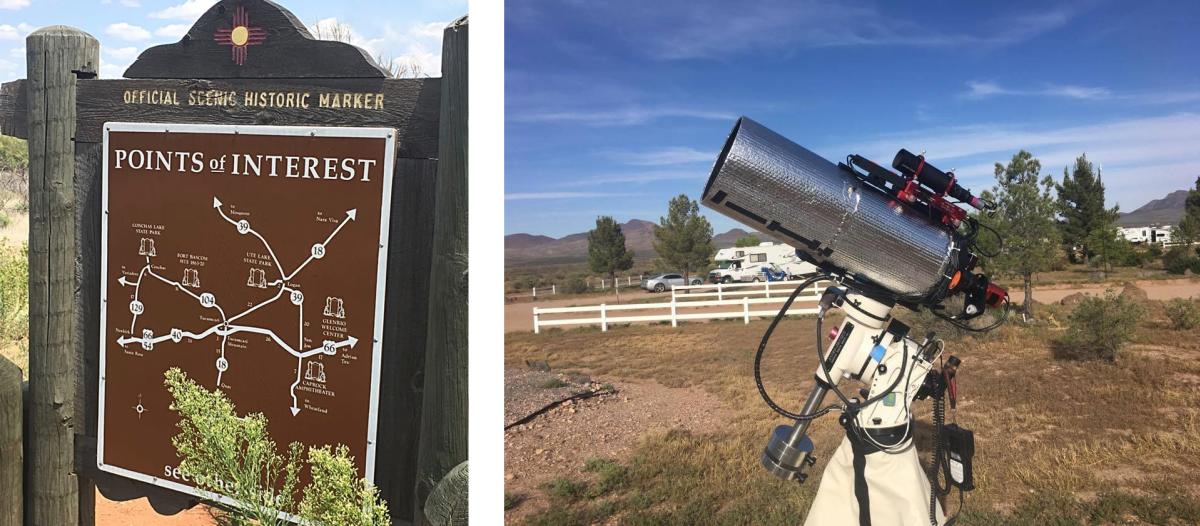 Explore old Route 66 at Blaze-in-Saddle (left) and the night sky at Rusty's RV Ranch (right). Photographs courtesy of Blaze-in-Saddle RV Park and Rusty's RV Ranch.
Rusty's RV Ranch 
Nestled between the Peloncillo and Chiricahua mountain ranges near the state's Bootheel, Rusty's RV Ranch's 50 acres are delightfully remote. "We have some of the darkest night skies in the whole world," says owner Rusty Ahles, who prohibits exterior RV lights so as to preserve the views. Catch the Perseid meteor shower in August, then wake up to search for the rare, metallic-colored elegant trogon, a bird that often nests in the area. Nearby: The Chiricahua Desert Museum, in Rodeo, features a collection of Native artifacts and more than 30 species of rattlesnakes among its live displays. Day trip: Take a 90-minute drive to stroll historic downtown Silver City, where you can get unforgettable locally sourced comfort food at Revel. Rusty's RV Ranch, 854 NM 80, Rodeo; 575-557-2526.
Blaze-in-Saddle RV Park 
With 45 full-service, double-wide spaces and pens for horses, Blaze-in-Saddle RV Park provides an exceptional hitchin' post for a blast through the past on Route 66. "Folks love to see what's in the pens," says co-owner Silvio Castelli. "We've had horses, donkeys, even zebras back there." Nearby: Tucumcari revs up the nostalgia with the New Mexico Route 66 Museum, more than 100 murals, and a host of neon-lit motels hearkening to the heyday of the Mother Road. Day trip: Drive two hours to Mills Canyon, in the Kiowa National Grasslands, and explore 100-year-old ruins of a once-thriving ranch and farming enterprise. Blaze-in-Saddle RV Park, 2500 E. Route 66 Blvd., Tucumcari; 575-815-4085.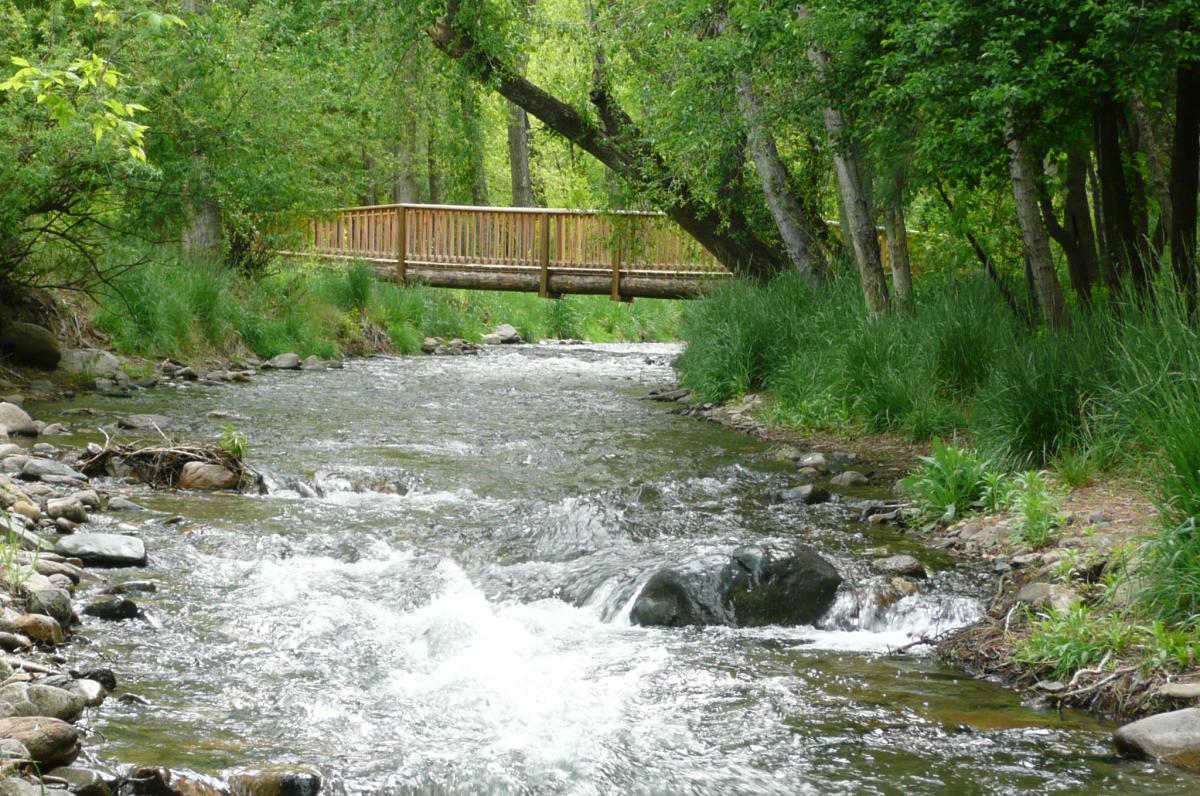 The Río Bonito at Along the River RV Park. Photograph courtesy of Along the River RV Park.
Along the River RV Park 
Mountain-town delights and an abundance of wildlife (including occasional visits by the wild horses of Lincoln County) cozy up to your doorstep at Along the River RV Park, in Capitán. "Several campsites back right up to the Río Bonito," says owner Donna Bell. "Folks enjoy Ruidoso during the day, then have a campfire and watch the stars on the river at night." Nearby: Sip double gold medalist Ruidoso Bubbly and other award-winning wines at Noisy Water Winery, in Alto. Day trip: The gypsum dunes and otherworldly landscapes of White Sands National Park are just 90 minutes away. Along the River RV Park, 127 NM 37, Capitán; 575-336-4444. 
Brantley Lake State Park
At the budget-friendly Brantley Lake State Park, 51 campsites (three of them full-hookup) are steps away from boating and fishing on the largest lake in southeastern New Mexico. "Come here to catch bass and catfish, then hike our miles of trails to take in the high-desert landscape," says Park Superintendent Leila Haver. Nearby: Try the Red Stapler ale and other craft brews at the recently expanded Milton's Brewing, in Carlsbad. Day trip: Self-guided cave hikes and magnificent bat flights at Carlsbad Caverns National Park are less than an hour away. Brantley Lake State Park, 33 E. Brantley Lake Road, Carlsbad; 575-457-2384.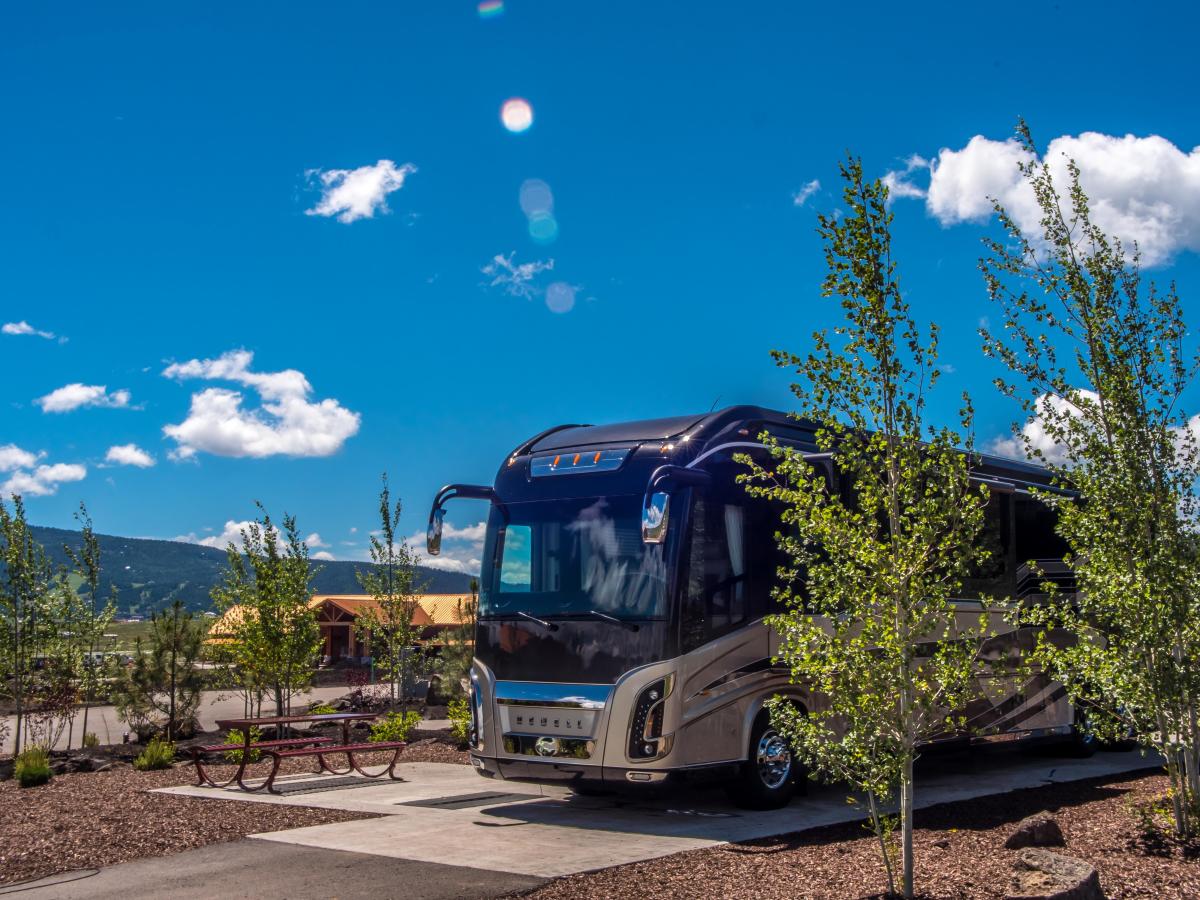 Angel Fire hosts even the biggest RVs. Photograph courtesy of Angel Fire RV Resort.
Angel Fire RV Resort 
With 60-foot paved, full-hookup sites offering 360-degree views of the southern Rockies, a luxurious clubhouse, dog park, and oversize hot tub, it's easy to see why Angel Fire RV Resort was voted one of the 10 Best RV Resorts by USA Today readers in 2020. Nearby activities abound as well. "You can paddleboard and fish for rainbow trout at Monte Verde Lake," says Marketing Director Greg Ralph, "golf, zipline, or take a scenic chairlift up the mountain." Nearby: Two-wheel adventurers can test themselves on more than 60 miles of trails at Angel Fire Bike Park, voted Best in the Southwest by MTBparks seven years in a row. Day trip: Take a more leisurely pace along the scenic 84-mile Enchanted Circle Scenic Byway, with charming stops in Taos, Red River, and Eagle Nest. Angel Fire RV Resort, 27500 US 64, Angel Fire; 575-377-4472.
Rules of the Road 
Follow these simple tips to get the most out of your experience.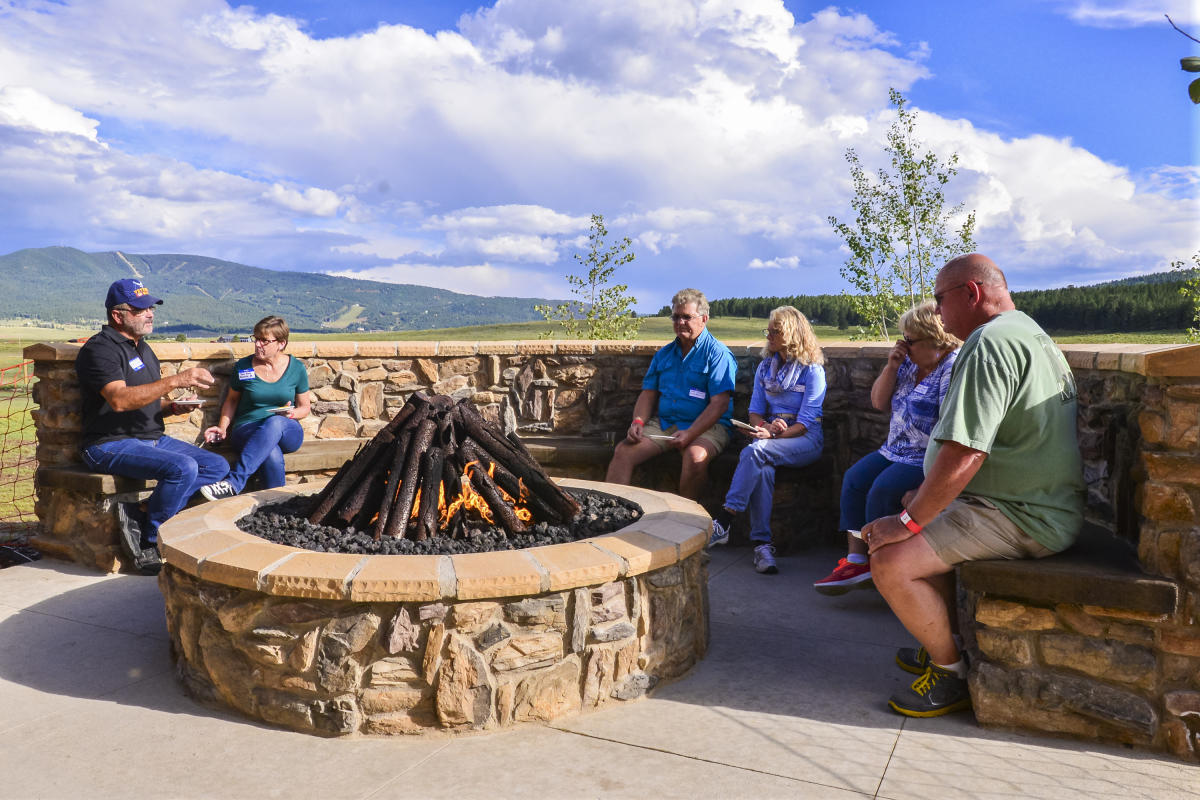 Guests relax around the fire at the Angel Fire RV Resort. Photograph courtesy of Angel Fire RV Resort
Assess your needs. "A lot of folks buy the biggest RV they can find, only to realize they don't need all that space," says Mike Castelli, co-owner of Blaze-in-Saddle RV Park.
Start slow. "Stay close to home the first few trips to learn the ins and outs," says Donna Bell, owner of Along the River RV Park. Plus: Don't be afraid to ask for help. "RVers are some of the most friendly people in the world."
Plan ahead. Research activities, events, and other logistics before hitting the road, suggests Greg Ralph, marketing director for Angel Fire RV Resort. "The most important thing is to relax and enjoy," he says. "There's no rush to get anywhere."
---
Read More: New Mexico has some of the best birding in the country, although challenges threaten many species and force others into unfamiliar habitats. Let your passion soar with our guide to backyard birds, must-visit hot spots, and more.
Read More: Take your experience to new heights on these bird-friendly hikes.
Read More: With nine decades of trails behind him, William Kemsley Jr. still takes a walk in the woods every day.