DEL AGUA TRAIL SPLITS OFF THE PIEDRA LISA TRAIL, curving gently up a foothill on Sandía Peak's northern flank before dropping hikers into a copse of cottonwoods and the source of the trail's name: an intermittent stream that also refreshes New Mexico maples, river willows, mountain mahoganies, and the occasional black bear. I always pause before continuing the upward journey. Across the centuries, many others have, too.  
One of them, an Ancestral Puebloan, pecked out a petroglyph. It conjures a mythical bird or perhaps the Avanyu water spirit, with a diamond-shaped body, two long wings, and a sinuous tail zigzagging down the rock. Below it and to the right, someone—a Spanish colonist? a priest?—created a newer image, one of a conquistador holding two crosses. Does it claim ownership of the space? Does it cleanse the spot of a "pagan" religion?
I ponder the juxtaposition on every visit. It seems to sum up the mix of old and new in this community, my home, about 10 miles north of Albuquerque's upper edge and due east of Bernalillo. A moderate walk from my front door leads to the fenced-off remnants of the 1768 village of San José de las Huertas, part of the San Antonio de las Huertas Land Grant, which once stretched across 40,000 acres. 
Descendants of the original 21 families are now a legal association that's considered a governmental unit. This "heirship" controls 924 acres, spread among various pockets in the Placitas area. Along with the descendants of other Spanish and Mexican land grants throughout the Southwest, they are pursuing recognition and atonement for what was lost. At the same time, the Las Huertas heirship has shouldered community projects intended to benefit all residents. 
Since the 1950s, that community has grown as waves of largely Anglo residents made landfall, spurring the development of scattered subdivisions, adobe mansions, and middle-income homes on what once was land-grant property and, before that, tribal grounds.
In the 31 years since I moved here, we've gained a small grocery store, two restaurants (three, but one closed), an art gallery, a winery (also closed), a library, a senior center, a dentist, an independent pharmacy, around 20 bands of wild horses, and nearly 40 miles of easily accessed trails that lure hikers and mountain bikers from throughout the state.  
Many of us who live here came for spacious building sites, big views, and spectacular sunsets. We enjoy living in relative seclusion but regularly gather for meals, art tours, and religious rites, to build a labyrinth at the Placitas Library, or to enjoy classical concerts in a historical sanctuary. We fit ourselves into Las Placitas's centuries-old continuum, here in a community whose very name celebrates its "little places" and whose soil holds on to history.
"There's so much of our heritage that's woven into the property here," says Rebecca Correa-Skartwed, president of the land-grant association. "Our roots are dug deep." 
DOROTHY BUNNY BOWEN STOOD ON THE TOP OF Sandía Crest in 1974. Another hiker pointed down its north side to where the land leveled out. "That's Placitas," the hiker said. "It has a lot of artists. You'd like it." 
Bowen says that she and her young family had back-to-the-earth sensibilities, but they were hardly the types of hippies then flocking to a variety of communes in Placitas. "We were Southern Baptists with two kids to raise," she says. They built a house in a neighborhood that nestles up to FR 445, what locals call the "Loop Road," a rough-worn dirt track with trails meshing its interior and spurring off into the Cibola National Forest.  
Today she's part of an artist community that draws thousands of visitors to its November Holiday Fine Arts & Crafts Sale. There's also a studio tour each Mother's Day weekend, but both were postponed this year because of COVID-19. She shows her batik scarves, wood carvings, and mixed-media paintings at the Wild Hearts Gallery, in what passes for the area's shopping district—two side-by-side one-story developments whose occupants include the Merc grocery store and two restaurants. At Wild Hearts, 14 Placitas artists share ownership and fill the spaces with pottery, jewelry, sculptures, and more.  
The art community's sheer numbers (more than 50 studios open during the tours) inspires them, says Joan Fenicle, a painter and photographer. "It's the environment, the scenery, the everything," she says, including, for her, one very important asset: "I have to have a mountain."
Sandía Peak satisfies that need. It rises as a monolith, its wilderness area sheltering a matrix of hiking trails that accommodate solitude. (The Tunnel Springs Trail connects to the North Crest Trail for as tough a hike to the tippy-top as the La Luz, on the Albuquerque side, with none of that route's crowds.)  
That could be changing. On the first weekend of the stay-at-home order, back in March, the Loop Road's two parking lots, just off NM 165, were nearly filled with cars, most of them sporting bike racks. Since then, every weekend has seen packed parking lots as well as cars on the loop's numerous pullouts. 
In years past, hikers, bikers, and equestrians had carved out a maze of largely illegal trails beyond and within the natural resource area surrounded by the road, including into the Sandía Mountain Wilderness, where bikes aren't allowed. Kerry Wood, trails manager for the Sandía Ranger District of the Cibola National Forest and an avid mountain biker, was concerned—especially about the trails within the Loop Road. 
"Parts of that area are somewhat dense with heritage sites, which are protected by law," he says. "There are prehistoric sites. There's a corral that was heavily used by the land grant."  
While surveying the trails, he connected with Tim Garner, a Rio Rancho computer consultant who bikes there so often that he's earned the nickname "Placitas Tim." They joined forces to reroute trails away from sensitive sites and out of the wilderness area, which rises to Sandía Crest. They began marking a series of official trails with names like Bobsled and High Voltage that accommodate hikers and bikers of all abilities. 
"Their usage has really grown since COVID," says Garner, who started a website and Facebook page with maps, plus updates on trail conditions and volunteer workdays. "I'd say it's up 50 percent over last year."  
Wood says that benefits more than recreationists. "These trails have the power to spur economic activity," he says. 
You can see that when bikers huddle up in the gazebo in the main shopping center's parking lot. Some pick up sandwiches from the deli counter inside the Merc, others partake of offerings at the diner-style Placitas Café or the more upscale Blades' Bistro. 
Kevin and Anja Bladergroen opened the latter in 2008, weathered the recession, developed the European-style bistro into a community magnet, then held their breath when COVID hit. 
They stocked up on to-go containers and took a chance on corned beef and cabbage for St. Patrick's Day. Orders flew out the door, with most customers attaching hefty tips to their bills. 
"The whole crew was saying, 'We're gonna make it,' " Anja says. "And then people kept coming every week. They said, 'Don't you worry, we'll be here.' " 
Her throat constricts as she tries to describe the outpouring, but she can't continue. "It's an emotional thing," her husband says. "Once we could do dispersed seating inside, people would come up to the kitchen to let us know how important this is. It's been amazing." 
CORREA-SKARTWED LEAVES HER CAR TO UNLOCK the gates off Camino del Oso, above the village of Placitas—the enclave that came after the archaeological site farther north of here, but well before subdivisions sprouted beyond it. Behind the gates lie 165 acres of land-grant property that the heirship is turning into El Campo del Oso, a recreational area for the community. 
With help from the University of New Mexico's School of Architecture and Planning, they devised a compound that includes an open-air kitchen, a covered meeting area with a firepit, raised platforms for tents, an outhouse, and room for primitive campsites.  
Middle school students helped build the adobe-looking kitchen out of bags filled with dirt; members of the heirship finished it with a latilla ceiling.  
Before COVID, the land grant held outdoor movie nights, with films projected on a makeshift screen and treats like cotton candy served from the kitchen. Members planned a weekend of heritage activities that would include food, music, and ghost stories told by elders. For now, those events are on hold, but groups and individuals can still rent the site for small gatherings or overnight stays.  
"We had paramedics come up, when everything else was closed, just as a spot for them to get away from all the stress," Correa-Skartwed says.  
The land holds nine springs and three tanques, reservoirs that fill daily during the irrigation season, providing water to gardens below. On this day, autumn is spinning cottonwood leaves into gold. Sunflowers and river willows surround a reservoir that ends in a rockwork dam built more than 200 years ago. Correa-Skartwed muses about adding hammocks, restoring an orchard of heirloom apples, and seeing the space grow into a community jewel.  
"Everything the land grant once did, they did for the good of the community," she says. "That's what we're trying to do again. We want this to be a place for locals to come and know our history."  
The land grant is attempting to reclaim more than 3,000 Bureau of Land Management acres north of the subdivisions, a parcel contested by a nearby gravel mine that wants to expand and other Placitans who hope to preserve it as open space. 
It has become a reliable place to see wild horses, whose numbers have grown to an estimated 150 in the past two decades. (The horses also make it into neighborhoods, where the damage they do to gardens and native plants, as well as the risks they pose to drivers, have made their presence a flashpoint.)  
Correa-Skartwed laments the horses' impact on medicinal plants once gathered on that northern parcel. The recreation area could one day bring some of it back, she says, and the land grant might acquire more property for other purposes—even ones that might benefit the horses.
She and her husband recently moved to land that she inherited in the village, a space where she can almost hear the whispers of the past. 
"There are times when I lean against a big tree and think, My great-great-great-great-grandfather may have been by this tree and had the same dreams as me," she says. "Our forefathers bled and sweat to have land to leave us, and we're stewards of that. You can feel the pride and history." 
Read more: For a small town, Bernalillo brings a big heart to its history, traditions, and sense of community.
OUT AND ABOUT
Get active. The two parking lots for the Placitas Area Trails are off NM 165, about 2.5 and 3 miles east of the I-25 intersection. Find maps and other info at Placitas Area Trail Association. Las Placitas Association oversees a 560-acre parcel of City of Albuquerque Open Space, with gentle trails, wildflowers, and birds, plus access to BLM property beyond it. Go to Las Placitas Association for directions. For Cibola National Forest trails in Placitas, go to the Placitas Trail System. 
Get comfy. El Campo del Oso, a recreational area owned by the San Antonio de Las Huertas Land Grant, plans to host public events when it's safe to do so. Rentals of the property, including campouts, can be arranged through the Hipcamp website. 
Get fed. Blades' Bistro and the Placitas Café are in the Homestead Village shopping center, on NM 165 about 2.5  miles east of I-25. The Merc grocery store sells fresh meals from its deli counter and boasts an impressive wine selection. 
Get arty. Wild Hearts Gallery is also in Homestead Village. Learn about its artists and special events at. 
Get local. Every December, Las Placitas Presbyterian Church's Earth Care Fellowship hosts a candlelight poetry reading on the winter solstice. This year's event, on December 21, 2020 will be livestreamed, with only the poets in attendance. San Antonio Catholic Mission's annual Christmas Eve Las Posadas is a farolito-lined community favorite that may or may not be held this year; call 505-867-5252 for the latest.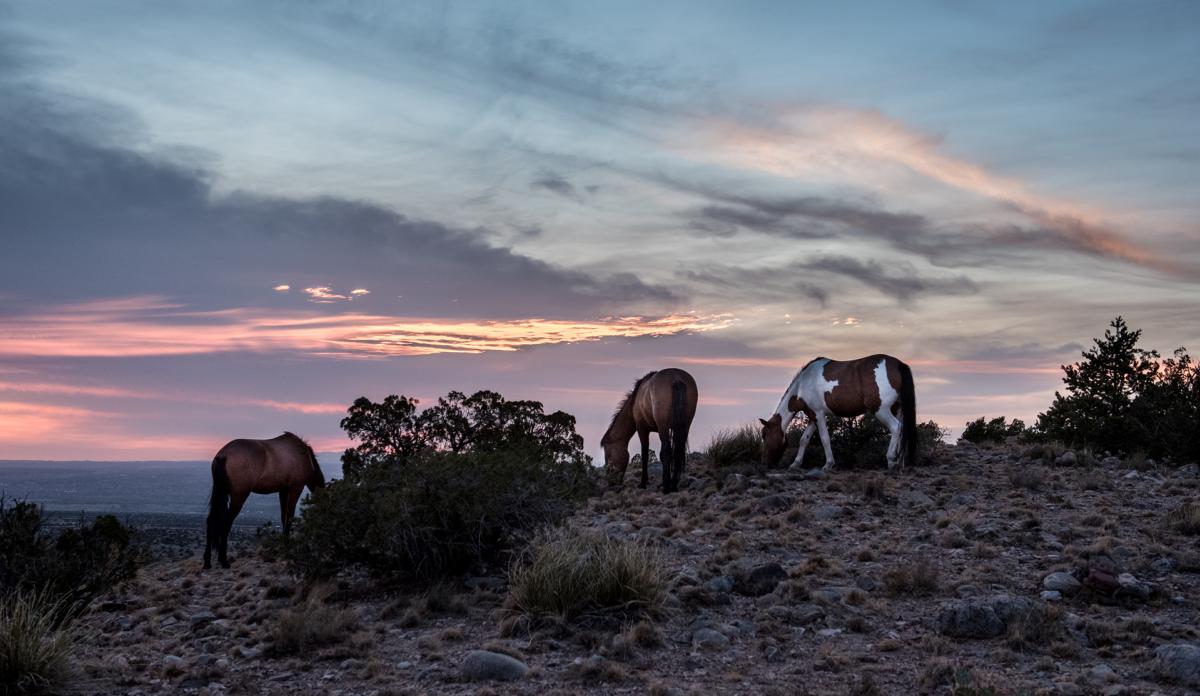 Wild horses graze on an open ridge near the Overlook subdivision. 
WILD ABOUT HORSES
It can feel magical to come upon free-roaming horses in Placitas, but their presence stirs sharp debates about their environmental impact, their long-term health, and the dangers they pose—and face—on roads. Several bands of horses roam through the BLM property north of the newer subdivisions and wander through neighborhoods, generally in the eastern part of the community. Drive carefully, enjoy their presence, take pictures, but do not pet or feed them. A key to their survival is to keep them wary of humans and especially of cars and roads.