Santa Fe Raptor Center volunteer Mario Garcia releases a red-tailed hawk inside the mews.
EARLY ON A WINTER MORNING in northern New Mexico, Lori Paras enters a series of slat-covered wood-and-wire enclosures. Inside these mews, injured raptors await her patient and daily care, their eyes following every movement. She starts by raking out the walk-in cages, then breaks frozen water from bowls, scrubs them, and refills them. A dozen or so birds—eagles, hawks, falcons, owls—still need to be fed. Some accept only live prey, generally mice and rats. Others need medical attention.
A big pickup rolls in, carrying veterinarian Kathleen Ramsay, a renowned wildlife rehabilitation specialist who founded the New Mexico Wildlife Center, near Española, in 1998 and served as Paras's mentor in creating the Santa Fe Raptor Center, near the village of El Rito. Donning heavy gloves, the two enter the 100-foot-long flight mews.
Paras carefully drops a cloth over a huge golden eagle, then grasps its feet, trying not to startle it. The eagle's talons can pierce a person's hand. Its feet can break a human arm. Its beak can take a finger or eyeball. Ramsay gently runs her hands through its feathers to check their condition and look for bird lice. Then she gets to the primary task: trimming the eagle's beak and talons with a power Dremel. In the wild, they would wear down naturally, but they tend to become overgrown in captivity.
The bird squirms and twists a bit but tolerates the handling. The job finished, Paras releases her grip. The bird spreads its three-foot-long wings and, with a whoosh, flaps to the end of the pen and alights on a perch, starring back in apparent wonder or indignation.
This bird was picked up in Arizona, near Lake Powell, after being struck by a car and was delivered to the Santa Fe Raptor Center, which is one of the facilities authorized by the federal government to care for eagles. Even with one wing scraped almost entirely bare of feathers and a badly bruised body, this eagle stands a good chance at full recovery and release.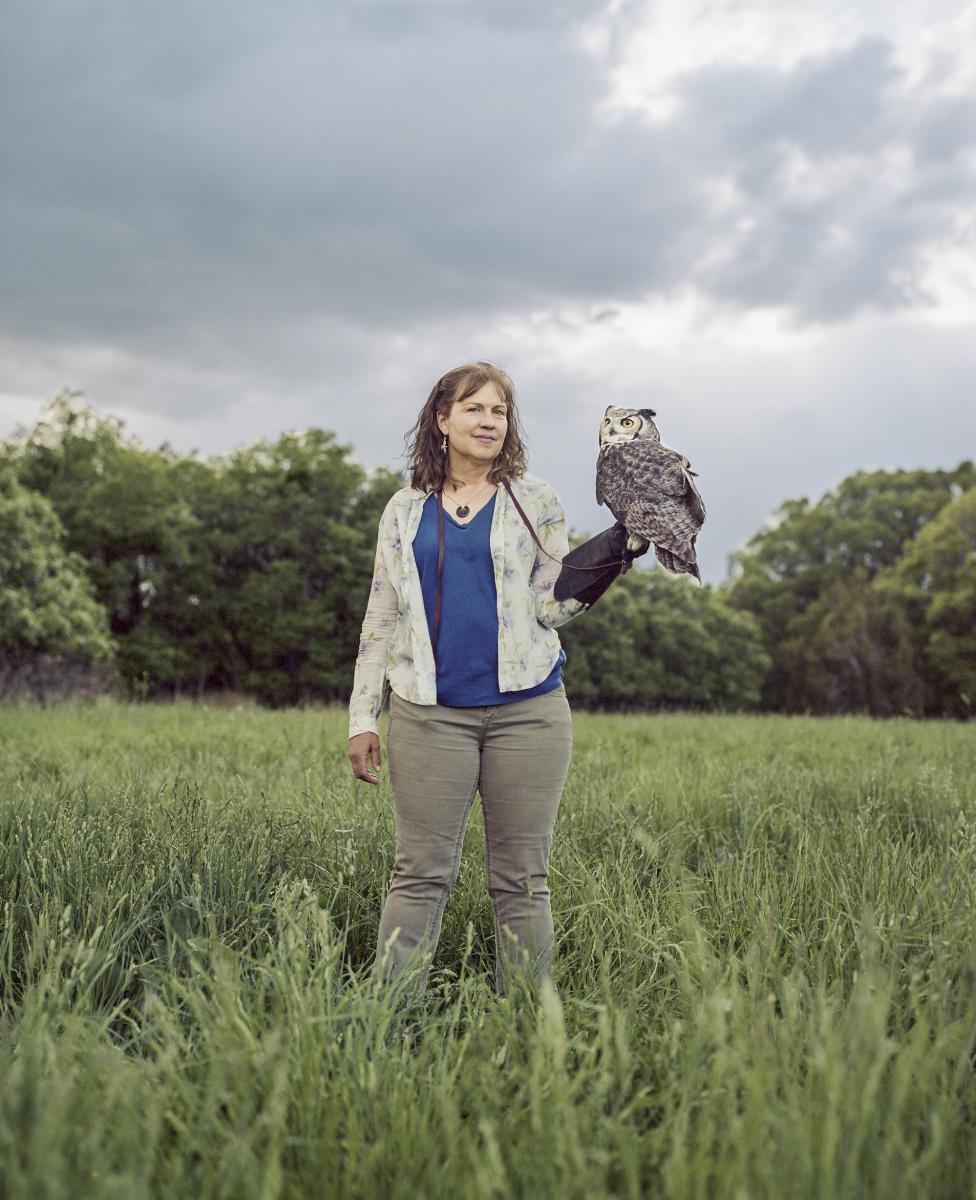 Lori Paras holds a great horned owl on the grounds of the Santa Fe Raptor Center.
That's the ultimate goal for every bird that enters Paras's care. Over the past 16 years, she and a team of volunteers have revived and released thousands of raptors, plus waterfowl and more common birds.
The silhouettes of raptors gliding on thermals seem an essential element of New Mexico's brilliant skies. But via an onslaught of natural and human hazards, danger awaits these fierce fliers. One of them, a golden eagle that Paras nicknamed Río, crashed through the windshield of a car, destroying its beak. After surgery by Ramsay and months of careful feeding and attention by Paras, the eagle grew a new beak and flew free.
Read More: Meet Our State Bird
Another golden eagle, James Dean, was electrocuted by a power line. "We often just have to put those ones down," Paras says. "But with this one I had a strong feeling it might make it." For two weeks, she tended the wounds on its wing, foot, and leg. Then Ramsay operated. 
The bird slowly recovered strength and agility—along with an audience of avid fans who followed its progress online. Many of them turned out for its 2013 release, by actor Wes Studi, near the Río Grande Gorge Bridge.
Other rescues aren't so fortunate. A bald eagle named Oro contracted West Nile virus. With a greatly enlarged head, it lost its sense of balance and its eyesight and fell off a cliff, near Farmington. 
With Paras's loving care, it began walking and even regaining some sight. But it will never be able to survive in the wild, she says. An eagle sanctuary run by Zuni Pueblo may become its forever home. 
"It's a phenomenal program," Ramsay says of the center. "It's given thousands of birds a second chance and years of reproductive health."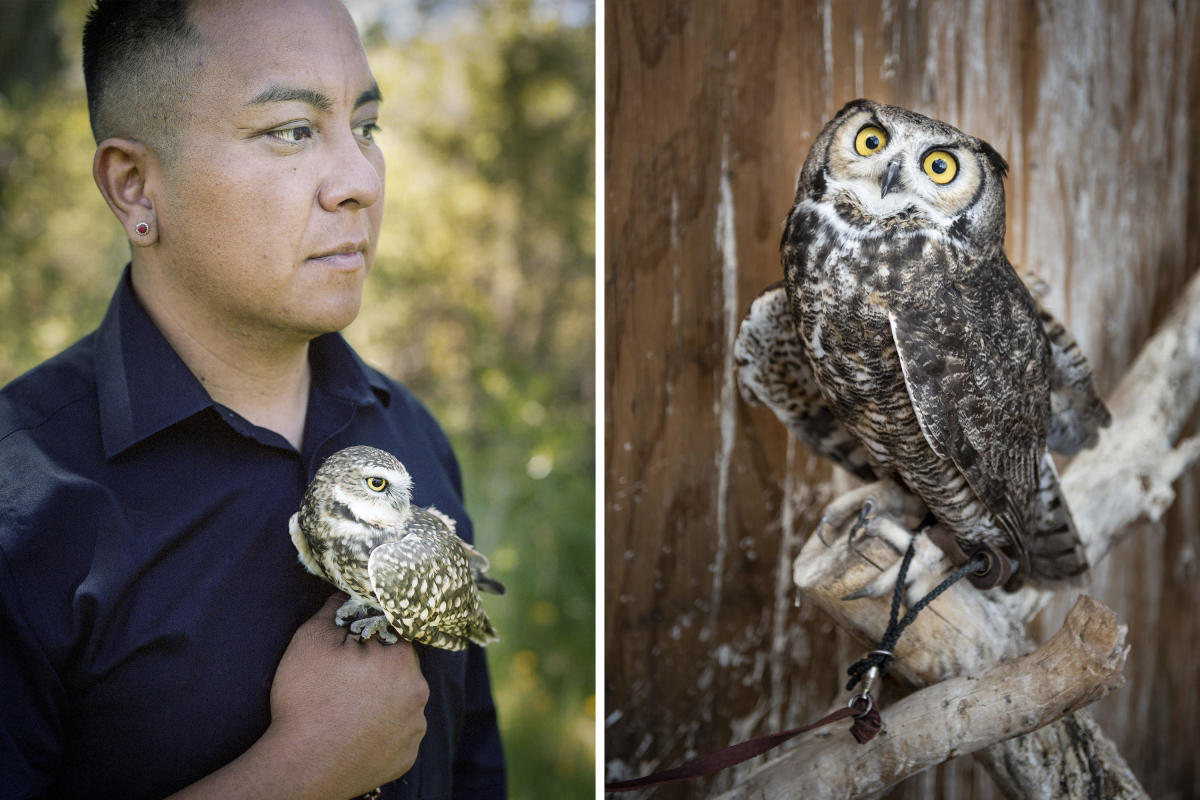 Volunteer Lee Moquino holds a burrowing owl (left) and a great horned owl perched at the Santa Fe Raptor Center (right).
"MOST BIRD REHABBERS ARE INTROVERTS," Paras says. That works for her. She grew up outside Prescott, Arizona, riding horses almost daily and taking lots of hikes. After studying sociology in college, she joined the Peace Corps, first working in the Philippine fishing industry, then on the Navajo Reservation as a remedial reading teacher.
A few of her fellow Peace Corps crew had bought a small farm in El Rito; she moved there and started a family. She was doing odd jobs "when I realized I loved working with animals and did well with them," she recalls.
So Paras began to volunteer with Ramsay's wildlife center. "I'd take any job they threw at me," she says. " 'I'll do it' was my motto."
Inspired, Paras decided to launch her own rehab center focused on birds. "I would never do it now," she says. "I didn't know enough to know how hard it would be to get it functioning. There are so many pieces—legal, financial, logistical, practical." And impractical, it turned out.
Lori Paras holds one of the educational raptors, a Harris's hawk named Wolfie.
"Everybody romanticizes it," Paras says. " 'I'm holding this Harris's hawk; I'm holding this Swainson's hawk …' But you can't just handle birds. There's poop to clean up, and maggots in wounds to clean. There's animals that have to be put down. There's things that are vicious and scary. Not everyone is cut out for this."
The center's population sometimes swells to as many as 40 birds. The monthly feeding bill alone can top $4,000 and require some improvisation. One year, Paras was tasked with helping a freshwater pelican hit by a car near Elephant Butte Reservoir. "Oh, I loved that bird!" she says. But she couldn't get it to eat a dead fish, so she drove to Albuquerque and bought live koi for what amounted to $80 a pound.
"I dumped them all in a rubber pond with the bird," she says. "I went off for 10 minutes to do something else, came back, and there's no fish. Gone! I'm thinking, This is going to be an expensive bird."
She soon learned to carefully pin the bird with her feet and legs while holding its neck in one hand and a dead fish in the other. "With it snapping at you, you get a fish in its mouth, then squeeze it all the way down its throat so it can't throw it back up," she says. "I was figuring it all out as I went along."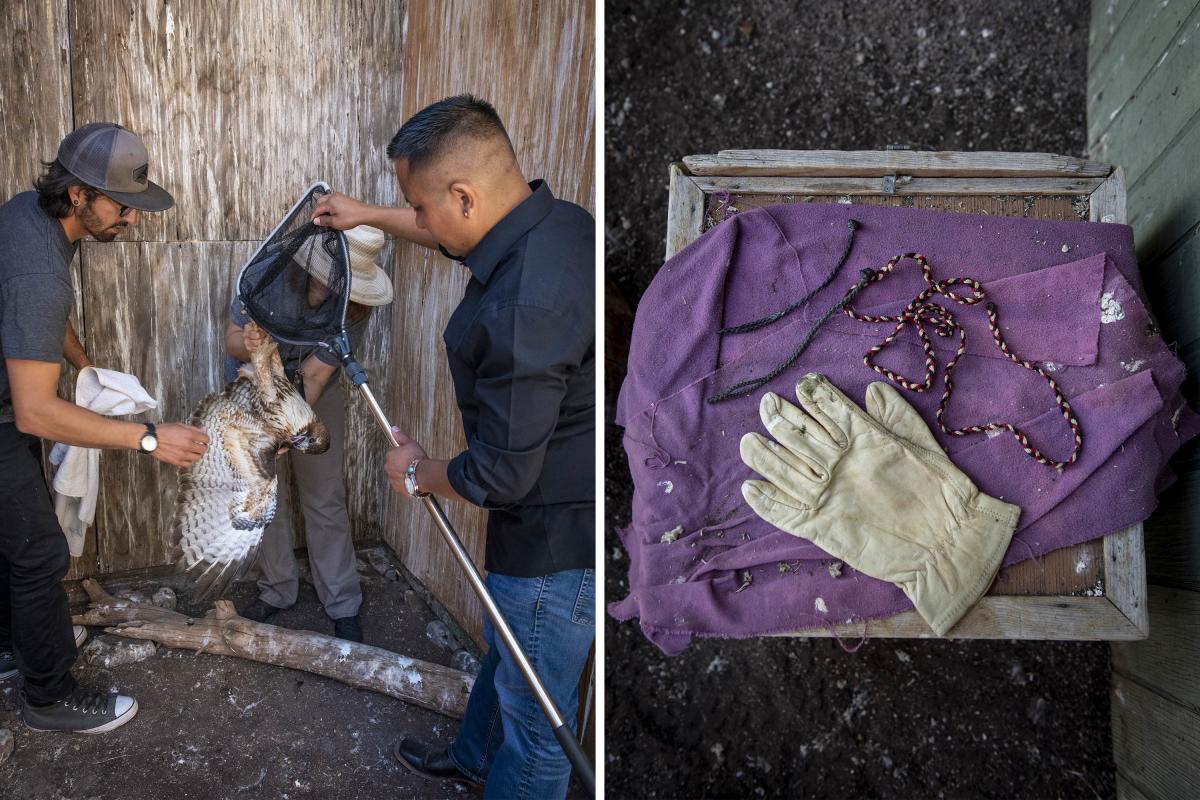 Mario Garcia, Lori Paras, and Lee Moquino inspect a red-tailed hawk.
CARS ARE THE BIGGEST THREAT. Raptors that feed on carrion are attracted to roadkill, which sets them up for a collision. Electrocution from high-power transmission lines exacts other injuries, as does a rising category: wind turbines. Salt encrustation and oil saturation from oil-industry wastewater pools pose other perils. Birds confused by city lights strike buildings. Some dangers aren't human-caused, as even weather can exhaust migrating birds.
Every fall, the Raptor Center sees birds shot by hunters. They also see birds sickened by rat poison and by lead, a secondary effect of hunting. A duck wounded by a few lead pellets might live, but an eagle that eats it will likely die, because the heavy metal is most toxic when consumed.
"One pellet can kill a bald eagle," Paras says. "When you add all that up, it is not only depressing; it's actually quite shocking that these birds do as well as they do."
Read More: Finding Perspective in northeast New Mexico, home to some of the best bird-watching in the nation
Most days she works alone, but she has an assistant a few days a week in winter and three to four of them part-time in summer. While less contact with people helps keep the birds as wild as possible, it also consumes Paras's life. "I've had eagles in my house, I've had pelicans in my shower," she says. "I was going on a date once and the guy suggested we take my car. I was 'No, no, no!' I'd had a turkey vulture in it days before, but it still smelled really bad."
Some of the birds that can never be released find new purpose by joining a cadre of "education" birds that the center takes on field trips to display before groups. They have included a tiny pygmy owl, a great horned owl, a Cooper's hawk, a red-shouldered Harris's hawk, a sleek peregrine falcon, and a lovely barn owl.
Still, Paras holds on to hope for every bird in her care to return to the open sky. Each time one does, she experiences triumph tinged with sadness. "They just lift off and disappear into the distance," she says. "I say, 'Send a letter! Text me!' "
None of the birds so far have demonstrated an affinity for letter writing, but there was one that seemed to stick around—at least for a while. It was a great horned owl, Paras says. Released right there in El Rito, it had a telltale way of dipping its wings and flying over her dogs. She saw it day after day. Maybe it was saying thanks, she says, just by affirming that it could fly, that it was here, still here.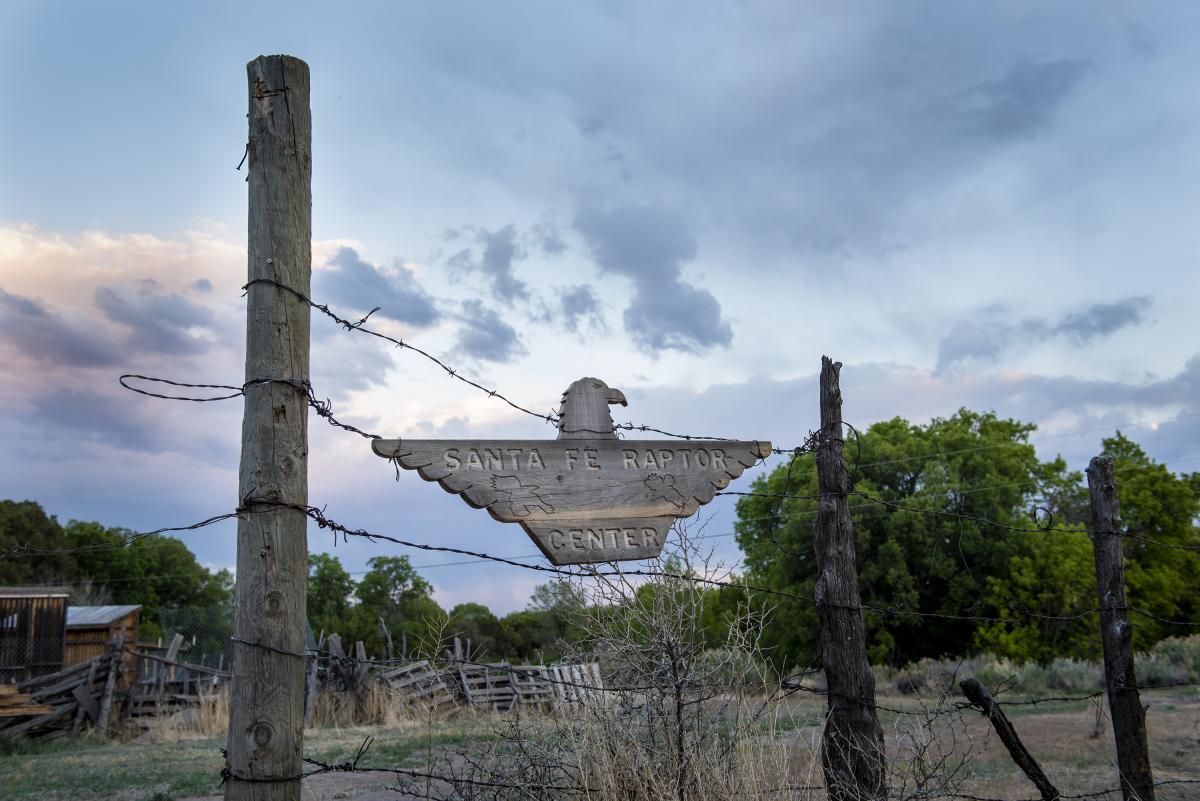 The entrance of the Santa Fe Raptor Center.

A Flock of Help
The Santa Fe Raptor Center presents birds at off-site public events. Guests and groups can also schedule visits to the center. Volunteers of many capacities, especially grant writers and office administrators, are needed to operate programs. Handler workshops are held every spring. Cash donations are welcome. A fun way to help is to host a release party for a rehabilitated bird. For more information, call 505-699-0455 or follow on Facebook or Instagram. 
---
Seize the Sky
Globally, there are 560 species of raptors (from the Latin word rapere, "to seize"), including hawks, falcons, eagles, kites, harriers, and ospreys. Many raptors hunt and take live prey, like mice, rats, squirrels, rabbits, reptiles, and other birds. Some, like vultures and condors, eat carrion. The smallest ones also eat insects.
In New Mexico, the Audubon Society reports the most common raptors are turkey vultures (an estimated 310,000 of them), burrowing and great horned owls (tied at 130,000), kestrels (120,000), Swainson's hawks (100,000), and red-tailed hawks (69,000). You can often see northern harriers at Bosque del Apache National Wildlife Refuge, prairie falcons in the grasslands, and northern goshawks in the forest.
If you find an injured or orphaned bird, cover it with a cloth, then place it in a dark, warm, dry box and call the Santa Fe Raptor Center or a local wildlife facility. Only licensed specialists are allowed to care for wild birds. Per the U.S. Migratory Bird Act, keeping raptors or taking their lives or even their feathers is a crime.