TO GIVE THESE PAGES A ST. PATRICK'S DAY SPIN I thought of a chef named O'Brien—a guy who also happens to sport a mop of reddish hair, rosy cheeks, a bushy mustache, and a leprechaun's mischievous twinkle in his eye. Chef Peter O'Brien, executive chef at the opening-any-minute Bishop's Lodge, in Santa Fe, fit the bill and enthusiastically gave me a sneak peek at the resort's premier restaurant, SkyFire, at the heart of the historic grounds.  
A tour of the property with O'Brien on a sunny but brisk January morning testifies to the tenacity and dedication of the Holland Partner Group, which is overseeing this multiple-year project renovating and revamping one of Santa Fe's most celebrated hotel properties. The luxury Auberge Resort Collection will manage it, and if you wondered whether our resilient hospitality industry was prepared to come roaring back post-pandemic, this will remove any doubt.
In the mid-1850s, French bishop Jean-Baptiste Lamy built a small lodge along Little Tesuque Canyon, calling it Villa Pintoresca. Later, it became a dairy farm, but in 1918, Denver mining man James R. Thorpe established it as a resort. The sprawling property—now 317 acres—remained in the Thorpe family until 1998, when it was sold and went through various management changes. It closed in 2015, when Auberge began a series of extensive renovations.  
Guests will choose from among horseback riding, fly-fishing, glamping, and luxuriating in the on-site spa. Scattered lodgings include a bunkhouse and casita, while Lamy's small chapel, where hundreds of couples have said their "I do's," still stands.  
After an indoor tour of SkyFire's kitchen, impressive dining room, and lounge, O'Brien and I settle at the bar that overlooks an inviting swimming pool and forested foothills. It's hard to believe we are just a seven-minute drive from downtown.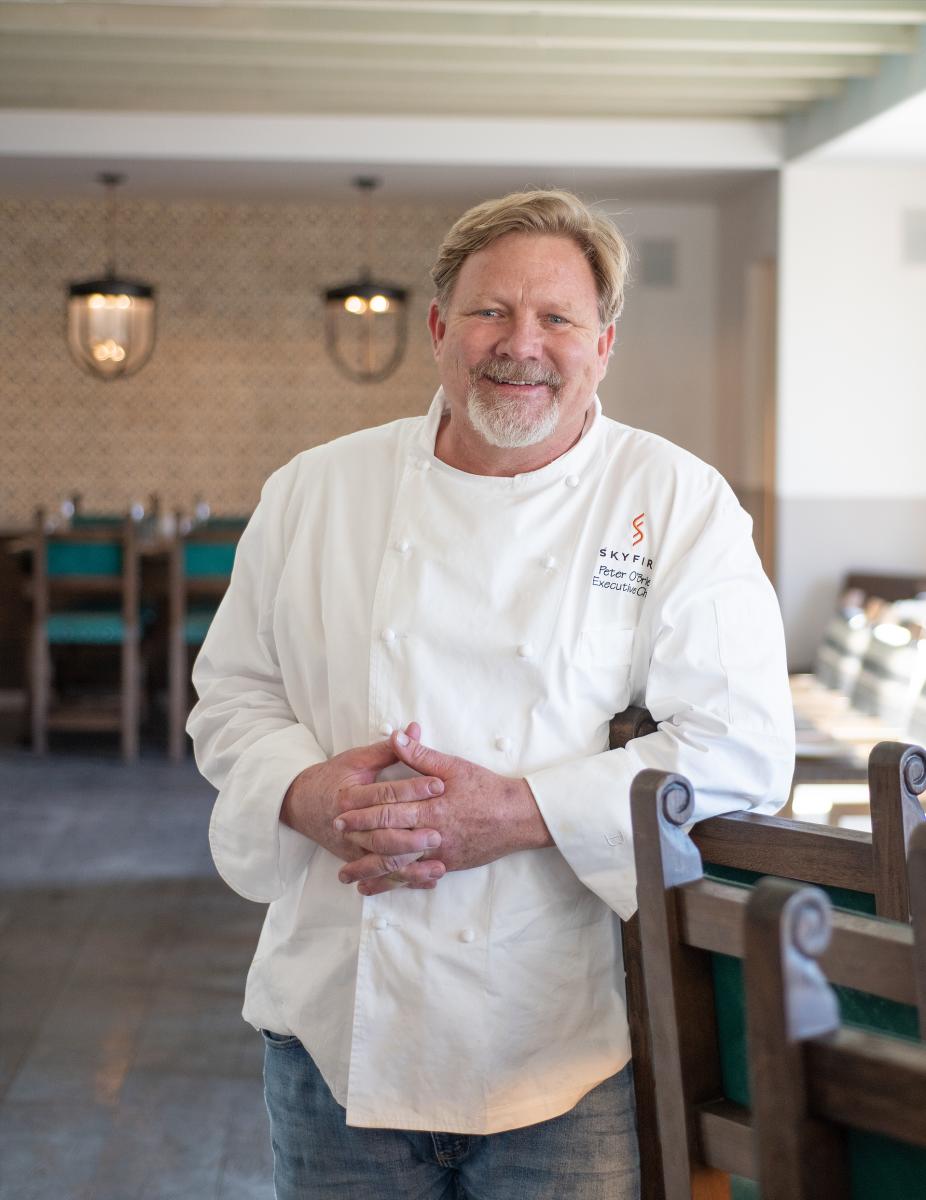 Chef Peter O'Brien heads the kitchen at SkyFire.
I was first introduced to O'Brien when he was manning the stoves at Inn of the Anasazi, off the Santa Fe Plaza. A dramatic and bursting-with-crustaceans seafood tower he served that night told us that we were in the talented hands of a chef who knows his stuff. After a perfect meal, O'Brien joined us for a nightcap, and we became fast friends.  
On this day, I begin by chiding him about a picture he posted on social media of his spanking new kitchen, with its shelves of sparkling pots and pans. "I have never worked in such a beautiful and well-planned kitchen," he says. "It's a treat." Most restaurant kitchens rarely have even a few pieces of new equipment, he says, but no expense has been spared for what's destined to become one of Santa Fe's top destination eateries.  
"Are you Irish on both sides of the family?" I inquire. "Yes," he replies (although I wish he'd said "Aye"). "My mom's maiden name is Lilly, and we've got an O'Brien kilt and everything. I spent part of my youth in Kansas City, growing up near a private lake—named Lilly Park—where local families could farm the land, which our family did and some still do. My dad was a restaurateur his whole career, so I pretty much grew up in the business. He managed two famous Kansas City steakhouses, the Golden Ox and the Plaza III, which just closed in the past few years."  
On top of chef training at the Culinary Institute of America, O'Brien studied jazz while in Kansas City. His career took him to New York City, where he worked at prominent restaurants and once shared an apartment over a butcher shop with five other chefs. Everyone slept on bunk beds.  
A career stop in Dallas led to a chance meeting with celebrity chef Dean Fearing at Neiman Marcus, where O'Brien was demonstrating Calphalon cookware during the Christmas shopping season. There to hawk one of his early cookbooks, Fearing offered O'Brien a gig cooking at the celebrated Mansion on Turtle Creek, where he was executive chef. This connection paid off three decades later: Fearing is an adviser to SkyFire.  
After the department store gig, O'Brien became the chef de cuisine at another Dallas landmark, the Riviera. By now he was married to a lass named Cara (née McGorian), who also worked in the industry. "We were on our way to Telluride for our honeymoon when we got snowed-in in Santa Fe," he says. "We were immediately charmed. We stayed for four days and put it on the list of places we would like to live."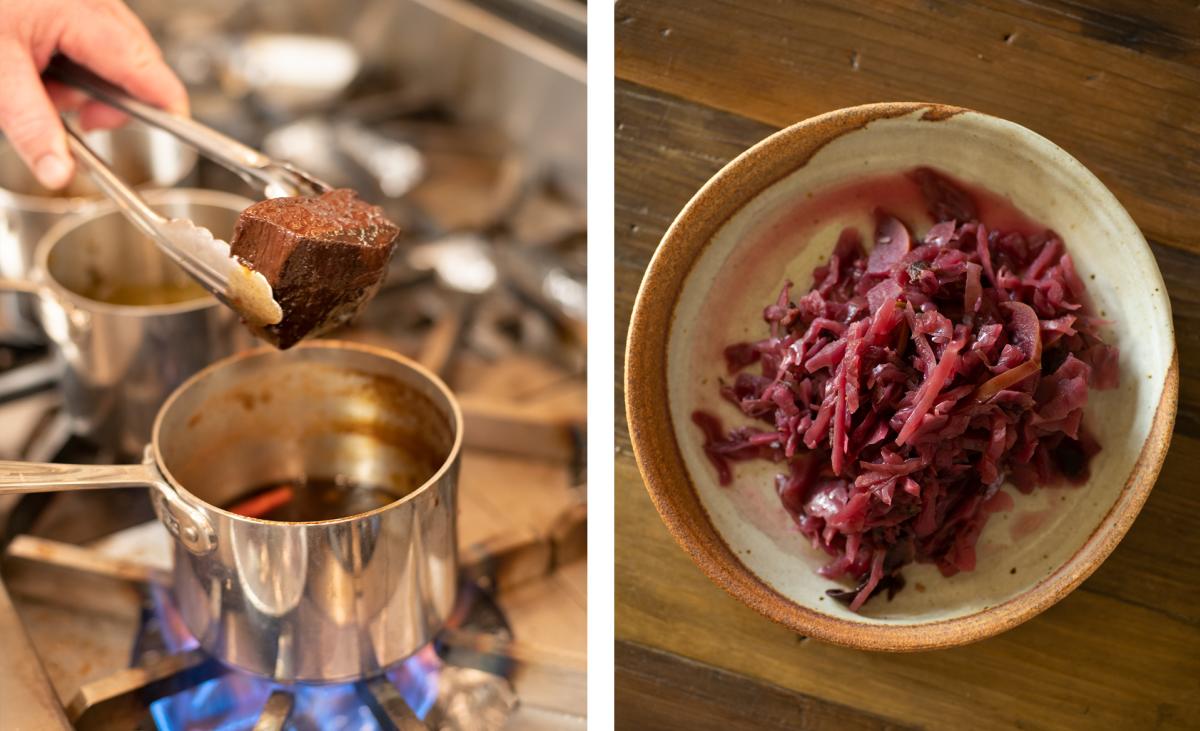 A venison steak (left) and ​red cabbage slaw (right) at SkyFire.
That happened 10 years ago, and now O'Brien proudly shows off a SkyFire menu that blends his and Fearing's Southwestern innovations. From breakfast through dinner, the dishes celebrate the flavors that define Santa Fe and New Mexico, with a high-end spin. Consider: Elk Benedict on Blue Corn Muffin with Green Chile Hollandaise.  
The menu reaches beyond our region, masterfully offering Cape Cod diver scallops alongside New Mexico bison and Gulf of Mexico red snapper. The lunch menu boasts pastrami tacos, lobster burritos, and carne asada. And as you'll see in the recipes, O'Brien can perk up standard Irish fare with some pungent chile heat.  
As I leave, I walk through the quiet dining room, where the tables are set and ready to welcome guests early this spring. It's a calm I predict will end once the stoves are fired up. And won't it feel great to dine in a bustling restaurant again?
Two 10-ounce cuts of Denver leg venison* (or substitute two 8-ounce lamb sirloins)  
2 tablespoons olive oil  
¼ teaspoon each salt and black pepper  
1 onion, peeled and chopped  
2 carrots, peeled and chopped  
3 celery stalks, peeled and chopped
2 cups dry red wine  
½ cup brandy  
2 cups rich veal stock (or substitute 1 cup each beef stock and chicken stock) 
5 sprigs of fresh thyme and 3 sprigs of fresh rosemary tied together with kitchen twine
1 bay leaf  
Vegetable garnish (recipe follows)  
Green Chile Colcannon (recipe follows) 
Serves 2 – 4
INSTRUCTIONS
Rub the meat with olive oil and season with salt and pepper. Sear in a medium Dutch oven over high heat, browning all sides evenly. Remove meat, add the onion, carrot, and celery, and sauté for a few minutes to brown the vegetables.  

Return meat to the pan and add the red wine, brandy, and veal stock. Bring to a slow boil. Add the bundle of herbs and bay leaf.  

Lower heat to a simmer and cook, covered, for 20 minutes or until meat is fork tender.  

Remove the meat from the pot and strain the liquid into a saucepan. Simmer the sauce over low heat to thicken slightly for an additional 10 minutes. 
*Venison is naturally tender; cuts from the leg can be used like steak cuts. Denver Leg is used to describe the collection of boneless cuts from the rump, topside, silverside, and knuckle, trimmed of all fat and silverskin and divided into 7 or 8 steaks. Order from Beck & Bulow, in Santa Fe.
---
VEGETABLE GARNISH
6 baby heirloom carrots, peeled
6 pearl onions
2 tablespoons olive oil
¼ teaspoon each kosher salt and freshly ground black pepper
Toss the vegetables in oil and season with salt and pepper.

Roast over hot wood coals or grill until nicely browned.
---
4 russet potatoes, peeled and quartered
1 teaspoon salt, plus more to taste
1 egg yolk
2 poblano chiles, roasted, peeled, and chopped, about ⅔ cup
1 cup baby kale, chopped
2 tablespoons flour
Freshly ground black pepper 
INSTRUCTIONS
Bring ½ gallon water to a boil in a large pot and add salt. Add potatoes and boil until fork tender, about 20 minutes. Drain and push through potato ricer (or a large-meshed sieve).

Mix in the egg yolk, chile, kale, and flour. Season with salt and pepper.

Place the mixture into a piping bag and pipe a moat or bowl shape onto an oven-proof plate. Place the plate in the oven at 350° for 10 minutes.

To serve, slice the venison and place in the middle of the moat/bowl. Place the roasted vegetables around the plate. Spoon the sauce around the vegetables.
2 large Yukon Gold potatoes
1 bunch scallions, trimmed of roots and the top 2 inches, finely chopped
½ cup grated jalapeño Jack cheese
1 egg yolk
½ teaspoon each salt and pepper, or to taste
Olive oil 
Serves 4
INSTRUCTIONS
Wrap the potatoes in wet paper towels. Place in a microwave and cook on high for 10 minutes. Set aside to cool for about 5 minutes.

Grate the potatoes into a medium bowl and fold in the scallions, cheese, egg yolk, salt, and pepper.

In a small sauté pan or on a griddle over medium-high heat, add the olive oil. Spoon a heaping tablespoon of the potato mixture into the pan, flatten with the back of a spoon, and brown for about 3 minutes on each side.

Drain on paper towels and keep warm until serving.