Above: Out in the plains around Roy and Mosquero, the Northeast Bookmobile might be the only vehicle you see for miles and miles. Photographs by Gabriella Marks.
IT'S AN OPEN ROAD. A truck occasionally passes. Maybe a car. For a two-lane highway, there's not much traffic. Mostly the gray streak of the road goes on and on, enveloped by the sky and an undulating carpet of green. The horizon connects the two like a seam, endless and uninterrupted. Every so often, a town punctuates the vastness, but for the most part, grassland and sky reign supreme.
"Out here, you can see your dog running away for two weeks," says James Gallegos as he gestures toward the expanse around NM 39, in northeastern New Mexico. I peer out the window and nod. Anything that exists out here is discernible for miles and miles—dogs, cows, windmills, a storm, the occasional lazing herd of cattle.
The highway cuts right through the plains between Mosquero and Roy, two towns whose combined population hovers just above 300. Four, five, sometimes six generations have made their way as ranchers or miners in these parts.
Save for the occasional arrival of international rock climbers to the nearby Mills Canyon and the rodeos at the Harding County Fairgrounds, Roy stays pretty quiet. A handful of businesses line the main drag, along with a small magistrate court and a public school, but no library.
Read more: Amid a national renaissance of old-style letterpress printing, the Palace Press sets a cast-iron standard.
When the bookmobile arrives, the sleepy town snaps awake. Cars and trucks idle nearby. There's chatter. A line forms.
They're here for Gallegos and fellow library technician Phillip Saiz and the State Library's Northeast Bookmobile. It's week two of their monthly rounds across a broad swath of northern New Mexico, carrying some 3,500 titles to eager readers.
As the bookmobile eases to a stop, it lowers just a few inches to make the step inside easier. The sound is like a loud hydraulic exhale, the kind city buses make when they pause at a curb. When I see it from across the street, the boxy silhouette reminds me of a UPS truck, but with a taupe paint job and a wraparound decal that mimics a giant shelf of hardbacks. There are classics like Rudolfo Anaya's Bless Me, Ultima and Willa Cather's Death Comes for the Archbishop, and the words drive to read are emblazoned across the top.
The bookmobile, they say, weighs about 19,000 pounds fully loaded, with one librarian inside, and gets about 10 miles to the gallon. It's not exactly economical. But this model recently replaced an aging teal-and-white Bluebird bus that had three extra feet of space. It held about 500 more books but was bigger, harder to maneuver, prone to breakdowns, and even less efficient. Still, Laura Gonzales, manager of the Northeast Bookmobile, reminisces about navigating it in every kind of weather. "I didn't worry about breaking down, because we knew that somebody from one of the bookmobile communities would stop," she says.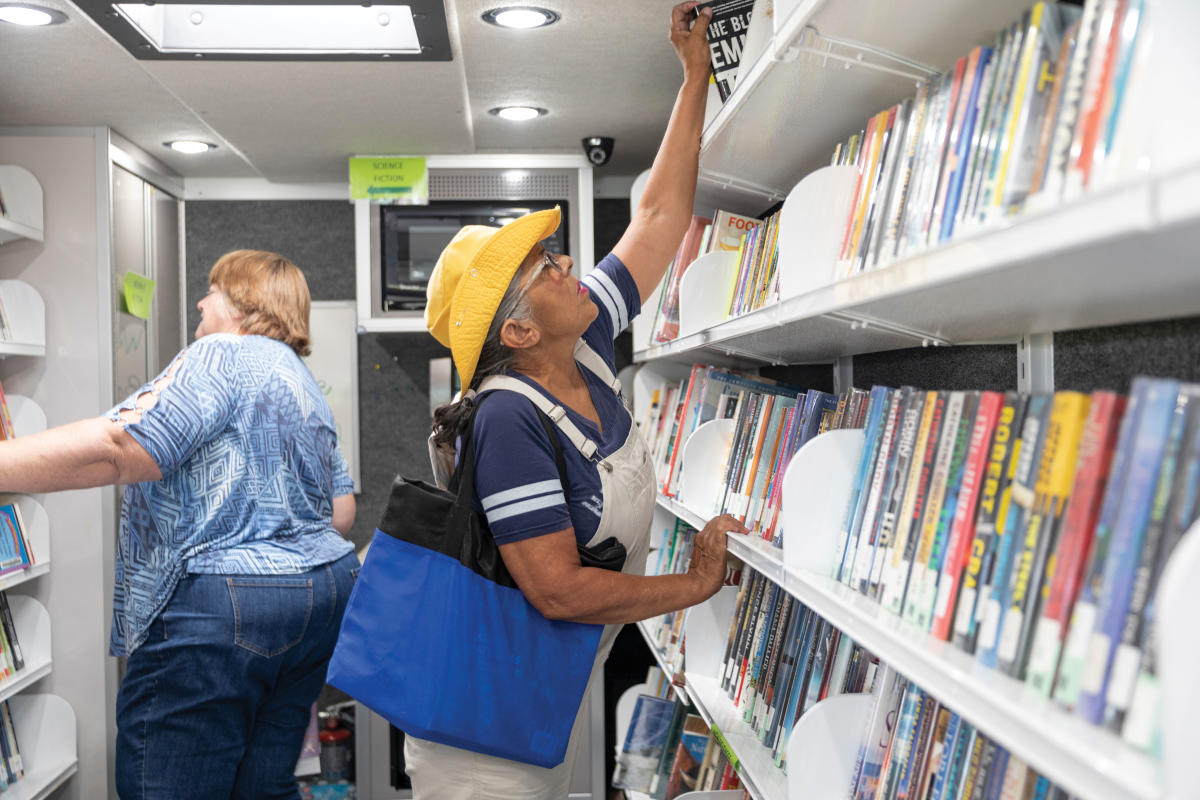 Above: A stop in Mosquero.
From the outside looking in, bookmobiles are endearing throwbacks, services that seem destined for eventual obsolescence. Novelties. Or endangered species. The librarians argue that there is still something essential about this boots-on-the-ground enterprise, of driving hundreds of miles every month ferrying books around. It's an exhausting task, no doubt, especially in a vehicle with the limited amenities of a delivery truck. But from its home base in Cimarrón, the Northeast Bookmobile continues to make more than 400 stops a year, roughly one-third of them to schools. For many communities, the bookmobile is not only the de facto school library but also the de facto public library, frequented as much by children as by elders.
Read more: Great writers pull inspiration from New Mexico's land, culture, and people—along with cozy bookstores, writing festivals, and a wealth of workshops. A traveler's guide to literary New Mexico.
Bookmobiles exist, the supporters say, because a need exists, patrons exist, and libraries in these places don't exist. They meet that need where it is.
When Gallegos finally props open the side door, Roy's locals immediately flood a tiny interior the size of a hallway. Ten people in here is pushing it. Those who can't enter in the first wave mill outside. Within minutes, two red-headed toddlers, Evelyn and Marion Anderson, commandeer the carpeted bench, showing off the picture books they've pulled from milk crates on the floor. Meanwhile, Tomás Ybarra stocks up on audiobooks, including Stephen King's Gunslinger, gathering enough material to get him through the next month. He has trouble sleeping, he explains shyly, and it's easy to listen to them in bed on those nights when insomnia creeps in.
Others scan the spines and gather titles into haphazard piles for borrowing. There are metal shelves that divide sections into fiction, nonfiction, classics, and Southwest history. Sci-fi  alone occupies a couple of shelves squeezed into a narrow closet toward the back, near the mini fridge and microwave. A patron returns a book that shows a Christmas scene and a cat. Others check out DIY manuals and noir thrillers by the stacks.
Mae Shaw grabs the latest by Jodi Picoult, along with a few other titles. She's drawn to mysteries and romances, but "only the clean ones," she says emphatically. A native of Roy who moved away for 37 years to start a business in Albuquerque, Shaw still remembers the area's first bookmobile. It was a red-and-white Gerstenslager, a commercial vehicle with a Ford chassis that became synonymous with rural outreach in the decades after World War II. The company had carved out a niche industry—crafting trucks for the sole purpose of serving as libraries on wheels. (They also designed the Oscar Mayer Weinermobile and other transport vehicles.) When it pulled up in Roy, it "was second only to Christmas," she says.
Shaw was 10 when the first Northeast Bookmobile began operating in 1958, following a nationwide bookmobile initiative that came with Congress's passage of the Library Services Act two years prior. And when it was just getting started, the Northeast Bookmobile serviced five of the state's most rural counties: Colfax, Mora, Union, Harding, and San Miguel.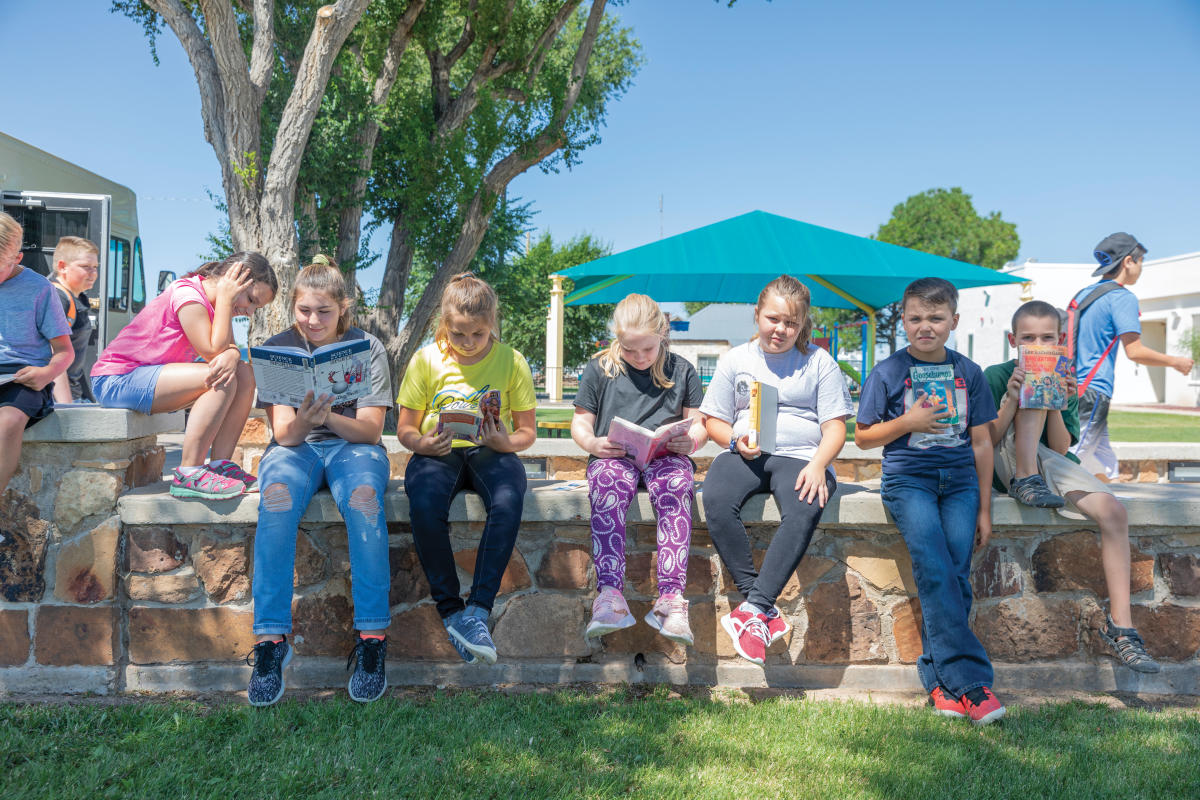 Above: Elementary students showing off their bookmobile treasures.
Joe Ruben Cortez had just graduated from high school and wasn't quite 18 when he was hired by librarian Madge Lewis to become the first clerk-driver. Lewis had moved from the East Coast to Cimarrón, with a PhD in library science and ideas about a bookmobile program. She got the bookmobile up and running out of the local library, an old fire station in town, and ordered the books as Cortez mapped all the routes and their mileage. Now a longtime resident of Española, Cortez chuckles when he says, "She was the brains of the operation and I was the muscle."
Though he drove the bookmobile for only two years before joining the Army, Cortez still remembers its sturdy oak shelves and how they slanted toward the walls to keep the books from falling off while driving. Max speed limit back then was 50 miles per hour.
His brother-in-law, Edward "Corky" Montoya, took over within the decade, eventually clocking more than 40 years as the bookmobile's driver in the northeast.
Read more: This December, give the gift of an enchanting read.
The federal model that birthed so many bookmobiles throughout the U.S., including the three in New Mexico, harks back to the earliest examples of traveling libraries, from Mary Titcomb's horse-drawn wagon clomping its way across Washington County, Maryland, the first traveling library in the U.S., to the Works Progress Administration's Pack Horse Library Project, which supplied books to Kentucky and Appalachia. Elsewhere, black sororities had taken their own tack to addressing literacy and lack of access to libraries by underwriting private bookmobile initiatives, starting in the late 1930s. In the Jim Crow South, where every institution was segregated, including libraries, the bookmobiles they started were open to black youths and elders.
Bookmobiles were a kind of connective tissue, a humanist approach to telling communities that they mattered—bringing books and ideas and ways of building character to those on the periphery. They bore new worldviews. Old worldviews. And places that could be visited only in the mind.
It doesn't seem surprising that their numbers peaked in the 1990s, only to decline with the expansion of the internet and the dream of another kind of connectivity—the Wikipedia mentality of open source. More than a handful of people in Roy balk at the idea of using the internet for reading, or much else. "We're book people," someone says, as if to draw a line in the sand—there's book people and there's everyone else.
Read more: Stoke the fire and curl up with great books about New Mexico. We picked a few for the cooks, artistes, and wee ones on your holiday gift list.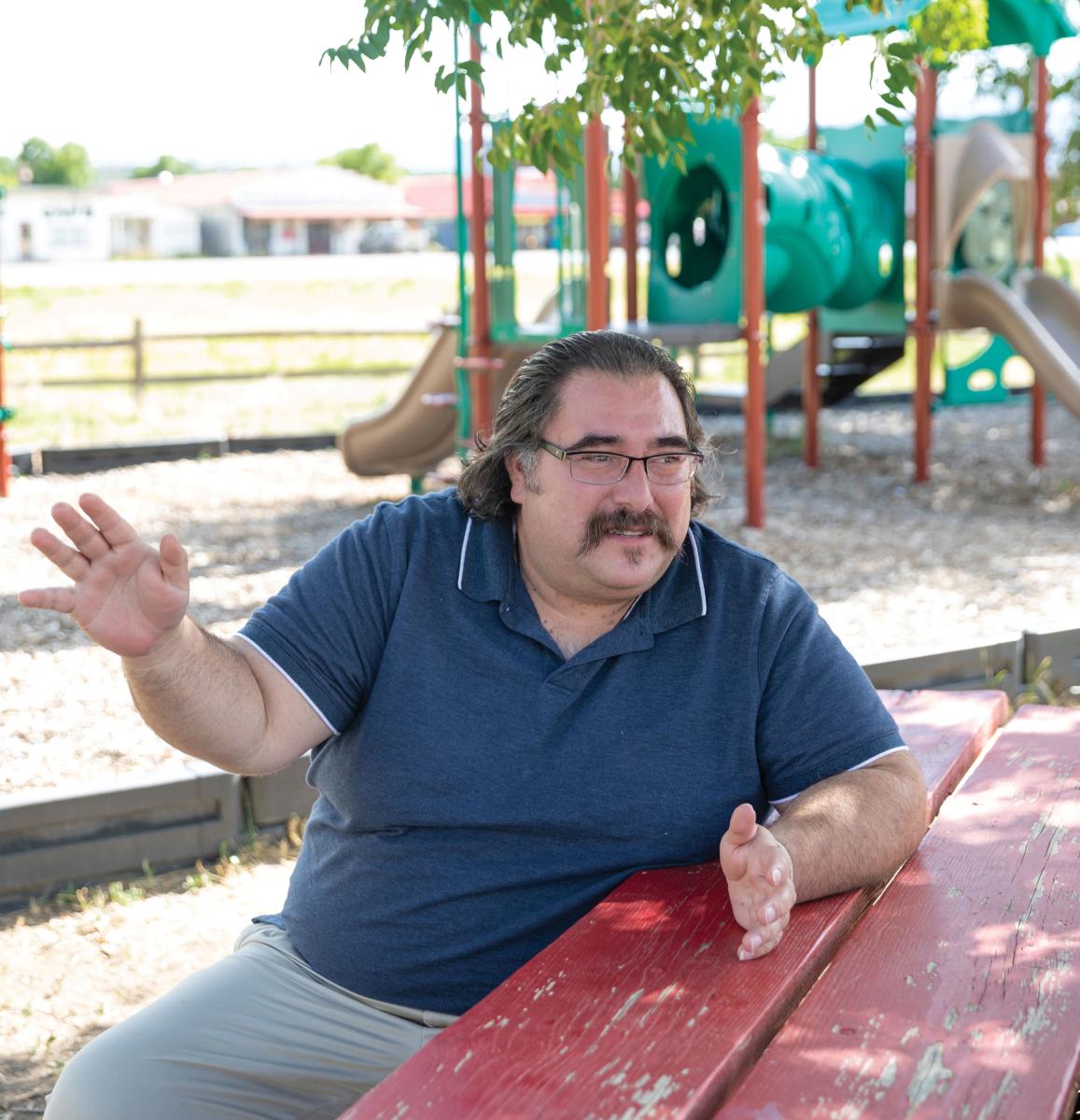 Above: Philip Saiz at Village Park, in Cimarrón.
But for all the changes that online life exacted on the written word, the greatest determinant of the fate of libraries—and, by extension, bookmobiles—has always been funding. "Libraries are always on the chopping block," says Gonzales, referring to the prevalence of budget cuts in the humanities. There's fear, too, that one of these years the formula-based grants awarded by the Institute of Museum and Library Services to every library in the nation won't get renewed. Like any outreach program, bookmobiles are costly and their carbon footprints big. Since the 1990s, they've declined by about 40 percent, from 1,100 in 1993 to 650, give or take, today. (Almost 100 of which are in Kentucky alone.) But the bookmobile continues to meet the qualifying criteria—serving rural populations with a dearth of library services.
Surprisingly, Gonzales doesn't sound alarmist. Instead she smiles earnestly, eternally optimistic about the future of books so long as the bookmobile can get them where they need to go. The paradox here in New Mexico is that where libraries close, the bookmobile stretches its itinerary just a bit further to fill the void. A stop, she says, can be an old post office, a public or community school, a senior center, or a fire station—any place that's 15 or more miles away from a library and with at least five people willing to register.
With the state divided into three huge chunks, the Northeast Bookmobile's itinerary has increased from those original five counties to nine. It's a vast area that at points requires overnight stays. Their month begins in central and western New Mexico, with stops in Velarde, Gallina, and Lindrith, then to the Navajo Nation's Pueblo Pintado, near Chaco Culture National Historical Park, Torreon, Peñasco, Tierra Amarilla, Tres Piedras, and Questa. The prairies come next, from Mosquero and Roy to Miami, Des Moines, and Vermejo Park Ranch, and out past Ratón. Wagon Mound gets followed by Maxwell, Ribera, Pecos, Rowe, Watrous, Rociada, Guadalupita, and, finally, Mora, their biggest stop. They have about 120 people registered here, most of them students.
"There's a dead-end highway out near Lindrith," Gallegos says, describing strange things he's seen on the road. From the bookmobiles he's witnessed how this state's voices resonate in the landscapes. It's like when road signs get tagged by Navajos, and then re-tagged by Comanches, and then covered again by Hispanics. He sees that, too. The village of Carson, Gallegos says, is one of his favorite stops, "a tiny community of hippies from the seventies who live in a whole world of their own. Many are self-sufficient and live off the grid. When the bookmobile gets there, it's like a community gathering."
Read more: This reissued series of mid-century children's books is packed with timeless appeal.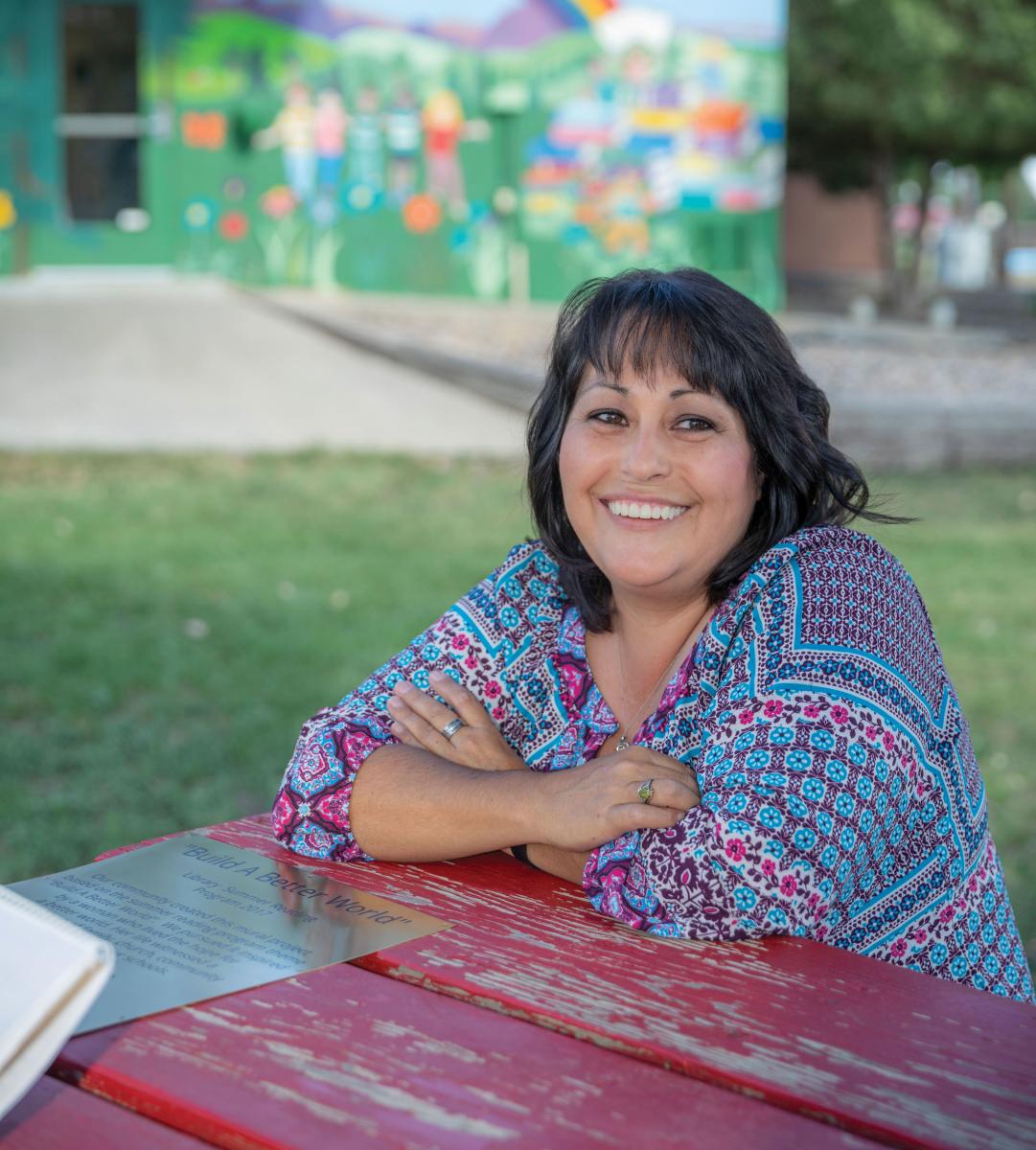 Above: Laura Gonzales.
A quick look at the shelves says a lot about how the Northeast Bookmobile plays to its patrons' interests. James Patterson, best known for his thrillers, has his own shelf, while John Grisham, C.J. Box, and Nora Roberts are close seconds. Gonzales recently fulfilled a "request for Westerns for a couple of older gentlemen in Roy," she says, demonstrating how the bookmobile connects to a circulating public library, in Cimarrón, and a thriving interlibrary loan system.
Joy Poole, deputy state librarian, says that they order a lot of "how-to" books for rural patrons. "Maybe they need a book on wiring, plumbing, construction, solar installation, cisterns, or xeriscaping," she says. A handful of patrons have checked out books on starting businesses. At least one person requested material on how to cook with bugs, another the history of old cattle brands in New Mexico. Perhaps the most unforgettable request of them all was the thoroughly researched Humanure Handbook: A Guide to Composting with Human Manure, by Joseph Jenkins.   It's the first day of school in Mosquero, and the bookmobile is packed with kids. Teacher Allison Teherneshoff says her school used to have a library, but not any longer. She's often there to check out books for herself, supplementing her collection at home, but also for her class.
Her combined fourth, fifth, and sixth graders are taking turns loading up on Goosebumps, Great Illustrated Classics, Anamorphs, and sports books. One student, Ashley Vest, grabs Lassie Come Home, because she has a similar-looking dog who helps herd cattle, but hers is missing a leg, she points out. In between waves, the kids sit outside in the grass, their noses in books.
When Saiz has checked out all the books at the front of the bookmobile, Gallegos hits the driver's seat. The bookmobile rumbles to a start, preparing to head to the next place on the list.
Read more: We've picked easy-to-wrap presents for the art lovers, history buffs, outdoor adventurers, and young readers on your gift list.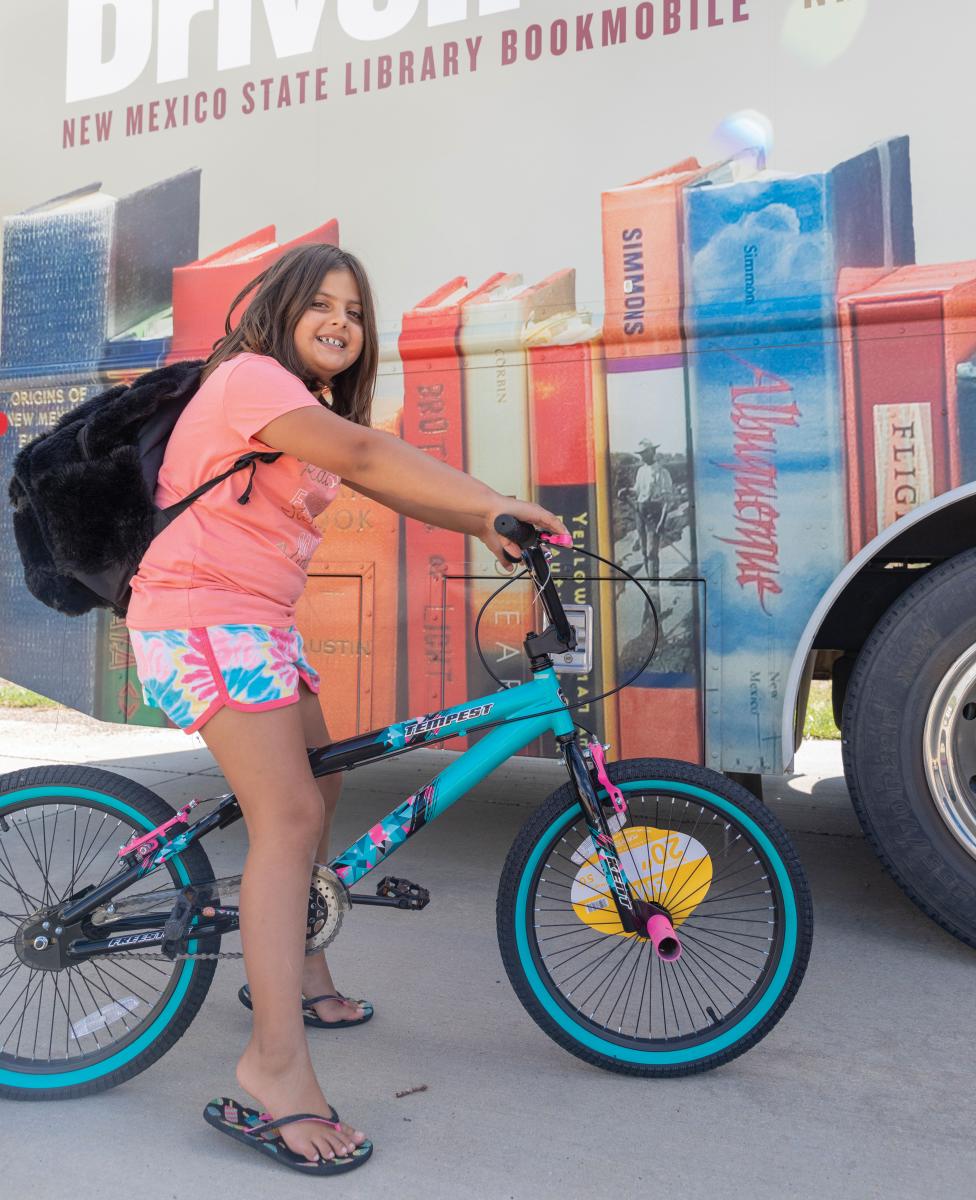 Above: Sofia Green on her new bike in Des Moines.
A gregarious retired superintendent of the Cimarrón Public School District and father of nine who's been at his second career in the bookmobile for just over a year, Gallegos starts listing a number of titles, asking if I've read any of them. What about Frank Waters's The Man Who Killed the Deer, he queries? Or his People of the Valley? I haven't but jot them down for future reference. He goes on to talk about how those books changed his perception of New Mexico. "You start to understand why people here act the way they act. Why Mora, for instance, is so independent," he says, a prelude to a conversation about "conflicted land histories, the Colfax County Wars, Lucien Maxwell, and all the ranches near Cimarrón." He was heir to the Tomé land grant, down near Belén, he says, but it's complicated because, federally, the grant was never recognized even though claimants went all the way to the Supreme Court.
Right off the bat, I get the feeling that he's trying to get a sense of me based on my reading habits. He's clearly interested in books on New Mexico history and, interestingly, autobiographies written by ultramarathon runners. Gallegos is downright flabbergasted when I say that, no, I haven't read The Milagro Beanfield War, which is tucked into the Southwest bookshelf. "Yes, I know it's set in Truchas," I, a Truchas native, say, before blurting, "But I watched the movie," words I know can only sound absurd to a book person.
I feel a bit self-conscious talking about reading interests only because, after grad school, I stopped reading for almost a year, despite repeated attempts at cracking open a book. I just couldn't. No novels. No nonfiction. Just essays in Cabinet Magazine, The New Yorker, and online news, as if the surplus of words and ideas stuffed in my head made me averse to anything longer than an article.
The home that I'd always found in books felt empty for that period. It was only more reading—and writing—that brought me back. Standing in the bookmobile, there's that familiar thrill, part feeling overwhelmed by options, part happy to be surrounded by books. They have a certain pull, these books, like they want to be taken off the shelf. I cave. Then I'm careful to put each one back in its exact spot, knowing how much librarians hate disorder. By the afternoon, Saiz takes the wheel. He's quiet, introverted—the kind of person with a studied look that conveys he wants to say something but is waiting for the right time. Originally from Belén, Saiz moved to Cimarrón to work with the bookmobile two years ago. He has an undergraduate background in history and political science, with graduate studies in philosophy and theology at a seminary in Oregon. His goal was the priesthood. But after spending a trial year in a New Mexico parish, Saiz concluded that life wasn't for him. I can see that he comes from a contemplative practice.
When Gonzales recruited him for the Northeast Bookmobile, she saw that one of his skills was teaching catechism. Cimarrón needed a catechism teacher, too.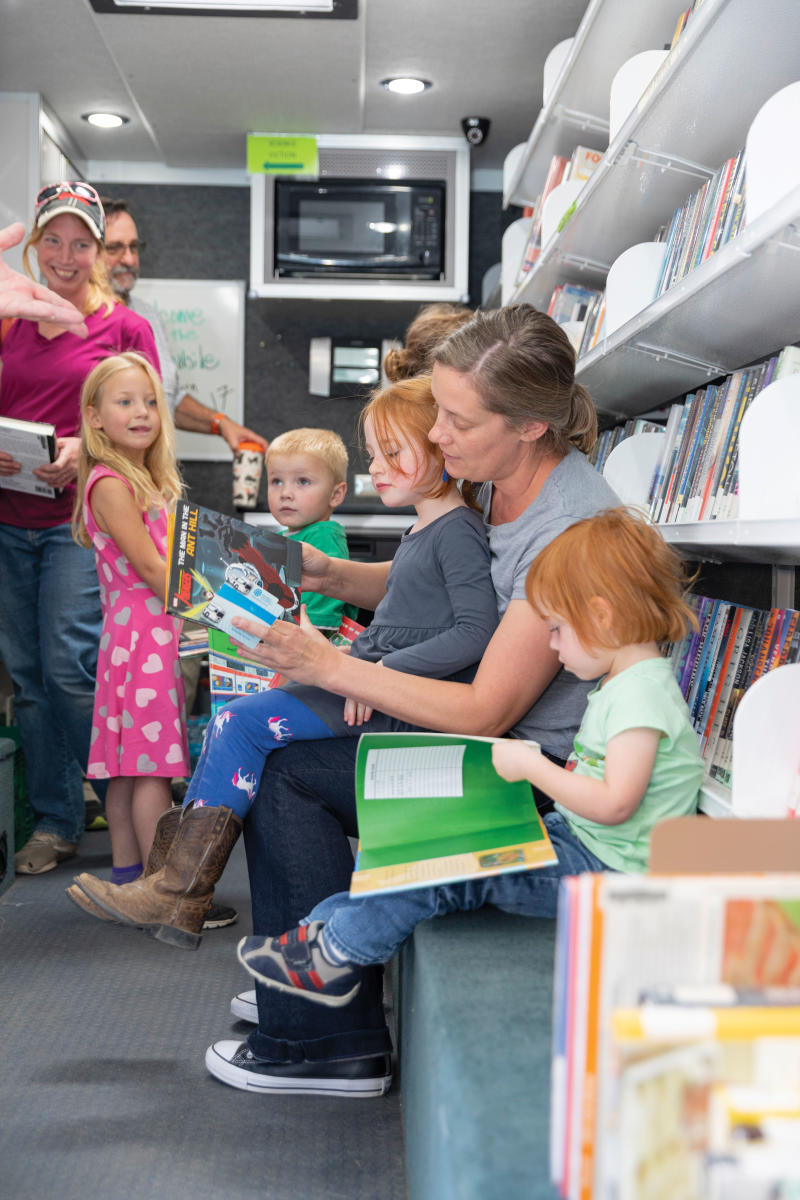 Above: Marion and Evelyn Anderson with their mom.
It's almost natural that the bookmobile would have a saint, named after the Blessed Sebastian de Aparicio, patron of the transport industry. For Saiz, Sebastian is the lesser known of the transit saints, but more fitting than, say, Saint Christopher, patron of travelers. As bookmobile drivers, he says, they're travelers, yes, but their sole purpose is to transport books. Lupita should be the bookmobile's name, he later adds, after the Virgin of Guadalupe, I assume. But Gallegos is still angling for Dulcinea, Don Quixote's unseen beloved.
They're a funny pair, Saiz and Gallegos, opposites who have to spend a lot of time in a confined space together. Both love New Mexico history, and they tend to deliberate on its finer points, quibbling for instance on a detail about the history of Apache Canyon during a lunch stop in the parking lot of a gas station.
When Gallegos's stories about history start to get inflated, Saiz dubs them "historical fiction," his least favorite genre.
They are definitely book people.
Read more: Native-centric publications take root.
At the end of a long day on the road, they head back to the Cimarrón Public Library, parking the bookmobile in its designated spot. Then the three take a seat on one of the red benches in the adjacent park. The mural that unfurls across the side of the library's wall, titled Build a Better World, is their community magnum opus. Painted last summer with artist Melinda Marlowe and several students through the Summer Reading Program, it's colorful and sweet and kind of humorous: children playing in Cimarrón, piles of books, an errant pineapple, and a bear in a tree, because every summer someone finds a bear in a tree.
"We're naturally inclined to be part of the community," Gonzales says after a conversation about waiting for change, only to realize that she could help shape the direction of her Cimarrón. Gonzales is completing her first term on the Village of Cimarrón City Council, where she is also mayor pro tem. Gallegos is a city councilor, too, just finishing up his first term. Both are running for re-election unopposed. And Saiz, meanwhile, sits on the village's cemetery board, a role that requires a lot of research into old plots. It's a touchy job, he says, since the descendants of those who've passed can be really territorial about their loved ones' places in the ground. During the Ute Park fire in May 2018, Gonzales coordinated the evacuation, while Saiz stayed behind to help distribute food.
Their dedicated bookmobile patrons sent emails and letters during those tense weeks. The concern wasn't over canceled stops, but over the community of Cimarrón and its librarians. "Our bookmobile patrons are like our family," Gonzales says.
Just as the morning sun comes out from a thick fog that blankets the landscape around US 64, the bookmobile arrives in Des Moines to a parking lot's worth of trucks. Preschoolers and their parents come in, followed by a group of teachers. It's technically the first day of school, but since it's an in-service day, kids haven't shown up yet. The teachers, all former students of the district, are registering for bookmobile membership. Katy Sumpter, the superintendent, joins them. She says that the bookmobile's greatest asset is its ability to bring new books, "because the school library doesn't get new stuff." Budget cuts have made it hard for Des Moines to revamp its titles; the funding for a librarian was also cut. "Right now, we're only using volunteers," she says. It's a similar refrain all across the state.


Above: James Gallegos always takes the morning shift at the wheel of the Northeast Bookmobile.
As the bookmobile idles on the curb, in one of the smallest school districts in the state, I see the paradox of its existence: If we had libraries in all of our rural communities and schools, not to mention funding for robust programs, then bookmobiles might be obsolete. Instead, they're alive and needed—now more than ever. "Literacy remains a challenge for New Mexico," Poole says. Some 77 percent of fourth graders, to her point, read below grade level.
Read more: The Museum of Indian Arts and Culture's turquoise trove, a fictional O'Keeffe protégée, and more.
Throughout New Mexico's rural areas, the bookmobile has become a kind of salve, if at the same time a symptom. For those who frequent it, the behemoth is an anticipated community event, a vessel for carrying thrillers, DIY manuals, and books about cow dogs. It can be a place to exchange recipes or news, and a quick hello to far-off neighbors. Its shelves hold books that push the frontiers of imaginations, that teach readers how to create new realities beyond their own experiences.
The bookmobile bears it all, bringing the world to northern New Mexico.

CIRCULATION STATION
The Northeast Bookmobile is the only one in the state to be affiliated with a public library—the Cimarrón Public Library, which holds 29,777 books and lends about 11,000 per year. The bookmobile holds up to 3,500 titles, but because it shares circulation with the public library, the number of books borrowed is far more robust. 
TO DONATE OR...
When it comes to donations, Laura Gonzales is discerning about what the bookmobile can take. Often, used books coming from a home library have been loved a bit too much, leaving them in less-than-ideal shape. It's best, she says, "for people to call in advance so that we can get a better idea of what is being donated. Like for example, we don't take dictionaries or encyclopedias."
BOOKMOBILE BREAKOWN
New Mexico's Northeast Bookmobile is one of three. There's also the West Bookmobile, based in Los Lunas, which serves the area from Bluewater south to Hachita. Like the Northeast, they have a two-year old vehicle, which hits the pavement three weeks out of the month. The East Bookmobile, based in Tucumcari, serves the area from Amistad all the way south to Carlsbad in an old Bluebird bus, which, unfortunately, breaks down almost every month.
---