GERONIMO
BY ROBERT M. UTLEY
(Yale University Press)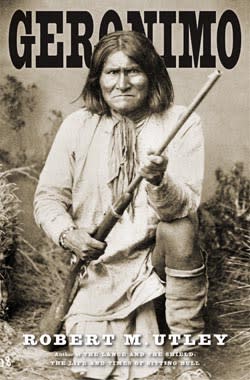 For many—not only in the United States but also around the world—the American Old West is a mythic construct of vast distances, rugged cowboys, bawdy saloons, intrepid homesteaders, and fearsome Indians. And of all the characters that devotees of that world can evoke, perhaps none stands out so much as the Chiricahua Apache leader Geronimo.
Variously imagined as fierce, ruthless, egotistical, compassionate, freedom loving, and bloodthirsty, Geronimo has become a metaphor—a single word that evokes an entire world. Robert M. Utley, former chief historian of the National Park Service and author of nearly 20 deep, sensitive, and well-written books on the American West, has turned finally to the eldest son of Taslishim. The result is both intellectually satisfying and consistently engaging.
Using a combination of existing historical research as well often underutilized ethnohistorical sources (such as contemporary interviews and anthropological work on Apache tribal structures), Utley develops the context necessary for telling the story of the Apache leader in a way that eschews—and in many cases directly confronts—the political and cultural biases of today. He does this first by focusing on the broad historical and cultural forces at play in the mid- and late 19th century.
By paying attention to both Apache and white points of view and understandings of the world, Utley is able to articulate an environment of mutual misunderstanding, distrust, and outright deception. For example, he explores in depth the fraught relationship between Geronimo and future Brigadier General Nelson Miles, and the ramifications for the history of Apache/U.S. government relations that arose from their inability to be honest with one another.
But even more compelling than Utley's insistence that the larger world of politics and cultural norms is crucial to understanding Geronimo and his history is the author's clear-eyed exploration of Geronimo the man. While it is always to difficult to ascribe psychological states and underlying emotions to historical figures, Utley uses contemporary reports, interviews, and believable leaps of intuition to paint a picture of a man considerably more complex than the thug or hero of popular culture. In particular, he draws attention to the various roles that Geronimo chose to inhabit: a powerful Apache leader, an avenging husband, a complacent prisoner, a quiet farmer, and, finally, a showman. In each case, Utley teases apart the competing forces—tradition, honor, love, hatred, greed, vanity—that shaped Geronimo's life and the choices he made.
The one complaint that a certain kind of reader might reasonably make about this book has more to do with the supporting material than with the story itself. While Utley offers a brief appendix breaking down the group and tribal associations that feature throughout, a slightly more comprehensive outline would have been welcome, particularly in a work so dependent on ethnographical research. Similarly, while a dozen or so maps are spread throughout the text, the geography of Geronimo's story is complicated. A few more and better-focused maps would have been useful. Neither of these complaints in any way detracts from the book's overall success, but addressing them would have made it easier to read.
By writing the story of a man rather than a symbol, Utley contributes to a greater understanding of one of the seminal periods in American history, and of one of the most resonant examples of the profoundly American experience of cultural conflict and acculturation.
Peter BG Shoemaker is an Albuquerque-based writer and regular contributor to New Mexico Magazine.
THE HOMEMADE PANTRY: 101 Foods You Can Stop Buying & Start Making
BY ALANA CHERNILA
(Clarkson Potter)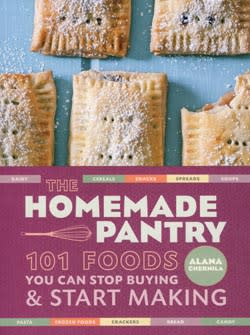 Why is this sturdy cookbook, which provides recipes for 101 commonly bought pantry items, selling like hotcakes and rave-reviewed by the likes of Mollie Katzen and the New York Times' Melissa Clark? It doesn't hurt that there are homemade Pop Tarts on the cover. But that aside, St. John's College alum Alana Chernila (pictured) tapped in to a cultural movement in which the idea of making (or at least reading about someone making) familiar favorites, like yogurt and ketchup, is preferable to buying the processed, dubiously nutritious version. The book is lushly photographed; each recipe is preceded by a bit of memoir, from "The first time I saw real spices was in the grand bazaar in Marrakesh . . ." to "Joey and I fell in love at Blake's Lotaburger in Santa Fe." Like the inspiring, salt-of-the-earth neighbor next door who brings over homemade goodies, Chernila inspires us to try something new in order to taste something familiar—but better.—Candace Walsh
FOOD LOVERS' GUIDE TO SANTA FE, ALBUQUERQUE & TAOS
BY ANDREA FEUCHT
(Globe Pequot Press)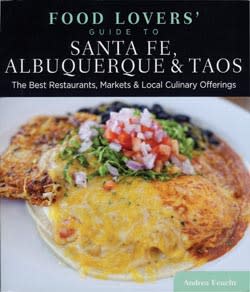 Most of us are guilty of sticking to a short list of favorite local restaurants, although dozens more beckon. And we rotate through them, satisfied but not dazzled. Brace yourself. This book is a magic lamp and Andrea Feucht is its genie, opening our jaded eyes to behold afresh the culinary delights that await us in our own backyards or fave vacation spots. Both a snappy writer and a total food nerd, she manages to deliver vibe, cultural context, menu highlights, and insider trivia for each venue, making you want to experience all of them—the hole in the wall you weren't so sure about, the slick-looking outfit on the highway, the splurge restaurant, the breakfast joint. Be warned: this compact volume will make every week of your life Restaurant Week, if you let it.—C.W.
JOHN FINCHER: Paintings, Assemblages & Works on Paper 1965–2012
(Radius Books)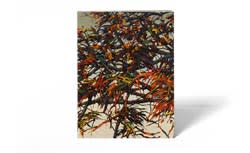 The paintings and assemblages collected in this delightful coffee-table book capture Santa Fe–based artist John Fincher's verve and variations during his 47-year career. "John has been so established in the Southwest, New Mexico specifically, and nothing has ever been published of his work," says David Chickey, publisher and creative director of Radius Books, also based in Santa Fe. "It was past time to do so."
Though Fincher's paintings include iconic Western images, his lushly applied brushstrokes and classic modernist training are what set his work far apart from Western kitsch. Stark arroyo fences, towering poplars in Peñasco, a flurry of prickly-pear nopales against a stormy Roswell sky—all these capture New Mexico's fierce and varied beauty.
"When I came to Santa Fe, I didn't know what to paint, so I took the advice a seasoned writer would give a novice starting out: You write what you know about and what's in front of you," Fincher says. "I decided I would pick and choose from objects and iconography that were available to me."
Originally from Kansas, Fincher moved to Santa Fe to focus on painting. By 1980, he had his first solo exhibitions at the Elaine Horwitch Galleries in Santa Fe and Scottsdale, Arizona, and they sold out and garnered critical acclaim, both regionally and beyond. Countless lithographs, prints, paintings, and assemblages (such as Bridge Street, above right) later, Fincher's work was selected as The Santa Fe Opera's poster images for 1987 and 2010.
His art is currently represented by LewAllen Galleries in Santa Fe, and has also appeared in various solo and group exhibitions at galleries including SITE Santa Fe, the Aspen Art Museum, and the National Art Museum of China, Beijing.
But in the more intimate setting of one's home, the book's large scale complements the up-close-and-personal style of Fincher's iconic works; the brambly and billowing, piñon-studded landscape of Around Placitas (above center) jumps from its pages. Find it at Santa Fe's LewAllen Galleries (lewallencontemporary.com) and online at radiusbooks.org.—K. Annabelle Smith
WILDEST OF THE WILD WEST:
True Tales of a Frontier Town on the Santa Fe Trail
BY HOWARD BRYAN
FOREWORD BY MAX EVANS
(Clear Light Publishers)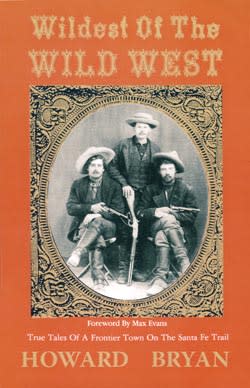 As the railroad advanced to Las Vegas, New Mexico, in 1879, so did the thievery. And the robbers, murderers, and plunderers who came through the town had some interesting aliases: Hoodoo Brown, Rattlesnake Sam, Hatchet-face Kit, Black-eyed Bruce, and Pancake Billy, to name a few. In Wildest of the Wild West, popular Western historian Howard Bryan tells the true story of the "Cowboy Capital of the World" without compromising the region's romanticism. Each chapter, swimming in references to primary source documents and newspaper excerpts from as far back as 1807, reads like a work of fiction, telling tales that range from the first woman hanged on the Western Frontier to the many adventures of Billy the Kid.—K.A.S.
WITHOUT RESERVATIONS: The Cartoons of Ricardo Caté
BY RICARDO CATÉ
(Gibbs Smith)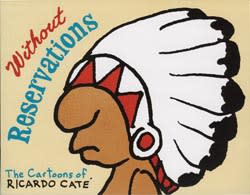 Ricardo Caté has been drawing a daily cartoon, "Without Reservations," for the Santa Fe New Mexican for the last seven years. Now, a selection of his smirk-inducing drawings is available in book form. Deeply rooted in the culture of the Kewa Pueblo, where he grew up, Caté captures scenes of daily life with a wry and trenchant humor. ("I didn't say you were a warrior, I said you were a worrier," a wife tells her husband. "Stop flexing.") "I like to think this is a universal cartoon in which the characters just happen to be Native," he writes in the introduction. "I am simply drawing the funny side to what I know and experience as a Native in this country."—K.A.S