IRWIN KLEIN AND THE NEW SETTLERS
Photographs of Counterculture in New Mexico
BY BENJAMIN KLEIN (editor), with essays by DAVID FARBER, TOM FELS, TOM HODGDON, BENJAMIN KLEIN, LOIS RUDNICK (University of Nebraska Press, 2016)
For anyone seeking a deeper understanding of the idealism, hardships, and spirited nonconformity of the hippie tribe, Irwin Klein and the New Settlers: Photographs of Counterculture in New Mexico is a must-read—must view, really. This book is mainly about the photos, which are supported and interpreted by insightful essays that lend a broader context to the stark scenes Irwin Klein recorded in mid-1960s El Rito, Mora, and a few points between.
A particularly colorful but foreshortened thread in the densely woven multicultural tapestry that's New Mexico, the hippie era has already receded into history. As aging hippies' memories fade, we can thank Klein's nephew Benjamin Klein for pulling together this collection of engaging, austere black-and-white photos. They capture an intriguing, telling range of poignant scenes in the daily life, rituals, and celebrations of these "new settlers," as Irwin Klein called them.
In one seemingly offhand shot, for instance, Klein meditates on mismatched and battered chairs, a hand-cobbled bench, and a table set for dinner resting atop wooden barrels on the porch of a weathered adobe home. The image speaks volumes about improvised lifeways in a cash-starved household. In another, a child totes an armful of fodder to a goat tethered in a broad pasture. In the background, a "new settler" chats with a wizened neighbor at the fence line. Mountains outside El Rito frame the horizon. Is this 1936 or 1966? The black-and-white tones evoke the New Deal photography of Dorothea Lange, as do the raggedy clothes, run-down homes, and clapped-out jalopies.
So it goes, picture after picture of this first wave of hippies scratching out a living in their adopted land, their time spent on weddings and wood chopping, potlucks and comic-book reading, tending crops and mixing mud for adobes. This, boys and girls, is one version of what rural hippie life in New Mexico really looked like. No glamour, no magic bus, no Janis Joplin dropping in. Just hard work, patched clothes, a quiet moment in the sunshine, and baby goats in the kitchen.
—Charles C. Poling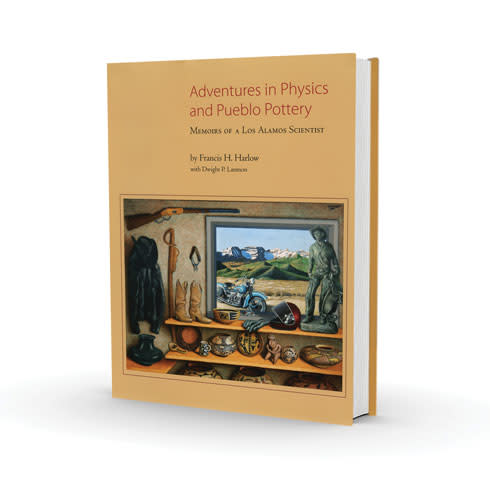 ADVENTURES IN PHYSICS AND PUEBLO POTTERY
Memoirs of a Los Alamos Scientist
BY FRANCIS H. HARLOW WITH DWIGHT P. LANMON (Museum of New Mexico Press, 2016)
While his name is now equated with widely admired scholarship into Pueblo pottery, Francis H. Harlow held passions that ranged among painting (many are featured, including the cover image), pottery, pistons, and, what ultimately brought him to New Mexico, physics.
Harlow's zest for finding answers to whatever captures his curiosity overflows from the pages. His succinct explanations, no matter the area of interest, fill this beautifully illustrated memoir, with the assistance of longtime collaborator Dwight P. Lanmon. A prolific author with a profession focused on theoretical minutiae at Los Alamos National Laboratory, Harlow began pursuing fossil brachiopods—ancient New Mexico seashells—in his off-hours, for fun, via his beloved Harley-Davidson motorcycle. Painting came later, at the age of "39.7," as he precisely dates it.
Friendships with New Mexico legends—Maria Martinez of San Ildefonso Pueblo and gallery owner Forrest Fenn, among others—are recounted in detail. "Maria" admirers will appreciate the diary-like descriptions and personal photographs detailing their pottery interactions, including the mention that he paid $10 for each pot she signed.
Patricia, Harlow's wife of 62 years, features prominently, and their relationship sprinkles the pages. The two met through the University of Washington's Physics Department when she began typing up his graduate papers; Harlow proposed six weeks later. On July 1 of this year, Harlow passed away at the age of 88. Besides this fine memoir, he left various legacies to the people of New Mexico. The pottery that he and Patricia collected now resides at the Museum of Indian Arts and Culture in Santa Fe, and Harlow's Harley, deemed "a classic example of mid-20th-century multi-media sculpture," is held by the New Mexico History Museum in Santa Fe. Thus, his adventures live on.
—Cindra Kline