Above: Bow & Arrow's founders Shyla Sheppard and Missy Begay. Photographs by Minesh Bacrania.
A YUCCA IS IN FULL BLOOM where Bow & Arrow Brewing Company's parking lot meets the corner of Sixth Street and McKnight Avenue, in Albuquerque. The plant is a striking and auspicious bearer of place, of landscape—and of New Mexico. At 3 p.m. sharp, CEO Shyla Sheppard opens the doors to the day's first customers, the late-spring sunshine bleaching the pavement and turning the sky a pale shade of blue. The corner of the 10,000-square-foot building cuts the washed-out expanse like the prow of a ship, its second-story wraparound window giving the slate-gray facade something of an off-kilter grin. At the very top, a minimal logo that melds a hop flower with an arrowhead heralds a double meaning, marrying Native American culture with a love of beer.
Inside, giant candelabras hang from the high ceiling like crowns, illuminating the taproom in a warm glow, while the blues rock band Alabama Shakes' "Don't Wanna Fight" spills into every corner of the space from the speakers above. Lead singer Brittany Howard's raspy voice belts, "I don't wanna fight no more," over and over in exasperation—love, life, and work giving no relief. It feels like the song of an age, the song for drinking. I find comfort in the shared sentiment.
The vibe is low-key, quiet. It's a bit too early in the day for the after-work beer drinkers. It gives me time to fully breathe in the space, to notice the attention to detail. The taps are clean and white, their handles wrapped with leather that I imagine will take on an aged luster with each new pour. Behind them, rustic herringbone wood covers an expansive wall. Above, on the banister of the second-story event space, a Pendleton blanket is draped, its Brave Star design riffing on the American flag. Crosses representing the cardinal directions sprawl against a blue field, beside alternating red and white geometric bands. Sheppard explains that it's there to honor Native American veterans, who make up a disproportionate share of the military.
Two arrows sit high on a shelf that flanks the taps, and a precision-cut cardboard buffalo head hails all from his perch on the north wall.
I order a flight, each glass a five-ounce pour: the Denim Tux, a gluten-removed lager; Guest of Honor, a Belgian-style pale ale with Brettanomyces; Strawberry Amigo, a fruited sour; and the Dusty Crown, a hazy IPA.
As I sip, a couple of tourists occupy the long, coffee-colored leather couch in the center, squeezing in this, their only Albuquerque brewery stop, before catching a flight. Then there's a pair of guys playing the classic nineties card game Magic: The Gathering at one of the sprawling communal picnic tables. And, finally, there's Joe, sidling up to the bar, a regular who comes in before it gets too busy and orders a pint of his own concoction: one part Denim Tux and one part Visionland, an amber ale. Bartender Lisa Chayka serves it up—the "Joe Special," she says.
Read more:The Ultimate New Mexico Craft Beer Guide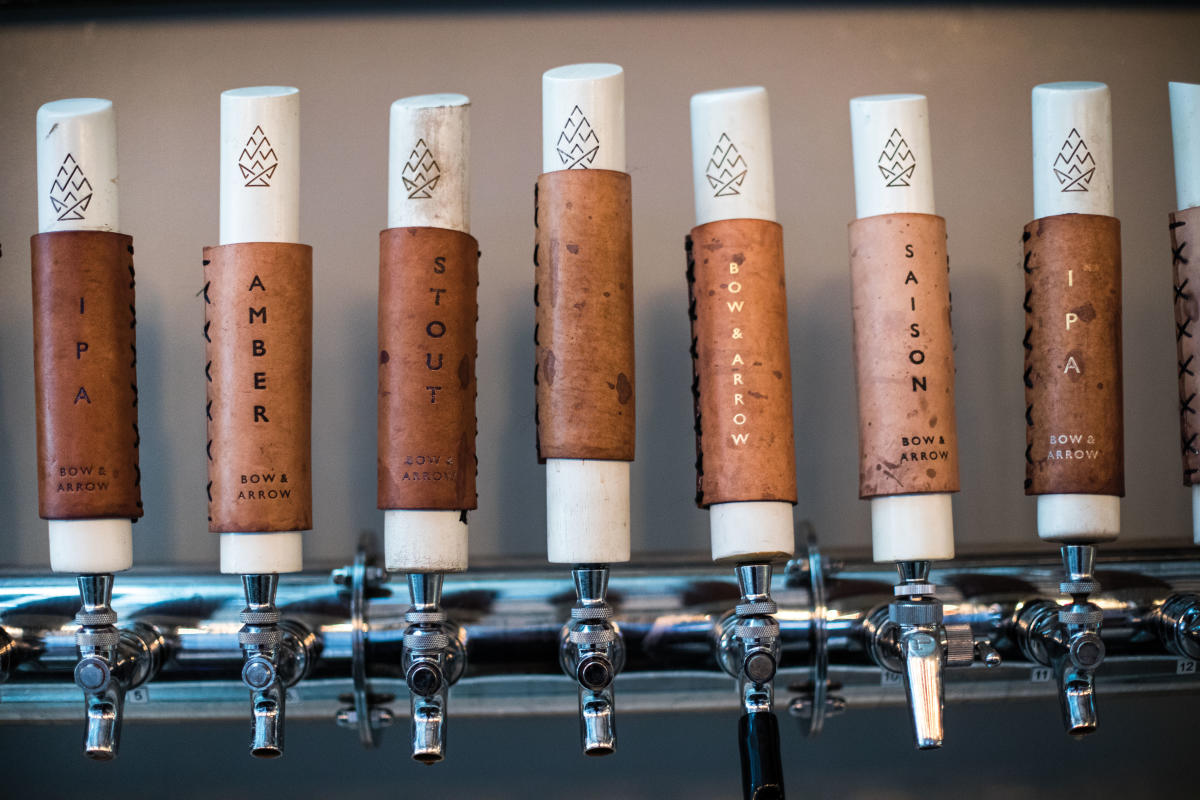 Above: Taps at Bow & Arrow's Albuquerque taproom.
From the perspective of the Carrara-marble-bedecked bar where I'm sitting, it's hard to imagine the building's previous life as an electrical contractor's facility, but it makes sense in the Wells Park neighborhood, where large supply warehouses pepper old railroad tracks beneath the shadow of I-40. Bow & Arrow maintains a few reminders of its industrial origins in the form of black-and-white photos, which line some of the walls, showing the place's old bones. The high ceilings haven't changed, with massive matte-black I-beams running their length. The second-floor loft in the photos now hosts pop-ups and weekly yoga sessions, and the aged concrete floors are still underfoot. Mostly, though, the location offered Sheppard and her partner and co-founder, Missy Begay, a clean slate, a place that could be transformed into a refined and airy taproom that balances form and function.
"Design informs behavior and interaction," Sheppard says of Bow & Arrow's aesthetic philosophy. "It's modern organic farmhouse with a timeworn sensibility."
IN LATE 2012, Sheppard and Begay began envisioning the makings of Bow & Arrow. On weekends, they cruised around the city, Golden Pride burritos in hand, scouring every nook and cranny of real estate they could find. If it was for sale, they likely saw it. At the time, Begay was still in medical school at UNM and Sheppard, who has a degree in economics, was working for New Mexico Community Capital, a nonprofit incubator that supports Native-owned businesses.
The couple had met in the early 2000s while undergraduates at Stanford. Sheppard, an enrolled member of the Three Affiliated Tribes (Mandan, Arikara, and Hidatsa), and Begay, who is Diné, were part of the tight-knit community of indigenous people who shared a space on campus. "It was where all the students from throughout Indian country came—it felt like home," Sheppard says. Her first beer with Begay was at a German-beer-focused brewpub in Palo Alto: a hefeweizen she drank at age 21. "My experience was limited at the time, but it struck me that the flavors of banana and clove actually came from yeast."
After that, she says, "anywhere we traveled, beer was at the top of our list." Later, that led to the couple's own experiments in home brewing.
Sheppard quit her job in 2013 to bring the brewery dream to fruition. Once she locked in the right location, she was able to retain all the permits and get the area rezoned with the city. Build-out began in September 2015. By February of the following year, Bow & Arrow was pouring its first beers. They've since celebrated their third anniversary.
Begay, who is now an internist at the VA Hospital, specializing in sleep medicine, leads the brewery's branding and design, "using the left side of my brain," she says. Her question coming into the business was "What does a craft brewery look like from the perspective of people who've lived here for generations?" Having grown up in Albuquerque while her dad was in medical residency, hers is a local's call to action to celebrate the complexity of the regional cultures and land, from the ingredients that go into the beer to the design. "Every beer that we create highlights where we are geographically," Begay says, and every visual element reminds patrons that the Southwest is all around them.
"Our strong sense of identity grounds us. We have an advantage: access to our community, to our grandparents. We're able to tell the story of place," she says while gesturing to an enveloping black-and-white photomural of the Navajo Nation, where she hails from, that sprawls across the back wall. "This is our relatives' backyard."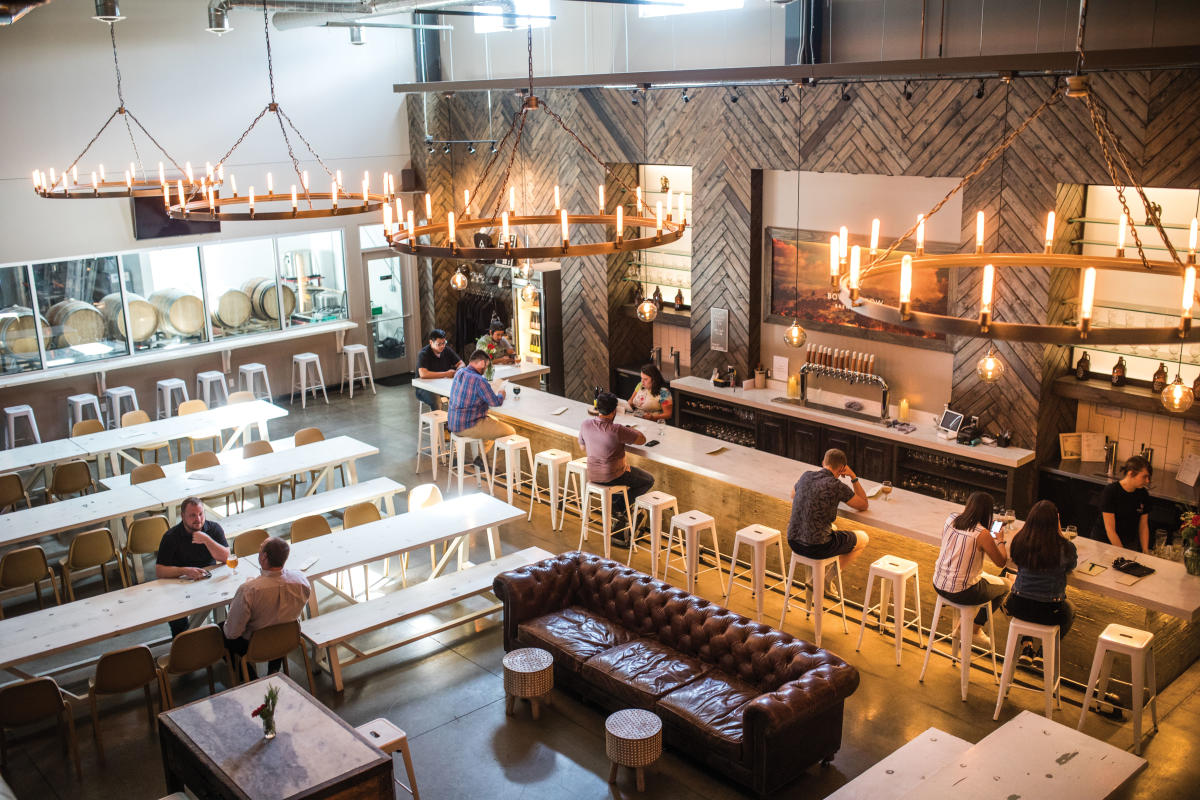 Above: A view of the airy taproom's communia; tables and marble bar from Bow & Arrow's second-story event space.
The photograph, taken by Cody Brothers, shows the Mittens, the two massive landforms in Monument Valley that rise up from nearly complete flatness, against thick, dark clouds. A storm is surely to come, the kind we know well in the arid lands of the Southwest, one that pounds the silty ground violently and makes flash floods appear almost instantaneously, only to rapidly end.
It's a companion piece to another photograph at Bow & Arrow, one crowning the taps that's become as much their logo as the hop-flower arrowhead. Begay snapped it while traveling east along NM 550, a juniper landscape that gives way to the Sandía Mountains beneath more dramatic, almost sculptural clouds. It emanates a Creamsicle patina, the feeling of a sunset.
Both are iconic and sacred landscapes.
Begay then explains the thinking behind one of the brewery's most recent releases, the Guest of Honor. The label is lemon yellow, wreathed by twisting green hops. At the center is the name in gold, and just to the left is an empty turquoise chair. "Brett beers are more playful," she says, referring to the Brettanomyces genus of wild yeasts that give this beer its distinct, funky flavor. It's light and crisp, "the kind of beer you wanna take to a dinner party," Begay says, referencing the name.
The chair hints at this—the special turquoise seat that any humble New Mexican knows well. I remember the one my great-grandmother had in her home in Truchas. The example on the label has two stepped pyramids, one right side up, the other inverted. Begay made the initial drawing for designer Dale Deforest, featuring the two pyramids, which in traditional Diné thought represent emergence.
At Bow & Arrow, place, this place, is all around us.
Read more: Meet New Mexico's leading beer expert
IN THE PAST YEAR, Bow & Arrow has received a stack of press—Martha Stewart Living, the Guardian, the New York Times, and Vice have all put Sheppard and Begay on the national radar. As the first brewery in the U.S. owned by Native American women, it represents a vanguard—businesses owned by women of color breaking through the monocultural glass ceiling of yesterday's microbreweries. It's the reason I went out of my way to try Bow & Arrow initially. The Denim Tux, which has become a year-round offering, was my first pour, and I chose it in part because of the name, which reminds me of my dad in the nineties.
What's kept me returning, though, is the desire to see what's new, to see how Bow & Arrow is innovating new stouts, ales, saisons, and sours. I come back to chill and drink really good beer with loved ones, and to see whether the Cake Bandit imperial stout really does taste like German chocolate cake. (It does.) "We make beer that we want to drink," Sheppard says after recounting how a slice of German chocolate cake at the Range Café, in Albuquerque, inspired her to call head brewer Ted O'Hanlan and ask him to make a beer with that very flavor profile.
Oak barrels are stacked about the place, each mound bearing a sign that cautions: "Do not touch barrels. Beer at work." Between the on-site taproom, where the sour beers are souring, and the brewery, where production takes place and where the Bretts are fermenting, there are 66 barrels in total. Many were purchased from Sheehan Winery, in Albuquerque's South Valley, and repurposed for Bow & Arrow's barrel-aging program. Those barrels bring a certain degree of complexity in flavor, while demanding the patience that only a brewer intimately knows. With barrel aging, you play a long game, O'Hanlan says. The Bretts take three to six months to actualize, while the sours need one to three years.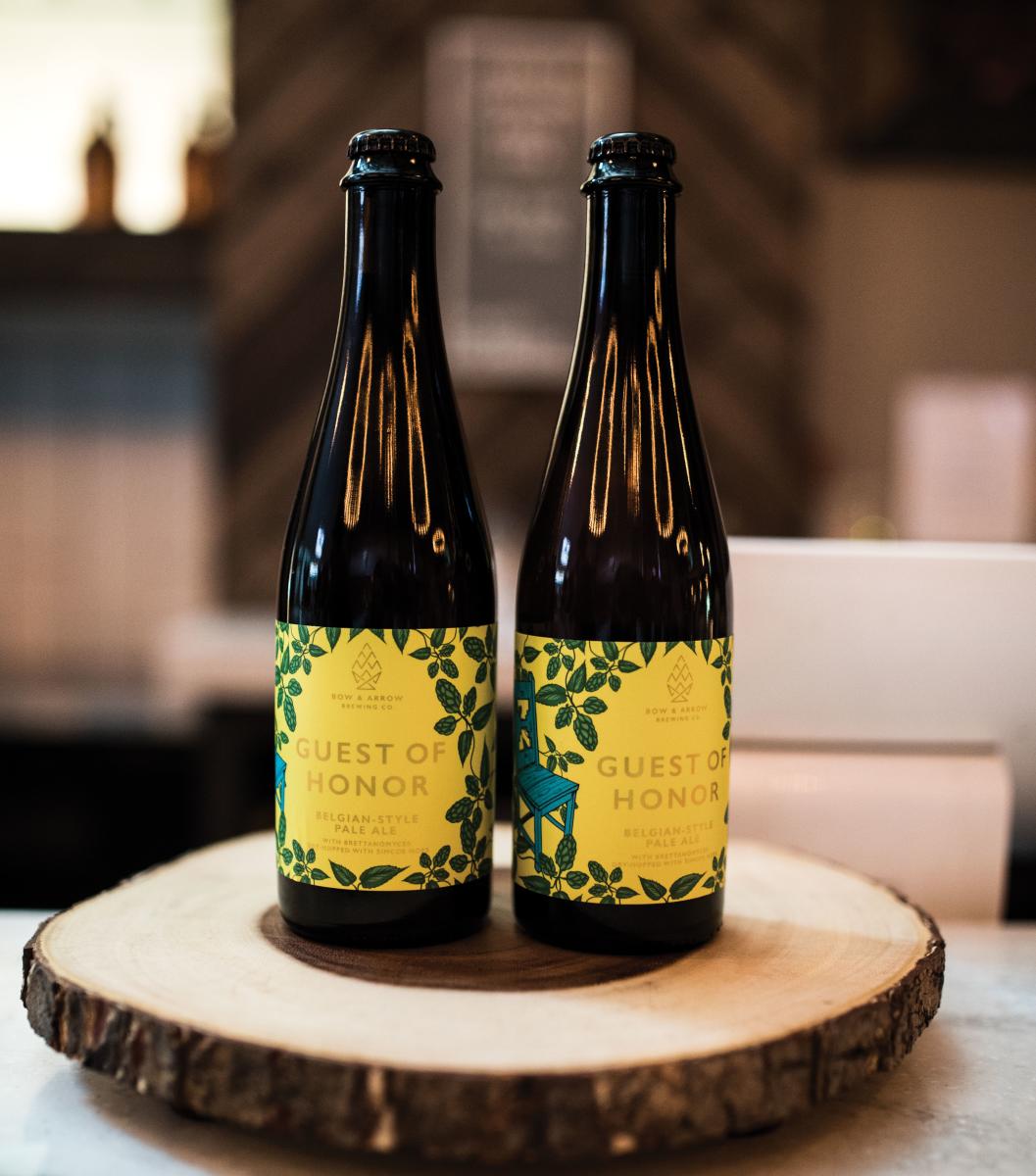 Above: Bow & Arrow's Guest of Honor, a Belgian-style pale ale.
Add to that mixed-fermentation or mixed-culture brewing, which layers more variables onto the process. Whereas one strain of yeast cultivated in a lab can produce a predictable outcome, combining locally produced strains introduces more trials and errors but promises a far more personal product. Their results, thus far, are on point.
Recently, O'Hanlan set out yeast traps across Albuquerque, collecting microbes from a peach tree on the Bow & Arrow property, from the lavender at Los Poblanos Historic Inn and Organic Farm, in Los Ranchos de Albuquerque, and from local raw honey, crafting a picture of the city through its organisms. The picture expands to capture much of the Southwest with other ingredients that Bow & Arrow is currently sourcing: malt from Utah and Colorado and local sumac berries, cherries, blue corn, and Navajo tea. Begay and her family foraged about 20 pounds of Navajo tea for a seasonal beer called Dream Mesa.
O'Hanlan recently acquired 100 pounds of rye bread from Los Poblanos and cut it up into oversize croutons for another beer, the as-yet-unnamed kvass. In the near future, Bow & Arrow will introduce the neomexicanus hop variety to a beer that Sheppard and Begay, for now, are only calling a "special project." That wild hop is ancient, Begay says, having been used medicinally by indigenous people for generations.
"We bring a local and historical perspective that acknowledges that Native people still exist today," she says. "In our move to evolve, culture has to be flexible. Beer culture should honor that, too."

WHAT'S BREWING?
A few favorites to try at Bow & Arrow Brewing Company
Gateway Beer: If you enjoy a nice lager with a meal, something complementary and light, try the Denim Tux, a year-round offering with a malty, clean finish. Putting blue corn in beer has become a thing of late, and, no, it doesn't turn the beer blue. But anything with anthocyanins, the compounds that give blueberries, blackberries, grapes, and eggplants their coloration, will be slightly more bitter and tangy. Bow & Arrow sources its blue corn from Southwest Heritage Mill, in Albuquerque.
Barrel-fermented Brett Beer: Cosmic Arrow is a unique mixed-culture saison available year-round. It uses Bow & Arrow's own house culture. "We're very serious about maintaining a house culture," head brewer Ted O'Hanlan says, "something that, from a microbiology standpoint, is uniquely ours."
Seasonal: Western Beauty is Bow & Arrow's newest bottle release, which just hit shelves in early July. A grisette beer, made with Grüner Veltliner grapes sourced from Milagro Vineyard, in Corrales, the Western Beauty is barrel-aged with a dose of Brettanomyces.
Bow & Arrow doesn't serve food, but there is often a food truck parked outside. Go to bowandarrowbrewing.com for a schedule of food trucks and other events. Purchase the brewery's bottled beer at liquor stores and Whole Foods markets in Santa Fe and Albuquerque. 
---