"Native art has always been in this small box," says Jody Naranjo, the Santa Clara Pueblo potter who's become one of the most successful artists of her generation. "No more. There's a big world out there, and we have access to it. All the time and everywhere."
In years to come, perhaps that's how this early-21st-century moment in Native art will be known. There's a growing awareness that Naranjo and peers such as painter Tony Abeyta, and especially the emerging millennials coming up behind them, are shaping history right now by working hard in a fast moving present shaped by communications technology and globalization. This dissolution of borders means an enhanced sense of freedom and ambition. Conversations about identity, oppression, and creation that were formerly located in New Mexico—the epicenter of the world of North American Native art in the 20th century—are merging into a global indigenous discussion. The artists are connecting with new sources of inspiration, and new audiences with few preconceived notions of what Native art should be. It's a brave new world. »
Tony Abeyta
"We all go to the same well," says Tony Abeyta in his Santa Fe studio, cluttered with paintings in various states of completion, hanging on the walls and perched on tables. "It's what we do with what we pull out that makes all the difference."
The well Abeyta refers to is the reservoir of culture Native American artists share. How it's been tapped is the story of Native art in America, the integrity of which has been compromised to some degree since the "discovery" of Indian art by culture mavens who, in part as an effort to market tourism in the Southwest, co-opted it by promoting a version of the "noble savage" myth. Traders directed artisans to alter their traditional methods to better appeal to tourists, eroding both the creators' autonomy and undercutting the traditional symbolism and meaning of Native art.
In the late 19th century, Harvey Houses spread throughout the west—hotels, affiliated with train stations, that offered tours, décor, and merchandise steeped in Indian art and culture. Santa Fe saw the birth of its annual Indian Market in 1922, and partially in response to its popularity, Anglo art instructor Dorothy Dunn formed the Studio School at the Santa Fe Indian School in 1932. She promoted a pan-Native painting style based on San Ildefonso Pueblo traditions, but geared toward the larger art market.
The paradigm shifted in 1962, when the Institute of American Indian Arts (IAIA) opened in Santa Fe, founded by Lloyd Kiva New and Dr. George Boyce. A revolution was born as graduates of the school, which focused on contemporary art, entered the art world and changed both Native art and what it meant to be a Native artist in America.
Now, after another 51 years, today's artists, many of them IAIA alumni, are standing on the shoulders of those game-changers and exploring new horizons.
Tony Abeyta's father, Narciso Abeyta, was a student in one of Dunn's first classes at the Studio School. The Gallup-born Tony (Diné-Anglo) sold some paintings in his late teens and early twenties, attended IAIA, then decided he need to see more of the world. Over the next 15 years he attended five art schools in three countries, before earning his MFA at New York University. Despite all the formal training, "Tony seemed to just come out of nowhere," says Naranjo.
Abeyta, now 47, has been shaking up the American art scene for 25 years. Whether using paint laden with sand, or gilt edgings, or encaustic, his work has taken traditional elements and brought them into a contemporary place full of textures and hinted-at realities just beneath the surface. "They function like mandalas," he says, referring to the Hindu and Buddhist symbols that focus the mind and promote spiritual contemplation.
In 2012, Abeyta won both the Native Treasures Living Treasure award and the New Mexico Governor's Award for Excellence in the Arts. His signature images for the groundbreaking ceremony and opening of the National Museum of the American Indian, in Washington, DC, are part of the museum's permanent collection. He's known for his versatility: His work includes Navajo deity paintings, neo-modernist landscapes, sculpture, and jewelry. Most of his imagery is based in the Navajo experience, but its appeal knows no borders.
"It used to be you'd have to come to Santa Fe to buy a Santa Fe artist," he says. "Now, of course, I have clients from all over the place. Most of what I'm doing is based on traditional themes, but the way I think about that work is as part of this larger global conversation about Native art and its place in the world."
For Abeyta, that means finding new ways to challenge and express himself as he struggles with what the market expects of him. Two years ago, he abruptly switched to black and white from the brightly colored pieces that were considered his hallmark.
In Untitled he used ink washes and charcoal to explore "themes of creation through a combination of mechanical and biological imagery." Strong shapes—most organic, some appearing as cells, others as chambered organs—coexist in a field of diffuse, plasma-like ink.
"The big question I had going into it," Abeyta explains, "was whether it was even possible to paint nature, mythology, and ceremonialism without literal iconography. I ended up creating a drawing that was pure information, based on traditional native iconography.
"I needed to find new information and direction. I needed a new way to look at things." »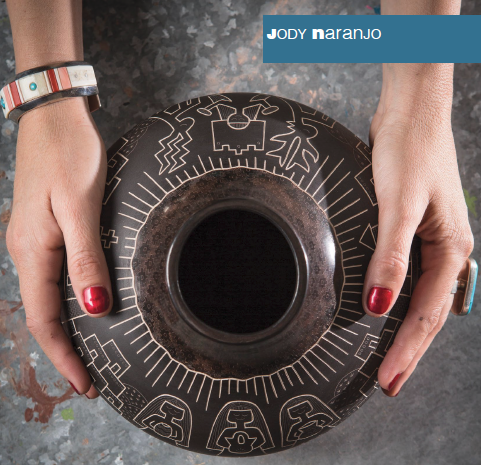 The thing you notice first about Jody Naranjo, after the smile, is her hands. Thirty years of digging her own clay and the delicate touch of shaping and designing it have taken their toll. There are Band-Aids on a couple of fingers, and her hands shake a little, drinking a cup of coffee or carrying a glass of water. "It's no big deal," she says. "The moment I lean over a new pot, they're rock solid."
Growing up as a young potter in the 1970s, she says, "When I picked up that knife for the first time, I discovered I could do something like no one else." Collectors and curators concur. The traditionalism that underlies the way she finds and prepares her clay and fires her pots finds expression in her modern approach to design. The lustrous surfaces, usually in black and brown—the result of elbow grease and a polishing stone at least four generations old—give way to sgraffito of gestural animals and people, often embedded in scenes of daily life.
Naranjo, 44, is from a long line of venerated potters from Santa Clara Pueblo. Her family is packed full of well-known names: her grandmother Rose Naranjo; her aunts Nora Naranjo-Morse and Jody Folwell; and cousin Roxanne Swentzell. An IAIA alum, she's won major awards at the Santa Fe Indian Market, the Eiteljorg Museum of American Indians and Western Art's Indian Market, in Indianapolis, and the Heard Museum, in Phoenix. Recently, companies like Target, Hallmark, and Eli Lilly have added her work to their art collections. A couple of years ago Naranjo began designing jewelry for QVC (the televised home shopping network), and over the last few months has been working with prominent Tlingit glass artist Preston Singletary to translate some of her designs into a medium entirely new for her: carved glass.
"The Internet has changed everything for me. It's made things easier, and at the same time has allowed me to do things I couldn't do before," Naranjo says. "For instance, I spend a lot of time paying attention to cultures all over the world with strong pottery traditions."
A piece she finished earlier this year, Pueblo Mosaic, exemplifies this new swirl of influences. "The base was inspired by a Peruvian pot," she explains, "the top by kiva steps, and the animals from different Pueblos.
"Of course," she says, "it wouldn't have been complete without my grandmother's pie-crust design along the rim."
The Internet has had another profound effect. "Everyone used to be very secretive about their work," Naranjo says. "Now everyone throws a picture on Facebook of what they're working on and asks for comments. It's a way to push one another. It means progression happens faster. We get better quicker. Learn faster." »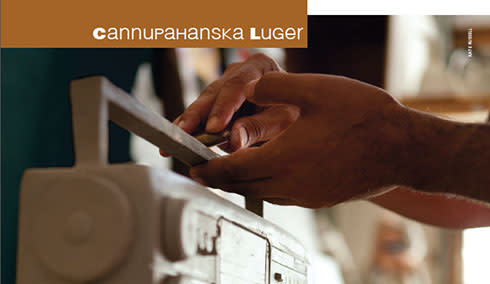 Cannupahanska Luger was born Mandan, Hidatsa, Arikara, and Lakota, on the Standing Rock Reservation in North Dakota. His mother, Kathy Whitman–Elk Woman, is a famous sculptor, and Luger drew and painted as a boy. He came to IAIA in 2006, and has lived in New Mexico on and off for the last decade.
"When I got there, I was introduced to clay by Roxanne [Swentzell] and Rose [B. Simpson]," Luger explains, referring to the prominent mother-and-daughter sculptors. "Turns out I really liked it. Clay is an active participant in the act of creation."
Paint, clay dust, or glue usually decorates whatever Luger is wearing. The 34-year-old describes himself simply as a communicator. "What I do is tell stories. If I were a singer, I'd sing. If I were a writer, I'd write. But I'm a maker, and what I do is make art that tells stories."
His social commentary includes a series of ceramic boom boxes that represent pop figures who've cluelessly appropriated Native culture. The Stefani critiques No Doubt's video for the song "So Hot," which presents a cowboys-Indians scenario in which Gwen Stefani dances around a fire wearing an eagle feather and leather fringe, and not much of it. The Barrymore was executed in response to Drew Barrymore's onetime Facebook photo that showed her wearing a feathered war bonnet and a Budweiser apron. This series took the form of an exhibition for the Museum of Contemporary Native Arts titled Stereotype: Misconceptions of the Native American (August 15–December 31, 2013).
"These are the ceramic ghetto blasters of truth," he says. "I like the idea of something blasting the message out to the ghetto—the reservation. I think it's a way of owning an identity by showing the stereotypes."
Luger also did a piece called The Luger. "As I'm pointing the finger at all of these stereotypes, it's important to point it back at me. Because anything I say Native Americans are is going to be a stereotype. Everyone on the planet is multifaceted. We're all just human beings. How's that for a global message?"»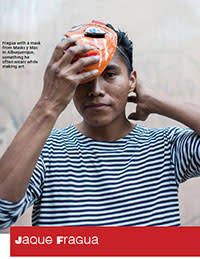 For a guy of 28, Jaque Fragua has led an enviable creative life, even though he describes himself as a late bloomer. He makes music, prose, and poetry, some video, paintings, and what he's best known for: public art. Often brightly colored and incorporating Native motifs as well as elements from pop culture, Fragua's murals often seem to explode down a wall, drawing the eye along with them.
It's not hard to imagine Fragua holding his own in what he describes as a typically rough upbringing on Jemez Pueblo. Those experiences, as well as a decade and a half of doing outlaw art, give him a physical and rhetorical intensity. He leans into conversations, and comes across as one doing battle with culture and media.
When, as a child, Fragua was first exposed to the petroglyphs lining the cliff faces in upper Jemez, he says, "It's like the first time you ride a bike—there will never be that moment of wonder again." He sees graffiti as arising from that same place.
But for an outsider, well, he's got plenty of mainstream cred. Fragua arrived at IAIA in 2004, and has gone on to do work with the National Museum of the American Indian, in Washington, DC, and with the Museum of Contemporary Native Arts and the Museum of Indian Arts and Culture, both in Santa Fe. He's also a regular participant at Art Basel Miami.
Fragua's engagement with social media has led him to explore new frontiers. Last year he collaborated with Cherokee-Creek-Osage artist Yatika Starr Fields. "We ended up in Puerto Rico, where we connected to people we'd been in touch with online, and asked for help making some art." They went to La Perla, a historically iffy area of San Juan, and home of what he calls "a gorgeous wall "fronting the sea.
"Our style was totally unknown there, and people were really inspired by our color and approach," he recalls. "We collaborated with the Taíno [the indigenous people of Puerto Rico] and incorporated their symbols and styles into our own as we painted. There was already all of this great artwork on the wall—we incorporated it, using our own colors and our motifs—to push the existing art forward.
This sort of hybrid global-local approach is common in Fragua's work and inspiration. He painted a billboard last winter during a tumultuous period in the relationship between Canada and its indigenous tribal groups, the First Nations Tribes. A growing solidarity movement, Idle No More, sprang up among indigenous peoples around the world, in support of sovereignty rights. Public art (murals), Facebook pages, websites, blogs, and more served as channels of visual and verbal communication. The billboard, on I-25 just north of Albuquerque, was blank before Fragua painted the message "IDLE NO MORE."
"I painted it in New Mexico," Fragua explains, "because I felt not only Native people but people in general needed to see it. I wanted people to see that now's not the time to be complacent. If you believe in something, get off your butt and do something about it.
"A week later, it was covered up," Fragua notes. "But for that week it looked great, stuck out against the bright New Mexico blue sky." ✜