JAMIE FIGUEROA LIVED IN Santa Fe for 10 years before the opening scene of her debut novel, Brother, Sister, Mother, Explorer (Catapult, 2021), came to her in a vivid dream. A story about a broken family, generational trauma, and the recent passing of their matriarch, Rosalinda, the book is a folkloric meditation on grief and the chance for metamorphosis it offers.
Born in Ohio, Figueroa (Afro-Taíno) came to hike in New Mexico in 1997 and returned two years later to study with writer and artist Natalie Goldberg in Taos, beginning an annual writing and spiritual practice. "I had built this familiarity with coming to New Mexico to be in this deep, receptive space," says Figueroa, "to be really connected and to write from there." 
After a divorce that felt like a repeat of her mother's many separations and marriages, she packed her car and moved to the only place that had ever felt like home, Santa Fe. Figueroa, who earned both a bachelor's degree and an MFA from the Institute of American Indian Arts, spent six years working on the book and digging into her heritage. She visited Puerto Rico and returned there years later with her mother. Experiences from those trips—witnessing her mother feel like an outsider in her hometown and longing to understand her mother's conversations in Spanish—appear in Brother, Sister, Mother, Explorer. 
Read More: New Mexico's state historian offers a fresh take on New Mexico's rich and complicated past.
Set in the fictional high-desert mountain town of Ciudad de Tres Hermanas, Figueroa's story also incorporates details borrowed from Santa Fe. A portal where the Ancient Enduring Ones sell jewelry faces a bustling plaza that sits at 7,000 feet. In the opening scene, tourists toss money into Rufina and her brother Rafa's collection hat as they perform on a summer day.  
Each coin tips the scales of fate in the siblings' pact: If they make enough money over the weekend to buy Rafa a plane ticket out of town, he leaves and probably lives. If they don't, he can stay, continue his destructive ways, and likely die. While Rufina fights for her brother's life, singing and dancing as much as her lame hip tolerates, Rafa, haunted by addiction and his mother's recent death, daydreams and suffers more than he plays.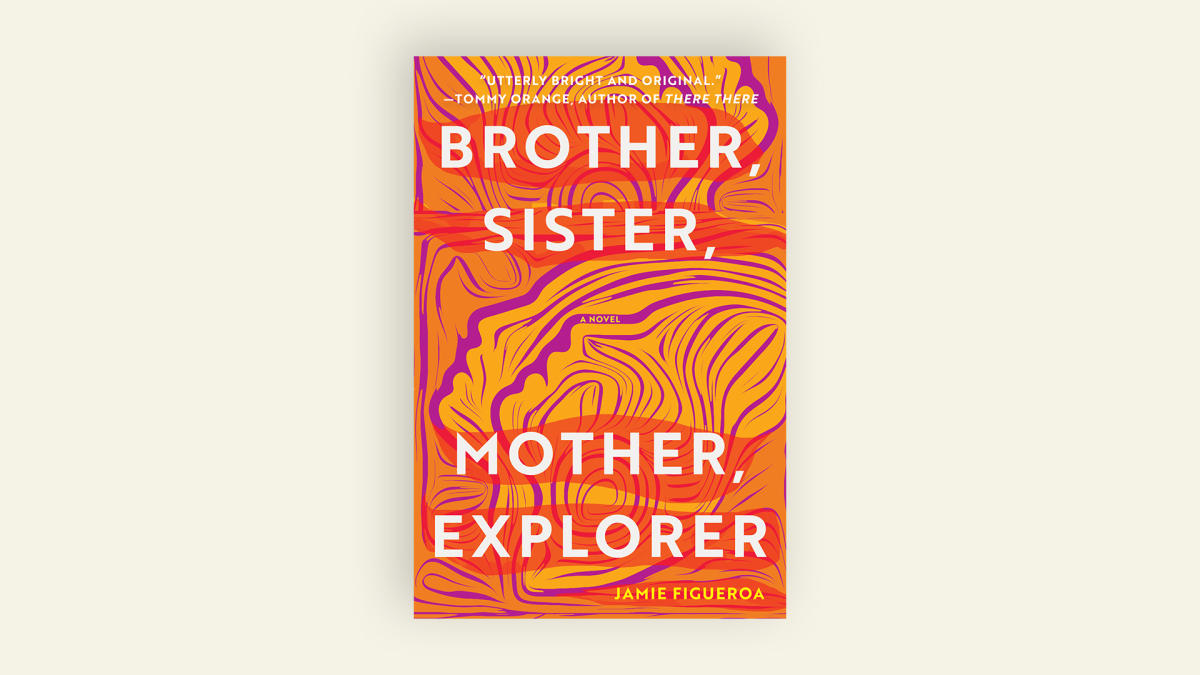 Figueroa's debut novel is set in a fictionalized Santa Fe. Book cover by Nicole Caputo.
The fictional setting gave Figueroa the creative space to incorporate pieces of her experience and heritage without stripping Santa Fe of its own historic identity. "It helped give me a little bit of grace," she says. "I didn't have to get it all right, because this was an imagined place. I also had room to bring some of my experience of Puerto Rico and San Juan, where my family is from." 
The story taps into Santa Fe's complicated sense of place and the generational trauma many immigrant families carry. "The novel is an honoring of emotional history," she says. "When we face [our grief], we can become changed. We can convert our pain and suffering into our strength and thriving." 
Read More: The revised edition of Indigenous recipes delivers new information on diet and fitness.
Figueroa confronts that trauma and uses her experience as a BIPOC woman to empower the narrative, the setting, and the ending of Brother, Sister, Mother, Explorer. "Something that can happen, and be really unfortunate, is if a writer in training is under further colonization—they end up leaving themselves and their voice behind," she says. "We have to consider what is uniquely ours to express."