View the print version


Three recent architectural projects around the state, though markedly different in style and scope, share a common vision of reinterpreting New Mexico's vernacular design traditions to accommodate the shifting needs and tastes of the 21st century.
A Complex Solution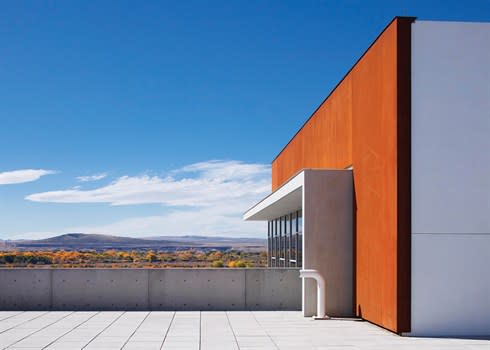 Photo by Kirk Gittings
The 112,000-square-foot Isleta Tribal Services Complex, which Albuquerque-based RMKM Architecture completed late in 2011, bridges Isleta Pueblo's honored history with its dynamic future. Housing the tribe's administrative offices—including the fire and police departments, courts, and tribal council—it's perched dramatically amid the windswept foothills above the Río Grande bosque. Architect Don May and his team met extensively with tribal leaders to observe Pueblo traditions and beliefs. The complex includes plazas, dance grounds, kivas, open-air platforms, and subterranean chambers, which reference traditional Pueblo architecture and create harmony with the surrounding landscape. The design incorporates strategic celestial alignments and uses natural materials of sandstone and maple hardwood. The Isleta Tribal Services Complex is reached via N.M. 47, 1.5 miles south of I-25, off exit 215. (505) 869-3111; isletapueblo.com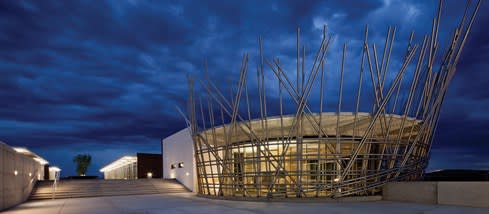 Photo by Kirk Gittings
Despite appearances, the design of the Isleta Tribal Services Complex is not based on basketry. Rather, according to architect Don May, the motif references "both traditional kivas and jacal structures, with strong connections to the earth and ideas of ascension and emergence."
Pueblo Revival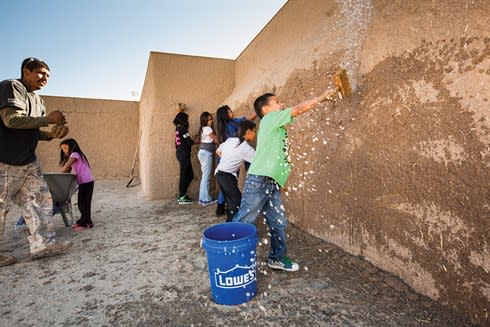 Photo by Minesh Bacrania
Renovating Owe'neh Bupingeh, the adobe homes that make up the historic heart of Ohkay Owingeh, provided Santa Fe's Atkin Olshin Schade Architects (AOS) the opportunity to fuse 21st-century ingenuity with centuries-old building traditions and styles. Working on behalf of the Pueblo's Housing Authority, which oversaw the project, AOS has undertaken an intensive restoration of the community's plazas, which are lined with homes that had become dilapidated over the years. The work has enabled several dozen families to once again live in this village center that some had abandoned when provided with newer housing on the community outskirts. Architect Shawn Evans says, "The most striking aspect of the project has been stripping off the cement plaster and redoing the exteriors in their original mud plaster." This has endowed Ohkay Owingeh with the know-how to prevent the buildings making up the historic plazas from ever again falling into a state of disrepair. "Mud plaster had really become a lost art," says Evans. Ohkay Owingeh is now actively raising funds for the next phase of the project; substantial tax credits are available to donors. Please contact Jodie Martinez at the Ohkay Owingeh Housing Authority for more information (505-852-0189; info@ohkayowingehhousingauthority.com), or refer to the website. Ohkay Owingeh is near Española. (505) 852-4400; indianpueblo.org/19pueblos/ohkayowingeh.html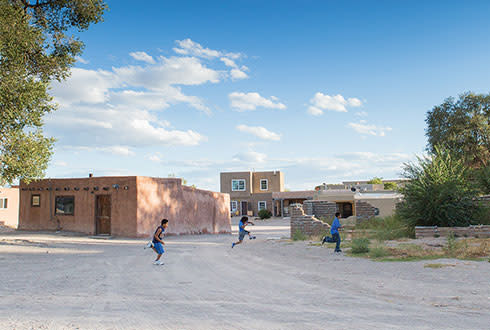 Photo by Minesh Bacrania
 In 2014, the Owe'neh Bupingeh project received an award from the National Trust for Historic Preservation.
Outdoors/Indoors
Photo by Minesh Bacrania
Over the decades, the residents of Los Alamos have basked in the region's spectacular natural attributes, from Bandelier National Monument to Pajarito Mountain Ski Area. It makes perfect sense, then, that the town's latest architectural landmark casts an eye toward the outdoors. In fact, the design of the new Los Alamos Nature Center practically begs visitors to gaze outside, both downward through an immense glass curtain wall into a rugged canyon more than 100 feet below, and upward toward the starry night skies, in the state-of-the-art planetarium.
Los Alamos County funded this $4.3 million, 7,000-square-foot building and tapped Pajarito Environmental Education Center (PEEC) to operate it. Arizona-based Zucker Architecture designed the angular, wing-like building, clad in adobe and sandstone, with Santa Fe–based Andrew Merriell and Associates creating the more than $1.2 million worth of engaging exhibits.
"It's a beautiful building in a most beautiful setting," says Katie Watson, PEEC executive director. "But come see it for what's inside—the exhibits are fun, exciting, and interactive." They include a large-scale model of the Pajarito Plateau, which kids are encouraged to climb on. "You'll be having such a great time exploring," adds Watson, "that you won't even realize you're becoming an expert on what makes nature in northern New Mexico special." Admission is free. See website for hours. 2600 Canyon Rd.; (505) 662-0460; peecnature.org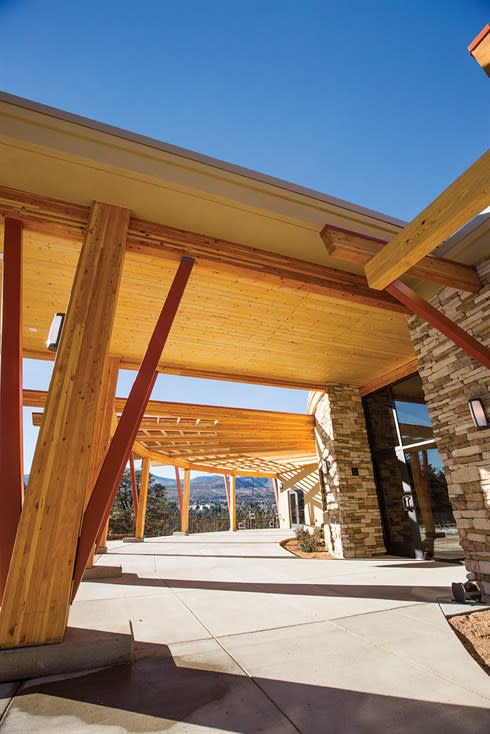 Photo by Minesh Bacrania
The Los Alamos Nature Center opens April 22 and hosts the Pajarito Environmental Education Center's Earth Day Festival on April 25.