Above: On Christmas Eve, Santa Fe's Canyon Road draws visitors with bonfires and farolito-lined streets. Photograph by NMTD. 
GATHER ROUND, ONE AND ALL, for tree lightings, parades, shops decked out in holiday sparkle, and toasty bonfires to remove the chill. After a year of social distance, we look forward to celebrating with family, friends, and the entire community. Put on your mittens and a comfy coat, then head out to some of our favorite places for traditional holiday festivities throughout the state.
Ringing in Christmas, Farmington
Four thousand silver bells, sounded by enthusiastic children, welcome Santa Claus to town at the conclusion of the Christmas Parade (Dec. 2, 5:30 p.m.). "The bells will be so much fun and such a quintessential holiday moment," says Jamie Church, Farmington Chamber of Commerce president and CEO. A tree-lighting ceremony follows at the Civic Center, while local businesses create window displays as part of the Festival of Trees. The next night, stroll along the Animas River, where luminarias, carolers, and a live nativity transform the riverside trails and Berg Park. Don't miss: You'll clean up at A Beautiful Mess, where a collection of vendors sell antiques, home goods, and handmade gifts, ornaments, and other holiday goodies.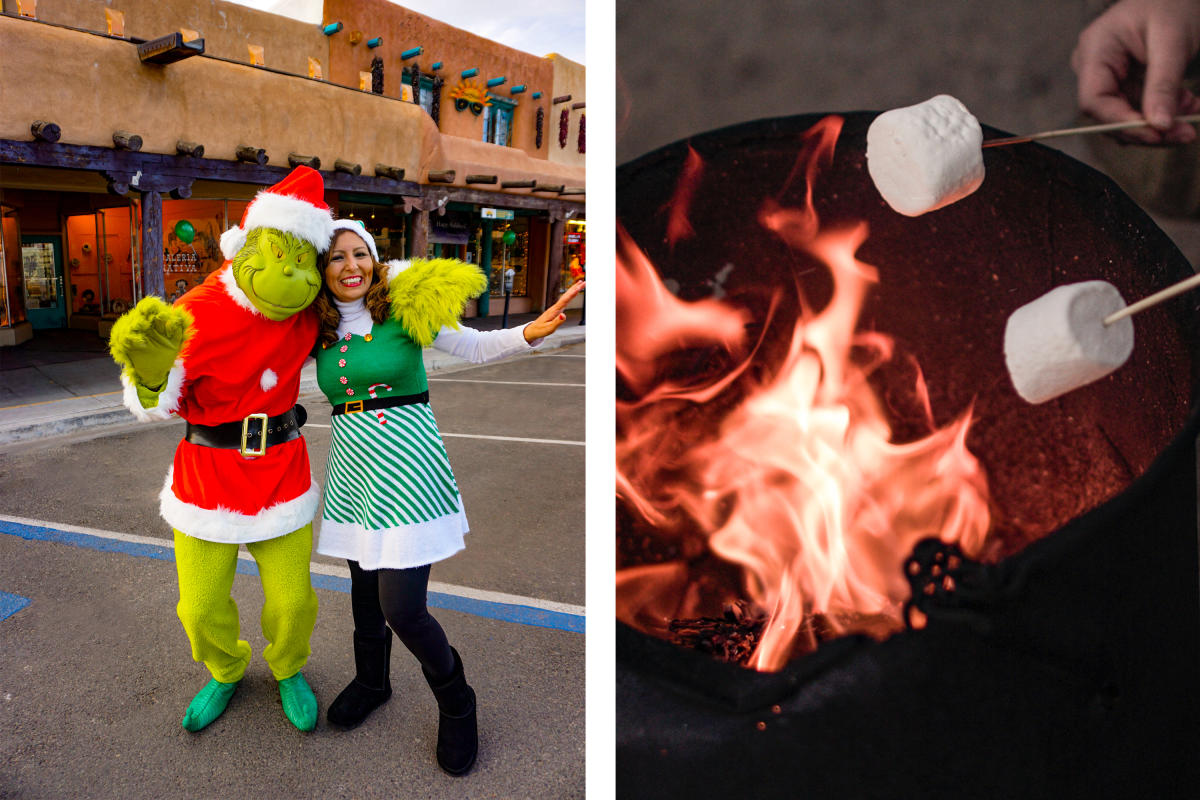 Yuletide in Taos cheers up the Grinch. Photograph courtesy of the Town of Taos.
Yuletide in Taos, Taos
Taos makes the most of its mountain-town vibe and traditional adobe architecture as Yuletide in Taos unwraps a stockingful of gifts throughout the season. Start just off the Plaza as one of the town's most colorful streets comes alive with farolitos, bonfires, carolers, and cheery activities at the Lighting of Ledoux (Dec. 4, 5–7 p.m.). Even with their busy schedules, Mr. and Mrs. Claus arrive for the tree-lighting ceremony (Dec. 3) on the Plaza, and busy little elves can stay toasty while searching for gifts as the John Dunn Shops and Bent Street merchants team up for the shopping-meets-block-party Bonfires on Bent Street (Dec. 11, 4–7 p.m.). Finally, Taos Ski Valley lights up the mountain (and brings down the house) on Christmas Eve, when skiers wind down the slopes with flares in hand during the Torchlight Parade (6 p.m.). Don't miss: The Global Green Taosfolk pop-up store at Stables Gallery sells unique locally made gifts Nov. 19–Dec. 24. 
Old-Fashioned Christmas, Truth or Consequences
Truth or Consequences puts its creativity on full display—and drapes it in twinkle lights—during Old-Fashioned Christmas (Dec. 10, 6 p.m.). "It's such an artistic town full of talented people," says Rooster Blackspur, a musician, owner of the Giddy Up Café, and executive director of MainStreet Truth or Consequences. The evening starts with a tree lighting in Evelyn Renfro Park and a Christmas parade on Broadway Avenue with cars, motorcycles, four-wheelers, and even hoverboards decorated for the season. Get a full blast of holiday cheer as Santa poses for photos, businesses serve cookies and warm drinks, and locals sing carols, square-dance, yodel, and keep everything aglow. Don't miss: Stick around for the Elephant Butte Luminaria Beachwalk (Dec. 11, dusk), in which thousands of lights bedeck a path to a beach where bonfires and holiday refreshments await.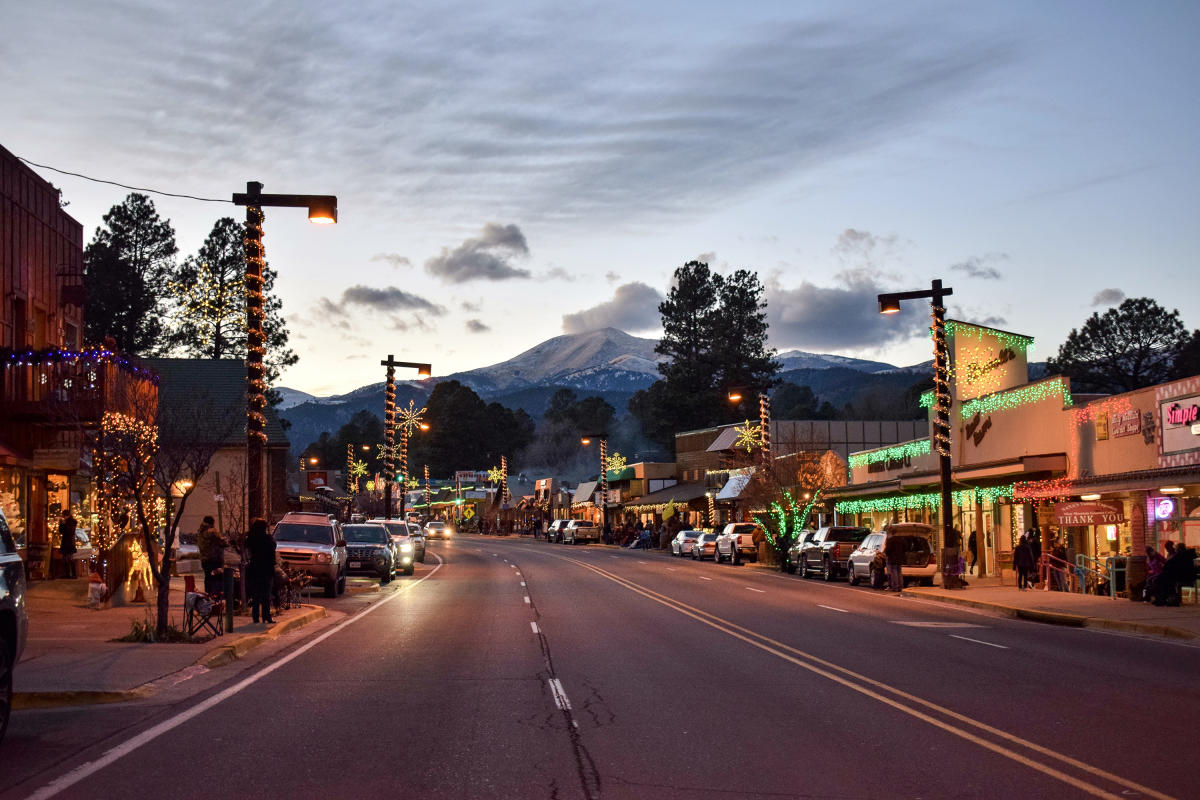 Ruidoso gets decked out. Photograph courtesy of Discover Ruidoso.
Christmas in Wonderland, Ruidoso
With so much cheer and small-town sparkle, Ruidoso could be the setting for a Hallmark movie. The Festival of Lights (Dec. 4, 5:30 p.m.) starts at the corner of Sudderth and Mechem, with cars decked out in lights, holiday-themed floats, high school bands, and folks dressed in their Christmas cheeriest. (Paradegoers are also encouraged to bring a new, unwrapped toy to donate to Toys for Tots.) Wingfield Park hosts an after-party that features a holiday movie on a big screen, hot chocolate, cookies, and spirited drinks. "Midtown is always lit up around the holidays," says Deborah Douds, executive director of the Ruidoso Valley Chamber of Commerce. "It is so much fun to see all of the lights." Don't miss: Jingle bells will be ringing on Grindstone Stables' romantic horse-drawn sleigh rides (with or without snow) through the historic Upper Canyon. 
Christmas Jubilee, Portales
Starting the annual holiday parade at the Roosevelt County Courthouse may not scare every naughty-lister straight, but it might nudge them toward nicer ways. Portales's Christmas Jubilee (Dec. 2, 5:30 p.m.) warms your heart with hot chocolate and carols from the high school choir, followed by a parade that includes up to 50 floats. "We have everything from motorcycles to full-on semitrailer floats," says Karl Terry, executive director of the Roosevelt County Chamber of Commerce. "The community really goes all out." Don't miss: With an array of crafting kits, yarns, and handmade goods, the Happy Place is sure to make everyone on your list smile. Then treat yourself to a pecan pie bar from the Courthouse Café, which shares the space. 
Feliz Navidad
Celebrate the season con baile, música, and swirly dresses.
Entreflamenco 
December 17–31
Nightly cabaret flamenco performances by Antonio Granjero and Estefanía Ramírez give dinner theater a Spain–meets–Santa Fe flair, complete with tapas, vino, and high drama. 
Mariachi Christmas 
December 19
Albuquerque's Popejoy Hall presents the music of Mariachi Aztlán, paired with traditional folklórico dancing. It's a family-friendly tribute to Christmas in Mexico.