MARC QUIÑONES IS IN IT TO WIN IT. Whether he's creating award-winning dishes, competing on Hell's Kitchen, or training for a marathon, the Hotel Andaluz executive chef lives by this motto: "Do the work." As a young Puerto Rican coming up in the Bronx, Quiñones learned from his mother that to have a buck in your pocket, you had to "pound the pavement." 
"I saw everything that she sacrificed just to give me a shot," he says. "If you're not doing the work, you can't expect special things to happen." Raised in his mother's and grandmother's kitchens, Quiñones whipped up his first meal—a mean pile of turkey wings out of holiday leftovers—when he was just eight years old. He quips that as a Puerto Rican he was destined to pursue music or cooking, and he chose cooking.  
An Albuquerque High School graduate, he attended Le Cordon Bleu College of Culinary Arts, Scottsdale, and returned to New Mexico in 2007. He worked alongside renowned chefs in kitchens from New Orleans to Kona, Hawaii, before stops at Sandia Resort & Casino's Bien Shur, in Albuquerque, and the Inn and Spa at Loretto, in Santa Fe. He joined Albuquerque's Hotel Andaluz four years ago. 
In January, Quiñones appeared on the Gordon Ramsay reality cooking series Hell's Kitchen. "Albuquerque deserves a seat at the table on those high-end platforms," he says. "If I'm blessed to tell that story, I'm coming to bring it. "  
For Quiñones, who recently placed third at the New Orleans Great American Seafood Cook-Off, the accolades are stacking up. But he says success is best measured by the communities that support him. "It's about people and the connection," he says. "To me that's the ultimate level of success, when you have your community behind you and they speak on your behalf."  
At Hotel Andaluz's Más Tapas y Vino, human connection is served with every meal. The open kitchen makes the 116-seat restaurant feel more intimate, like dining at Quiñones's home. His playful plating style is full of color and whimsy, almost as if the food is dancing on the plate. Unique ingredient combinations keep the flavors unexpected and lively. His lobster BLT dog, for example, is dipped in a sweet and savory honey-lemon cornmeal batter and topped with Riesling whipped cream and tarragon-bacon relish.  
Trips to local farmers' markets reveal the week's in-season produce, such as radishes and scallions, which are then incorporated into an ever-changing seasonal menu that also includes regional game like Texas quail and Colorado venison. 
"Food is the dotted line that connects everything," says Quiñones. "It initiates conversation. It inspires hope. It can be emotional. It gives life and it breeds more life."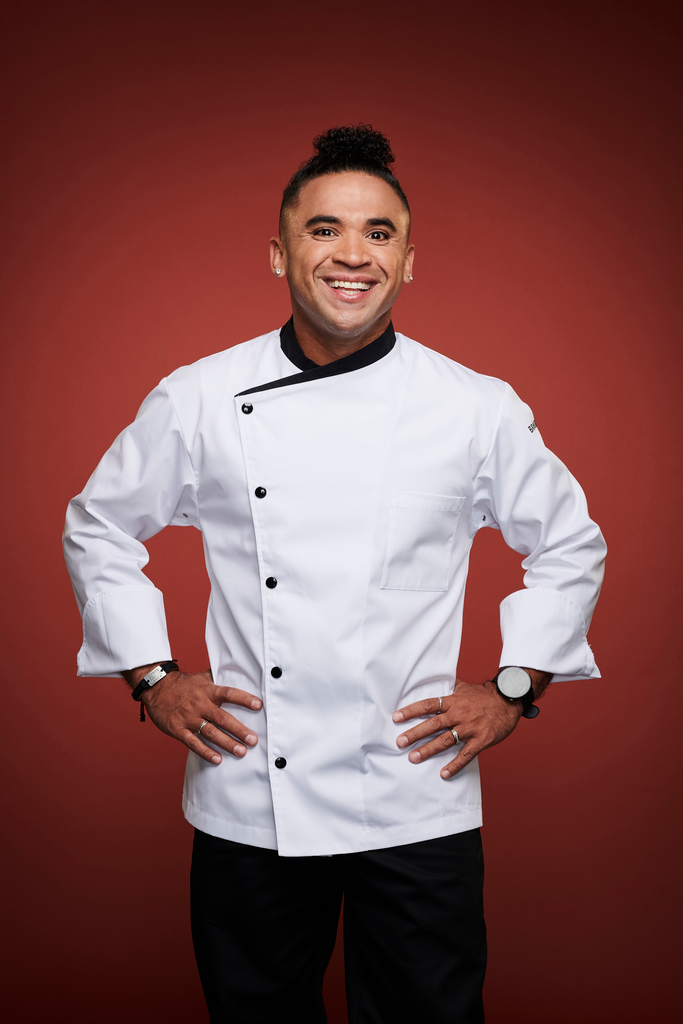 Chef Marc Quiñones recently appeared on the reality show Hell's Kitchen. Photograph courtesy of Scott Kirkland/FOX.
Cook with This: Spring Peas 
Marc Quiñones plans to elevate traditional ham and peas by pairing the sweet, local vegetable with decadent Ibérico ham hocks, or codillo. "Just imagine the super-tender ham with so much flavor, contrasted by the snap of incredible peas, and perhaps some pickled scallions and radishes thoughtfully incorporated into the mix with a few other goodies."
Más Tapas y Vino is open 8 a.m.–7:30 p.m. 125 Second St., Albuquerque; 505-923-9080.