Above: El Parasol's tacos get a hearty nod from Erin Wade (pictured below). Photographs by Douglas Merriam.
Almost all chefs share the same secret: No matter how high-toned their own menus are, as soon as they clock out, they crave simple comfort food. We asked some of the state's most recognized names where they go—incognito and on their days off. Here are the places they recommend. Make a list, pack a map, and get eating!
---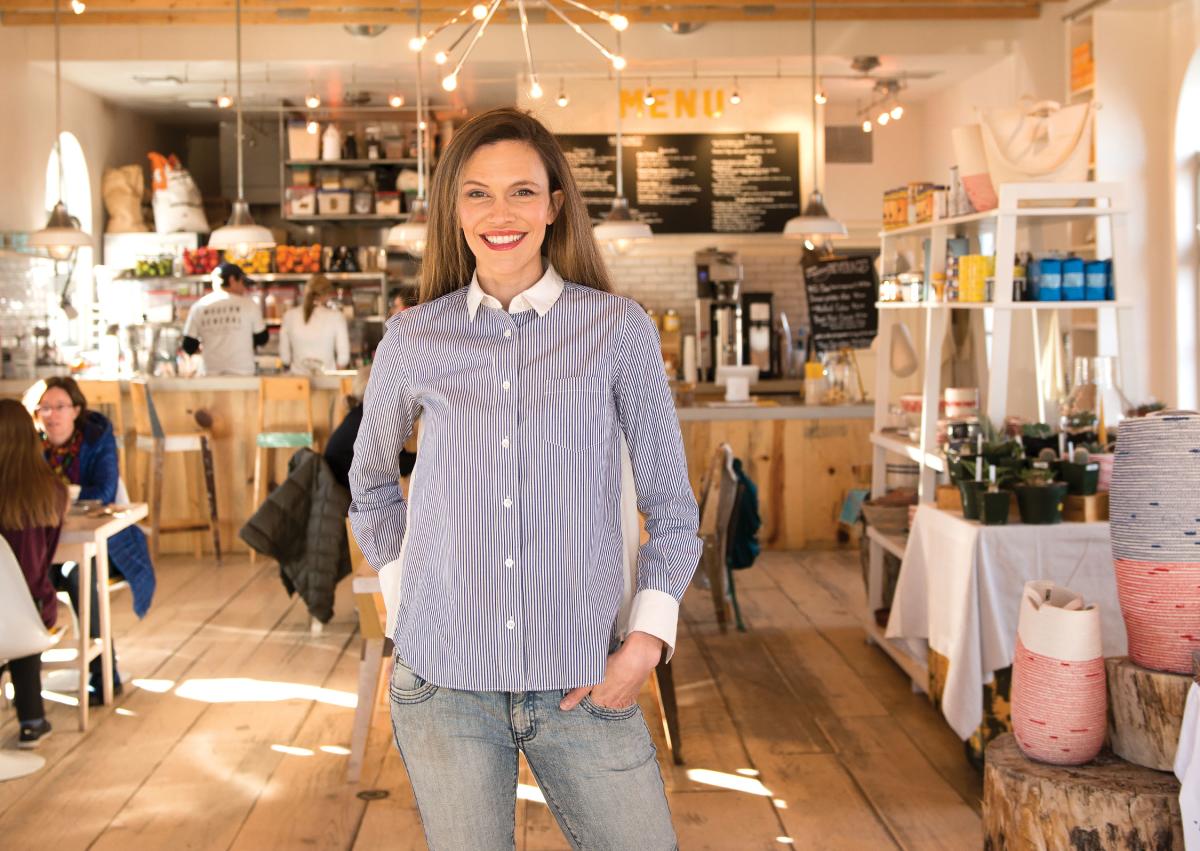 ERIN WADE
Vinaigrette, Modern General, and The Feel Good, in Santa Fe and Albuquerque
"I'm around a lot of salads and healthy food," says Erin Wade, who made her name with Vinaigrette's "salad bistro" concept, "but also I'm obsessed with El Parasol chicken-and-guacamole tacos." Wade lives in Nambé and commutes to the restaurants she owns in Santa Fe and Albuquerque, giving her plenty of opportunity to stop by the Pojoaque location of El Parasol, where she has been known to down as many as five tacos in one sitting. "I usually get three, though," she says of the little tacos, which are fried in their fresh corn tortilla shells, making them a sort of cross between soft tacos and flautas. "There's this earthy chicken, cheese, and fatty, gooey guacamole, then you get this nice bright hit of red sauce, and it's perfect." She can't get enough of that taco sauce: smooth and deep red, not a regular chunky salsa but also not just red chile. With counter service and a simple dining room along a busy stretch of highway, El Parasol is almost the exact opposite of her restaurants' Instagram-perfect interiors and kale-forward food. "El Parasol is just brilliant and old school," she says. "It feels protected from time." (Heads up: The restaurant also has outposts in Española, Los Alamos, and Santa Fe.)
Erin Wade's Top Pick: El Parasol, in Pojoaque
CRISTINA MARTINEZ
El Monte Sagrado, in Taos
"Anytime someone asks me where to eat in Albuquerque, I tell them you can't miss Orchid Thai," says Cristina Martinez, who oversees the kitchen of the Taos luxury hotel El Monte Sagrado. Martinez argues that Orchid is not only one of the best Thai restaurants in Albuquerque but one of the best restaurants, period. She stops at this colorful Nob Hill spot every time she's in the Duke City, her hometown. Martinez recommends Orchid's pineapple curry, which is served in a bowl carved from half a pineapple; she gets it with shrimp. "I also love the pad prik king red curry, Panang curry, green papaya salad, and the fresh baby coconut," she says. "The whole experience is just perfect." Martinez raves about Albuquerque's diverse culinary scene. "Sometimes people don't understand how big the Asian community is in Albuquerque," she says. "I love Santa Fe, don't get me wrong, but Albuquerque has so much depth of culture and heart. If you take the time to explore, you can delve into so many different cultures just going from one side of town to the other."
Cristina Martinez's Top Pick: Orchid Thai, in Albuquerque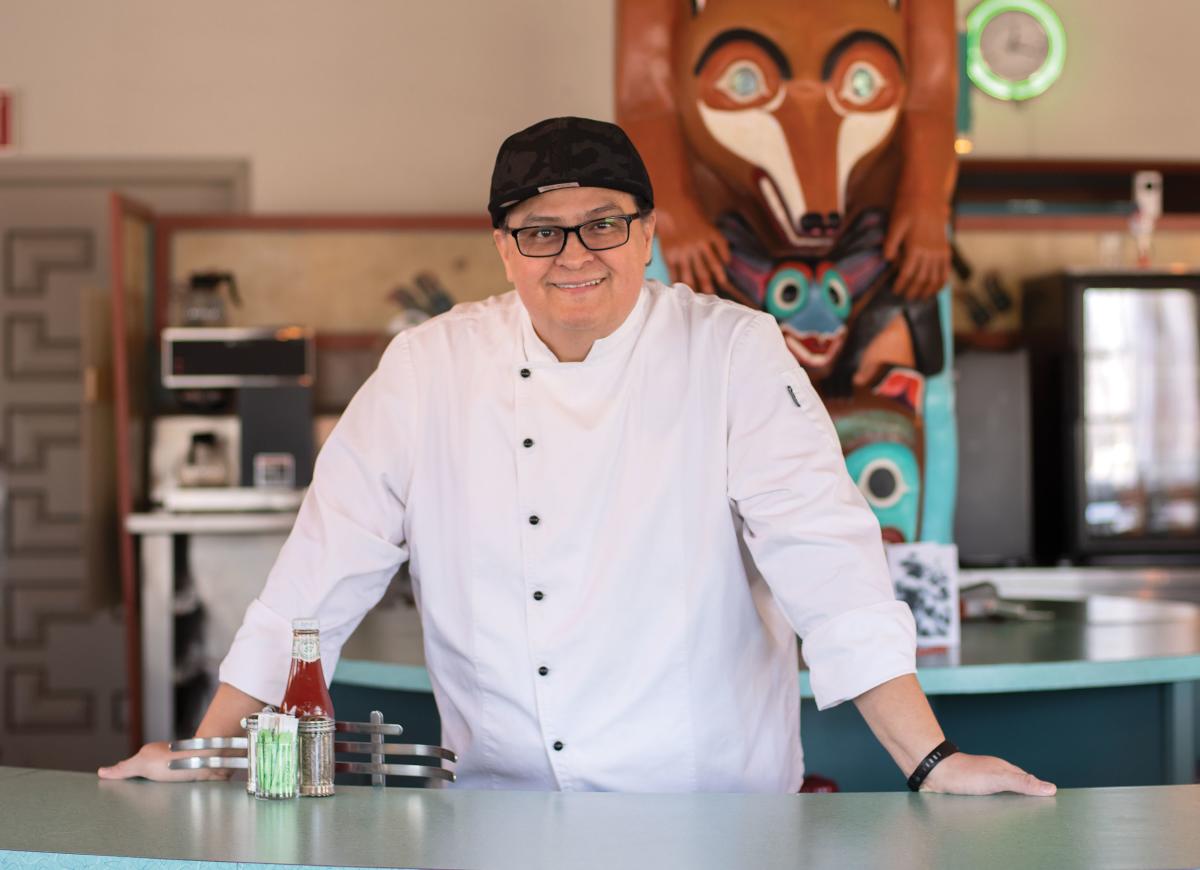 JOHNNY GABALDON
Thunderbird on 64, in Taos
"I don't like to eat my own food," says Johnny Gabaldon, who grew up in Santa Fe and ran the kitchens at Indigo Crow, in Corrales, and Prairie Star, on Santa Ana Pueblo, before spending a decade out of state. He's now in Taos, at the helm of Thunderbird on 64, a modern American diner that took over the Kiva Coffee Shop at the recently renovated Kachina Lodge. Gabaldon serves expertly crafted omelets, hamburgers, huevos rancheros, and other New Mexican classics, but when it comes time to sit down to a meal, he walks straight past his own retro-tiki lunch counter and heads to Ranchos Plaza Grill, a cozy mom-and-pop place at the foot of the iconic San Francisco de Asís Mission Church, in Ranchos de Taos. "The food is very traditional, with huge sopaipillas made from scratch, great red and green, and carne adovada that's caribe style," he says, referring to the coarse-ground red chile caribe that's often used in braising hunks of pork for carne adovada. "The adovada I'd say is about an eight-ounce slab of pork, and the chile is hot," he says appreciatively. Gabaldon also recommends the BLT if you're not in the mood for heat. No matter what you order, "it's a locals' spot, so everybody knows everybody," he says. "You go in and people get up from the table to talk to you, ask about your family, you know, so dinner can take a while."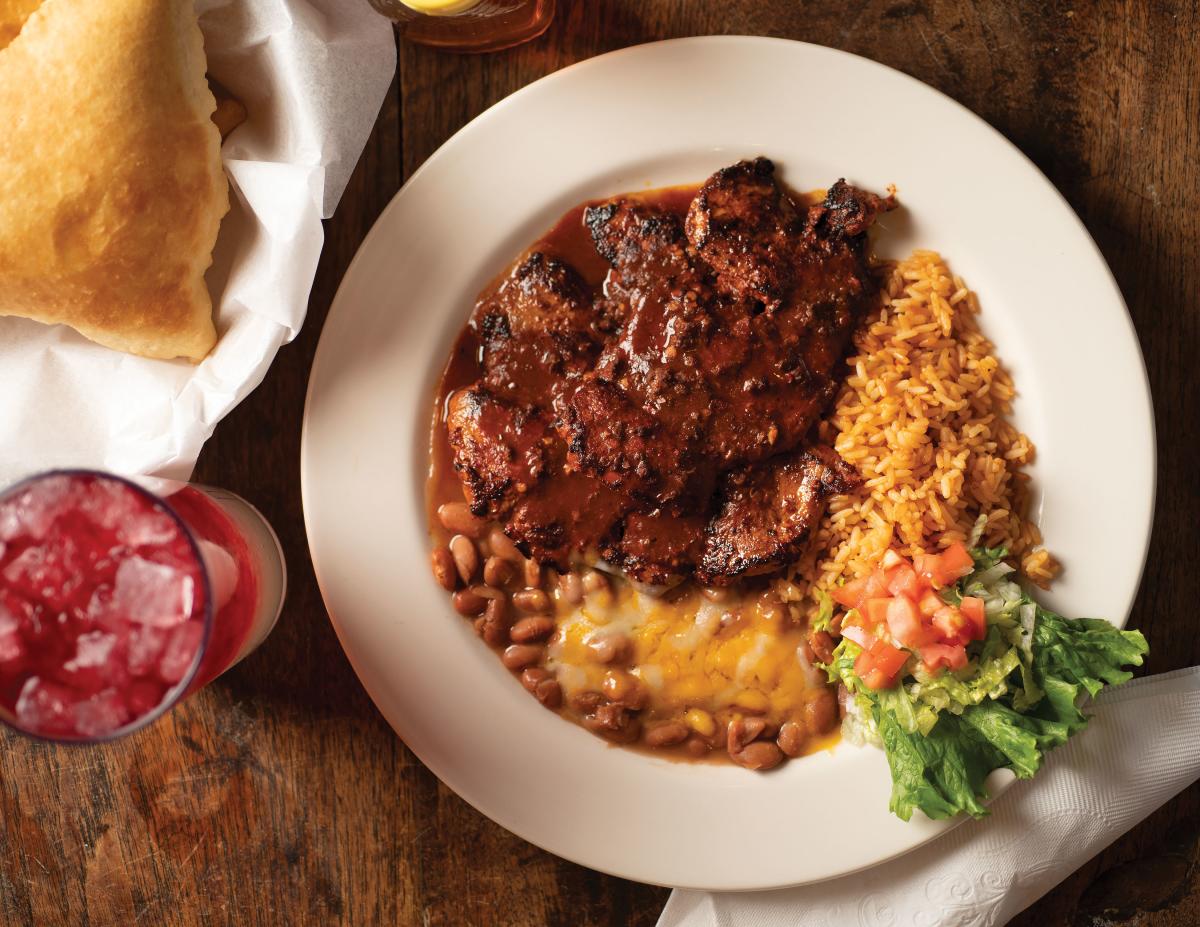 Johnny Gabaldon's Top Pick: Ranchos Plaza Grill, in Ranchos de Taos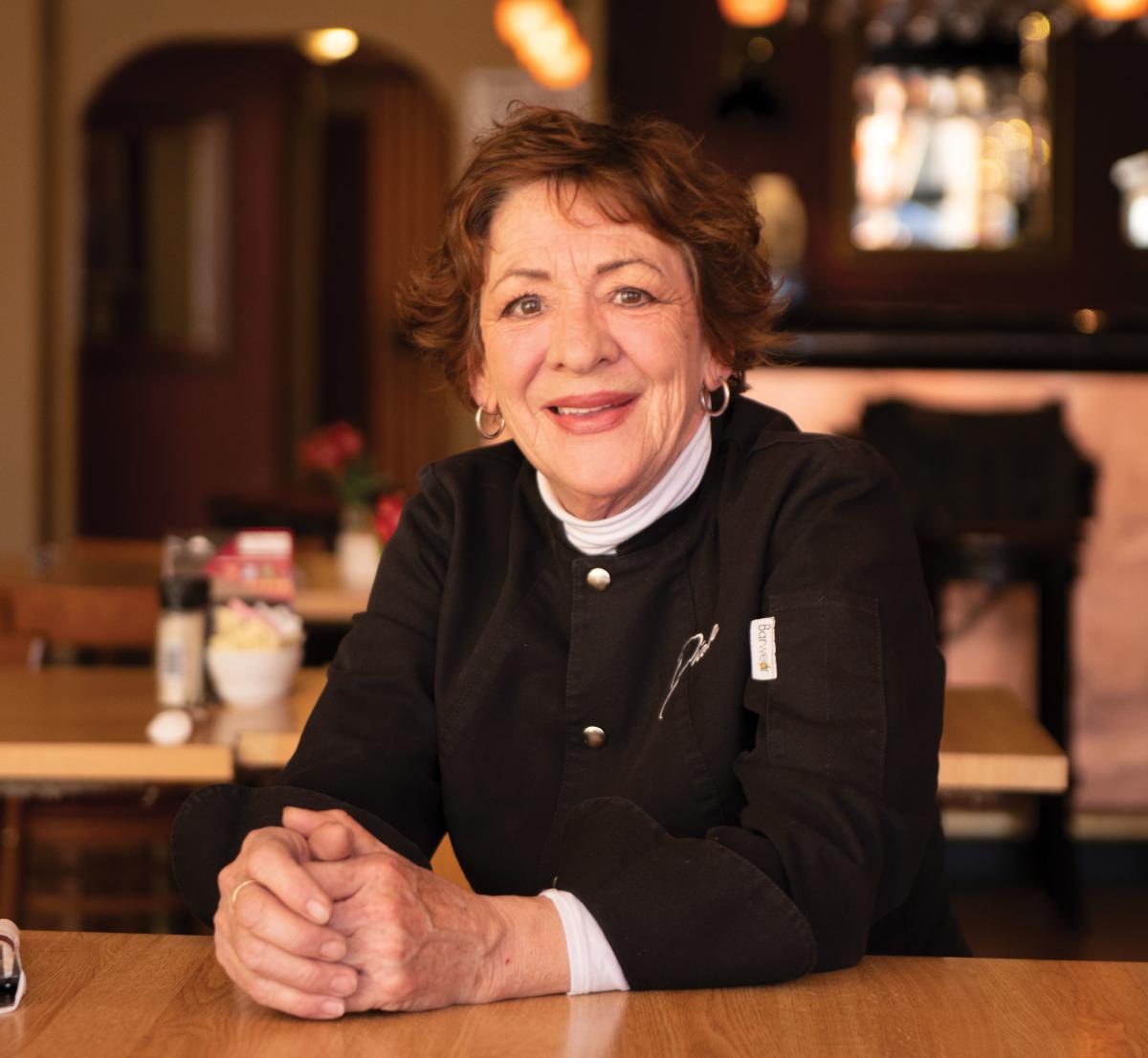 DIANE BARRETT
Diane's Restaurant, in Silver City
"It's just all so fresh—they pay attention," says Diane Barrett of her experience eating at Tapas Tree Grill. Barrett, who opened her eponymous Silver City restaurant in 1996 and recently passed the reins to her son Bodhi, is drawn to Tapas Tree Grill for its fusion menu that mixes French crepes with Asian fare and includes other offerings like salads, Thai bowls, and "chompers." Barrett's favorite is the Mediterranean lamb chomper, which she compares to a slider, drizzled in tzatziki and garnished with cheese and veggies. It's her regular order there. "And the owners," Barrett raves, "are hardworking community-oriented people, too," who've added to the food diversity in town. But it's not just the food that draws her and others. Tapas Tree Grill, located along the main drag in Silver City's historic district, also welcomes well-behaved dogs at the outside tables.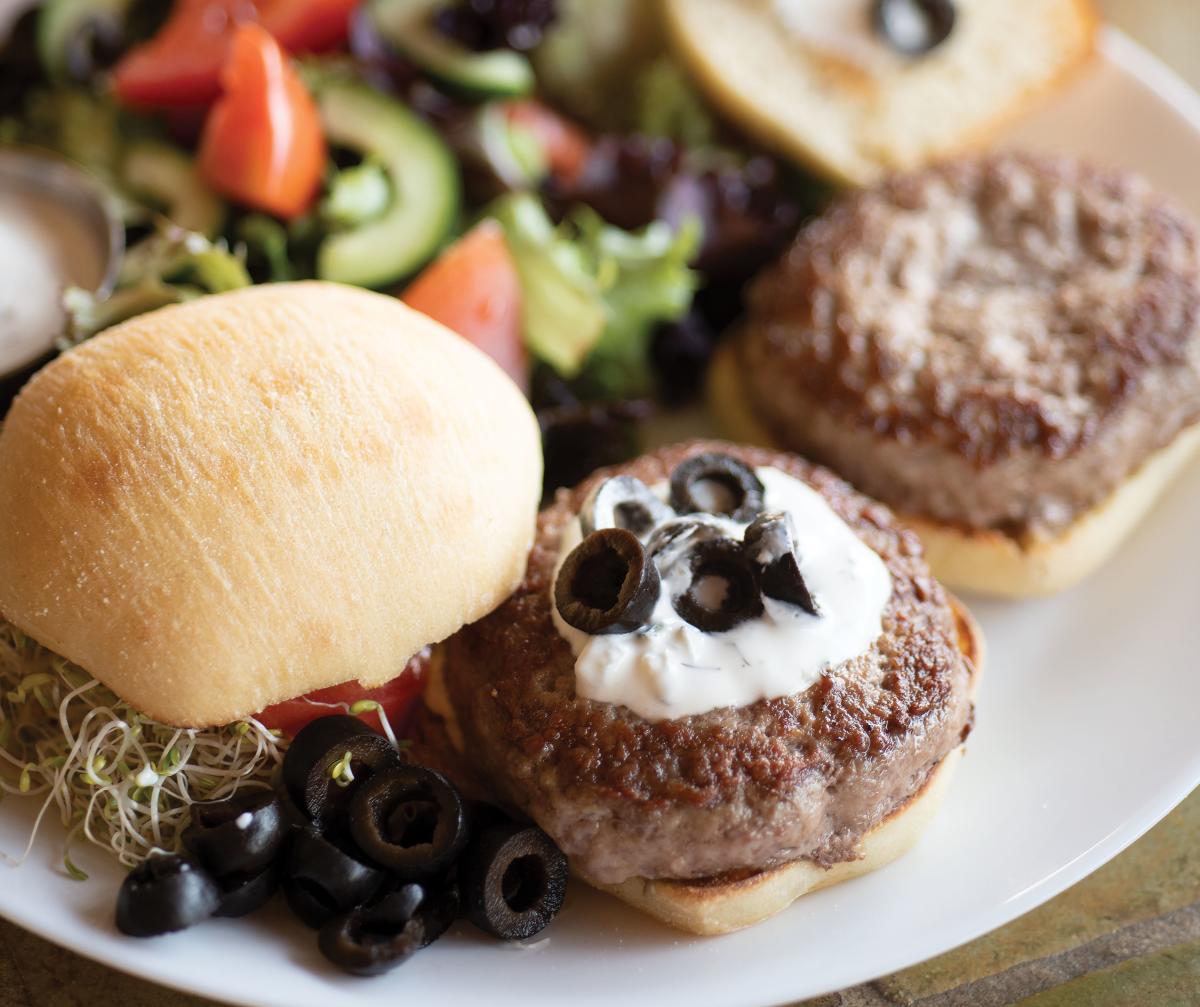 Diane Barrett's Top Pick: Tapas Tree Grill, in Silver City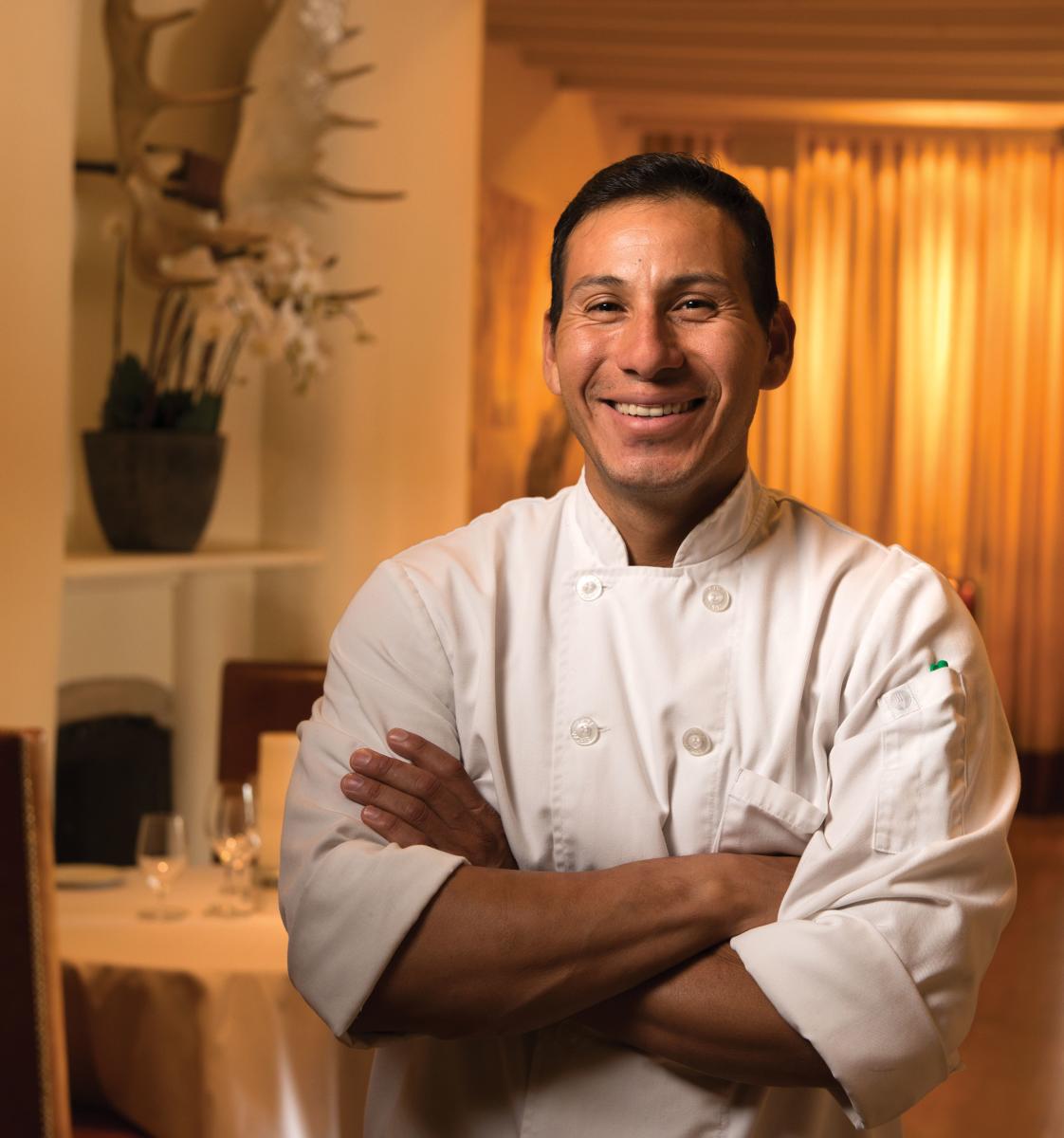 SLLIN CRUZ
Geronimo, in Santa Fe
"I'm a breakfast person," says Sllin Cruz, the executive chef and partner at Canyon Road's iconic Geronimo, where dinner is the only meal on the menu. As often as he can, Cruz makes a beeline for the unassuming Sunrise Family Restaurant, whose oversize satellite dish was turned into a giant plate of eggs and bacon, billboard-style, on St. Michael's Drive. "I love the breakfast burrito with eggs, potatoes, and chorizo," he says, "smothered with green chile and with a side of bacon—extra crispy." Cruz is a particular fan of the potatoes in the burrito, which he has spent some time analyzing. "They're sliced potatoes, and I feel like they blanch them and then crisp them on the flattop." The breakfast burrito is a far cry from Geronimo's rib eye with confit shallots, chanterelle mushrooms, apple béarnaise, and veal demi-glace, but outside of work, Cruz likes to keep it simple. "I can fall in love with a filet or a breakfast burrito," he says. "I love the steaks that we serve, but if I'm going to eat a steak, I want something simple; I'm not going to eat it with foam and all that." Sunrise isn't trying to be fancy, and that's what he appreciates. "It's like when your grandma cooks, and it tastes so delicious, because she's not trying to impress you, she's just trying to feed you."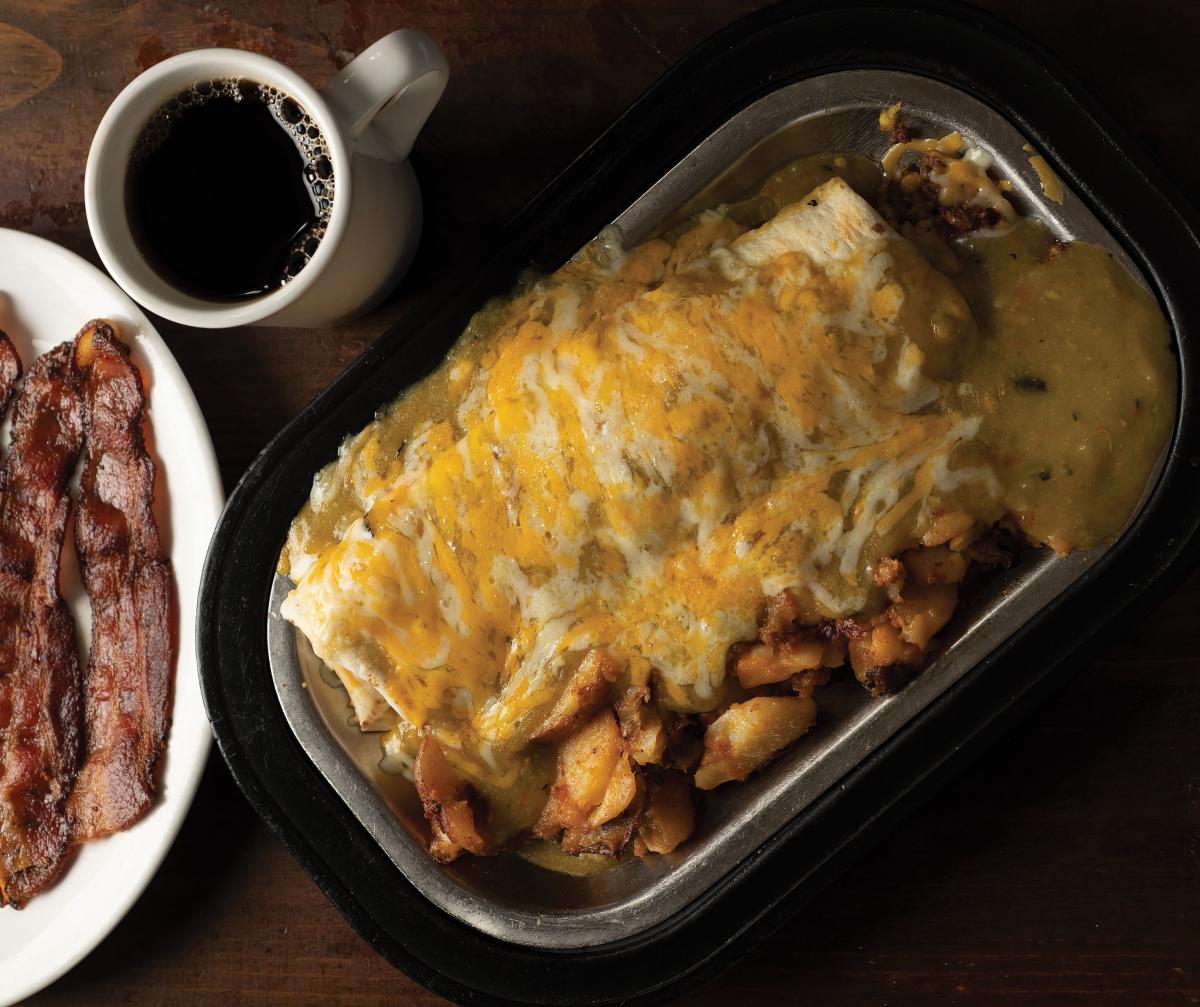 Sllin Cruz's Top Pick: Sunrise Family Restaurant, in Santa Fe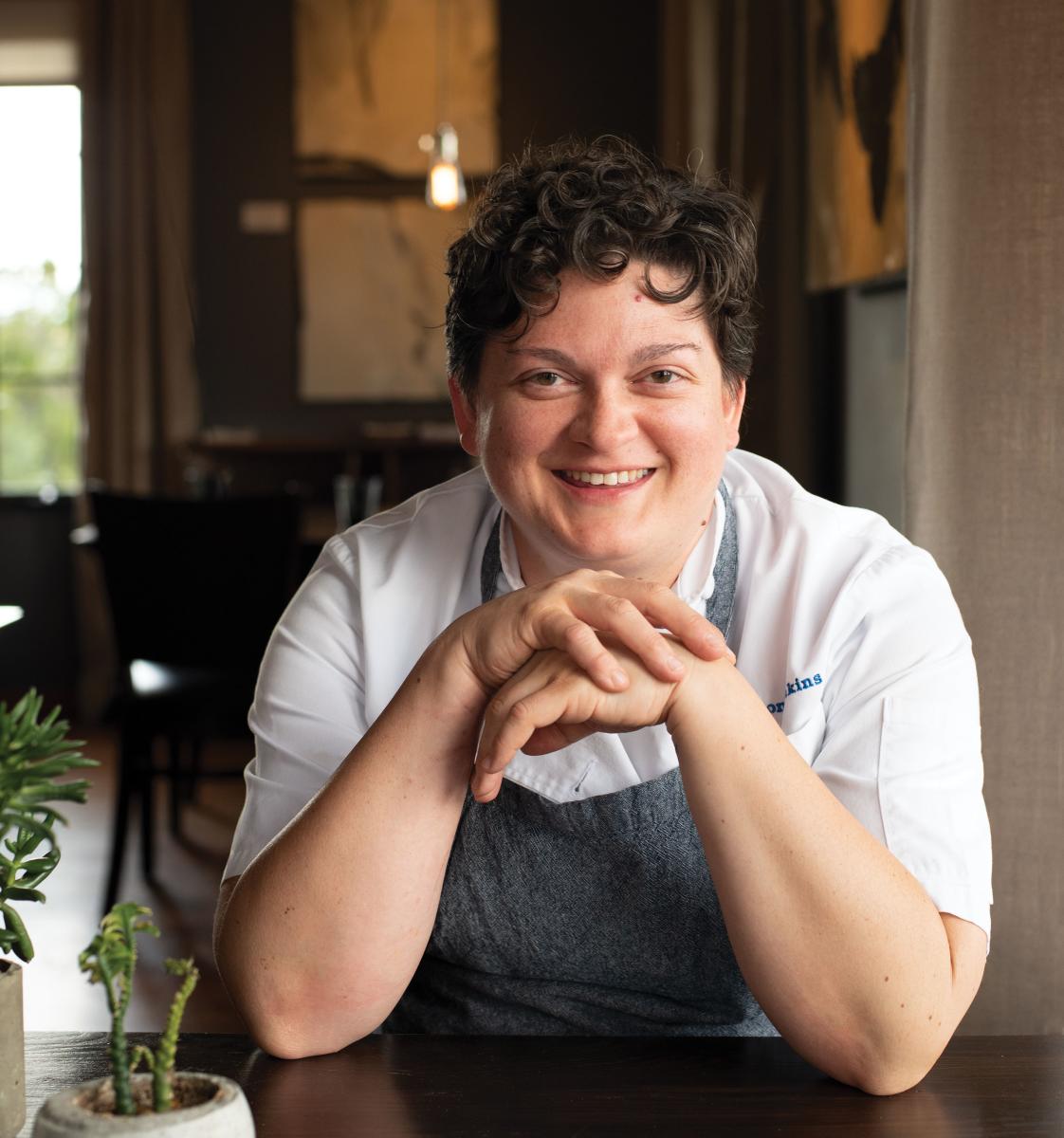 ALLISON JENKINS
Arroyo Vino, in Santa Fe
"I eat the veggie enchiladas at La Choza pretty much every week," says executive chef Allison Jenkins, whose menu at Arroyo Vino, in Santa Fe, includes dishes like Egyptian-spiced cauliflower with saffron-parsnip purée and pomegranate. Not a vegetarian by nature, Jenkins settled on this La Choza standard—packed with broccoli, mushrooms, zucchini, and yellow squash—last January after an overdose of holiday rib roast. "I was surprised. It's really good!" When she strays from the enchiladas, it's for La Choza's Posole a la Mexicana, the version that comes with a garnish fiesta of avocado, onion, cilantro, purple cabbage, radish, and lime. On Sunday nights, Jenkins cooks at home, but on Monday night she's usually at La Choza. "I get there early and have a couple of drinks, see the same people. It's kinda like Cheers," she says. Jenkins appreciates the restaurant's precise consistency, the packed house, the selection of local beers—and the fact that somebody else is at the stove. "I do eat my own food," she says, "but when you look at it all day every day, you know …"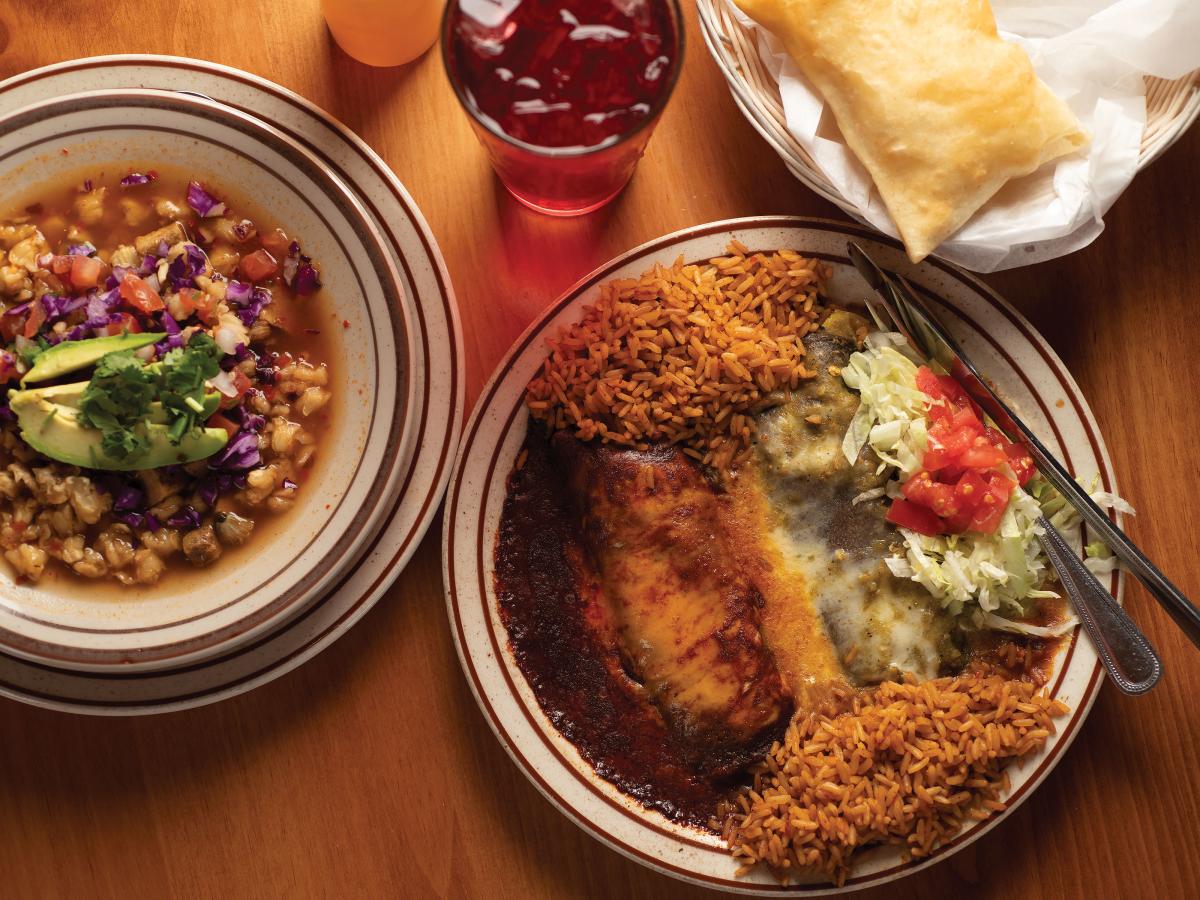 Allison Jenkins's Top Pick: La Choza, in Santa Fe
---