Above: Richard, Alicia, and Dolores Guzmán dig in. Photographs by Douglas Merriam.
MY SECOND YEAR IN GRAD SCHOOL, I promised to serve chiles rellenos to my PhD adviser and her husband. Without my mom as my kitchen consigliere, and in a studio apartment that was as cramped as the Santa Fe Whole Foods parking lot, I vowed to come through on that promise. About a week before, I'd smuggled a frozen block of whole Hatch green chiles in my carry-on from Albuquerque to Rochester, New York—enough to have dinner and then some. I stood in my kitchen frantically preparing dinner, never having made rellenos alone. Only now does it strike me as funny: a high-strung norteña trying to survive a doctoral program with Hatch green chile carted in a freezer bag through several airports, and a recipe I'd only partially memorized.
So I called my mom.
I was fuzzy on the process, not to mention flustered, so she walked me through it over the phone, giving offhand measurements while trying to keep me from flying off the handle. When I finally felt confident to finish on my own, we wrapped up the call. She asked, "Are you good, mija?"
Read more: Need more Chile relleno recipes? Check out this recipe!
During those years spent on the East Coast, I eventually learned how to make chiles rellenos on my own. In hindsight, though, they always seemed to be missing something—my mom, the former elementary principal and old-school mera mera who balks at the mention of a measuring cup. Now that I'm back in New Mexico, she's always by my side, still using the same retro brown hand mixer—which I estimate is at least 10 years older than me—because, well, it still works, and still sharing the latest juicy mitote in the process. Making rellenos together is a special undertaking that she plans weeks in advance. Weeks.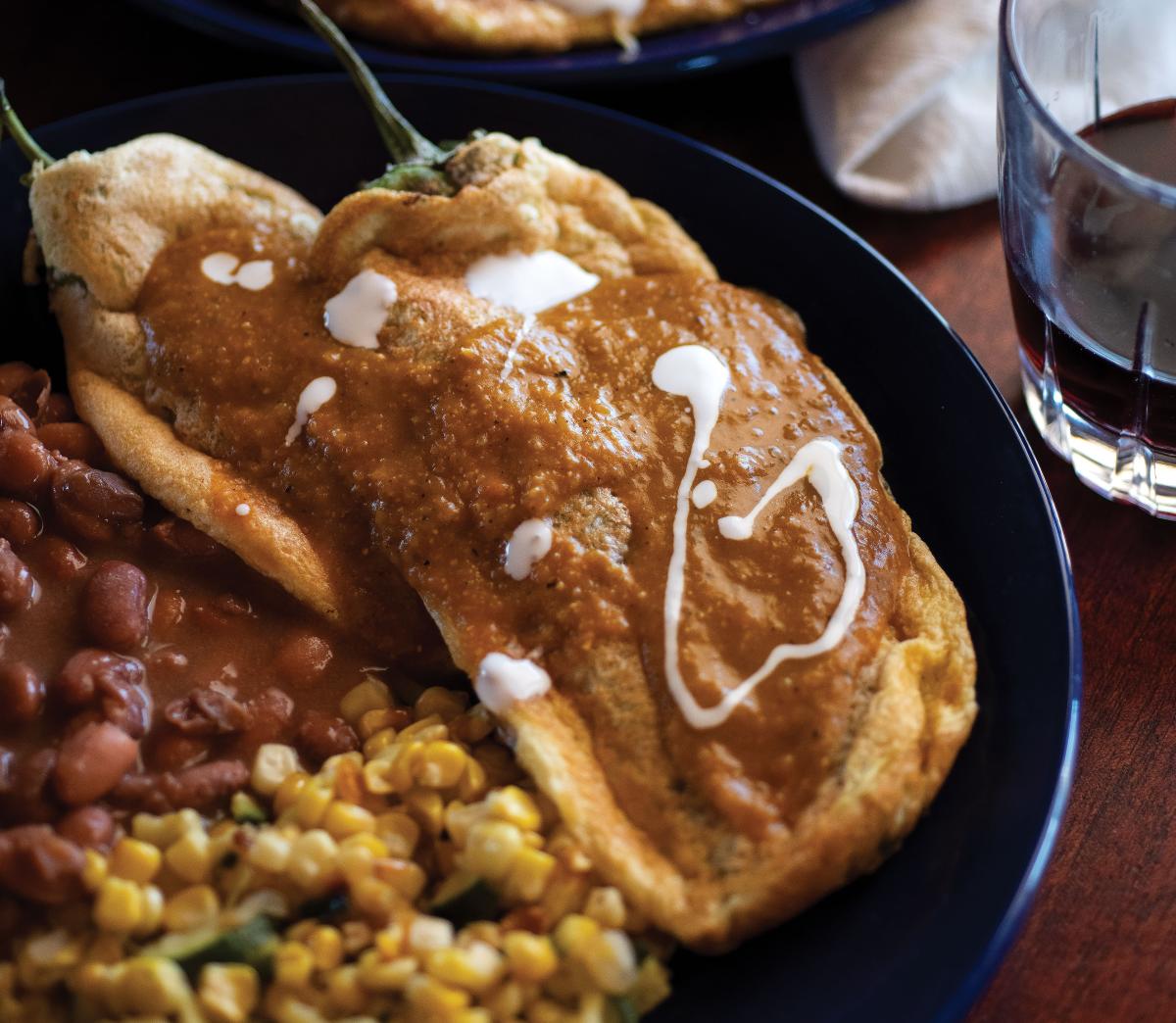 Above: ​Chiles rellenos smothered in pumpkin mole.
When the big day arrives, I head up to my parents' house in Truchas, my north star, the place that holds firm when all else threatens otherwise. It's where, as kids, my older sister and I witnessed my great-grandmother reach 103. It's where I learned to make rellenos. I help my mom prep the kitchen assembly line, having long ago memorized the tasks. With nary a tool for measuring in sight, we begin.
My mom roasts the chiles and then lets them sweat until they're ready to peel. Once she takes their skins off, I make a small incision straight down the center, stuffing each with hunks of cheese, closing the incision, and dredging them in a coating of flour. Then comes the magic: the egg batter, a recipe that my mom credits equally to my maternal and paternal grandmothers. In northern New Mexico, the batter is called torta de huevo, and most of the time it's dolloped into a pan like mini-pancakes. Those fluffy disks are added to red chile in place of meat, a delicacy that's popular during Lent. When used for chiles rellenos, though, the torta de huevo batter mimics rellenos recipes beloved in Mexico.
Read more: Our top picks for a few unusual chile recipes featured in New Mexico Magazine.
As my mom separates the yolks from the whites, I turn on the hand mixer to the highest setting, unfazed by its age, and whip the batter to full peak, adding the yolks in afterwards for a creamy consistency. I dunk the stuffed green chiles in the fluff and quickly set them in a hot, oiled pan. Under the heat, the egg batter fluffs up even more, giving the stuffed green chile a golden halo.
Sizzling before our eyes is what can only be described as green chile apotheosis. It's home to me—this kitchen, this ritual.
---
THE RECIPES
Dolores Guzmán's Chiles Rellenos
For this recipe, we use New Mexico–made F & A asadero cheese and Tucumcari Mountain Cheese Factory sharp cheddar. While it's typical in Mexico to pour a red salsa or green chile sauce over the chiles rellenos, we make a mole amarillo (opposite) and garnish the rellenos with crema mexicana. Don't forget the sides of beans and calabacitas.
Makes 6–8 servings
For chiles
16 large Hatch green chiles (keep stems attached)
1 pound sharp cheddar cheese, cut into ten 3-by-1/2-inch strips
1 pound asadero cheese, cut into ten 3-by-1/2-inch strips (depending on the size of the chiles, you may need to cut more)
3/4 cup flour
1 teaspoon garlic powder
1 teaspoon onion powder
1/2 teaspoon salt
For egg batter
8 eggs, yolks separated from whites
2 teaspoons baking powder
1 teaspoon onion powder
1 teaspoon garlic powder
1 teaspoon salt  cup of olive oil (divided)
If you've purchased your green chiles already roasted and peeled, skip the first step.
Place 3 to 4 fresh green chiles on a hot griddle, flipping from side to side until fully charred. Continue with all chiles. Place in a bowl with a lid to help keep the heat in so they can sweat. Thirty minutes later, peel all the charred skin off the chiles.
Cut a two-inch-long incision down the center of each chile. Place one to two pieces of cheese inside, depending on the size (take turns between cheddar and asadero, or combine them). Carefully pull the incision together.
In a separate bowl, mix flour with garlic powder, onion powder, and salt. While keeping the cheese inside, dredge the chile in the flour mixture, using a fork to cover any missed spots.
Place egg whites in a bowl and beat on high, adding the baking powder. When firm like a meringue, add egg yolks, onion and garlic powder, and salt. Mix for 30 more seconds until fully incorporated.
Spread two tablespoons of olive oil in a large frying pan and turn on medium heat. Test a droplet of batter. It'll sizzle when ready. Holding it by the stem, and taking care to keep the incision closed, dunk one chile into the egg batter, coating it fully, using a fork to cover the surface. Place chile in the pan and cook two minutes on each side, turning it over with a spatula when golden brown. Repeat.
Mole Amarillo
Many people are used to a mole based on red chile and chocolate, but these traditional Mexican sauces come in lots of varieties and always make use of numerous fresh ingredients. Now is a great time to pick up fresh pumpkins at your farmers' market, but we went with canned here.
Makes 4 cups
1 white onion, quartered
4 cloves of purple garlic
3 tomatillos, halved
4 dried pequin chiles
1 cup boiling water
5 whole allspice berries
3 whole cloves
One 13-ounce can pureed organic pumpkin
1/4 cup piñon nuts
1/2 teaspoon cinnamon
1/8  cup raw turbinado sugar
3 cups vegetable broth
1 1/2 teaspoons salt, more to taste
On a griddle over medium heat, char onion, garlic, tomatillos, and chiles. Flip from side to side to cook evenly. Take chiles off (they cook the fastest), remove seeds and stems, and place them in 1 cup of boiling water. Cover. When garlic, onion, and tomatillos are fully charred, set aside. On same griddle, toast allspice berries for 1 minute.
Place garlic, onion, tomatillos, allspice berries, cloves, pumpkin, piñons, cinnamon, sugar, broth, chiles,  cup of chile water, and salt in blender. Blend until smooth. Pour mixture through a strainer and discard any pulp. Simmer on low 30–45 minutes until thick and dark. Add salt to taste. 
---