Llama Trek
PACK IT IN
Swimming with the dolphins may not be an option here, but you can camp with llamas in northern New Mexico. Wild Earth Llama Adventures offers fully catered and outfitted multi-day treks staffed by nature-knowledgeable owner Stuart Wilde and an assortment of his fluffy, limpid-eyed rescues. As you amble into the backcountry with nothing to hang on to except your own personal llama partner's lead, Stuart's voluble lessons on petroglyphs, plants, and your pack animal's personality bring the adventure into sharper focus. Watercress foraged from running streams will make his hand-built sandwiches even tastier, and should you catch a chill in your tent at night, the woolly llamas are usually up for a cuddle. (800) 758-5262; llamaadventures.com
Also, don't miss NM True TV's take on the whole experience...
—Candace Walsh
Luxe Tents
HIGH CAMP
Imagine a camp on the banks of a clear, flowing stream—the Brazos River. Your view is a 2,000-foot wall of Precambrian rock, the Brazos Cliffs. The nights are cool at nearly 8,000 feet, and the sky is starry. You're off the grid—but enjoying your creature comforts. Your canvas safari tent has a wooden floor, a front porch, and a mattress with fresh linens. Dinner is a Dutch-oven stew or grilled steak with wine, and handmade ice cream for dessert. Showers are gravity-fed and solar-heated. Hired hands cook and clean, pack your horse, and guide your way from camp to a high Brazos Canyon meadow. Something missing? Just ask the concierge.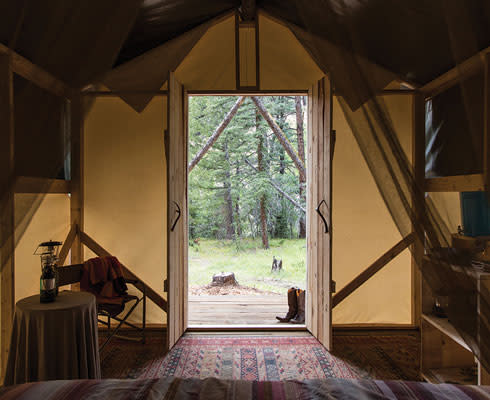 (photo Jen Judge)
This is glamping—glammed-up camping—on Fishtail Ranch in Chama. For years, owners Lee and Valerie Weiss offered elk-hunting pack trips in Colorado. Their horse team needed a job in the summer, Valerie says, so she and Lee started offering summertime horseback rides in Chama. Then customers requested overnight trips—without the work. "They don't really want to break camp every morning and ride the horses and set camp up every night," she says.
So she and Lee built the camp that others envisioned. She calls it "simplified luxury," an array of 4-to-12-day excursions for families, adults, or cowgirls with a taste for comfort. Anglers of all skill levels can book half-or full-day guided fishing trips on the ranch's private trout-stocked ponds or, later in the season, the Brazos River, fed by high-mountain waters that keep it cool through the summer. The ranch also caters to individual requests. "We're pretty flexible," Valerie says. What never changes: the sound of the Brazos River, and that stunning wall of cliffs. (575) 588-7884; campchama.com
—Karen Coates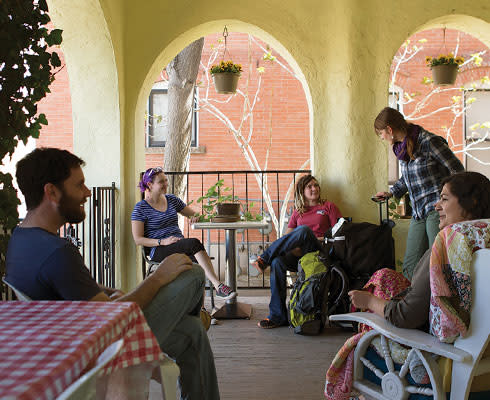 (photo Kate Russell)
Hostels
NEW BEST FRIENDS
Most people associate hostels with college students backpacking around Europe. But at age 26, after an inspiring trip to the West Coast, I saved a modest nest egg, quit my job in Kansas City, and moved to San Francisco. I had two weeks until I was due in the Bay, so I hit the road. First stops included Taos, Santa Fe, and Albuquerque.
I could have stayed in hotels, but you know when you're staying in a hotel and someone gets on the elevator and you both avoid eye contact and conversation? I didn't want that. When you're residing in a hostel, be it for a night or a month, strangers become friends in a matter of minutes. And this way, I had more money to spend on restaurant meals and handmade jewelry.
On the inviting landing of the Route 66 Hostel in Albuquerque, I discussed Australian politics and the UK stock market with natives of both countries. At Arroyo Seco's Snowmansion, guests were encouraged to help themselves to the bounteous produce grown on the hostel's five-acre organic farm, or pitch in for a community dinner.
At the Santa Fe International Hostel, I met a guy from New York City whose goal was to travel around the entire world without getting on an airplane. He'd been walking and hitching rides across the country for months. Last time I checked, he had made it to Romania. After a day of flea market browsing, attending an impromptu book signing, and window shopping, I felt like we were old friends who'd been planning this trip for years.
—Jen Harris
ALBUQUERQUE Route 66 Hostel: 1012 Central Ave. SW;
(505) 247-1813; route66hostel.com
ARROYO SECO (TAOS) Snowmansion: 476 NM 150;
(575) 776-8298; snowmansion.com
SANTA FE Santa Fe International Hostel: 1412 Cerrillos Rd.;
(505) 988-1153; hostelsantafe.com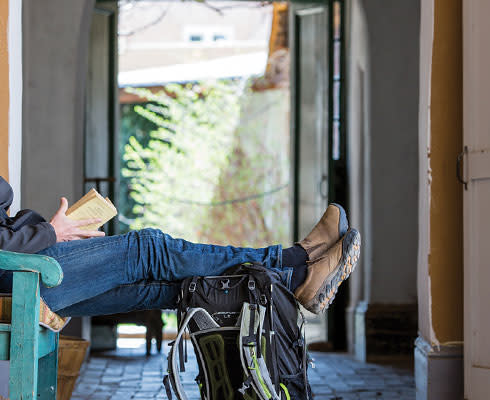 (photo Minesh Bacrania)
Couch Surfing
MI SOFA ES SU SOFA
The first time I visited Santa Fe, I slept on a floor. Well, not on it, exactly—there was an air mattress involved, one of those motorized self-inflating ones, fitted with soft, cozy sheets and heaped with quilts to ward off the cold. The host who had prepared the bed for me, a political cartoonist named Dom, uncorked a bottle of wine and filled me in on the upcoming state primary elections as snow piled against his window on Canyon Road. Though I felt like an old friend, we were perfect strangers.
Dom and I had gotten in touch through couchsurfing.com, a social network that connects broke or outgoing travelers with hospitable locals willing to let them stay for free—Airbnb with no budget. As the name suggests, accommodations can be spare, but Couchsurfers' generosity of spirit is something special. When I e-mailed Dom a few months after my visit to let him know I would be moving to Santa Fe, he went out of his way to help me secure the quaint studio apartment across from his own.
Late that summer, I found myself knocking on my neighbor's door: I needed to borrow the air mattress. Two Parisiennes on a road trip had sent me a last-minute request, and for the first time I was going to host Couchsurfers of my own. I welcomed them with apologies that I'd only been here a couple of months myself, but after a pint at Draft Station on the Plaza and margaritas at the Shed, I started to warm up to my role as tour guide. The women nodded politely at the state history I tried my best to remember as we admired the cathedral and the Palace of the Governors by lamplight. We danced into the early hours at a bar where more often than not we were the only ones on the floor. In the morning, my guests, both architects, wanted to check out a nearby construction site to study details of Santa Fe style. While we were there, the homeowner dropped by, but he seemed unsurprised to find Frenchwomen gawking at the exposed adobe and beams. Instead of shooing us away, he took us out to his garden, in the spirit of New Mexico hospitality, and showed off his beehive.
I kept hosting, and after a few guests a routine developed. Air mattress. Enchiladas and tequila. Downtown walking tour. Most Couchsurfers have done their share of globe-trotting, but New Mexico's unique charm was an easy sell, even for a novice guide like me. "All I can say is Santa Fe is one of my favorite cities in the Southwest," a surfer from Kansas City wrote in a review of her stay. No argument here.
Only one visitor refused the air mattress. A bearded Seattleite on his way to Taos to volunteer at an Earthship ducked into my apartment just long enough to scan the stacks of books I was reading for grad school at St. John's College, before announcing that after dinner he'd sleep in his car. Had I done something wrong? No, it turned out: He just wanted to let me get up early to read. In fact, as we tucked into plates steaming with red chile, he told me he was so taken with the St. John's curriculum that he was tempted to apply there himself. That was when I realized something about Couchsurfing that probably should have been obvious: It's not just about finding somewhere to crash; it's about appreciating the places other people love.
—John Muller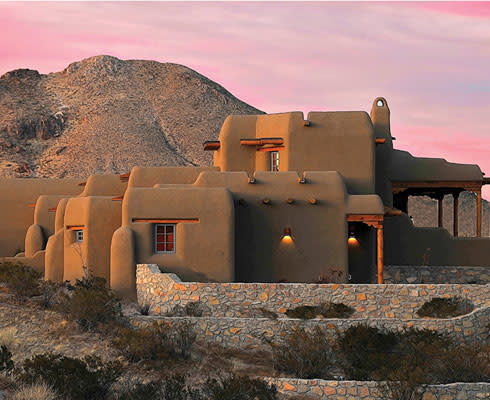 (photo Wayne Suggs)
House Swap
I'LL TRADE YOU!
In the past, we'd stayed in vacation rentals in London and Paris. They were cheaper than hotels, and we economized further by cooking some meals in the kitchens. Multiple bedrooms meant we could have mini family reunions abroad with my Europe-loving Midwest-based in-laws, in a setup that gave us all plenty of space and soothing creature comforts. But this time around, the house-swap idea beckoned as a way to save even more money. I wanted to exchange our three-bedroom pueblo contemporary with sweeping views for a clean, pleasingly furnished apartment or house in France, Italy, or Greece. When I uploaded photos of our house on homeforexchange.com, I didn't know if I'd get any bites.
Then the e-mails started popping up.
This August, I'll be staying in Bernadette's stylish yet lived-in Lyon, France, apartment while she and her family kick back in my Santa Fe spread. Cost: free, except for the price of the annual website membership ($64.50), which keeps members honest by including a Yelp-style review system. The site also requires that swappers use its very detailed contract agreement, so everything is squared away up-front.
After Bernadette e-mailed me, we engaged in a flurry of congenial negotiations. Could we also swap cars? Yes. Could we hire each other's housecleaners to do a post-departure scrub-down? Bien sûr. Now I'm a little bit sad that we won't have any overlap time, because I feel like she's a friend I haven't met yet.
It turns out that Bernadette loves opera—we bonded over that—and so her party will be heading up to the Santa Fe Opera to take in the world-class productions under our starry sky. I'm going to give her lots of tailgating tips and point her to our portable table, chairs, and picnic basket. She's going to share a list of all of her favorite restaurants, bistros, and cafés, saving me from poring over tripadvisor.com for hours and bumbling into lackluster joints. My Francophile father-in-law, George, is on a never-ending quest to find the best bowl of French onion soup in France, so I'll make sure to ask Bernadette about that.
The only drawback so far has been the list of house chores that my wife and I have been meaning to get around to. Painting scuff marks. Redoing a crumbly brick section of our courtyard. Steam-cleaning the rug. Getting a new couch. Cleaning out the garage. Now they must be done before August. But really, that's a benefit. Wherever I venture, it's always a treat to come home to Santa Fe. This home improvement regime will make our vacation comparably more carefree—and our home a nicer one to return to.
—C.W.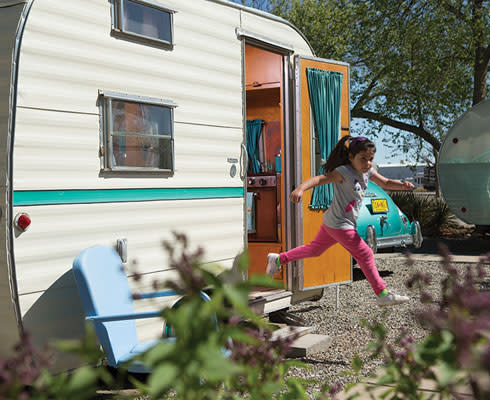 (photo Kate Russell)
Vintage RV Rentals
HAPPY CAMPERS
Check in to the golden age of Route 66 road-trip culture at Albuquerque's Enchanted Trails RV Park, which rents out both RV parking spots and eight stationary classic cruisers, furnished meticulously with period art, lighting, appliances, and furniture. A '59 Spartan feels anything but, with a full bath, spacious living room, well-appointed kitchenette, and chenille-covered double bed. Flip through a magazine of the bygone days while your percolator brews up a cup of joe, which you can pour into a Melmac mug.
The Route 66 site has been a roadside attraction for over 50 years. Formerly a 1940s trading post, the only non-mobile structure has transformed into the heart of Enchanted Trails, housing the park's office and laundry room. Each room is furnished with antiquated objects: a Wurlitzer theater organ, a wringer washer, and a mangle iron. "I'm a collector," owner Vickie Ashcraft says. "If you come here and look around, you can tell."
Visitors hail from all over. "We get a lot of European tourists," she says, plus tour groups from Australia and China. The park hosts rockabilly fans and car shows, and sometimes even a wedding party. "It's just kind of crazy and kooky," Ashcraft says. Fans wouldn't have it any other way.
—K.C.
ENCHANTED TRAILS RV PARK 14305 Central Ave. NW;
(800) 326-6317; enchantedtrails.com