Above: Volkswagen vans converge at a 1970 summer solstice celebration.
Photography Courtesy Museum Collection of Yogi Bhajan, Siri Singh Sahib of Sikh Dharma
WERE IT NOT FOR a melting fan belt and an unquenchable thirst, I might never have stumbled into the Land of Enchantment. For certain, the asphalt world in New York City, where I was born and raised, could not hold me. So, in the summer of Woodstock, 1969, I traveled across the country with my Palestinian husband, Faisal, whom I'd met and married in Jerusalem a year before. We left the Lower East Side in a '56 Chevy station wagon outfitted with sleeping bags, a tent, backpacks, a charcoal camping stove, and bags of granola. The nation's highways were filled with young wanderers, often identified by hand-painted psychedelic vehicles. We headed to Berkeley, where Faisal had a heartfelt reunion with an aunt he'd not seen for over 20 years.
Memories of that summer and how I soon ended up at a Taos commune came rolling back when curators of a New Mexico History Museum exhibit, Voices of the Counterculture in the Southwest, asked me to add my stories to the oral histories they were collecting. The exhibit opens May 14, and I'm eager to hear what some of my fellow seekers shared.
I recalled that, as our Berkeley sojourn ended, a great homesickness overtook Faisal. He missed his village, his home, and his family in Jerusalem. To cheer him up, we diverted through the Sonoran Desert, where saguaro cacti reached into an unbroken blue sky like giant fingers. But traveling through the desert in July was foolish. The water we drank turned to perspiration. The car's fan belt melted and snapped. After having a new belt installed in the middle of nowhere, we hit the next highway, which brought us to northern New Mexico.
Revived by cool mountain air, we were sitting on a park bench in the Santa Fe Plaza when a young hippie handed us a newsletter that included information and crude maps to every commune in the area. New Mexico was blossoming into a mecca for urban dropouts from both coasts. From 1968 into the 1970s, more than 30 communes and alternative communities cropped up, most of them clustered along the Río Grande from Albuquerque to Taos. Hog Farm. Drop City South. New Buffalo. Tawapa. Morning Star East. Tree Frog. Even the historic Mabel Dodge Luhan hacienda in Taos hosted a silversmith community. Nearly all are gone, but the Lama Foundation, in Taos, will celebrate its 50th anniversary this year.
We randomly chose to visit New Buffalo, 10 miles north of Taos. Driving along a gorge chiseled by time and the Río Grande seemed like a transition into another world. Sleepy towns were surrounded by lush fruit orchards and small farms. Craggy cliffs with minimal vegetation flanked the narrower sections. At the crest of Pilar Hill, the canyon opened onto a valley that looked like it may have appeared at the dawn of creation.
As we drove up the rutted New Buffalo driveway, I had no idea that I was about to plant deep roots in this valley. The commune sat on 103 acres of sage and piñon, the Sangre de Cristo Mountains to the east, an endless mesa to the west. Women ambled by in long skirts and little else. Two full-bearded men tinkered with an old pickup truck that miraculously sputtered and came to life under their touch. Another guy stopped chopping firewood to introduce himself. "They call me Justin Case," he said. "Welcome. Where y'all from?" Before we could say Jerusalem and New York, he told us it was dinnertime and we were invited. Rice, beans, oatmeal, and vegetables were their macrobiotic staples. Faisal, who carried his culture with him like a shell, set up our camping stove in the center of the courtyard and hospitably invited anyone drawn to the succulent odors of meaty shish kebabs to join us. Contrary to my expectations, our makeshift kitchen was not shut down. Macrobiotics, I discovered, may have been more of an economic necessity than a moral statement.
On our second night, Faisal cooked a Middle Eastern feast and played his oud, a pear-shaped lute with four strings. The round drumming room, with an open fire pit in the center, had the capacity to hold a lot of people. Everyone clanged on some sort of percussion instrument as they followed the complex rhythms of the exotic music. Women appeared out of shadows to dance around the fire. In the morning, we were offered our own tepee in the fields behind the adobe pueblo that had been built by the young communards. I was in heaven.
My dream of living in a village had been born during my Palestine days. There, stone-and-mud homes clustered along the only paved road, trafficked by camels, donkeys, dogs, chickens, humans, and one bus. People tended vegetable gardens, cared for animals, nurtured children, wove rugs, worked together during olive harvests, and shared meals under a canopy of grapevines. Village life seemed the antidote to the alienation and loneliness of modern cities.
Sleeping bags in arms, Faisal and I stumbled toward our tepee under a cornucopia of twinkling stars. In the morning, the cookstove was already fired up in the kitchen when we entered. A man in a white tunic who had taken a vow of silence handed us mugs of thick black cowboy coffee. That afternoon, I climbed to the mesa above New Buffalo. Pressing my hands against the hard-packed rocky land, I felt part of this earth. Had I found my village?
Home was still New York, though, and we headed back with more than a bit of regret. Somehow, I knew I would return, not for a visit but to live.
A year later I found my way back to Taos, newly single and anxious to start a new life. In the course of my ensuing years in New Mexico, I have been a cook, waitress, adobe brick layer, teacher, radio announcer, activist, lover, wife, and, most important, a mother. My need for privacy and stability kicked in when I became pregnant with my first child. I met Marc, a Jewish blacksmith from Brooklyn, when I was waitressing at Joe's Restaurant, an alternative café named for Little Joe Gomez, a Taos Pueblo member who had become a sort of shaman to the hippies. Marc and I fell in love, got married and pregnant, and borrowed a few thousand dollars from our parents to buy a crumbling adobe with a caved-in dirt roof on Ranchitos Road in Taos. A tree growing in the only standing wall sprouted through the roof like a flower. Wild lilac bushes spread an intoxicating fragrance over heaven's little third of an acre.
The prevailing spirit of poverty as a virtue meant not succumbing to crushing debt. Buoyed by youthful folly and help from our friends, we restored the ruin. Huge bowls of potato salad and pots of red chile stew were offered to everyone who came to our work parties. When solid walls rose out of the ground, Blond Eric and his flatbed truck helped Marc harvest vigas in the mountains. When Ann and Peter needed help building their home, I mixed mud while Marc peeled and lifted vigas. It was a joyful day when we moved into our partially completed home—along with our six-month-old baby girl, Minka. (That house is still being completed, as Marc and I redo our youthful mistakes.) Less than two years later, our son, Eli, was born. Across the road from the house was a swath of Indian land filled with horses, skunks, beavers, porcupines, coyotes, snakes, streams, and a thick growth covering a tangle of trails. This was my children's backyard. I could usually find them in the arms of  "the grandfather tree." Nourished by two streams, its limbs were strong enough to hold a passel of children. Or they might be sitting in the dead branches of "the Druid tree" sculpted by time and lightning into a bent-over man with straggly long hair. The kids disappeared into this wilderness for hours.
The counterculture has been stereotyped as hedonistic, and there was that, but this oversimplification doesn't come close to describing its breadth and influence. There in Taos, we rediscovered lost traditions—the resurgence of midwives, herbal and alternative medicine, organic farming and composting, owner-built homes, recycling. Many of us learned practical crafts like weaving and pottery. We valued collectivism. The greatest accomplishment of the counterculture might be the fact that we planted the seeds for a strain of non-consumeristic culture. Today, "Waste not, want not" could be the motto on every recycling bin.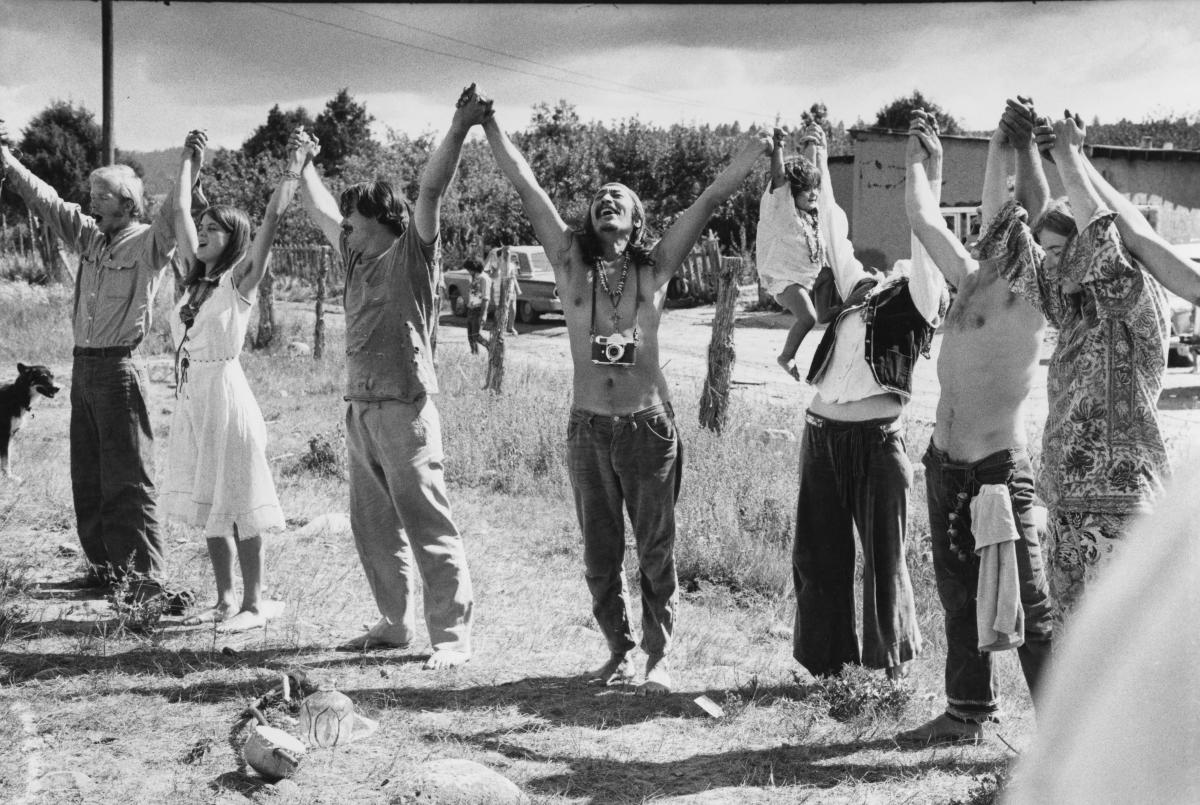 Above: Hog Farm residents gather for a community event.
Photography by Lisa Law
Lifelong friends are the greatest gift of having lived in this community for almost five decades. Within weeks of one another, my closest friends had babies delivered by Tish the midwife. We called the children "womb mates"—brothers and sisters born from various mothers. Easter, Halloween, and birthdays became shared holidays. The day Marc and I needed witnesses for our marriage, Karen and Barbara happened to be at Joe's Restaurant. Our wedding ring was made by Jo the jeweler, who later became Minka's preschool teacher. We have supported one another through divorces, new husbands or wives, secret lovers, and watershed celebratory moments. We mourned when there was sorrow. When I once wrote that someday our tribe would become stardust, those words seemed poetic and abstract. Now I keep a list of friends who have passed. At memorials, we eat together and listen to stories about our deceased friends, bringing them to life for a few hours.
Although my two adult children and four grandchildren live on opposite coasts, I still live in the Río Grande Valley, splitting my time between Albuquerque and Taos, forever in love with rain clouds, walking across the desert floor, adobe homes, magnificent sunsets, Christmas at Taos Pueblo, crisp fall air filled with roasting chiles, cross-country skiing on virgin snow, the first breath of yellow flowers in spring. My roots are deep. This is where I chose to live. It is where I have fulfilled my life's dream to become a village elder telling stories to the next generation.
---
THE NEW SUMMER OF LOVE
Hippie communes, antiwar protests, and civil-rights activism simmered across New Mexico during the 1960s and '70s. Their after-effects—positive and otherwise—take the spotlight in Voices of the Counterculture in the Southwest, an original exhibit opening May 14 (through February 11, 2018) at the New Mexico History Museum in Santa Fe. Curators Meredith Davidson and Jack Loeffler have recorded oral histories (including Iris Keltz's) and collected archival footage, photographs, ephemera, and artifacts like a 1971 VW Transporter and the original artwork from Ram Dass' Be Here Now book, all of which explore the Age of Aquarius in the Land of Enchantment.
Other museums share the love with exhibits and events that include drop-in yoga classes, a film series, reading groups, lectures, a tie-dyeing workshop, and a special Summer of Love day. In Taos, the Lama Foundation celebrates 50 years as an alternative community. Here's a glimpse at some of the events. For the full schedule, visit nmculture.org/beherenow.
Into the Future: The Cultural Power of Native Art (ongoing through October 31), at the Museum of Indian Arts & Culture, demonstrates how Native art evolved beyond traditional themes into social and political commentary.
Sleeping During the Day: Vietnam 1968 (ongoing through October 31, 2017), at the New Mexico History Museum, uses Herbert Lotz's photographs and letters to reveal soldiers' experiences.
Touching Beauty (long-term exhibit), in the Atrium Gallery of the Bataan Memorial Building, focuses on the work of Michael Naranjo, a Santa Clara Pueblo sculptor who lost his sight during combat in Vietnam.
Voices of the Counterculture in the Southwest opens May 14 at the New Mexico History Museum. Gary Snyder, a countercultural godfather and the "poet laureate of deep ecology" speaks that evening in a ticketed event at the Lensic Theater.
The Center for the Creative Arts opens a film series, May 15–17, with the documentaries Woodstock; Bob Dylan: Don't Look Back; and Leonard Cohen: Bird on a Wire. Other films throughout the summer and fall include Easy Rider and Reies López Tijerina and the Tierra Amarilla Courthouse Raid.
The Lama Foundation's May 28 opening day includes a tour, community lunch, and Dances of Universal Peace.
Connective Tissue: New Approaches to Fiber in Contemporary Native Art opens July 7 (through January 21, 2018) at the IAIA Museum of Contemporary Native Arts, with textiles from the 1960s to today.
"Flashing on the Sixties," a July 8 talk by photographer Lisa Law at the History Museum.
Summer of Love on the Santa Fe Plaza, July 9, with Kundalini yoga, Sikh chanting, music, and a community meal.
The Santa Fe Desert Chorale begins a series of events focused on counterculture themes with an August 7 screening of When I Rise at the Center for Contemporary Arts, and an August 8 vocal performance at Christ Church.
September–January, the History Museum hosts Tune In, Turn On, digital-shorts workshops in Silver City, Las Vegas, Taos, Placitas, and Dixon.
"New Buffalo and Beyond," an October 14 talk by Iris Keltz at the History Museum.
Making Sense of the Sixties, a November 13–16 symposium at the History Museum, moderated by the Renesan Institute.