THE SLOPE OF LAND WAS ANONYMOUS, the kind of arid topography easily overlooked in most towns. Maybe a tumbleweed, or any weed for that matter, posted up along the silty stretch of alluvium, but not much else resided there. I daresay nobody ever gave it much thought—how water runoff from an elevated parking lot caused the land to continuously erode, because as it did, it seemed to also fade from most residents' consciousness. There was even a hole in my own memory. What did it look like? I kept thinking, though I know I had seen it more times than I can count. That crescent-shaped land, wedged between Española's City Hall, Valdez Park, and the Española Public Library, was, as Beata Tsosie-Peña says, "barren and abused."
As far back as 2011, Tsosie-Peña, program coordinator of the Environmental Health and Justice Program at Tewa Women United, in Española, began envisioning a new life for that desolate stretch. A spoken word poet, local dancer, community organizer, and doula, Tsosie-Peña saw the hill one day while she was parked outside the library during a rainstorm. The city often resorted to contracting a few bulldozers to replace the depleted dirt when the parking-lot flash floods swept through. But it wasn't a long-term, or even effective, solution. "Water," Tsosie-Peña says, "had become a liability and not a resource."
Inspired by a permaculture course offered by famed Santa Clara Pueblo sculptor Roxanne Swentzell through Flowering Tree Permaculture Institute, Tsosie-Peña saw potential for life where most didn't see much of anything. "Initially, I wanted to plant 30 trees with harvested rainwater," she says. In time that vision grew and, since breaking ground in 2016, the Española Healing Foods Oasis has bloomed into an ecologically diverse habitat—an edible herbal landscape with more than 200 native plant and tree species, watered in part with the runoff that once chuted past it from the parking lot above.
Gente from the Española Valley and beyond—cholos, Native metalheads, university students, activists, artists, and elders—come to plant, weed, and harvest. They come on weekend community planting days as well as by appointment during the week. Volunteers also spread mulch, install handmade ceramic vessels, ponder new hybrid sprouts (there was an amaranth crossbreed this year), and line up like worker ants to move rocks into terraces that naturally filter water—formations that mimic the catchment systems Tewa people have long used in dryland farming.
Volunteers have donated 3,000 hours of labor to the garden. The bees come, too, pollinating flowers, shrubs, and trees in bloom spring through fall.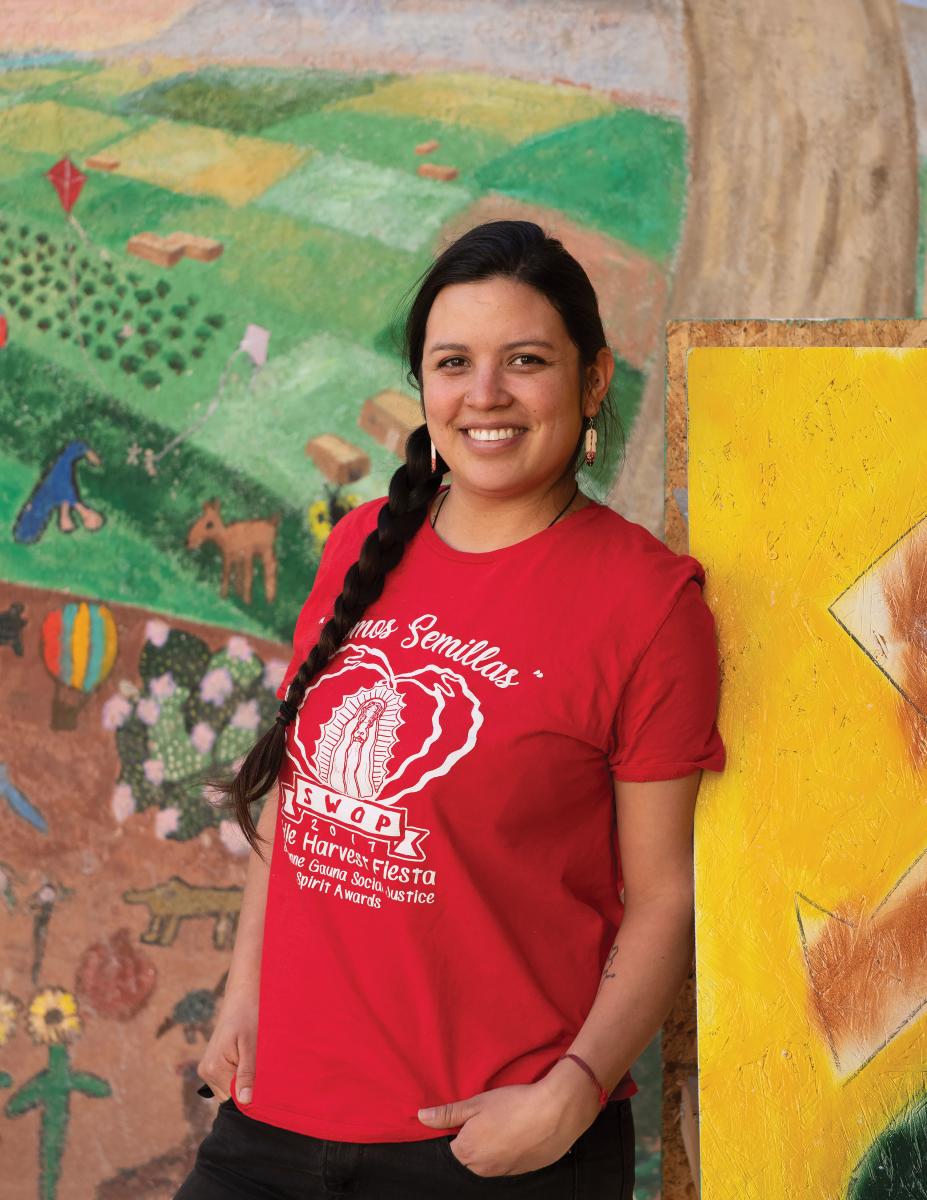 Stephanie Olivas from Southwest Organizing Project.
Prayers and intentions have been offered to the Healing Foods Oasis in Tewa, K'iche', Mohawk, Spanish, Portuguese, and English, making it one of the most blessed—and intersectional—plots in El Norte.
Micro-gardening—growing nutrient-dense foods in tiny urban spaces—is trending in cities across the country. The Healing Foods Oasis and other gardens, like Project Feed the Hood, in Albuquerque, share some of the same tenets. But they also stand apart from those efforts in their origins and philosophy. Born out of circumstances of environmental and social injustice, these free community gardens have become curative spaces that celebrate cultural resilience and outdoor activities while championing the food and seed sovereignty movement that has become integral to New Mexicans statewide.
Read more: The Community Ideal of Los Poblanos' Organic Farm and Historic Inn
PROJECT FEED THE HOOD, a community garden initiative of the Southwest Organizing Project, started out in much the same way as the Healing Foods Oasis—with a blighted tract in a forgotten pocket of Albuquerque. Founded in 1980, SWOP began rallying communities in the South Valley and the International District, near the state fairgrounds (where the nonprofit planted its first community garden), to register people to vote, advocate for better housing, and seek groundwater testing for contaminants around Kirtland Air Force Base. They also coordinated the Recuerda a César Chávez Campaign, which culminated in the City of Albuquerque's renaming a major street after the labor activist.
In SWOP's early days of gardening, "guerrilla gardeners" sought out those nuggets of land lost to urban decay, says Stephanie Olivas, a young and energetic SWOP organizer and UNM senior double-majoring in biology and Chicana and Chicano studies who unspools stories of SWOP forebears like family oral histories. "They gardened anywhere and everywhere they could," she says. In 2009, SWOP came to an agreement with the city for a long-term lease of a 6,800-square-foot plot in the International District, between Ross Avenue and Wellesley Drive Southeast. SWOP organizers had to clean up old tires and roll 35 wheelbarrows of glass from the derelict landscape before planting could begin.
In 2018, Project Feed the Hood's Ilsa and Rey Garduño Community Garden (named after City Councilor Rey Garduño) celebrated its 10th growing season. Because it's city property, the fruits and veggies are always free. "Kids come through and hang out," Olivas says. Some take bags with them. SWOP organizers knock on doors to invite new gardeners. Calls go out on Facebook to convene volunteers to till the soil and plant. Knowledge is shared at weekend workshops. Sometimes participation is high, other times low. But the tomatoes, chiles, carrots, chard, melons, onions, watermelons, strawberries, peas, sunflowers, corn, beans, and squash regularly sprout, odes of varied greenery to one of the most diverse and storied barrios in town.
Heirloom Macia's Pepper seeds. 
Freed slaves settled the area during the era of Reconstruction. Eubank Boulevard, for instance, is named after the largest African American landholder in the city, Eugene L. Eubank. Later, Route 66 took shape, along with the travel culture of the motor lodge, vestiges of which are still visible when driving through. Today Africans, Asians, and Central Americans live in the dense housing complexes, built at the peak of Kirtland's productivity post–World War II, along the major thoroughfares that cut through the district. Some are older refugees (those who came in the first wave from Vietnam) and others more recent (salvadoreños who came after their country's civil war). On these most densely populated streets, 27 languages are spoken.
Back in the late aughts, when Project Feed the Hood began, the nearest grocery store was more than two miles away, making the district—then known as the War Zone, for its high rate of gang violence—a true food desert. "Project Feed the Hood saw the need for fresh fruits and vegetables in the community," says Olivas. Planting in a community that lacked accessibility to healthy food options was a natural outgrowth of SWOP's overall mission to "seek justice where we live, work, and play."
The garden was also a deliberate effort to bring new life into an already frail urban ecosystem. From 1953 to 2006, Kirtland Air Force Base's network of underground pipelines leaked jet fuel into the soil, which eventually made its way into the aquifer and the surrounding area's drinking water. State environmental officials estimated the plume to be as big as 24 million gallons (the largest toxic spill in U.S. history), and plans for remediation have been slow. The spill disproportionately impacted the diverse communities of color who lived closest to the fallout. It was textbook environmental racism, says Olivas.
Project Feed the Hood's yellow sweet corn has become a beacon of resilience, a sign of nature's creative capacity to adapt to new circumstances. "We decided to call it the 'Urban Warrior,'" Olivas says of the plant. As the SWOP tale goes, Miguel Santiestevan, a legendary dryland farmer from Taos, found some corn in a relative's despensa (pantry). No one really knew how old it was—probably more than five decades—but after a few seasons of growing it in his own plot, Santiestevan passed it on to his urban cousins to the south, where it has thrived under hot city conditions. SWOP has multiplied its community gardens and planted Urban Warrior corn at 10 local elementary schools, such as Dolores Gonzalez, where workers have added green spaces and a gardening curriculum while also organizing the Albuquerque Public Schools Annual Gardening Summit, a conference for students, teachers, and administrators to learn about and support community gardens.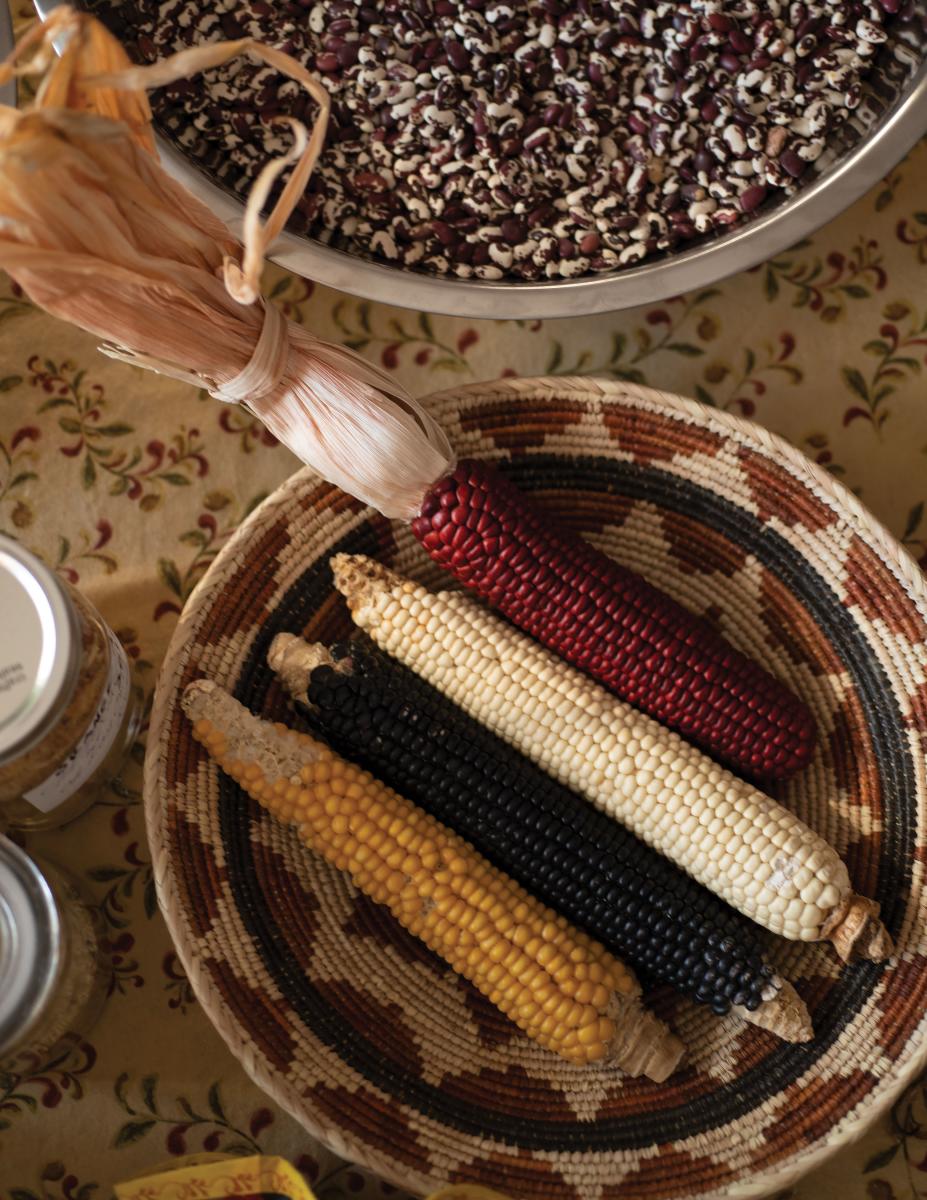 More heirloom corn varieties. 
"We still plant the Urban Warrior today, and it yields these massive elotes [corncobs]. Now we talk about that corn everywhere we go. It represents us," Olivas says. "We share and grow it every year so that it adapts to changes in the environment and has that in its genetics. It's more important now than ever to have a living seed library" to maintain biodiversity against the corporate boom in patenting, and thus controlling, seeds.
Food and seed sovereignty, Olivas says, "is having the power to govern ourselves, our resources—land, water, and seeds—the way we see fit." It is a practice, she says, of "agroecología, of growing food with our natural environment," a way that "folks across the state who are holding on to traditional ways of water and land use are keeping alive."
Read more: Ratón-based ranch brings hormone-free, grass-fed meat to tables across the state.
EIGHTY-FIVE MILES TO THE NORTH, the Healing Foods Oasis overlooks an expansive eastward-facing vista. It began with a partnership between the City of Española; Radicle, a landscape architecture firm, in Santa Fe; and Tewa Women United, an intertribal collective founded in 1989 that is focused on the health and well-being of Pueblo women in northern New Mexico and of Mother Earth. "I think that a lot of work we do at Tewa Women United directly addresses the historical and generational trauma that our people have faced through different forces of history, colonization, and changes in borders," says Tsosie-Peña. "Even though a lot of that violence has been passed on, a lot of our resilience has passed on, too."
One of the greatest challenges building the Healing Foods Oasis was making use of the parking lot runoff on such an extreme slope. Radicle founder Christie Green advised on how to build up the soil, by adding organic matter, like compost, mulch, and cover crops, so that the land was no longer prone to erosion. That meant water could make its way into the roots of the native and adaptive plant species that Tsosie-Peña, Green, and all the volunteers seeded.
Now the Healing Foods Oasis is open to the public and available for the whole valley to enjoy, a place to get centered and find solace, walking the paths that zigzag down the hill. It is a place for grandmothers to watch their grandchildren play in the park while sitting on bancos installed under the shade of fruit trees. But it isn't lush. Rather, the stems and leaves of plants like saltbush, Indian paintbrush, Navajo tea, lamb's-quarters, dandelion, and milkweed hover close to the ground. Most are pale green, with tiny bursts of purple, crimson, and ocher blossoms, seen only by squatting and getting up close. Tsosie-Peña uncovers a hidden trove of tiny red wolfberries (also known as goji berries) along a stepped pathway. We pick a few ripe ones, give them a quick look, and pop them in our mouths. They are sweeter than I expected, and just a bit tart.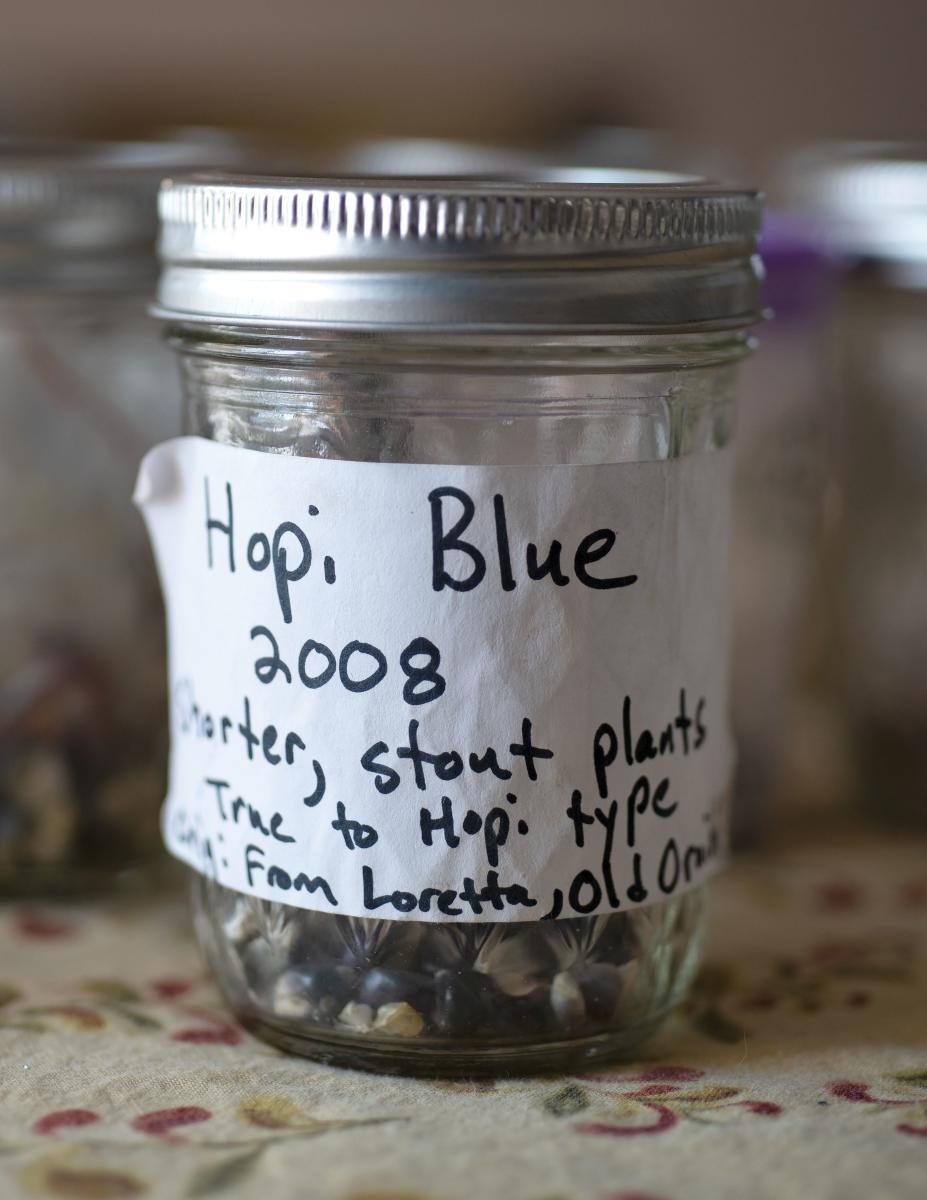 Heirloom Macia's Pepper seeds. 
The garden sits squarely within Tewa's four sacred mountains, of which Truchas Peak is but one. The Jemez Mountains, to the west, hem in this world. Los Alamos National Laboratory has occupied the lands that lie in that direction, once belonging to San Ildefonso Pueblo, since 1940. These days it's simply called "the lab," and thousands of people from the valley drive up "the hill" for work every day. Prior to the lab's arrival on the Pajarito Plateau, the majority of northern New Mexicans, including Pueblo people, were farmers.
Indigenous peoples throughout the Southwest had been developing distinct food cultures for 1,500 years. Yet with the incursion of a money economy, relocation programs, and, later, the lab, their assimilation took place on all fronts, including eroded traditional foodways. For Native nations, "the first tool of colonization," Tsosie-Peña says, "was to disconnect us from our food and impose forced diets through commodities. And where there's widespread poverty, you're forced to accept."
The lab hastened that shift and, in the process, created a system of economic dependency and extreme environmental imbalance for the tribal and Hispanic communities living downwind, according to Tsosie-Peña and Tewa Women United. There are now deep concerns about a toxic plume of hexavalent chromium (a contaminant made infamous elsewhere by Erin Brockovich), which is spreading into tribal and nontribal lands and seeping into the aquifer. For decades, Native and non-Native activists have decried the storage of nuclear waste in sacred sites and correlated the rise in various cancers to radiation in the environment.
"We have lived here for thousands of years. Our role is to be protectors of this place, the land, the water, the animals, and all of nature," Tsosie-Peña says. Tewa Women United is a member of Communities for Clean Water, a coalition formed to keep water safe for drinking, agriculture, sacred ceremonies, and a sustainable future. Their environmental advocacy is therefore tightly intertwined with the restoration of traditional ecological knowledge through gardening and seed saving, of which the Healing Foods Oasis is an integral part. Seeds, Tsosie-Peña and others believe, are the cornerstones of a resilient food system.
The creation of the garden, moreover, helps all who visit to reconnect "to the plants, water, air, and all the elements," she says. It also unites everyone in a common cause, "creating networks that are based in our strengths and not our deficits. Because when it comes to struggles against oppression, we have to come as a whole people who have control over our bodies, our health, and our wellness."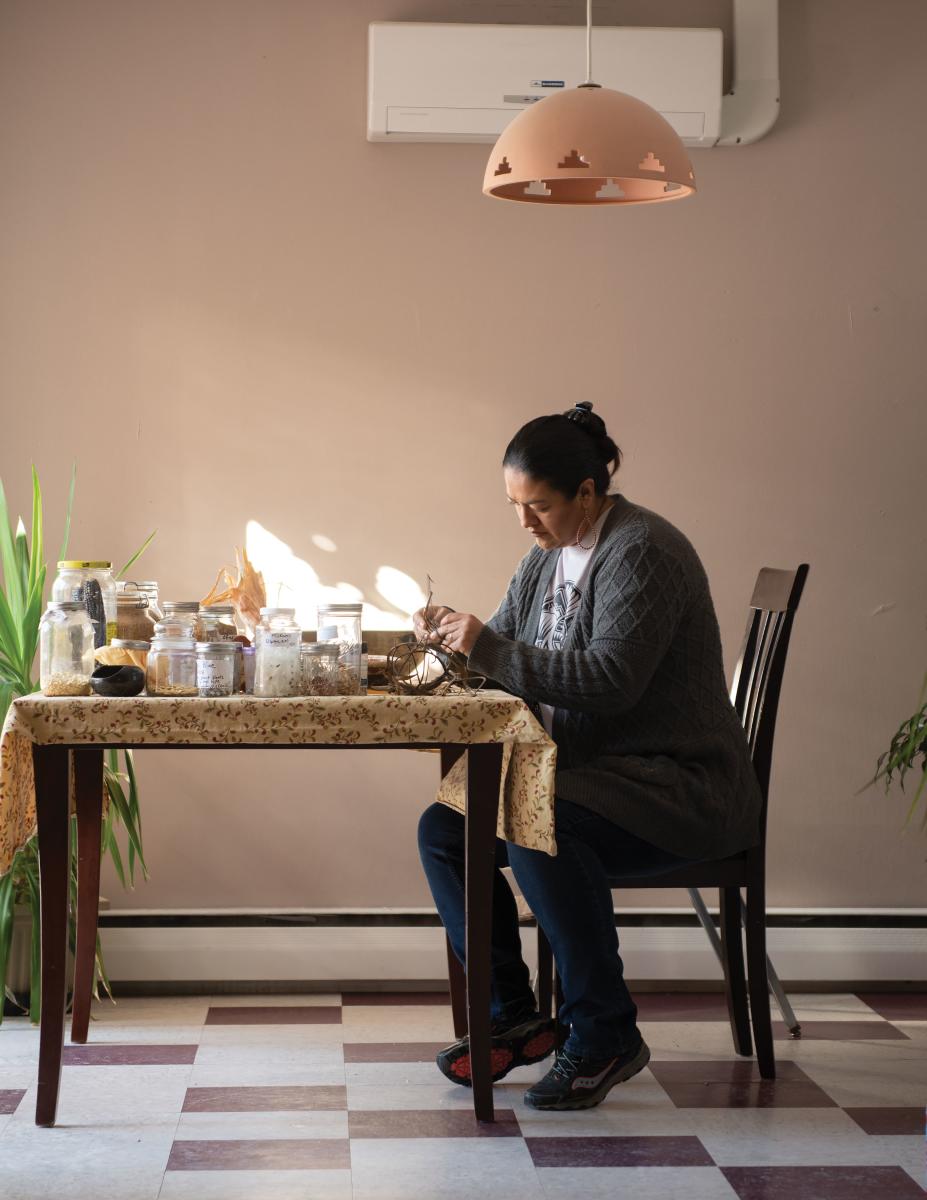 Beata Tsosie-Peña of Tewa Women United.
WALKING THROUGH THE SPACE among piles of stones arranged like an Avanyu spirit (a horned serpent symbolic of rain, lightning, and bodies of water), I couldn't help but think that an untrained eye might mistake some of the greenery here for pesky desert weeds. They look washed out and overgrown. Many, however, are actually hardy, drought-tolerant varietals indigenous to the land. Among the thicket are plants that can be dried for teas that will cleanse the kidneys, liver, and other organs. I harvested tiny stems with yellow blossoms for cota tea, an upper-respiratory remedy. "Even our plants have gone through colonization—plants, grass, and ornamental shrubs from outside of New Mexico are a norm," says Tsosie-Peña. "All of these so-called weeds are the most nutritional foods we could be eating. They hold the solution for nutritional deficiency and hunger."
Some time ago, the term "superweed" came into common parlance, referring to plants that have become resistant to the herbicide Roundup. One apparent scourge was pigweed, or wild amaranth. Pre-contact, the Aztecs had cultivated it, as had other indigenous peoples across the Americas. Because the plant had spiritual and monetary value, the Spanish saw it as a threat and banned it from markets for centuries. "It's a super-protein," Tsosie-Peña says as she shakes the chaff from a fuchsia bloom to reveal tiny seeds that look like mini-versions of quinoa.
The amaranth now firmly rooted on Española's west side traveled from Central America in the hands of a few guatemalteco stewards in 2016. Four representatives from Qachuu Aloom, a nonprofit organization in the town of Rabinal, returned the final day of September to harvest and process the seeds, also demonstrating a few ways amaranth can be eaten: popped like popcorn, as flour in baked goods, and mixed with honey in a treat called alegría. At the same time, they tell stories of how saving and sowing these seeds are acts of resistance. In some places in Guatemala, cultivating heirloom varieties has become illegal. Planting them across the Americas, and here in Española, is an act of solidarity—of seeding the future with the past. "These seeds are our ancestors," they say.
After prayers in K'iche' and Tewa, the 40 people in attendance cut and carried bundles of amaranth into the park just below the Healing Foods Oasis, where we began rubbing blooms between our hands, the first of several steps of winnowing. Later, we lifted buckets of amaranth waist-high and poured them into the wind with tarps laid out on the ground. The seeds spilled out, sailing through the air and catching the light of the sun before falling to the ground as the chaff drifted away.