Unsplash/Hakan Nural
NEW MEXICO BEGAN distributing its first doses of the COVID-19 vaccine in mid-December and had administered more than 520,000 doses by late February. The overlapping phased vaccine rollout, led by the Department of Health, is expected to last throughout the spring and summer, depending on availability. "The sooner most people are vaccinated and protected against COVID-19 disease, the sooner New Mexicans and all Americans can get back to normal life," says NMDOH spokesperson Matt Bieber, who answered a few common questions. 
Will I need the COVID-19 vaccine even if I'm not in a high-risk group? 
Yes. While many people with COVID-19 have only a mild illness, others may get a severe case or may even die. There is no way to know in advance how COVID-19 will affect you, even if you are not at increased risk of severe complications.  
Why is it important that New Mexico residents sign up for the vaccination? 
Doing so allows the state to match individual New Mexicans to vaccination opportunities in their area. As soon as a vaccine is available, the Department of Health notifies users—and they log in and schedule a vaccination for a date that works for them. 
How does the phased system work and why is it important? 
If we had enough vaccine for everyone, we would offer it right now. Unfortunately, we don't. At this time, we are offering the vaccine to those who are most exposed to COVID or most at risk of complications. 
How many shots of COVID-19 vaccine will be needed? 
The two authorized and recommended vaccines, Pfizer and Moderna, require two shots to be completely effective. For Pfizer, there should be 21 days between doses, and for Moderna, it is 28 days between doses. 
Does the vaccine hurt and are there any short-term side effects to look out for?  
You may have some adverse reactions, which are normal signs that your body is building protection. These should go away in a few days. On the arm where you got the shot, for example, you may experience some pain and swelling. Throughout the rest of your body, you may have fever, chills, tiredness, or a headache. Please see the CDC website for helpful tips and guidance on when to call the doctor. 
Is there a segment of the population who should delay getting the vaccination?
If you have COVID-19, you need to wait until you have recovered and meet the CDC criteria for when to stop isolating at home. This includes 10 days since the symptoms first appeared, 24 hours without fever (and without the use of fever-reducing medications), and improvement in other symptoms of COVID-19. Loss of taste or smell may persist for weeks or months after recovery, however, and need not delay the end of isolation.  
If you are quarantining from COVID-19 because you have been exposed, you should wait until after the 14-day quarantine period to get vaccinated. People who have a history of a severe allergy or anaphylaxis to any component of the COVID-19 vaccine should not get vaccinated. 
Will I still need to wear a mask? 
For the foreseeable future, yes. The vaccines prevent infection very well, but we know less about their capacity to prevent transmission. Wearing a mask and maintaining other COVID-safe practices will allow us to continue protect our loved ones.

LEARN MORE at cv.nmhealth.org/covid-vaccine.
For CDC guidance on how long you must be in recovery or isolation after exposure to COVID-19, potential allergic reactions to the vaccine, and when to call a doctor if symptoms persist after vaccination, see cdc.gov/coronavirus/2019-ncov
Step Up To Receive Your Vaccine. Register at vaccinenm.org.
How Does The COVID-19 Vaccine Registration Process Work?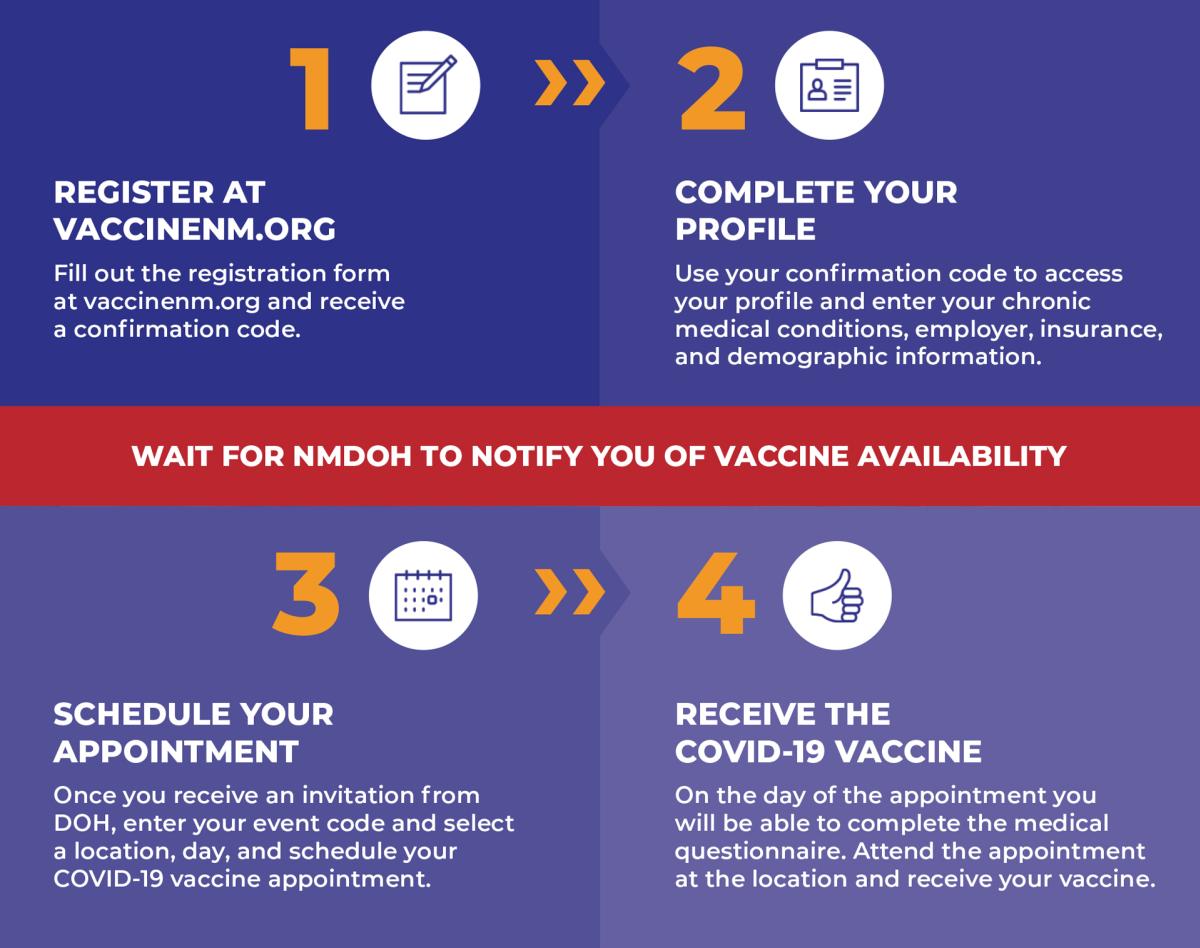 For more information, visit vaccinenm.org or call 1.855.600.3453.