HOLIDAY BAZAARS OFFER A CHANCE to find that quintessential handmade–in–New Mexico treasure, the one that will be cherished by far-flung friends for years to come. Get your wallet out and chart a course toward some of the year's best shopping, because after last year's bumpy ride, holiday markets are back.
In 2020, the Holiday Market at the Rail Yards went "farm to car," moving from its usual downtown Albuquerque sprawl of more than 100 vendors to virtual ordering and drive-through pickup. As organizers planned this year's return to an in-person event, held December 11–12, Rail Yards Market vice president Deonte Halsey says they've learned a thing or two from the transition. Halsey—who also operates a mobile food business, Biscuit Boy, at the market—gave us a few pointers for shopping not just the Holiday Market, but any seasonal gathering of vendors.
Get the lay of the land. Halsey suggests cruising through a vendor list and checking out social media before the show. "Follow the vendors if they have an Instagram or Facebook or Twitter account. They're pretty good about telling what they'll have at the Holiday Market, and you can plan ahead for what you want."
Buy online. A lot of order-ahead systems were streamlined last year. "You can order things online, from pies to cakes to cookies, for your holiday meal," says Halsey. "You're guaranteed it's there."
Go early. "It's the best way to get the freshest things," Halsey says, and to have your pick of one-of-a-kind gifts.
Shop These Holiday Markets
Global Green Taosfolk, Taos
November 19–December 24
Winter Indian Market, Santa Fe
November 20–21
Río Grande Holiday Show,  Albuquerque
November 26–28
La Casa Holiday Bazaar, Las Cruces
December 3–5
Spanish Market Artists' Winter Show, Santa Fe
December 3–4
Longtime Spanish Market artist Charlie Carrillo is organizing this two-day show of traditional and contemporary Hispanic art at Santa Maria de la Paz church, 11 College Ave. Head out for food and free admission from 1-9 p.m. on Dec. 3 and 9 a.m.-5 p.m. on Dec. 4. Call 505-473-7941 for more information.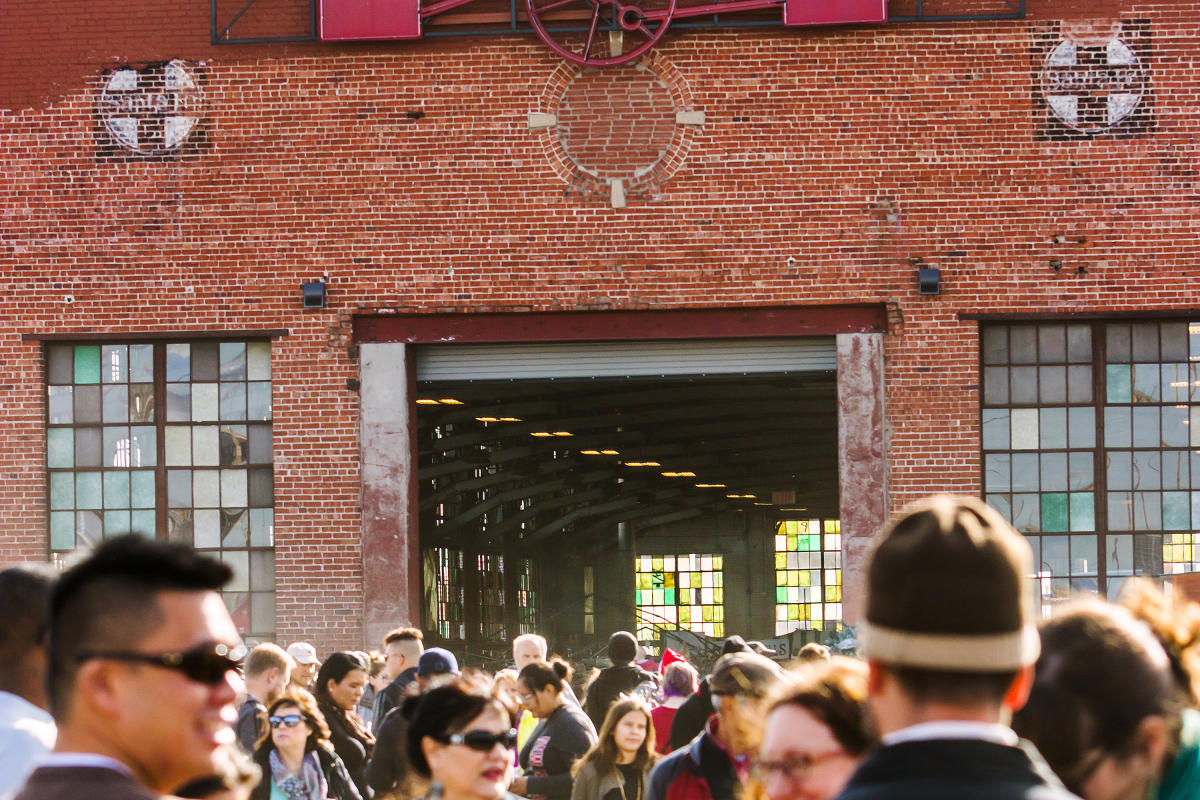 Shop local at Albuquerque's Holiday Market at the Rail Yards. Photograph courtesy of Free ABQ. 
Get Festive
Holiday Wreath Making, Santa Fe
December 3
Join the New Mexico History Museum for a workshop on seasonal wreath making between 1 and 4 p.m. Supplies are provided and creativity is encouraged.
Red Rock Balloon Rally, Gallup
December 3–5
Watch a mass ascension over landscapes straight out of Hollywood Westerns at the 40th annual hot-air balloon fest. The weekend's events include Native dances, dawn patrols, the Pyramid Rock Run, and a downtown Christmas parade.
Hometown to the World, Santa Fe
December 17 & 19
The Santa Fe Opera brings the world premiere of Laura Kaminsky and Kimberly Reed's new opera to the Lensic Performing Arts Center. This one-act opera was born of the 2008 U.S. Immigration and Customs Enforcement (ICE) agency raid of a kosher meatpacking plant in Postville, Iowa, and explores issues of citizenship, economics, and cross-cultural understanding. 
The Nutcracker in the Land of Enchantment, Albuquerque
December 17–19
Festival Ballet Albuquerque joins forces with the National Hispanic Cultural Center to present this original production choreographed by Patricia Dickinson Wells. Journey to late-1800s New Mexico to meet a cast that includes Mr. Coyote, Ms. Roadrunner, snakes, sheep, a storyteller doll, and this year's new kid,
Zozobra. 
Carlsbad Winter & Wine Festival
December 18
Sample wines from a variety of vineyards, stick around for holiday arts and crafts shopping, and, come evening, celebrate Christmas on the Pecos.