Above: Aztec's Alien Run Trail offers other-wordly vistas and mild weather, even in the deepest part of winter. Photographs by Jeremy Wade Shockley.
AT NINE ON A SATURDAY night, Farmington is quiet. Main Street has gone dark, most of the restaurants are closing down, and traffic has subsided. But 10 minutes from the center of town, in the mostly residential College Hills neighborhood, there's a new bar, Traeger's, and it's busy.
Scott Weaver, the owner, smiles easily as he slings drinks from behind a long copper bar. He pours me a beer from a thoughtfully curated draft list and explains that the bar is a passion project that was born out of necessity. The Farmington native spent 17 years working as an underground coal miner. "But I saw the writing on the wall," he says.
Like many places in North America, his hometown is grappling with the changing extraction economy. Located in the northwest corner of the state, Farmington sits within the resource-rich San Juan Basin and at the juncture of three rivers: the Animas, the San Juan, and the La Plata. Historically, the city and its region, including parts of the Navajo Nation, have depended on mining coal and uranium, quarrying rock and gravel, and drilling for oil and gas as reliable sources of employment. Oil fields extend for hundreds of miles in every direction, three coal mines and two power plants operate within an hour's drive; BP, Conoco, and BHP all used to have headquarters here. But as natural gas prices have plummeted and coal-fired power plants have closed, job opportunities likewise dwindled. The market for natural resources can be fickle. Farmington residents are not.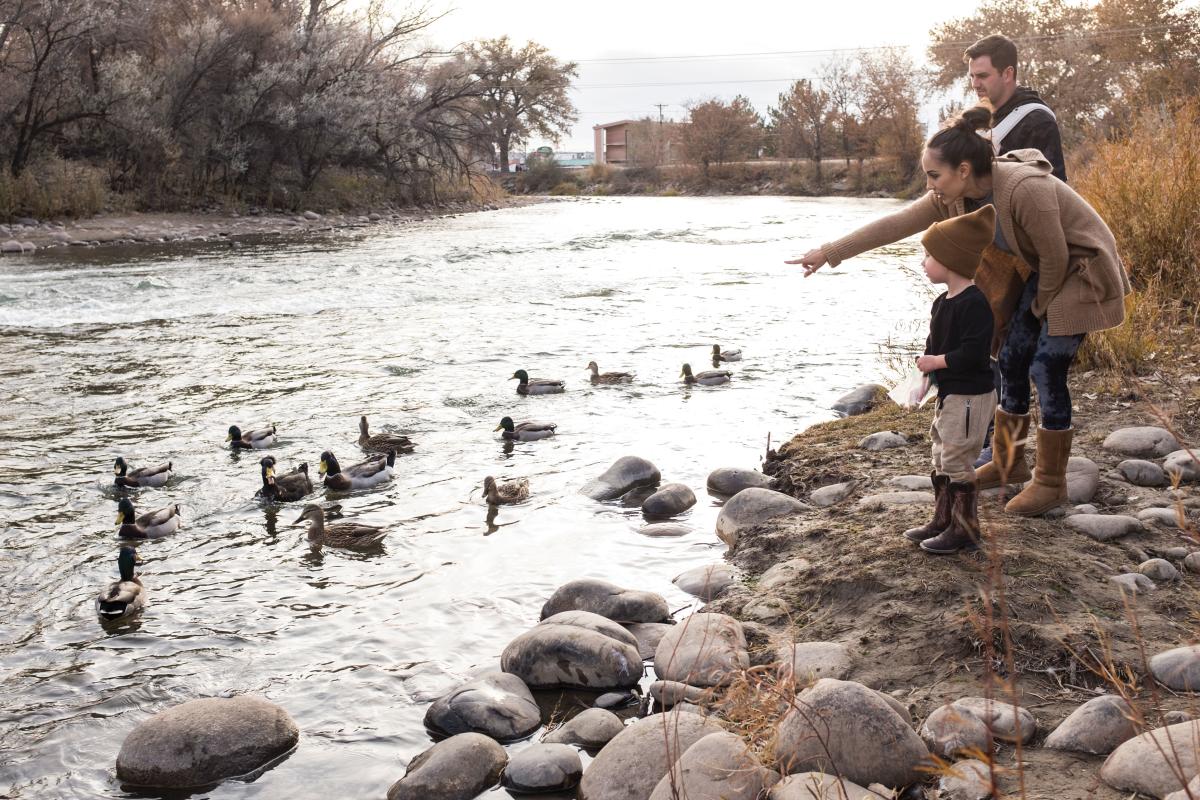 Above: Easily accessed trails bring everyone closer to nature's wonders along the Animas River Trail.
When Weaver realized that his job wasn't sustainable, he quit and began remodeling a space in a new development across the street from San Juan Community College, with the help of his dad. He wanted to create a unique, homey place for people to gather, get cozy, and have a great drink. (The cocktail list includes well-poured classics like negronis, sidecars, and manhattans, all of which are hard to come by elsewhere in this part of the state.) If the oil-and-gas industry wasn't going to sustain Farmington, Weaver wanted to give residents one more reason to stay.
Read more: Beneath the radar, Farmington grew into a credible art town that's spurring downtown's revival.
In a place characterized by transience and uncertainty, this kind of consistency and care for the community matters. Mayor Nate Duckett is investing in his town with the same earnest, hopeful energy. As the future of the region's economy grows more uncertain, he's spearheading a campaign to help Farmington residents—and tourists—recognize the area for its many recreational opportunities, and to help transform urban spaces into pedestrian-and-bike-friendly zones that foster an active community.
The city is buying up riverfront property and securing access to private sections to expand the trail network. So far, seven miles of wide footpaths meander through spectacular groves of cottonwoods before tucking back into the banks of the Animas River, which runs through the center of town. Thirty-five miles of bike lanes and the Kinsey and Alien Run trails offer good options for road riders, commuters, and mountain bikers. Farmington Lake, a reservoir eight miles outside of town, was opened to the public for non-motorized recreation in 2016. A family-friendly beach attracts picnickers and swimmers, a thriving trout population draws in fishers, and psychedelic sunsets bring paddlers to the lake's center at dusk.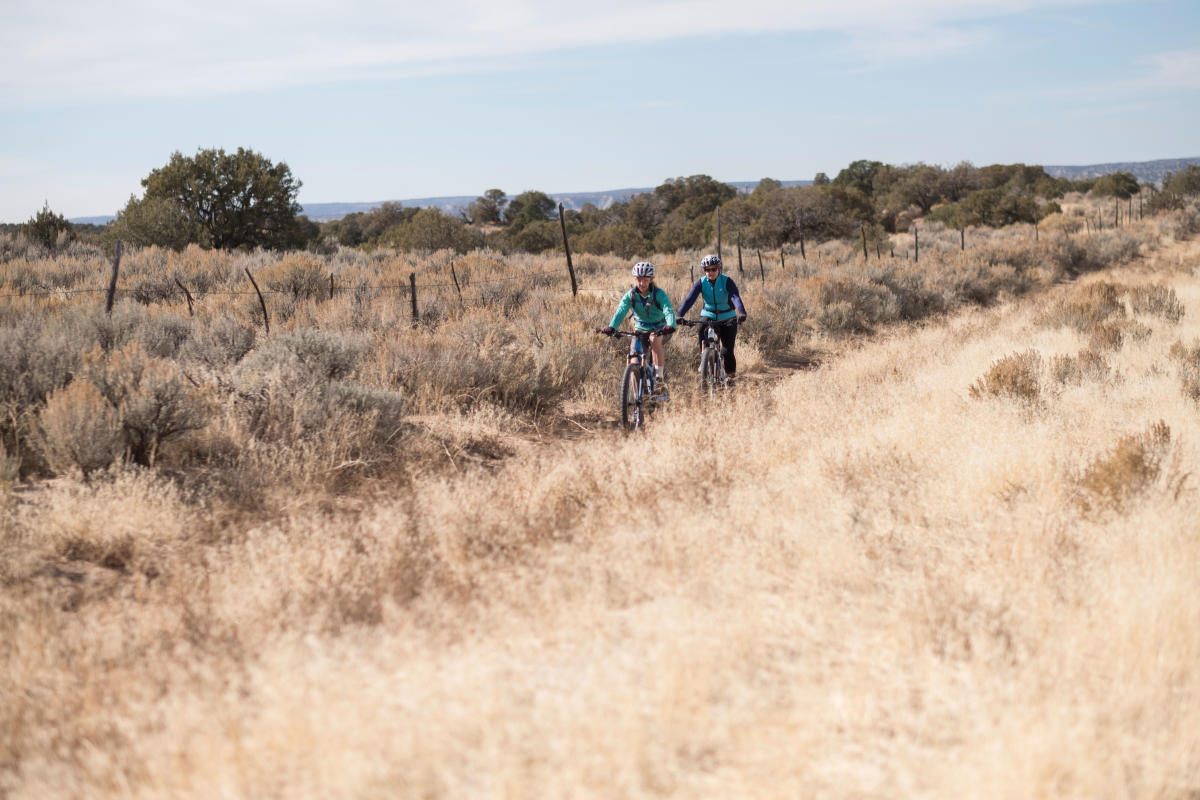 Above: Mountain bikers are lured from southwest Colorado to the Alien Run Trail and its winter promise of warmer, drier riding.
Perhaps the biggest draw to Farmington, however, isn't what's new—it's what's ancient. For travelers, Farmington serves as a neat hub from which to visit some of New Mexico's (the continent's, really) most spectacular historical sites and wildlands. It sits at one end of the Trail of the Ancients Scenic Byway, a network of nine areas of archaeological significance in the northwest corner of the state.
The Salmon Ruins and Aztec Ruins, remarkably well-preserved and maintained Puebloan sites that date from between 1000 and 1300, are both just under 15 miles from downtown. Well-established paths lead visitors through great houses and residential structures, with attentive rangers and tour guides. The Salmon Ruins (pronounced sol-mon) cost just $4, and Aztec Ruins National Monument is free—visit them both in a day, with a break to walk along the Animas in between. Then take a day trip to Chaco Culture National Historical Park, home to more than 4,000 archaeological sites, including "the largest, best preserved, and most complex prehistoric architectural structures in North America," according to the National Park Service. Dusty paths ramble across slabs of sandstone cut with impossibly steep staircases, past great houses and residential compounds at the base of the wide canyon and atop its walls. Some of the oldest structures in North America stand right up against the wide-open sky, just an easy walk from your car.
Read more: This Four Corners mainstay may fly under the radar—but it's out of this world. Wake up in a cave, cycle down a mountain, treasure hunt in trading posts, time-travel to prehistory, and recover with top-notch tapas and a locally microbrewed pint. (That's just Day 1.)
The best of the wilderness in the surrounding area is characterized by the same compression of time: The Bisti Badlands, 40 miles from town, part of the Bisti/De-Na-Zin Wilderness, is one of the few pieces of public land where you can see the exposed K-T boundary, the layer in the geological record that coincides with the extinction of the dinosaurs. Coming from town, take the second entrance off NM 371, park, and wander into the wash. There aren't any trails, but a meander will take you past otherworldly rock formations, massive petrified logs, and, for the discerning (and lucky) visitor, dinosaur fossils, including the Bisti Beast, an early relative of Tyrannosaurus rex.
I spent three days in town in the early fall, staying at the Casa Blanca Inn, a bed-and-breakfast that offered a cozy base camp from which to explore town and the outlying wilderness. The inn has nine rooms scattered across beautiful grounds with a gazebo, brick courtyard, and a rolling green lawn. The guests gathered in an airy breakfast nook in the mornings over green-chile-sausage-and-egg frittata and baked cinnamon French toast. Nearly everyone in the inn was in Farmington to explore the nearby desert.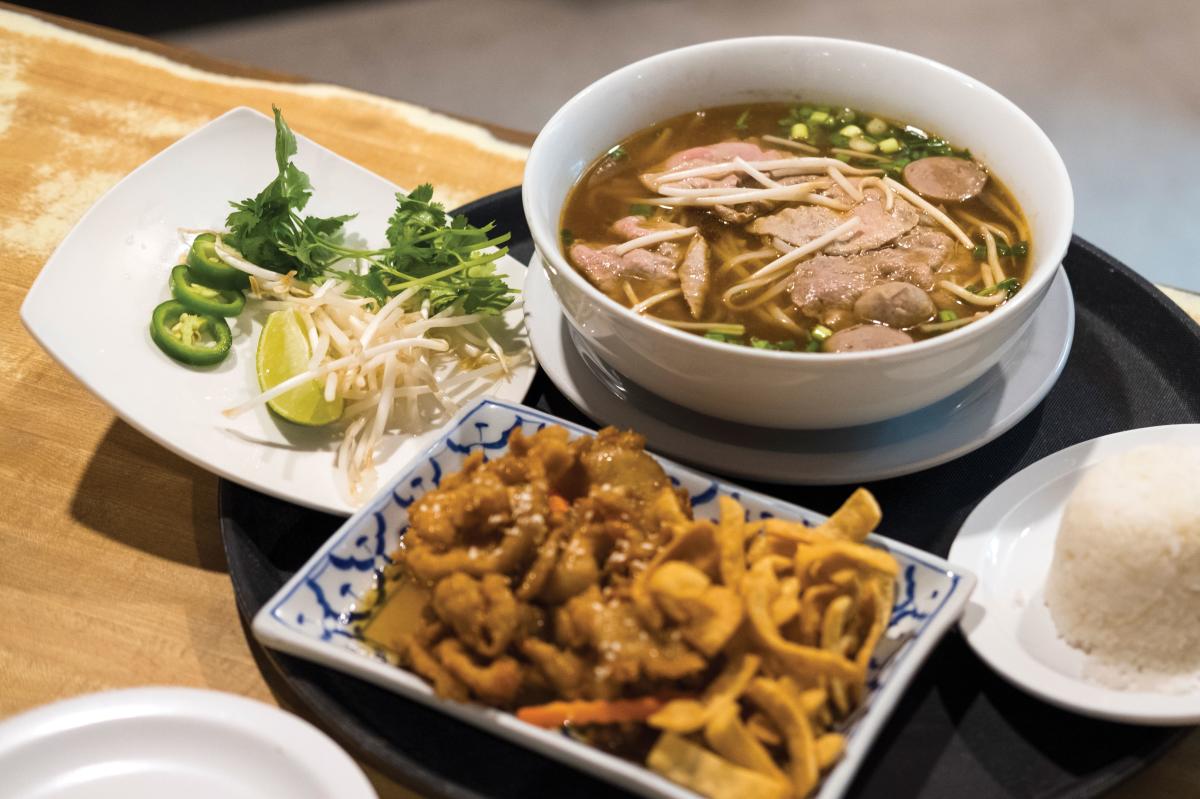 Above: Hearty soups and curries shine at Boon's Family Thai BBQ.
On my first day in town, I started my morning slowly, over a strong espresso at Artifacts Gallery and Cafe. Bev Taylor, the gallery's founder, has operated her studio-cum-gallery-cum-café steadily for 20 years on Farmington's Main Street, through cycles of boom and not-quite-bust. She founded Artifacts in 1999, in an effort to give local artists space to display their work. At the time, she told me, nothing like it existed in town, and today it's still singular: a gathering space where 15 artists rent studio space, dozens more display their work, young baristas chatter with locals, and regulars come back every week for the cinnamon rolls.
She's bringing the same energy and care for her community as Weaver and Duckett, but her commitment is nothing new. Despite serious changes, Farmington is adapting. But what makes it special has always been there. The community and the surrounding area are full of beauty and adventure, if you know where to look.

FARMINGTON FORAY
Where to Eat
For classic New Mexican, attentive service, and a relaxed atmosphere, visit The Chile Pod. Their red chile has won multiple awards, but the green chile is remarkably good, too. Every Friday, locals pack in to Boon's Family Thai BBQ for fried rice, pad thai, coconut-milk soups, and friendly service. Three Rivers, a pizzeria/distillery/brewery/taphouse on Main Street, stretches across multiple storefronts, brews a wide variety of beers, and whips up excellent pizza, along with steaks, pasta, and salads. Spend your Friday evening playing shuffleboard with a welcoming crew of locals.
Where to Drink
The ground floor of Traeger's offers a casual, sports bar vibe, perfect for socializing. Upstairs you'll find a quiet, dark lounge with deep booths and a more extensive, upscale cocktail menu and collection of spirits.
Where to Stay
Whether you'd like to rent out a private house for the whole family—complete with a full kitchen and courtyard—or just need a room for two, the Casa Blanca Inn and Suites (from $119) is the best place in town, with an excellent, attentive manager and delicious food.
---