Above: Nob Hill Main Street Association president Robert Munro, with the new centennial mural by Aaron Stromberg that celebrates Colonel D.K.B. Sellers and the evolution of his vision.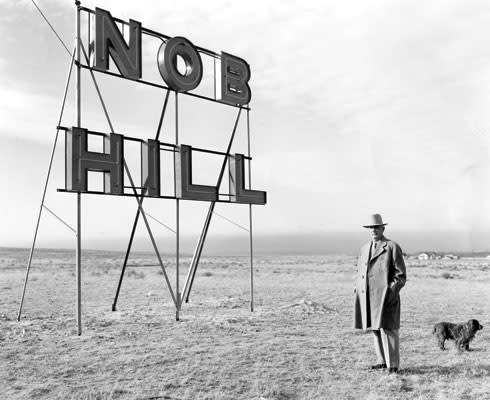 Sellers' 1938 New Year's greeting card.
Courtesy of ALBUQUERQUE MUSEUM (PA1978.141.282)
COLONEL D. K. B. SELLERS came to prominence at a time when a person with imagination could really make his mark. New Mexico had just achieved statehood three months before Sellers became the mayor of Albuquerque, in 1912. Duke City folks knew him as a successful local real estate broker, and before that he ran the city's territorial fair.
In 1916, the real estate developer platted the area east of the Rio Grande Valley, encouraging residents to move out of the city's core, or, as he put it, "out of the low zone into the ozone." Sitting on the edge of the University of New Mexico, to which Nob Hill attributes both some of its youthful vibe and urbane sophistication, the neighborhood stretches from Girard Boulevard in the west to Washington Street in the east. Its north and south boundaries are Lomas Boulevard and Zuni Road, respectively. Central Avenue—Albuquerque's main street—bisects the neighborhood. Along this route, at Carlisle Boulevard, Sellers spied a steep slope that reminded him of San Francisco's Nob Hill and decided that it would be a fitting name to nab. (It wasn't the first moniker he appropriated. Sellers never earned his military honorific. Someone gave him the nickname and, liking its grandeur, he went by Colonel Sellers from that day forward.)
The neighborhood grew residentially through World War II, with unusual homes popping up along tree-lined streets, from the Bachechi Compound (200–208 Wellesley SE), a Pueblo Revival–style complex that was home to Carl Von Hassler, the muralist of the KiMo Theatre, to the house at 319 Carlisle SE, which was designed around a water tank that served the university area from 1916 to 1925 and still bears the round shape.
The district didn't flourish commercially until 1937, when Route 66 was relocated along Central Avenue and it became a tourist thoroughfare. The district's signature shopping center (3500 Central SE), was built in the 1940s in the Streamline Moderne style; current tenants include Mariposa Gallery and La Montañita Co-op.
Just as the Mother Road was the neighborhood's boon, so was it the district's bust. The route's 1980s decommissioning—and a countrywide recession—led to lean decades. Just as the neighborhood found footing again in the early aughts, the Great Recession derailed its momentum. But with the recovery, new creative entrepreneurs have helped the neighborhood flourish again, keeping its youthful, eccentric charm intact. Today Nob Hill boasts Albuquerque's most vibrant commercial district, with more than 250 independent shops, restaurants, galleries, and bars in walking distance of one another.
In the past two years, Nob Hill has also been a hotbed of new residential construction, including the 75-unit Platinum Apartments and the Carlisle, a mixed-use building with 36 condos for sale. Visitors can look forward to a long-anticipated renovation of the De Anza Motor Lodge, slated to begin early this year. The now-boarded-up Route 66–era motel, on the National Register of Historic Places, will be transformed into 30 extended-stay (weekly or long-term) motel rooms.
Although the plan is still hotly contested because it would take away a lane of car traffic, the City of Albuquerque has designed a rapid transit system to travel Central Avenue, with the promise of making the neighborhood more accessible and pedestrian-friendly. The city expects to learn this month whether the plan will receive critical funding from the Federal Transit Administration.
"There's been an incredible energy lately," says Robert Munro, president of the Nob Hill Main Street Association and a managing partner of O'Niell's pub. "The return to the urban corridor, the occupation of empty businesses, the rise of rapid transit—it's just a coincidence that this is happening in time for the 100th anniversary. It's something we've all been holding our breath for, for far too long."

A 1940 capture of Central's still-kickin' Lobo Theater.Photo
Courtesy of ALBUQUERQUE MUSEUM (PA1978.151.589)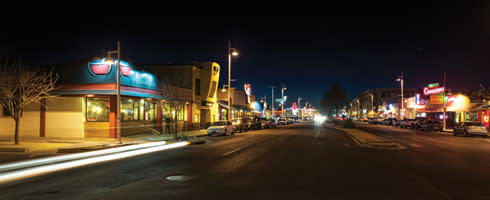 Neon signage harks back to Central Avenue's dual identity as a stretch of Route 66.
Nob Hill Now
Here are the grooviest places that represent Nob Hill today, from its thriving restaurants and bars to its eclectic shopping venues. All the destinations are shaping the future of the neighborhood—opening new businesses or creating community collaborations. Several will host events in honor of the neighborhood's centennial over the coming year.
CHOCOLATEDUDE COFFEE & CANDY
● "I live in Nob Hill. I grew up in the area. I've seen it go through good times and bad. And I wanted to be part of it,",says Kurt Oelsner, co-owner, with Kirk Clark, of ChocolateDude. The glass cases are packed with New Mexico–themed confections, from Zozobras (a Rice Krispies treat with Oreo crumbles) to Lobos (caramel turtles with piñon nuts). This month, for Valentine's Day, the shop will hand-dip hundreds of strawberries, which are also available via its online store.
The former band-mates' business and chocolatier backgrounds have harmonized in the store, where the ambience invites customers to linger over coffee and delectable caramel apples. "Nob Hill business owners are not just here to make a profit, but to be part of the neighborhood," Kirk Clark says. 3339 Central Ave. NE; (505) 639-5502; chocolatedudeabq.com
Nicole Kapnison, owner of
the Nob Hill Bar and Grill.
NOB HILL BAR AND GRILL
● Nicole Kapnison grew up in the Nob Hill restaurant scene. Her father, Nick Kapnison, founded neighborhood staple Yanni's 25 years ago. After overseeing Yanni's, Nicole bought Nob Hill Bar and Grill a year ago. The eatery has stayed true to its easygoing feel, focusing on all-American food, beer, and craft cocktails. The indulgent Dirty Burger (topped with chile con queso, green chile, frizzled onions, bacon, a fried egg, and beeronaise) tempts those with a hearty appetite, along with meatloaf and jumbo mac and cheese. The bar is a weekend night go-to for prowling twenty-and thirty-somethings, who sip the bar's classic cocktails, including Mules with variations inspired by locals from Moscow to Kentucky. In the past year, Kapnison has placed more emphasis on microbrews, acquiring rare kegs that are served at only one place in the state: her hip restaurant. 3128 Central Ave. SE; (505) 266-4455; upscalejoint.com
EMPIRE BOARD GAME LIBRARY
● Opening in April 2015, this board game café is one of the newer additions to the neighborhood. With a play-by-the-hour policy and more than 600 games for rent, this hangout embodies the neighborhood's family-friendly vibe. With the exception of a brief stint in Denver, owner Rory Veronda has lived in Nob Hill his entire life, and in opening the café, he envisioned a gathering place without alcohol. Instead he serves locally roasted Agapao coffee and doughnuts from Rebel (see "Tasting NM") alongside classic board games like Risk and Monopoly, as well as new-comers such as Splendor. Tuesday nights, fanatics gather for strategic board games; Wednesdays, the Dukes of Dice podcast from the café; Saturdays, a group from MeetUp.com plays from morning till night and welcomes all to join in the fun. 3503 Central Ave. NE; (505) 232-4263; empiregamelibrary.com 
THE FRAGRANT LEAF TEA BOUTIQUE AND BLUE LILY ATELIER
● When owner Robin Scala was looking for a bricks-and-mortar location for her successful online retail business, she looked no further than walkable Nob Hill. Since 2013, her boutique has enabled customers to smell, taste, and purchase artisan-crafted loose-leaf teas from Asia. The sweet scents of Jasmine Pearl and savory aromas of Japanese gyokuro (a shade-grown, deep emerald tea) waft through the intimate shop, which hosts Sunday afternoon tea with an assortment of sandwiches and scones. Last September, Scala opened the adjacent Blue Lily Atelier, a gallery and event space. The gallery represents emerging local artists, some of whom continue the Asian-inspired Zen of Fragrant Leaf, such as Ming Franz, a Taiwan transplant to Edgewood and a master of Chinese splash color painting. 3207 Silver Ave. SE; (505) 255-0522; thefragrantleaf.com; 3209 Silver Ave. SE; (505) 263-6675; bluelilyatelier.com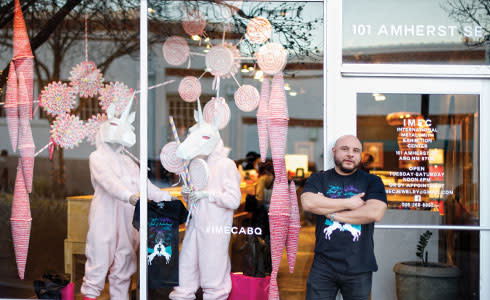 The International Metalsmith Exhibition Center is helmed by owner Luis Demetrio Nolasco.
INTERNATIONAL METALSMITH EXHIBITION CENTER (IMEC)
● Owner Luis Demetrio Nolasco helps his customers mark the most significant occasions of their lives—from engagements to first anniversaries to push presents—with wearable sculpture. A Rhode Island School of Design attendee, Nolasco graduated from the University of New Mexico and, finding a dearth of metal smithing retail in the area, opened his niche gallery in 1999. Today IMEC features the innovative work of 70 local and international artists. Among them are Namu Cho, who uses the layering technique used on samurai swords to fashion textured rings, or Roland Baldauf, whose tension rings suspend diamonds in midair. In the edgy gallery's latest life cycle, Nolasco is adding other mediums to its repertoire, such as the hive-like lighting of local carpenter Danny Hart. In February, he turns one wall of the studio over to collaborative installation artists Los Dos, from El Paso, Texas. 101 Amherst Dr. SE; (505) 265-8352; shopimec.com
IZZY MARTIN MENSWEAR
●"We were interested in both an independent and regional approach to men's clothing," owner Rufus Cohen says, referring to the sharply designed yet aggressively basic shirts, jeans, sneakers, and accessories he's gathered from New Mexico, California, Pennsylvania, England, and Japan. A denim-blue El Malpais scarf, for instance, was created as a collaboration between Pendleton Woolen Mills, Albuquerque artist Dustin Martin, and the Native(X) fashion collective. Cohen launched the shop in 2009, and last October he relocated from west Nob Hill to east; it's now adjacent to the historic Nob Hill shopping center that started the area's commercial pursuits. 103 Amherst Dr. SE; (505) 505-235-9493; izzymartin.com
MATANZA BEER KITCHEN
● Opening in September 2015, this gastropub filled a long-standing New Mexican–cuisine gap in Nob Hill's restaurant rolls. Chef Peter Gianopoulos mixes things up with blue corn duck tamales and Kobe beef tacos topped with blue cheese, but also keeps it old-school with chicken enchiladas. Albuquerque Public Schools alumni fondly remember Rice Krispies peanut butter squares topped with chocolate from elementary school, and this recipe makes a comeback as Gold Bar Lollipops. One hundred taps fill pint glasses with beers from La Cumbre, Marble, Red Door, and other local favorites. Although the food is down-home and affordable, the décor feels upscale, with a black-and-white mural painted by Unek, a Jemez Pueblo artist; an antler chandelier; and dark leather seating. 3225 Central Ave. NE; (505) 312-7305; matanzanm.com
NEW GROUNDS PRINT WORKSHOP & MATRIX FINE ART
● "I have a little bit of Gutenberg in my blood," jokes Regina Held, the German-born founder of New Grounds Print Workshop, the first non-toxic, professional print-making studio in the U.S. Held relocated her presses to Nob Hill from her garage in 2000. The workshop has offered classes, memberships, and gallery shows since. Inspired by Albuquerque's creative quorum, Held opened a second gallery at the same location a few years later, focusing on women and emerging artists such as Sarah Hartshorne, Jill Christian, Marilyn Dillard, and Lisa Chernoff. This month, Matrix showcases large-scale abstracts by Jessica Kennedy, and New Grounds will feature monotype and etched landscapes by Jacob Matteson. 3812 Central Ave. SE; (505) 268-8952; newgroundsprintshop.com; matrixfineart.com
SCALO NORTHERN ITALIAN GRILL AND ELAINE'S
● A neighborhood anchor, Scalo has weathered Nob Hill's ebbs and flows. "In the eighties it could still be kind of rough. The neighborhood had fallen on hard times— it was on its heels, with vacancies and businesses folding. Scalo, the Co-Op, and Flying Star were the pioneers back then," says owner Steve Paternoster. In the past two years, the neighborhood's rising tide has helped even this neighborhood standard bank its biggest sales ever. Paternoster credits the restaurant's consistency—from great service to live music and plates of perennial favorites such as penne con salsiccia and black and white linguini with frutti di mari—with its continued growth. 3500 Central Ave. SE; (505) 255-8781; scalonobhill.com.
In the past two years, Paternoster also opened Elaine's, with a more intimate ambience and cutting-edge food. Paternoster saw the opportunity for a smaller, fine-dining restaurant to fill a niche in the neighborhood, otherwise known for unfussy eateries. The intimate 52-seat restaurant balances northern New Mexico ingredients with the best from around the country, including Maine lobster. The menu is decidedly indulgent, with caviar-of-the-day and foie gras offerings, and the elevated décor reflects that of big-city bistros. 3503 Central Ave. NE; (505) 433-4782, elainesnobhill.com
TRACTOR BREWING COMPANY
● Founded in Los Lunas, Tractor made its Nob Hill debut in 2011 and quickly became a local favorite, thanks to its Farmer's Tan red ale, Milk Mustachio Stout, and variety of hard ciders. Beyond serving excellent beer, the big-hearted brewery frequently sponsors fundraisers for nonprofits from ¡Explora! Science Center to New Mexico Animal Humane Society through its Beer for a Better Burque program. "We live in Albuquerque, and we want it to be a great place to live. When we host events, it creates a great sense of community," says co-owner Skye Morris-Devore, who has also been a board member of the Nob Hill Neighborhood Association for several years. Tractor clinches its community vibe with food trucks. Popular wagons such as Rustic, known for its burgers, and Irrational Pie, dishing out pizzas to order, park on Tulane Drive daily. This month, it's hosting screening parties for Better Call Saul (the prequel to AMC network hit Breaking Bad) at the Nob Hill and Wells Park locations. 118 Tulane Dr. SE; (505) 433-5654; getplowed.com
—Contributor Ashley M. Biggers frequently dines, shops, and imbibes in Nob Hill. She is the author of 100 Things to Do in Albuquerque Before You Die.