Above: Ruidoso is becoming a premier mountain-biking destination, thanks to the new Grindstone Lake Trail system and the 12 Hours in the Wild West race, being held there this month; it was previously staged at nearby Fort Stanton.
PHOTO BY BRIAN LEDDY.
IF YOUR NEW YEAR'S RESOLUTIONS have been flagging, remember this: The inertia that can set in during March and April will result in having to forgo your white skinny jeans come Memorial Day weekend. Stay on track and have fun doing it in Ruidoso, where you can enjoy Boulder-quality recreation without making the drive and spending the ducats.
Regional athletes, from Texan swim and track teams to former light middleweight champion boxer Austin Trout of Las Cruces, seek out the benefits of training at Ruidoso's 7,000 feet. And whether you're a core mountain biker or a weekend trail walker, you'll find your own Ruidoso rhythm: exercising in gorgeous alpine surroundings, refueling with delicious meals, and soothing your muscles with "what's-my-name-again?"–good spa services.
Rockin' Around Ruidoso
● BIKING
Ruidoso's 25-mile Grindstone Lake Trail System was designed by the International Mountain Bicycling Association. That makes it "sort of like the Cadillac of trail systems," says Ruidoso Athletic Club co-owner Avril Coakley. You can enjoy legs of it at your own pace, but if you're looking for something more intense, hit the 12 Hours in the Wild West endurance mountain bike race on April 9. Cyclists "show up with their whole families. That's how they vacation," Coakley says (ziarides.com/ events/12-hours-in-the-wild-west). If road biking is more your style, the 10th annual Tour de Ruidoso century on September 24 is one of the most challenging races in the state, wending through Alto, Capitán, and Fort Stanton; riders can also choose routes of 20 or 60 miles. (For details, go to discoverruidoso.com.)
● DISC GOLF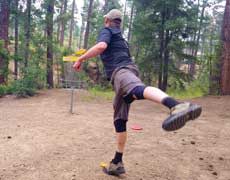 Robin McLean sinks a putt at last year's state championships at Grindstone Disc Golf Course.
PHOTO BY SAMANTHA HINES.
Whether you're a novice or pro at winging Frisbee-like discs into metal chain targets in the great outdoors, Grindstone Disc Golf Course is "as challenging as it is beautiful," says Marcos Castillo, NM's Professional Disc Golf Association Coordinator. This 27-hole course requires a variety of different shots, as it's very hilly and there are a lot of trees and a creek bed. The course hosts the state championship each August, drawing players from all over the country. Castillo deems it the best city-owned course in the state, comparable to ski-mountain courses in northern NM. Dates will be announced closer to August; check elitebrothersdiscgolf.com for details.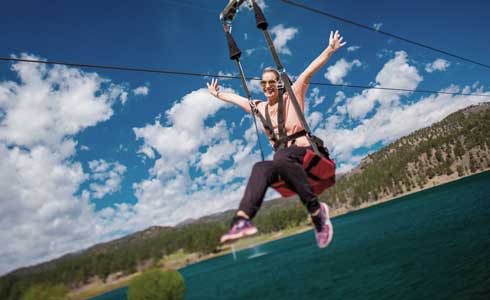 Ziplining over the lake at Inn of the Mountain Gods.
COURTESY INN OF THE MOUNTAIN GODS.
● ZIPLINING
The Ruidoso area's awe-inspiring landscape is particularly jaw-dropping at Inn of the Mountain Gods in Mescalero, where a vast lake and looming mountains hug the resort's main building. The Apache Eagle ZipRider, which offers tandem and racing options, whips thrill seekers from a high mountain slope across the lake (575-464-7957; innofthemountaingods.com). If the three-minute airborne trip seems too short, you can opt for the hour-and-a-half-long Apache Wind Rider ZipTour, which opened in 2015 at Ski Apache. It's the highest in the U.S. (11,500 feet), and its series of spans add up to 8,900 feet, making it the second longest in the country. (800) 545-9011; skiapache.com/ziptour
● BOATING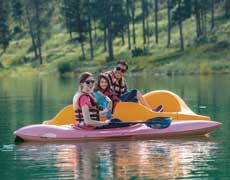 Rent kayaks and paddleboats at the lnn of the Mountain Gods.
COURTESY INN OF THE MOUNTAIN GODS.
Enjoy the seated motion of recumbent bicycling in a paddleboat, available at Inn of the Mountain Gods' lake dock. A couple of things: It really is a work-out. And the lake looks even more vast when your quads are burning. The good news: Once you get out into the middle of the gently lapping water, you can sit back, relax, and take in a whole new perspective. Whether you want to go solo or throw your lot in with friends or family members, the resort rents boats with up to four seats. You can also rent kayaks and rowboats, with or without a motor. Also offered by Inn of the Mountain Gods: horseback riding through hilly countryside and an 18-hole championship golf course designed by Ted Robinson. (800) 545-9011; innofthemountaingods.com/activities 
● INDOOR FITNESS
When Joe and Avril Coakley bought the Ruidoso Athletic Club in 2004, it had suffered through 20 years of neglect. The historic WPA building, built in 1941, was originally the town's schoolhouse. Then it became a community center, a church, a senior center, and then a down-at-heel gym. The Coakleys renovated, refurbished, put in a sound system, and stocked the rooms with state-of-the-art equipment.
Today, the 18,000- square-foot fitness center, which serves robust local and vacation-season populations, is also a magnet for active people who are considering moving to Ruidoso. "They want to maintain or build on their current lifestyle, and they realize that they can do it in Ruidoso," says Coakley, referring both to outdoors activities and the gym's amenities, including a full-size pool, expert personal trainers, free weights and machines, and Les Mills, kickboxing, and Zumba classes. Out-of-towners can buy day passes; if you spend the day mountain biking, you can come soak your bones in the gym's hot tub. (575) 257-4900; ruidosoathleticclub.com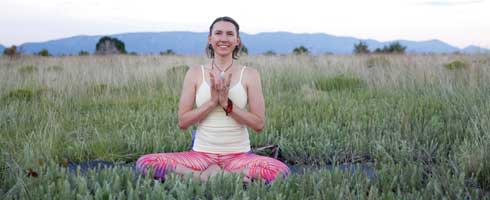 Shiva Reinhardt, the owner and yoga instructor at Blue Lotus Healing Arts Center.
PHOTO BY DAISY YOKLEY.
● YOGA AND SPA
As you drive into a small strip-mall parking lot on the main drag of Sudderth Drive, it might seem distinctly out of alignment with the promise of a healing arts center. But take a deep breath and come inside. Just a flight of stairs delivers you to an aerie of om, the Blue Lotus Healing Arts Center. The five treatment rooms and yoga studio face the tree-lined Río Ruidoso, and on warm days, open windows let in its relaxing murmurs. Highly recommended: the Abhyanga massage given by Rees McWright, which involves being slathered from head to toe with a generous amount of warm oil infused with ayurvedic spices, all the while enjoying gentle, choreographed movements and deftly imparted pressure that releases years of seared-in stress from every muscle, ligament, and joint. The hour and a half goes by way too quickly. Once you walk into the reception area/boutique feeling like animated jelly, beautiful Indian scarves await admiration, and they're priced so attractively that it won't seem a splurge to buy two. (575) 257-4325; ruidosodayspa.com
● REFUELING
Get your protein fix at The Cornerstone Bakery Cafe, which serves classic breakfast burritos and huevos rancheros along with omelets and scrambles. Pancakes, French toast, and pastries are also on the menu (575-257-1842; cornerstonebakerycafe.com). For lunch, order a well-crafted sandwich at Sacred Grounds Coffee and Tea House, in a log cabin overlooking the river. Also great for breakfast and dinner; Saturday nights, the restaurant shows a free movie, which is followed by live music (575-257-2273; sacredgrounds-coffee-and-tea-house.com). Want to pack your lunch? Head to the back of Wild Herb Market, a health-food grocery store with a café that serves soups, wraps, salads, and quiche (575-257-0138; on Facebook). Everyone's in love with Michael J's Italian-American Cuisine, which makes its pasta from scratch and provides Italian classics like chicken parmigiana along with select steak-house fare. (575) 257-9559; michaeljsrestaurant.com 
What's New
THE MCM ELEGANTÉ LODGE AND SUITES
The Lodge at Sierra Blanca was acquired by MCM Eleganté last January, making it the regional hotel group's tenth property. Guests will continue to benefit from the knowledge base of the Lodge staff, including longtime general manager Steve Tally, as no sweeping personnel changes were made. The beds have been upgraded to new Sealy Beautyrest pillow-tops. New carpeting and furniture will be installed by May 1. (866) 211-7727; thelodgeatsierrablanca.com
THE BROKEN ARROW TAP HOUSE
The Inn of the Mountain Gods' 24-hour, family-friendly gastropub (which at press time was scheduled to open in March) adds a hip choice to the resort's menu of eateries. The 5,000-square-foot restaurant, accessible from the lobby, includes an exposed kitchen and a large granite-topped, cherry-stained wooden bar with 50 beer taps. The gussied-up bar food includes prime rib nachos, lobster corn dogs, and bacon-wrapped bison meatloaf. (800) 545-9011; innofthemountaingods.com 
Upcoming Events
Ongoing
SPENCER THEATER
Unique architecture, outstanding acoustics, and intimate seating distinguish this world-class performance hall located in Alto, about 12 miles north Ruidoso. The hall seats 514, with no seats farther than 67 feet from the stage. The Spencer also has an outdoor stage that can seat 1,500. Shows this month include Saturday Night Fever (April 3), Guitars On Fire: The Alex Fox Experience (April 9), California beach party band Papa Doo Run Run (April 16), and Fort Bliss 1st Armored Division Band (April 30). Free public tours are offered at 10 a.m. on Tuesdays and Thursdays throughout the year. (888) 818-7872; spencertheater.com 
May 27–September 4
FLYING J RANCH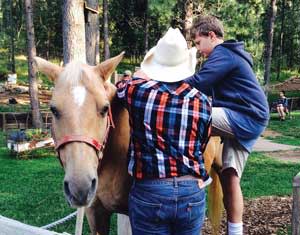 Guided horse-back and pony rides are just part of the fun at Flying J Ranch.
PHOTO BY LAURA ANDRE.
This spiffy Western village attraction in Alto is a charming escape from the 21st century. Take photos behind bars at Sheriff Roy's jail, put your half-pint on a pony, and pan for gold before shuffling into the low, wide, wooden community dining space for a truly delicious chuck-wagon supper of brisket, barbecue chicken, beans, a baked potato, and one of the flakiest biscuits in all of the West. As you tuck into your tucker, the Flying J Wranglers perform a tight set of traditional Western music gilded by former national champion Cindy Hobbs' yodeling riffs. (575) 336-4330; flyingjranch.com 
May 6–7
SMOKEY BEAR DAYS
Capitán, the 1950 birthplace of Smokey Bear, celebrates the mascot of forest fire prevention with Smokey Bear Days. A wooden-bear-carving competition, tomahawk-throwing contest, pony rides, and a family dance will all go toward stoking your roaring appetite for the Sunday morning pancake breakfast. (575) 354-2748; smokeybeardays.com
June 11
WIND RIDER MUSIC FESTIVAL
Enjoy live music, food, drinks, and camping out at Ski Apache at the second annual summer music fest. Last year's lineup included Grammy-nominated Hasidic pop singer Matisyahu, reggae/ska band the Expendables, Grateful Dead-ish jam band Slightly Stoopid, and dreamy reggae band Stick Figure. (800) 545-9011; windridermusicfest.com
July 1–4
MESCALERO APACHE CEREMONIAL DANCES AND RODEO
The coming-of-age ceremony for young women in the Mescalero Apache tribe is one highlight of this celebratory weekend that is open to the public. Also on the schedule: a powwow, ceremonial dances, 5K and 10K races, a multi-day rodeo, and a parade. (575) 464-4494; mescaleroapachetribe.com
—Candace Walsh also wrote "The Art of Living," about Hurd–La Rinconada Gallery and Guest Homes, in nearby San Patricio.