Above: The Quebradas Byway promises 30 miles of well-groomed gravel—plus stop-off points for gorgeous hikes.
IT'S TIME TO RECONSIDER SOCORRO. Nestled in the Río Grande Valley, near the state's geographic center, the pleasant college town is most commonly known as the site of Juan de Oñate's first contact with Native Americans and later a raucous Wild West mining town. But some of its greatest assets hide in plain sight: A collection of scenic drives through genuine high-desert solitude lead to surprisingly diverse hiking destinations and a colorful mix of purely New Mexican landscapes. Alpine peaks, forests, and streams. Verdant riparian corridors. Hidden springs. Wide-open, lost-in-time grasslands, colorful badlands, and soaring box canyons with pre-Columbian pictographs. They're all readily accessible and decidedly uncrowded. The town's historic plaza, museums, and dining options, along with some affordable lodging, make it a comfy base camp for an exciting weekend jaunt.
These five backcountry adventures will give you a start on sampling what Socorro has to offer. The roads include narrow pavement, gravel, even a few rutted 4x4 routes. Most are very lightly traveled, with uncertain cell-phone coverage. Take the proper vehicle, let someone know where you're going and when you plan to return, and always exercise good judgment.
QUEBRADAS BACKCOUNTRY BYWAY
Twisting, colorful rock formations define this otherworldly trip. The Bureau of Land Management's winding Quebradas byway travels for 30 miles along the east sidewall of the Río Grande Valley. The well-maintained gravel route climbs to the base of the 6,200-foot Sierra de las Cañas range, turns south, and traverses picturesque foothills high above the river, through two BLM wilderness study areas. More than a dozen small canyons cross the road, and each carves through distinct sedimentary layers, yielding an incredible potpourri of colors and rock forms. These narrow stone passages can be followed upstream or down for a varied selection of easygoing short hikes through grace-fully sculpted, Upper Chihuahuan Desert country. Highlights include sparkling gypsum badlands, salmon-pink sand dunes, rainbow-banded mountain slopes, lush spring-fed waterways, ancient pictographs, and colorful, sheer-walled slot canyons.
Getting there: Take the Escondida exit off I-25, a few miles north of Socorro, and follow the paved frontage road north to the Escondida Lake turnoff. Take a right and cross the Río Grande, continuing about a half mile east to tiny Pueblito village, where the road forks north and south. Take the paved branch right (south) for about 1 mile, then turn left (east) to the sign marking the byway. High clearance recommended. (575) 835-0412; blm.gov
STALLION WILDERNESS STUDY AREA
Soak in the breathtaking views as you traverse this picturesque slice of canyon country. Just 15 miles northeast of Socorro, the Stallion Wilderness Study Area offers far more mystery and adventure than the distance suggests. The 20-mile gravel drive on County Road B121 leads to a sprawling canyon maze, encircled on the north and east by the 10-mile-long, 7,000-foot Sierra Largo range. Invisible from CR B121 but quite easy to reach on foot, a dramatic, curving box canyon stretches down 300 feet and literally wraps around on itself—a great place to start exploring. About 17 miles in, CR B121 passes a south-branching road where a BLM sign marks the study-area boundary. Take this fork for a half mile to where it climbs a steep hill. Park at the bottom and walk east, cross-country, for less than a mile to the canyon mouth. For an astounding 360-degree view from the canyon rim, drive to the top, park at the first WSA sign on the left, and walk north, cross-country, to the highest viewpoint.
Getting there: Follow the same directions to Quebradas Byway (p. 22) but take a hard left at Pueblito onto CR B121 and travel north for 17.3 miles (always staying on the best road) until you reach a fork with WSA signs. (575) 835-0412; blm.gov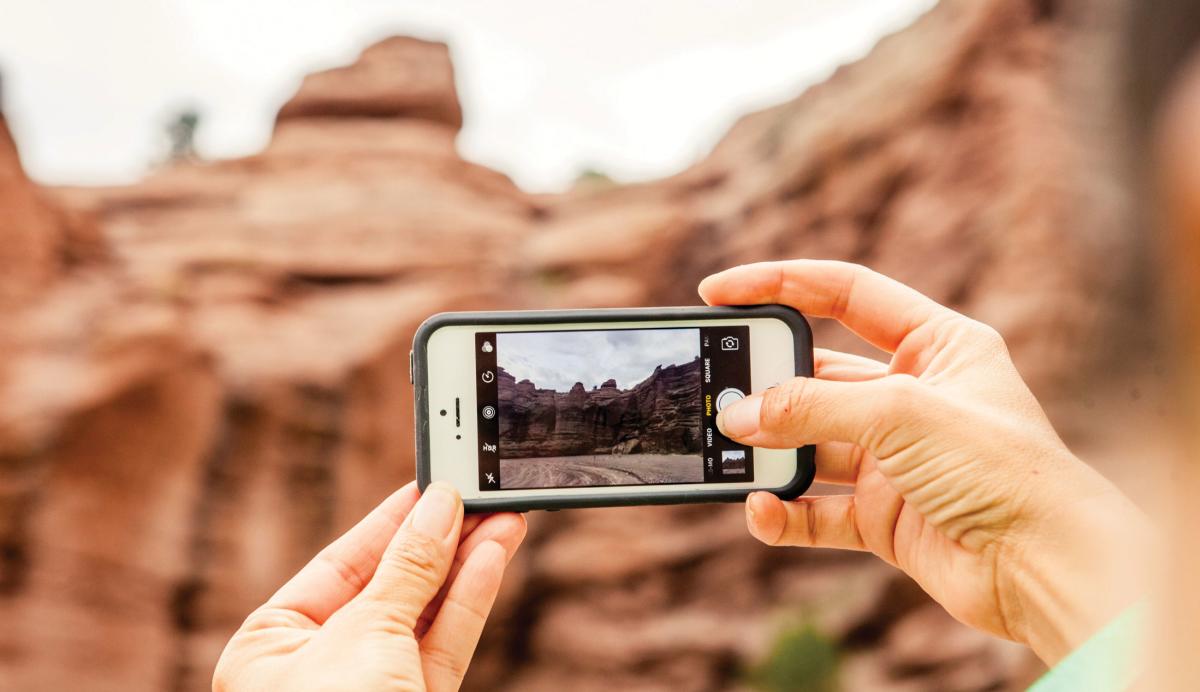 Above: Weather-beaten cliffs, pinnacles, and walls characterize San Lorenzo Canyon.
SAN LORENZO CANYON
Looming canyon walls and remarkable rock formations frame a journey that feels straight out of an epic Western. The sinuous, red volcanic walls of San Lorenzo Canyon bring to mind the narrow, branching slot canyons of southern Utah. The gorge slices through a low point between 9,176-foot Ladrón Peak and 7,292-foot Polvadera Peak, cutting across the western fault line of the Río Grande rift about 15 miles northwest of Socorro. The canyon's lower reaches sport intricately textured, precipitous cliffs carved into crooked towers and twisted pinnacles. The upper reaches hide a mile-long riparian corridor sustained by a perennially flowing stream. Midway, reliable springs nurture old-growth cottonwood stands where desert willows, mesquite, and handsome New Mexico privets grow in shaded, oasis-like enclaves. A half dozen hikeable side branches offer a variety of rock forms and vegetation.
Getting there: From Socorro, go north on I-25 and take the exit for Lemitar. Turn west to the San Lorenzo Canyon sign. Take a right and follow the paved western frontage road along I-25 for about 5 miles to a maintained dirt road heading west. This is the main road in. Ignore branches and stay on it for 1.8 miles until a small sign indicates a right turn to San Lorenzo Canyon. Canyon walls are visible after 2 miles. The road continues over 1 mile into the canyon and dead-ends. High clearance recommended. (575) 835-0412; blm.gov
WATER CANYON
Mountain streams have defined life in New Mexico for centuries, and this route showcases stunning high-altitude scenery rife with sparkling waters. About 20 miles west of Socorro, the Cíbola National Forest's Magdalena Mountains form a wooded, 18-mile north–south sky island with several summits over 10,000 feet, including 10,783-foot South Baldy. Streams from the high country flow down side canyons into rugged Water Canyon. Etched deep into the range's east slope, the expansive flat floor and lofty, finely eroded walls resemble a miniature Yosemite. In Water Canyon and its tributary, Copper Canyon, the streams create leafy alleys where walnut, box elder, cottonwood, and alder trees hug the banks and shade wildflower gardens. These diverse habitats make Water Canyon a prime destination for bird watchers. Paved Forest Road 235 travels into the canyon and stops at the campground, where dirt roads lead to trailheads on the canyon floor. An alternate drive rises to the mountaintop for trails to South Baldy, Timber Peak, and the panoramic four-mile Summit Trail to North Baldy.
Getting there: From Socorro, take US 60 west for 15.6 miles to the Water Canyon turnoff. Turn left and drive on FR 235 for 4.8 miles to the end of the pavement. From here, turn right to go to the Copper Canyon trailhead or left on an improved dirt road for 7.8 miles to the ridge and trailheads for Timber Peak, South Baldy, and North Baldy. (575) 854-2281; fs.usda.gov
STATE ROAD 107
Experience the remote beauty of the Southwest as you ramble through a wilderness dotted with atmospheric ghost towns. The 45-mile gravel NM 107 follows a miniature rift valley between the San Mateo Mountains on the west and the Magdalena Mountains on the east. The isolation is profound and cleansing. Cíbola National Forest side roads access Withington Wilderness, one of the state's most untrammeled areas, on the east slope of the San Mateo Mountains. For scenic Potato Canyon, take NM 107 from Magdalena south for about 18 miles to Forest Road 52. Turn right, go 3 miles to FR 56, turn left and follow FR 56 for 2.5 miles to the signed trailhead. For the ghost town of Rosedale, continue south on NM 107 another 6 miles to FR 330 and turn right. The cemetery is 5.3 miles west. Rosedale mine and mill remnants are another half mile west.
Getting there: Take US 60 to Magdalena and turn right onto NM 107, a gravel road. Continue to the side roads indicated above, or take the whole 45-mile drive south to I-25. High clearance recommended. (575) 854-2281; fs.usda.gov/cibola
---
BE PREPARED
Before embarking on your trip, you'll want to take care of a few things. Make sure to check the listed websites for detailed maps of the area and bring plenty of water, snacks, and sunscreen. Let someone know where you're going and how long you plan to be away. Though service may be erratic, a fully charged cell phone is always handy. Pay attention to your surroundings, especially when taking forks in the road or path, so you can retrace your way.
AFTER THE HIKE
Socorro's cultural and historic destinations, hearty food, and local brews give adventure seekers a chance to shake off the trail dust and recharge. Here are a few go-see-do recommendations. The historic 1880s plaza is a quintessential New Mexico gathering place. Also called Kittrel Park, it's a leafy square centered on a Victorian-style gazebo and home to many community events. Flanking the plaza in the historic district is the charming Elfego Baca Heritage Park. Named after the town's most colorful Wild West lawman, the park brings local history to life with monuments telling stories of Socorro, including a colossal sculpted stone wheel depicting local history. (575) 835-8927; socorronm.org
A few blocks from the plaza, flawlessly maintained San Miguel Mission celebrated its 400th anniversary in 2015 (see "A Town Called Help"). Its massive adobe walls, large carved vigas, supporting corbel arches, and 14 intricate Stations of the Cross on austere white walls are classic examples of Spanish Colonial architecture and ornamentation. Possibly Socorro's best-kept secret, the New Mexico Tech Mineral Museum, established in 1889, houses a shimmering collection of 15,000 specimens, one of the largest in the world. (575) 835-5140; geoinfo.nmt.edu/museum
Modern, economical motels and local restaurants abound along California Street, which parallels I-25 through the town's business district. For New Mexican food and a glimpse at small-town culture, try time-honored favorite El Camino Restaurant (575-835-1180) and its adjacent lounge, straight out of a retro movie set. Also on California Street, both Socorro Springs Restaurant and Brewhouse (575-838-0650; socorrosprings.com) and Bodega Burger (575-838-2087; bodegaburgerco.com) have great hamburgers, craft brews, and special dishes like grilled salmon, smoked ribs, and pecan-wood-fired pizzas. Near the plaza, M Mountain Coffee (575-838-0809; on Facebook) has delicious homemade pastries, and Twisted Chile Brewing serves craft beers and inventive bar food, along with live music. (575) 835-2949; twistedchilebrew.com