Above: Sky City towers over Acoma's rugged landscape. Photographs by Gabriella Marks.
MARISSA CHINO, OUR TOUR GUIDE, spots me lagging behind the group and urges me to join everyone else at the sheer edge of Sky City Mesa, home to the oldest—and highest—village of Acoma Pueblo. There, she gestures across the plain 367 feet below us, drawing our eyes toward another, nearly identical monolith. That formation, Enchanted Mesa, even more than Sky City, anchors Haakú, the Acoma people's Keres word for their pueblo, meaning "a Place Prepared."
A long time ago, Chino says, her people lived atop Enchanted Mesa—centuries before the first Spanish explorers entered their domain. High above this valley of mesas, buttes, and hoodoos, they held a defensive advantage against other tribes. They earned it through daily excursions down a rugged path to tend their corn, squash, and beans, then back up, balancing on their heads clay jars of clear drinking water collected miles away.
Then the world convulsed. A storm erupted. Lightning blasted the mesa. The path crumbled. Tribespeople watched, helpless in their fields.
Left above, Chino says, was one grandmother and one little girl. Stranded. Days passed. They could not be reached. They could not escape. The water ran out. The food dwindled. Finally, the old woman took the child's hand and, together, they jumped.
"No one ever found any bodies," Chino says. "We believe they turned into butterflies. When you drive by Enchanted Mesa today, there's usually a lot of butterflies."
She turns our group back and continues down a lumpy lane between the two- and three-story homes, hundreds of years in the making—and in the maintaining. I stay behind, squinting at Enchanted Mesa, a foreboding mass that, tribal lore says, no one has climbed since.
SIXTY MILES WEST OF ALBUQUERQUE on I-40, Acoma Pueblo spreads out to the south, its handful of villages encompassing schools, a senior center, a casino, a hotel, and government buildings. Visitors can drive through scenery worthy of a John Ford Western, but not much stops them until they reach the Sky City Cultural Center and its Haakú Museum at the 25-mile point, where Kaatsiima Drive and Indian Service Route 38 meet. The building marries the tribe's stacked-rock design ethos with sleek lines and soaring ceilings. Hallway windows are etched with geometric slashes reminiscent of the classic designs painted onto pottery; other panes evoke the mica used so profusely in 16th-century Sky City windows that Spanish conquistadors, when they saw the sun glinting off them, believed they had found their fabled cities of gold.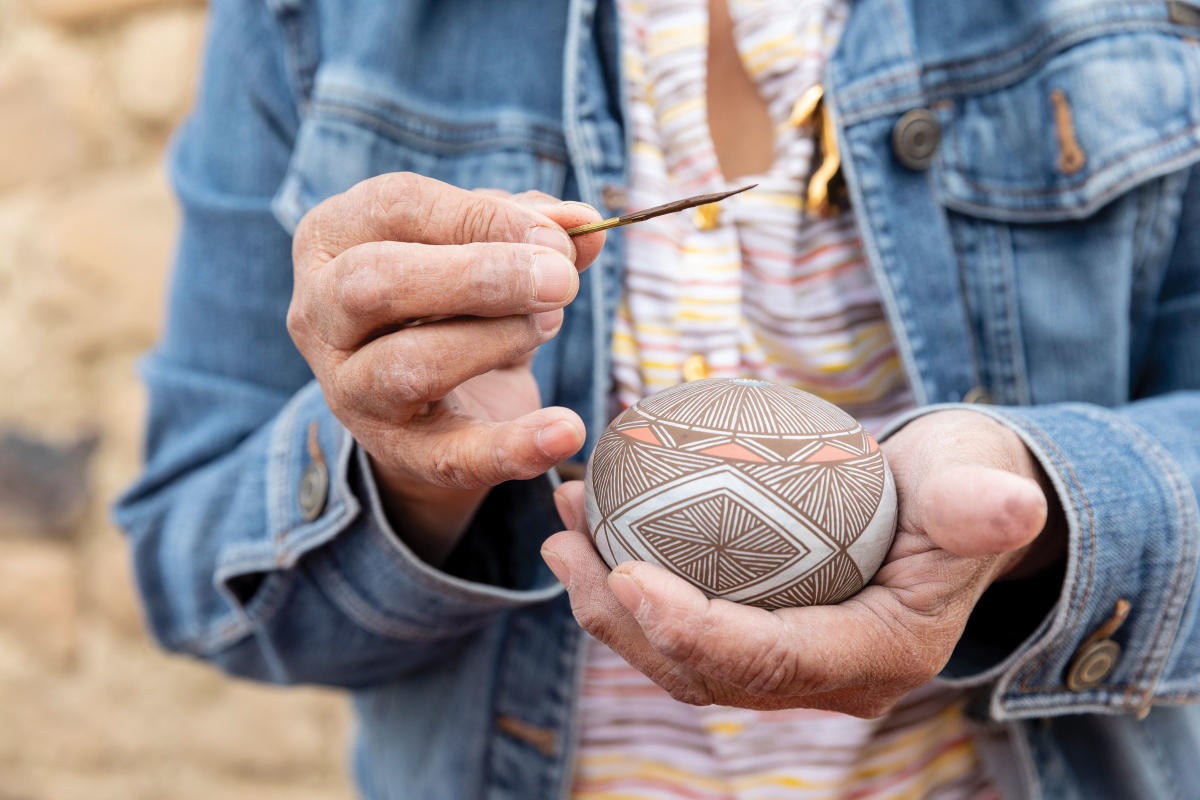 Above: Potter Marilyn Ray's yucca-leaf paintbrush.
They hadn't, and perhaps that explains the ruthlessness they soon unleashed. In a brutal battle, in 1599, about 800 Acoma died at the hands of the Spanish, some 500 were taken prisoner, and Don Juan de Oñate ordered his soldiers to chop off one foot from each of 24 men as a final act of retribution. The atrocity still feels fresh. Eventually, the Acoma rebuilt Sky City even as ensuing centuries brought a new religion, Indian-school assimilation, and economic isolation. Pueblo Governor Brian Vallo says the tribe welcomed its first visitors in 1904, eventually recognizing the power of tourism to provide jobs and promote artists. But tribal leaders also saw the need to control that tourism to preserve the traditional culture that had sustained them—their language, their ceremonies, and their legacy of outstanding pottery defined by intricate black-and-white designs and a color palette pulled from mineral-rich rocks.
Access to the mesa top is as limited as ever, Vallo says, and residents in Sky City or any other village can welcome a visitor into their homes only during feast times. Otherwise, says Melvin Juanico, operations manager of the cultural center, "We don't allow people to go into our homes. This building, the cultural center—it encapsulates our traditional homes. It gives you the sense of how we live."
Read more: Pueblo feast day etiquette from an Apsáalooke relative.
Another sense comes through ticketed tours of the mesa top. Daily, the tribe chugs busloads of visitors up, every hour on the half hour, for walking tours that include the massive San Esteban del Rey Mission Church, a cemetery ringed by "guards" made of adobe pillars with sculpted-mud faces, the exteriors of some 300 homes, several ceremonial kivas, and one cottonwood tree—"Sky City National Forest" in the local lingo. The Acoma found their way to this place, Chino tells us, from the Mesa Verde region in roughly 1150 and never left. (They have long challenged Taos Pueblo for the mantle of the nation's oldest continually occupied pueblo.) Most of Acoma's nearly 5,000 members choose to live in the valley, amid today's conveniences, but about 30 people stay year-round at Sky City.
Standing on the church's poured-mud floor, Chino describes how the vigas supporting the roof had to be hauled from Mount Taylor's forests, some 40 miles north. Every bit of dirt and water that mortared into place walls up to seven feet thick had to be lugged from the valley floor. Native symbols for mountains and rain are painted onto the them, a cultural complement to the Spanish colonial–style altarpiece that rises at one end and arches above us. Completed in 1641, the church escaped destruction in the 1680 Pueblo Revolt, Chino says, because her Acoma ancestors "knew their people had worked so hard to build it."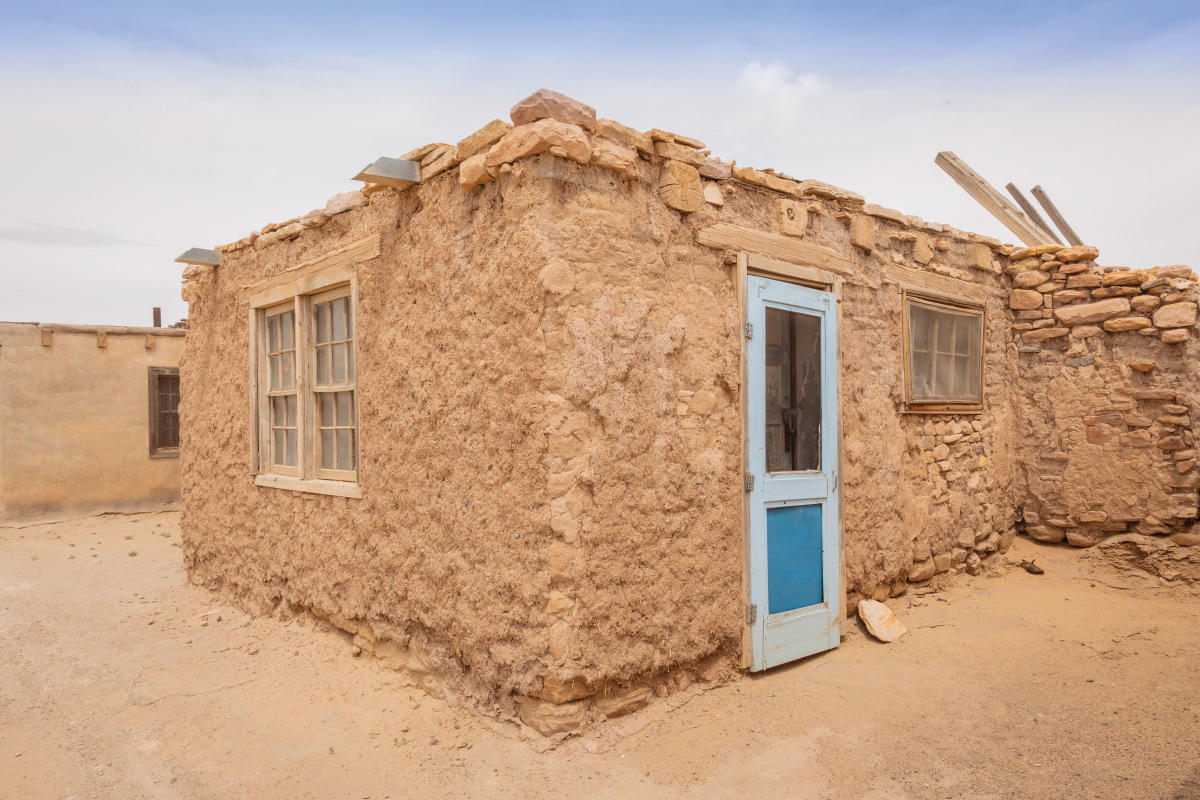 Above: Sky City tours carry visitors past historic homes, while leaving time to meet local artists.
The tribe uses it just twice a year, during the September 2 San Esteban Feast Day and the Christmas dances that begin at midnight on Christmas Eve and run for four days. The feasts draw people by the thousands. "Be prepared to stand in line waiting for the shuttle," Juanico says. Artists and potters line the ancient lanes, and others converge at the cultural center and atop a nearby overlook. Dances, music, and processions fill the days, and some lucky visitors are welcomed into the old homes to share traditional foods. The only other way to see off-limits portions of Acoma—and of neighboring Laguna Pueblo—is to hop on two wheels for the Tour de Acoma cycling event, every September, which raises money for the Haakú Museum.
Outside the church, potter Marilyn Ray's abstract earrings lure me toward her table of handmade artworks. The pots, animals, and jewelry bear the matte-black glaze that reveals her use of natural pigments. She tells me how she collects her clay from a special place, strengthens it with the crushed bits of other pots, then hand-coils new pots and forms her menagerie of figures. The cultural meanings and skills are so at risk these days, Ray says, that she and other potters recently began teaching a class down below. "We're trying to show the younger generation how to do the art with traditional clays and to do the minerals for the painting," she says. "We need these ways to carry on."
Read more: Acoma Pueblo opens its doors and lights the way to a memorable Christmas Eve.
Freshly purchased earrings in my pocket, I follow Chino to meet more artists, take in other spectacular views, and snap a few pictures—and, all too soon, our morning is over. Chino gives us the option of returning by bus or hiking down an old route marked by steps and handholds weathered into the rock by centuries of journeys. My knees can take it, I figure. Peach trees, wildly eroded rock faces, and the eerie ruins of abandoned homes reward the extra effort.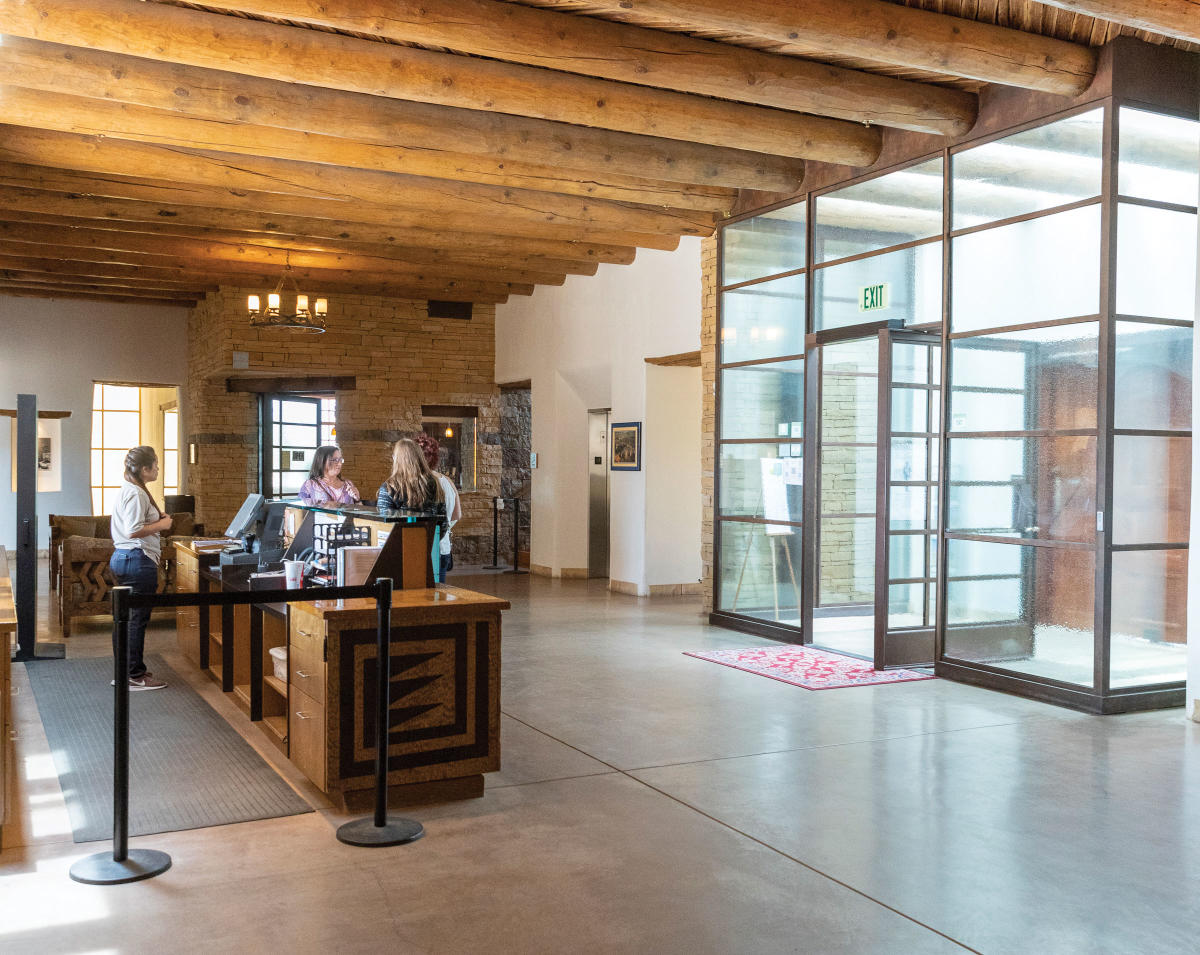 Above: The Sky City Cultural Center provides a grounding in all things Acoma.
INSIDE THE CULTURAL CENTER, the Y'aak'a Café's burgers and enchiladas dance around the appetite I worked up, but I opt for a dish closer to Ancestral cuisine: squash stuffed with wild rice and piñon nuts. I could quibble about the addition of melted cheese, but I appreciate the dollop of green chile.
Read more: Acoma Pueblo and Sky City Cultural Center - a feast for all of the senses.
Juanico joins me for lunch. On Mondays like this, he says, visitors have room to roam. But during the Albuquerque Balloon Fiesta? "Those two weeks can equal two months of visitors." After encouraging me to add to my jewelry haul at the Gaits'i Gift Shop, he leaves me with museum curator Melvin Sarracino. He oversees the two exhibition galleries, plus a small theater that loops a video of the tribe's history. Sarracino is enthused enough about a new exhibit, The Haakú Museum Collection: A Story Worth Telling, that he bustles me down to the collections vault to reveal what's coming out of storage. Some of the church's earlier beams are here, along with stacks of historic maps and rolling racks holding a precious timeline of Acoma pottery—from ancient storage jars to contemporary turtles. I spy bold orange birds, black eye dazzlers, storytellers crawling with children, and corn maidens, their lips opened in prayer. "It's a spiritual place," Sarracino says. "Sometimes the elders come down and speak to the pots. The best part, though, is when we get the schoolkids and bring them down. I keep reminding them: This place is yours, and one day these responsibilities will fall into your hands."

TOURING ACOMA
Acoma offers guided 90-minute tours of Sky City from mid-March to November 1, 9:30 a.m.–3:30 p.m.—except during its most religious ceremonies, when the pueblo closes to non-tribal members. Check in at the Sky City Cultural Center and Haakú Museum. Adult tickets are $25 (acomaskycity.org). Spend time before and after at the museum; its new exhibit, The Haakú Museum Collection: A Story Worth Telling, is up through June 14, 2020. Outside the cultural center, artists show their wares near a new memorial to Acoma military veterans. Nearly all the artists there and at Sky City only take cash; an ATM is inside the building. The Y'aak'a Café whips up diner-style food with Native flair from 9 a.m. to 2:30 p.m., March through October.
Special events include: San Esteban Feast, September 2. The Tour de Acoma, with 25-, 50-, and 100-mile rides, September 15 (tourdeacoma.com). A display of 2,000 luminarias lining pueblo roads the evening of December 24, followed by four days of Christmas dances at Sky City. 
A LODGING WITH LORE
Old Route 66 veers north of I-40 near Acoma Pueblo and passes through the sleepy town of San Fidel, where an old adobe building proclaims itself "Acoma Curio Shop." The National Park Service includes it as one of the historic waypoints along the Mother Road, but the curios long ago moved out, replaced in recent years by something decidedly more curious.
After years of making collage art in New York, Paris, and Germany, Pablo van Lichtenburg dreamed of establishing a desert-bound hideaway for artists and soon stumbled across the old shop and its 2.5 acres. For the past few years, he's mined the local landfill and thrift stores for discarded treasures to build a collection of lodgings and studios for an artist residency program, inspired by such a flurry of concepts that "Pablo Has an Idea" is his unofficial motto.
Sure, visitors to the area can choose to stay at the casino hotels run by Acoma and Laguna Pueblos, with up-to-date amenities and full-service restaurants. But adventuresome travelers ought to score an Airbnb stay at Pablo's place, where the digs are more rustic but the nights are filled with stars. "I never imagined in a million years that I'd live in a desert with a 300-year-old spring-fed acequia coming off Mount Taylor," he says.
His whimsical amenities range from numerous hammocks swinging from trees to a Louise Nevelson–style assemblage decorating the outhouse. The old curio shop features occasional shows of art that leans to the "outsider" end of the spectrum. There are pallet-walled art studios, solar-heated showers, cozy accommodations, a fruit orchard, a grove of walnut trees, happy chickens, and a very good dog.
San Fidel claims 138 residents on a good day. It may always be a small town, but van Lichtenburg's burst of energy has inspired others. A friend plans to open a digital recording studio in a building across the street; another may soon plant a used bookstore and coffee shop next to it. And he plans to install a 300-foot-long "art wall" across the front of his property. Urban street artists will decorate one side, mosaic artists the other. "Because of the distance from Albuquerque," he says, "San Fidel has an opportunity to do something really different."
---